Celebrities, politicians and ... campers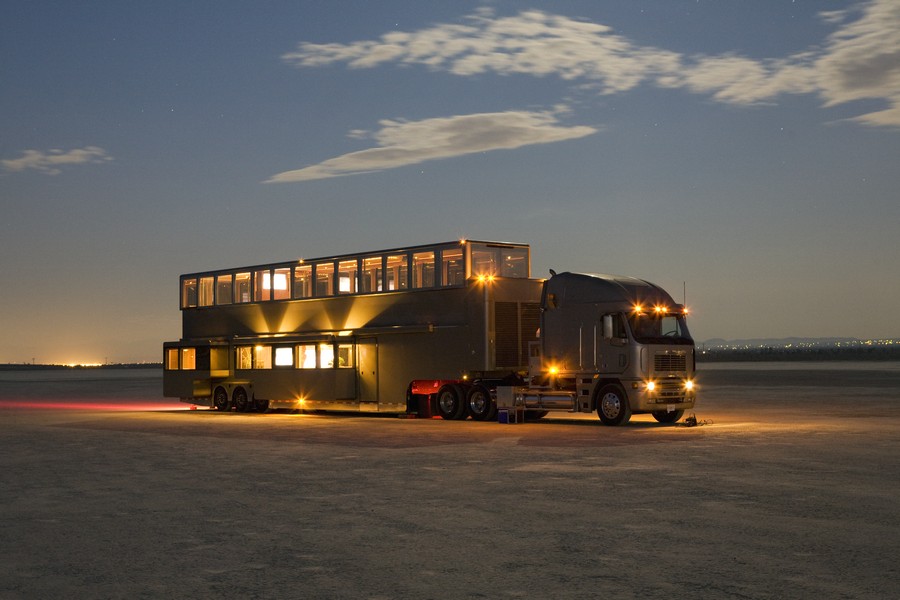 A caravan and a motorhome are very practical vehicles. Not only ordinary caravanning enthusiasts find out about it, but also politicians and celebrities.
Madonna, George Clooney, Kanye West - these are just a few of the names of the stars who use powerful motorhomes (or rather buses) and tractor-trailer Quixote trailers (sometimes tandems).
This is due not only to the celebrity "whim", but often also from the needs. The stars spend many hours on the road, and in the luxuriously equipped caravans they can not only relax. Usually, they also include wardrobes and makeup rooms, and sometimes even offices.
Big houses on wheels also have Rihanna, Nicki Minaj (the singer requires a separate wig trailer during concerts) and the actor - Will Smith .
On board at Will Smith's
Will Smith owns a truck worth around $ 2 million with an Anderson motorhome semi-trailer. The equipment of the famous actor's double-decker semi-trailer includes a retractable 100-inch cinema screen , a 50-inch TV, and several smaller 37-inch TVs.
There was also a wardrobe - and it is not only a place for clothes, but also a room where make-up specialists put on stage make-up for the actor. Of course, such a trailer must also have a fully equipped kitchen. The furniture is also quite nice - Italian, made of cherry wood .
The actor spends his time mainly on the ground floor, while on the first floor there is a lounge with a bar and an office where his assistants work.
Watch the video presenting Will Smith's trailer
Starry in Polish
Do Polish celebrities also use caravans? Yes. There are even companies that specialize in renting trailers for movie sets.
The Bednar Film company, among the offered vehicles, has, among others: the iconic Airstream caravans and American motorhomes, although it must be admitted that compared to American celebrity vehicles, they look modest and have their age.
But, if someone persists, he can rent, for example, a 12-meter Chevrolet Seneca motorhome with a wardrobe, 3 make-up stands, 3 monitors (32 inches each) for director's preview, 3 air conditioning systems and 2 heating systems.
Polish celebrities like to use campers and caravans also for private purposes. Karol Strasburger is a well-known caravanning fan, but the media also reported the marriage of Kasia Cichopek and Marcin Hakiel . Last year, the couple spent their vacation in a rented motorhome in the south of Italy.
Political thing
Politicians, and even the British Queen, do not shy away from caravans. On November 22, 2012, Queen Elizabeth II and Prince Philip visited the Bailey caravan and motorhome factory in Bristol. The company celebrated its 65th anniversary then. It was there that pictures of the queen in her motorhome, who even dared to take a short ride with the Approach SE 760, were taken.
In January 2013, the leader of the Five Star Movement, Beppe Grillo , made a political tour of Italy. The actor, comedian, and now also a politician used a camper to meet voters. The campaign proved successful as Ruch received 25% of the vote.
However, motorhomes are more often used by local activists - for example, Matteo Renzi was driving a motorhome in 2009, when he was applying for the function of the mayor of Florence . In Canada, in 2011, a campervan campaign for mayor was organized by Mark MacDonald , who wanted to become mayor of Cornwall . However, unlike the candidate from Florence, the Canadian was not selected.
Well, apparently just having a motorhome is not enough to be successful. The House on Wheels, however, can make both the political campaign and the musical tour more interesting, and even arouse greater media attention.
Sometimes it is better to get lost than to ask for directions too much. Aldous Huxley
Enjoyed reading this article? Share it!