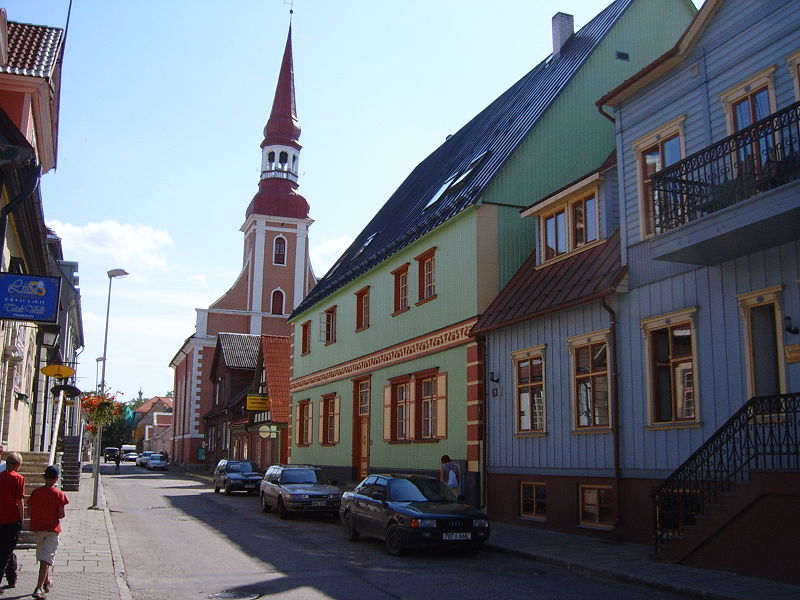 Mud baths in Pärnu
Let's go to the north of the continent, to a country that many know little about. Let's go to Estonia, and more specifically to the tiny town of Pärnu, located in its south-western part, by the Baltic Sea.
The city is the main tourist center in Estonia. Its population is about 45,000, but in high season the resort is populated by visitors from all over the world. They are attracted by the extraordinary beauty of the village, wide beaches, and healing treatments - Pärnu, also known as Pärnu, is a health resort known for its mud baths. Thousands of people come here to relax in the beautiful surroundings on the shores of the sea bay. In summer, long, sandy beaches are crowded to the limit, but it's hardly surprising - it's a unique place.
It obtained the status of a spa in 1838. Currently, as a member of the European Spas Association, he hosts patients from different countries every year, offering them various types of treatments, ranging from therapeutic mud, to aromatic chocolate massages and pearl baths. In addition, many of the local SPA centers pride themselves on the "family friendly" status - the youngest visitors are fully cared for and can play in specially prepared games rooms.
Madness on the beach
There is a popular saying in Estonia: "If you haven't met your friends in a year, you will definitely meet them in Pärnu in the summer." This means that if someone does not like crowds, the charms of the resort should be enjoyed in the fall or winter. In summer, Pärnu never sleeps, dozens of nightclubs stay open until dawn, and during the day, the streets are filled with colorful crowds speaking many languages - like at the Tower of Babel.
It is the same on the beaches. The "best sun in Estonia", white sand and clear shallow water attract thousands of tourists. On the beach in Pärnu, you can play team games for hours, for families with children there are special zones where children can play safely, and those who do not like to lie idle on a blanket, can swim, water-ski or glide on the waves, practicing windsurfing. Canoeists will surely take the opportunity to go down the Pärnu River to the open sea.
Anyone can sing, that is art in Pärnu
It is said that anyone in this city can be an artist. There are many art galleries in Pärnu, as well as places where you can enroll, for example, in a painting course or take part in a handicraft workshop. And who knows, maybe we'll discover a talent in ourselves?
Pärnu is also a city of countless music festivals and art events . The most famous are The Pärnu International Documentary and Anthropology Film Festival and the David Oistrakh festival. Music lovers should not miss large-scale events such as Organ festival and Pärnu Blues Days, while those who just like to have fun will definitely not regret it if they go to the Bacardi Feeling Beach festival. There will also be attractions for people who are eager to learn new things - they will enjoy the Hanseatic and Handicraft Days. These are just a few examples, but it is enough to realize that for such a small city, Pärnu is very effective at attracting tourists.
Monuments and attractions
However, it cannot be thought that after returning from the beach there will be nothing else to do. In addition to numerous cafes and restaurants, the city has several noteworthy sights. It is definitely worth seeing the 18th-century Elizabeth Church (Eliisabet Church), the most beautiful baroque church in Estonia. It is located in the center of Pärnu, and its interior tempts tourists with a neo-Gothic pulpit, altar and one of the best organ in the country - organ concerts are often held here, attracting hundreds of experienced listeners. The temple owes its name to the Russian empress, who founded the city of the Lutheran church.
There is also a church in Pärnu built in the purest baroque style that can be found in all of Estonia. The rounded, yet subtle lines of the domes, slender towers and the lightness of the structure make the whole look like a tasty cake - as befits a baroque. This is the Catherine Church ( Jekateriina Church ), founded by Tsarina Catherine II, the unpopular daughter-in-law of Elizabeth.
Another interesting building is The Red Tower (Punane Torn), built in the 15th century as a prison. It is the only preserved defensive tower in the city. Its courtyard is a popular venue for art fairs , and in early 2012, the Red Wine Bar Tower opened there.
For caravanning enthusiasts
Beautiful surroundings attract fans of direct contact with nature. There is no shortage of places where you can pitch a tent or park your camper. A great choice would be to come to the year-round campsite, Konse Motel & Caravan Camping (Suur-J, 80021 Pärnu). Those who choose this place will be able to rent a boat or a pedalo. You can also bring your own boat or sailboat, as long as it is not more than 6 meters long. The price of accommodation at this campsite is around 19-21 euro / day (2 adults, access to electricity and a parking space for a motorhome).
Another campsite is also worth considering, with the somewhat enigmatic name "J" (Nurme küla, 80044 Sauga Vald). It is located about 10 km from Pärnu, but this is only an additional advantage - on the section connecting the two towns there are many attractive points that can be explored during the ride. The campsite is open from April 10 to October 31, and you have to pay approx. 15 Euro / day (for two people) for a night there. The place is very popular among enthusiasts of active leisure. There is a playground and playground for children, and a climbing wall for adults, a sauna, there is also a trampoline and a SPA salon.
Looking at all these attractions, wonderful surroundings, rich tourist offer, there is no need to wonder. We're going to Pärnu!
A writer by profession, a passion of a cat. One day he will see what is behind the Urals - good to Vladivostok. So far, when he can, he enjoys the sun of the countries of southern Europe. And it's also fun;)
Enjoyed reading this article? Share it!