Hobby T65HFL motorhome - semi-integrated?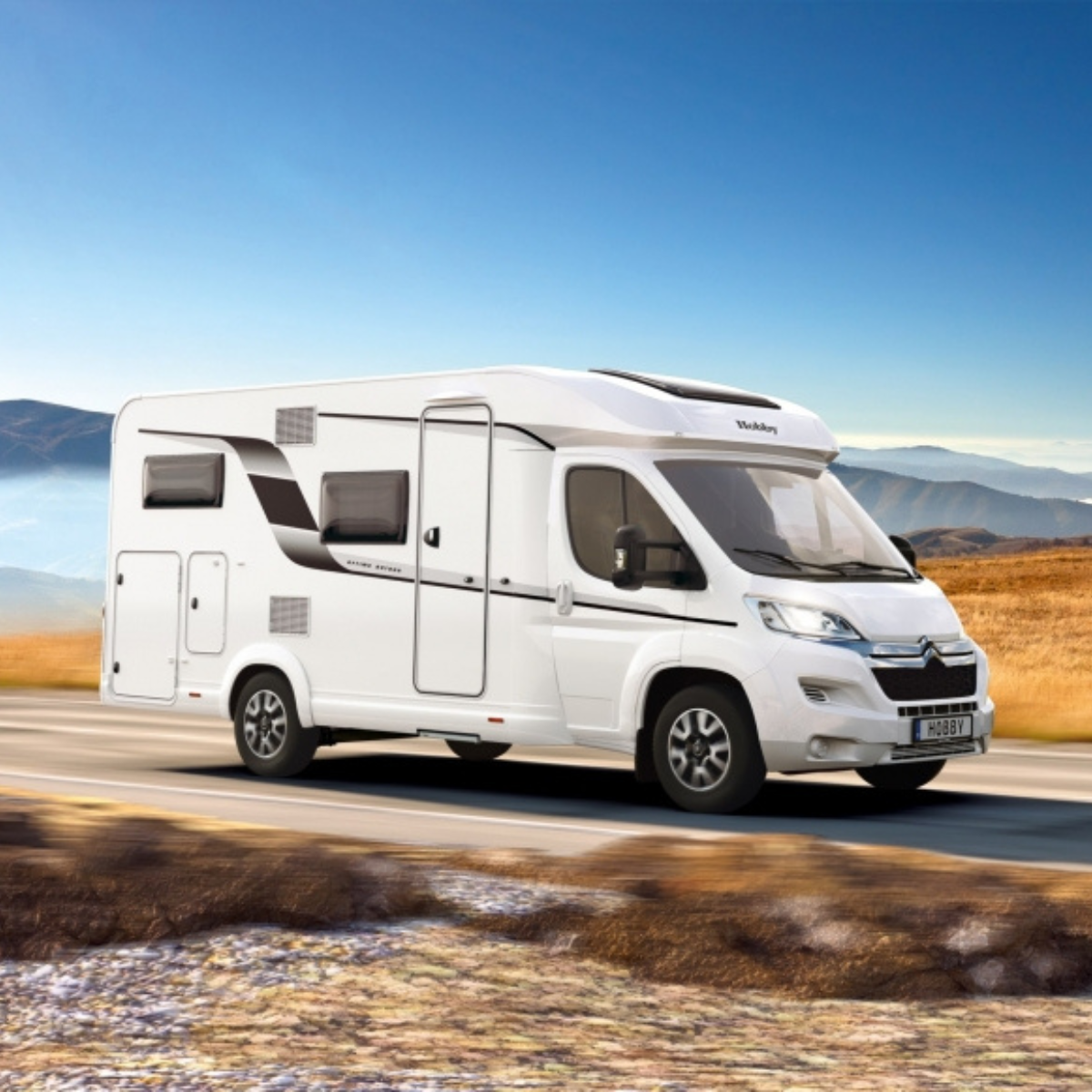 The Hobby brand is mainly associated with camping trailers, and in fact, taking into account the sales volume, it might seem that the production of campers is a marginal business for the manufacturer. However, the campervan department at Hobby is doing very well and is consistently developing three product segments - semi-integrated cars, alcoves and campervans - all mostly in the weight range of up to 3.5 tons.
Veterans remember the brilliant, pioneering designs of the legendary 600 series - it was an important milestone in the history of recreational vehicles and the first semi-integrated car produced in a large series on the market. Four decades later, Hobby is no different from the European leaders - in terms of design and technological solutions, the brand keeps up with the times and offers a wide range of systems for various needs.
Today we will look at the T65HFL model, which is an extremely successful and compact proposition for a couple, a family or a group of friends. Based on the Citroen Jumper, the vehicle is standardly equipped with a 120 HP engine, and can optionally leave the factory with 140 or 160 ponies under the hood. From experience, we can only mention that the minimum problem-free option for a camper is the 140 HP model. Fortunately, dealers are aware of this and we see such units most often on their forecourts.
Well-thought-out development on 7 meters
The T65HFL is designed for four travelers, both for driving and sleeping. The designers managed to fit everything important into exactly 7029 mm of length. The cab is equipped with swivel airline seats with armrests, and right behind them is a large, wall-mounted table and a double sofa for another two passengers. From the point of view of travel comfort, this is a solution that provides greater freedom of movement than an "L"-shaped sofa. There is an additional sofa next to the entrance, which will accommodate up to 6 people in total around the table. Interestingly, on request, we can easily rebuild the seats and the table at the front into another child's bed (1600x740 mm).
Speaking of beds - above the living room - of course - we have a drop-down bed measuring 200x132 cm. However, what is most important in our opinion - when lowered, the bed does not collide with the entrance door, which allows normal entry and exit without having to bend/crawl under it. Behind the living room, we are greeted by a compact kitchen with a sink and a 3-burner stove. Opposite the kitchen block, the latest generation Dometic refrigerator with a capacity of 133 liters with double-sided opening. Optionally, in a tower construction, we can order an oven together with a refrigerator.
At the very back, on the right, there is a French bed with dimensions of 200x140 cm (narrowed to 110 cm at the end) waiting for guests. Here, too, comfort will be ensured by a comfortable cold foam mattress with a "GOODSIDE" frame placed under it. Next to the bed in a longitudinal arrangement, there is a corner bathroom with a very practical layout - at the very entrance there is a washbasin, then a toilet and a comfortable, separate shower cabin - to use it we do not have to assemble anything, rebuild anything, etc. Due to its location, we do not mind the wheel arches, or other elements that reduce the usable volume. Instead of traditional bathroom doors, we have a sliding, space-saving vertical blind.
Layouts with a bathroom and a corner bed often offer little space for luggage and equipment - but don't worry. Between the bathroom and the kitchen there is a large wardrobe for clothes, and under the bed there is a storage room/garage accessible from the outside. The opening size is as much as 70x115 cm - we can easily fit a table, deckchairs or other equipment here.
Hobby Komplett – everything necessary as standard
The standard of factory equipment called Hobby Komplett means that we do not have to think about many details that could result in additional payments for other manufacturers. The list of equipment is really long, but the most important are air conditioning, body-colored bumpers and door handles, driver support systems, airbags, mosquito net, electric mirrors and electric entry step, and insulated tanks.
Winter resistance is a standard Hobby feature. The Truma Combi 6 heating system with a 10-liter boiler (with an electric heater on request) will cope even in the most unfavorable conditions. If you take into account the fact that the floor is insulated with XPS foam and made of plastic, as is the hail-resistant roof, then for a really reasonable price you get a decent car that will last for years.
Branded construction and a proven base vehicle guarantee high resale value. The clean water tank holds 100 liters (10 liters for driving), while the gray water reservoir has a capacity of 96 liters. The AGM on-board battery has a 95 Ah reserve, which, combined with a 25 A charger and an optional solar panel, gives you sufficient independence on the road.

You can view and order this and other Hobby campers and trailers at the Pomeranian branch of CarGO! – the dealership and service point managed by Witold Tłuchowski guarantees professional service at the highest level.
In addition to Hobby, you can also admire ultra-luxurious cruisers from the German brand Morelo, whose CarGO! is an authorized representative.
The current offer of available vehicles can be found at the following link:
https://hobby-pomorze.otomoto.pl/inventory
gallery
This article was prepared in cooperation with CarGO!
I feel best in the form of trade fairs and meetings with enthusiasts. Technical freak. In my life I have dismantled many motorhomes for the first time. Fan of large vehicles, mountain biking and traveling without weight and financial restrictions. At CampRest, I am responsible for all publications on automotive topics.
Enjoyed reading this article? Share it!