Mobile power plant - energy independence with EcoFlow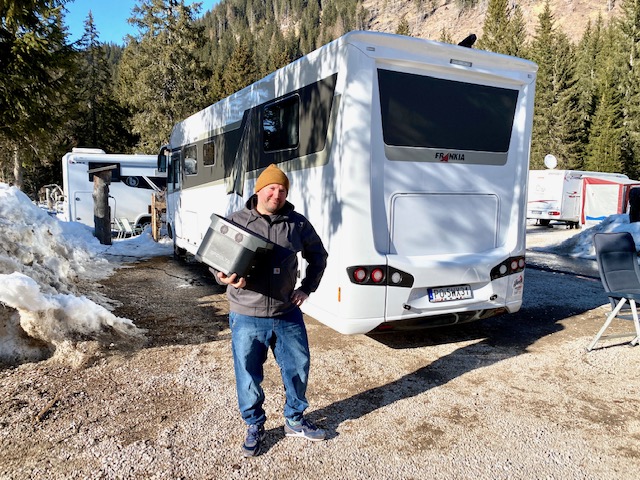 Of course, caravanning and traveling are associated with enjoying the surroundings, being close to nature, sightseeing and resting in the bosom of nature. In modern society, however, it is difficult for us to part with modern communication tools, in the case of remote work with a computer or coffee machine. Why am I replacing these devices? Because they all need electricity. Some less, some more, but in any case there comes a time when we have to grab the charger or power the device we need at the moment.
Of course, when traveling by motorhome or caravan and having camping infrastructure, power is not a problem. But what if we need 230V while on the road or we travel mainly in the wild and we have large energy needs, and sometimes we are limited by the capacity of on-board batteries?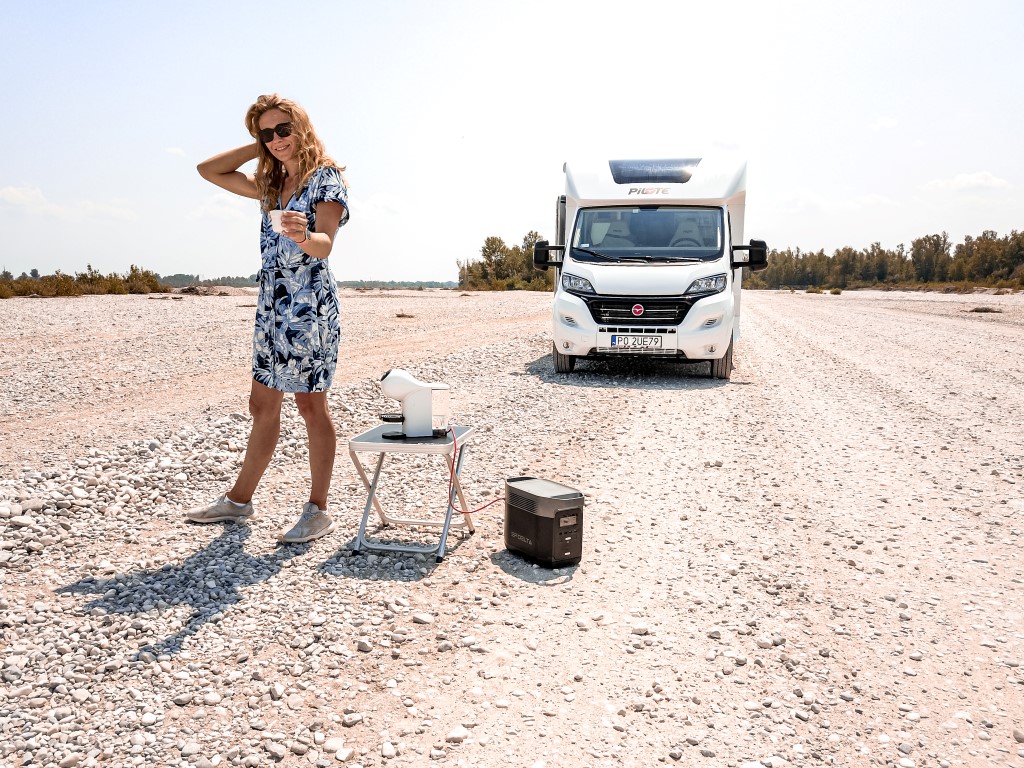 This is where Delta from EcoFlow Polska comes in handy - a small and neat device that we can safely call a small power plant. We have been using Delta ourselves for a long time during our trips and it works perfectly. In fact, during all pandemic trips, we had this wonder on board and we managed to learn all the secrets and possibilities.
EcoFlow Delta - a reliable power source
The Delta charging (and power supply) station is an inconspicuous, small box (dimensions are only 40x21x27 cm, and the weight is 14 kg), with enormous potential.
Energy is stored in lithium-ion cells managed by intelligent electronic systems. The battery capacity is 1260 Wh - we will explore what this means in practice in a moment. In practice, the device can be used to power up to 13 devices simultaneously. The following configuration is available: 5 USB ports, two 60-watt USB-C ports and 4 AC outputs (230V). The maximum output power is 1800W and the peak power is 3300W. So many numbers and facts that the manufacturer gives us in the first contact.
Telephone, laptop, coffee machine, dryer or waffle iron? - Delta in practice
Our experience with this brilliant device is absolutely positive. When testing various vehicles, and sometimes traveling by passenger car and working in the field, we see a number of benefits. We do not have to rely on the vehicle to be equipped with an inverter - the Delta is handy and mobile and allows us to "take electricity" wherever it is needed.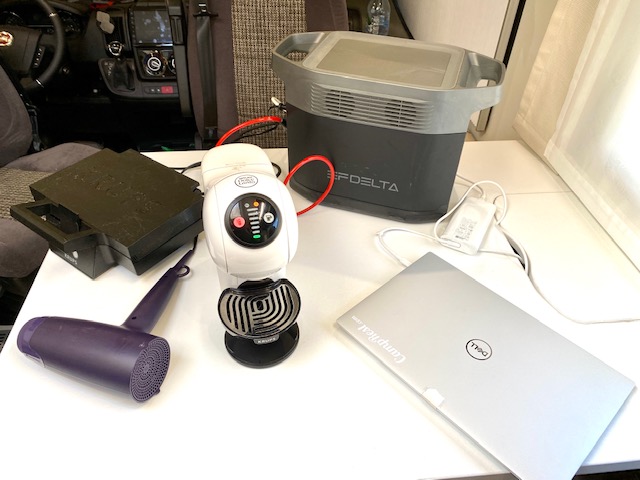 People who use passenger cars or vans for holiday trips can even give up the investment in expensive installations, batteries and converters with Delta on board. An efficient energy management system converts direct current into alternating current and vice versa in the most efficient way. It will work even in emergency situations at home - a power failure is not a problem and we gain great independence.
How to imagine the battery capacity? The easiest way to illustrate this is with a few examples provided by the manufacturer himself. And so, the power time for example devices is: 120W TV - over 8 hours, 150W refrigerator - 10-20 hours, 10W lighting - over 36 hours, and 60-15W laptop - over 23 hours.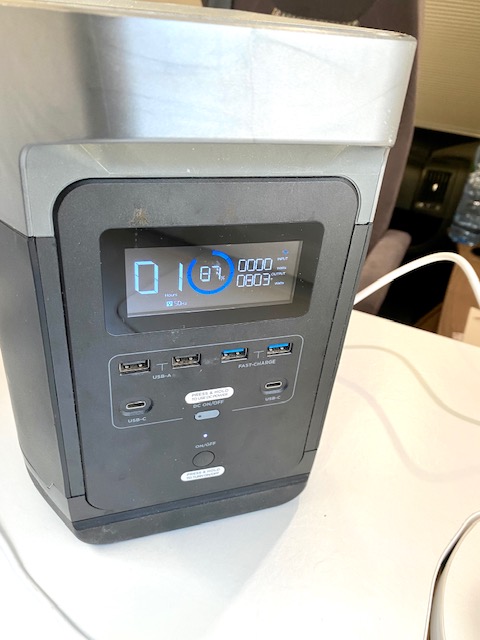 Perhaps, however, the parameter for charging a mobile phone will speak best to your imagination. We can fully charge an average smartphone up to 140 times. During our daily travels, the EcoFlow charging station did not disappoint us, even though we did not save it regularly by powering laptops, a coffee machine, a hair dryer, a waffle iron, a toaster and also by charging photo / video equipment.
How is Delta charging done? The manufacturer gives us the ability to charge from the 230V mains, 12V cigarette lighter socket or via optional photovoltaic panels - the input current in this case can be up to 400W.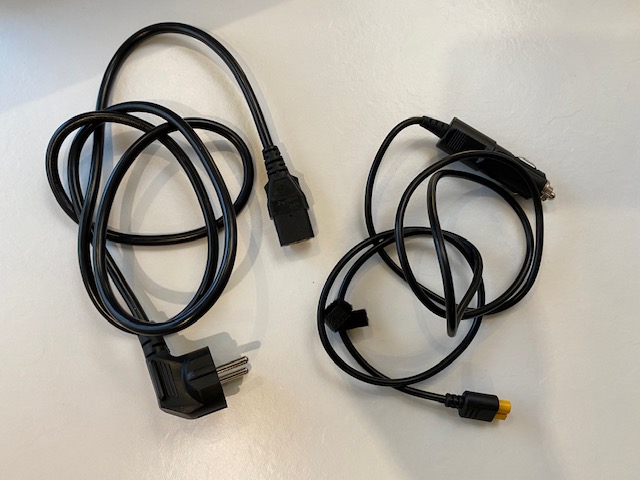 We most often use 230V charging because it is the fastest option. Most often, when the battery is not discharged to zero, we only need 40 minutes to recharge our Delta "under the cork" - while on the road, you can do it, for example, during dinner in a restaurant, asking the staff for access to a socket.
Summary
Not only gadget lovers will be satisfied with the wide range of possibilities offered by Delta. For the purposes of this article, I have made an attempt to classify / define the target group. I quickly gave up the idea. This miracle from EcoFlow can literally and figuratively save the life of anyone who needs a power source that can be relied upon "in the field".
What we like:
+ No need for an inverter, the ability to power 230V devices regardless of location
+ High-capacity battery
+ Fast charging of mobile devices via USB and USB-C ports
+ Fast battery charging (80% in 1 h) thanks to the patented X-Stream Recharge system
+ built-in protection allowing for peak, instantaneous load up to 3.3 kW
+ Possibility of charging via photovoltaic panels
+ Easy-to-read display showing battery status and remaining expected working time under temporary load
What needs improvement:
- Powering devices from the cigarette lighter socket does not provide enough power (12V coffee machine, 12V mattress pump)
- Attempting to charge the EcoFlow Delta through the cigarette lighter in vehicles (12V) will blow the fuse
- It would be useful to communicate and control / monitor parameters from the level of the application on a mobile device
Of course, the device (like any equipped with a voltage converter) is equipped with a fan cooling its interior. The sound, however, is not persistent and you can get used to it quickly.
Regarding the problems that need improvement, which I write about above, I asked the manufacturer's technical support department directly.
I have received feedback that the currently shipping Delta models have the latest firmware, eliminating the above-mentioned symptoms.
However, if you have an older version, please contact your supplier / shop to arrange cable replacement or software update.
Each of these solutions will eliminate inconvenience for some users.
If you have EcoFlow devices that can connect via the app, we recommend that you update the software on a regular basis to ensure proper operation.
The EcoFlow offer includes a number of devices tailored to various needs - from the simplest models called River to the most advanced Delta Pro, everyone will find a solution that suits their budget and needs.
More details at www.ecoflow.com.pl
We have created the CampRest portal for people who value freedom and travel on their own.
Enjoyed reading this article? Share it!