Interview with the creators of Caravans Salon in Poznań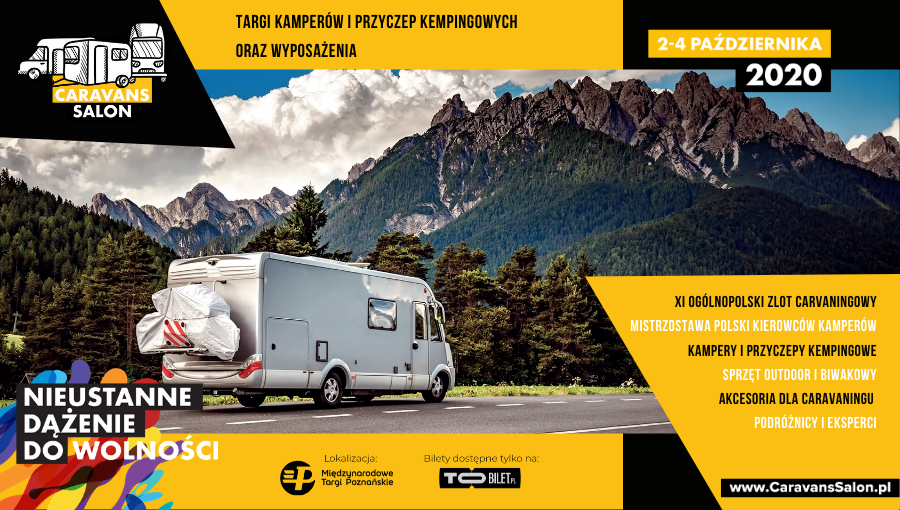 Caravans Salon Poland, which will be held from 2 to 4 October in Poznań at the Poznań International Fair, is one of the two largest caravanning events in Poland. This year, the third edition of the fair takes place, which derives directly from the Poznań Motor Show and the Caravanning Salon, which has been present there for many years.
What attractions await the participants of the fair this year and why are they worth visiting? We asked the creators of Caravans Salon about it: Marta Szydłowska and Dariusz Wawrzyniak.
Camp Rest : Have you prepared something new / unique for the fair this year?
Marta Szydłowska: This year's edition of Caravans Salon promises to be exceptional, both in terms of size, because this year we are devoting the entire exhibition halls to the exhibition, and thus there will be more exhibitors and campers to see, as well as in terms of attractions, such such as visits of invited guests or bloggers. Also our Polish National Caravanning Rally promises to be record-breaking in terms of attendance.

Camp Rest : Will there be any part of the fair dedicated to retro vehicles?
Dariusz Wawrzyniak: Yes, it is one of our novelties in terms of the fair program. In pavilion 3A, we have planned a space for collectors and owners of classics and vintage motorhomes. In this way, we want to show the history of caravanning live, through these vehicles and the stories of the owners that connect with them. We are still accepting applications, but the zone is almost full.
CR: How many exhibitors will be at the fair and can you reveal who will be?
MS: The number of exhibitors is still growing, there will certainly be more of them than in previous editions, their diversity is also growing and there will be completely new brands when it comes to our event. An example of this is the Austrian company Gentle Tent , which offers a wide range of products, including innovative inflatable tents and awnings. Of course, there will be leaders on our market: Benimar Polska, CarGO from Poznań, Elcamp Group, Kutno Camping Center, Burstner Polska , which will present new products for the 2021 season of virtually all major caravan and motorhome brands from every price segment.
CR: Have you already estimated how many vehicles will be on display?
DW: More than twice as many at the moment. Our exhibitors constantly send us new hot premieres that will come to us straight from their factories. I think that this number of models will even exceed 200 pieces. We count on a variety of offers and a lot of novelties, the presentation of which is particularly important to exhibitors, as many sales or rental contracts are concluded during the fair.
CR: Will it be possible to look inside campers and trailers?
DW : Both the organizer and the exhibitor want the fair to be safe, but at the same time attractive to visitors. That is why we talk to exhibitors and set certain guidelines and procedures that will allow us to see the equipment of individual models up close. We will carry it out as safely as possible, using the already proven sanitary procedures from the fairs we have already organized.

CR: Have the exhibitors announced any premieres yet?
MS: Of course. You can certainly expect Polish premieres of vehicles that could be seen recently in Dusseldorf. A big event will be the premiere show of the new brand in Poland, the dealer of which is the Kutno Camping Center, it is about the Concorde brand, i.e. very luxurious campers, which will surely make a great impression on the fair participants. We also announced the premiere of the Renault Trafic Camper , which you had the opportunity to test. You will be able to see many models for 2021: NOMAD trailers from Deathleffs and new products from Hobby and Adria . We are waiting for the confirmation of some other interesting premieres.
CR: Will there be any lectures? Are they additionally payable?
MS: The lectures are free, they are part of the fair. This year, we managed to invite even more guests than last year. Travelers, Bloggers, Book Writers, VanLife Lifestyle. Importantly, this year they are almost entirely caravanning-related teams. In addition to the lectures, on Saturday it will also be possible to practice CPR with rescuers from the # CiszczKlatę foundation and see a demonstration of pulling an injured person from a vehicle.
CR: Will there be any special guests?
MS: Each of our guests and speakers is our special guest (laughs). Participants will be able to hear, for example, what a journey with a 48-year-old "Cucumber" around North America (Calluna Trip) looks like, how to start traveling in a camper with a camper after the World or meet the authors of books about traveling in a motorhome: Mikołaj Gospodark "Polska on four wheels "and Bus Lapidus" W Drogę ". The crews of Elcamper and Tripciak Crew will talk about their motorhome trips. There will also be a TVN Turbo journalist - Kuba Bielak. The full list of our guests is available on our website in a dedicated tab , while the lecture plan will be presented a week before the fair.

CR: Will there be any restrictions in relation to sanitary recommendations?
DW: In accordance with GIS guidelines, during the fair you will have to cover your nose and mouth throughout the fair, and in catering outlets you will have to disinfect your hands. The aisles between the stands have been properly widened and our employees regularly disinfect the surfaces that require it. At the entrance of the participants, the temperature will be measured using thermal imaging. These are just some of the activities we conduct. As the organizer of Grupa MTP, they are prepared to conduct the event as safely as possible. Since June, the MTP grounds have already hosted gardening and automotive fairs, the National Red Car Rally, ecological fairs in conjunction with the Fair Dają More event, or the Hobby fair. All events confirmed the effectiveness of the implemented procedures.
CR: How many people will be able to be in the hall at the same time?
DW : According to the guidelines of sanitary services, we currently have a conversion rate of 2.5 m2 per person, taking into account that this year the exhibition space has increased significantly, also for safety reasons, we are confident about the capacity and freedom of movement in the exhibition space. We sell tickets only online, so buying a ticket in advance guarantees entry to the event.
CR: As organizers, what moment do you like the most during the fair?
DW: Personally, it might sound strange, but the editing period. Starting from meeting friends from the industry with whom you see several times a year, through the moment the stands are built and, above all, the time of the last "grinding" of the stands, when within several dozen hours you can see the effect of year-round work. I love this feeling ... :)
MS : It is definitely a memento when the first campers arrive at the fairgrounds and position themselves in our exhibition halls. You can see the exhibitors' commitment, their effort and effort put into every detail of the exhibition. We are undoubtedly happy when we can open exhibition halls filled with motorhomes and caravans for invited guests and first visitors to the fair :)
DW: There is one more moment ... when at the end of the market day, a family leaves with a child, whose parents are already dragging them to the exit, and the kids scream that they still want to stay ... :) It gives a great feeling that we are doing a really cool event.
CR: How many places for motorhomes do you envisage at the rally and will there be any restrictions?
DW : This year's 11th National Caravanning Rally promises to be record-breaking in terms of attendance. We have enlarged the area intended for plots, both for safety reasons and for the desire to host more teams. We have 150 plots ready (130 smaller plots 27m2 and 20 larger 40m2. We are still accepting applications for the rally, but places are ending quickly and the list of participants will probably be closed within a week.

CR : Can the rally participants use any sanitary facilities and / or camper-service?
DW: Yes, as every year, participants have access to sanitary facilities, water and electricity. Also, as always, we will prepare a special program of accompanying attractions for them.
CR: Since caravanning events have become a permanent feature of the MTP fair, maybe you are planning to create an all-year-round camper-park or even just a camper-service at the fair?
DW: It is also planned to facilitate the possibility of stopping, carrying out a cleaning service in the center of Poznań and going, for example, to visit the city. However, we still need some time for this, because in the near future we are launching several very large investments within and outside the fairgrounds.
We have created the CampRest portal for people who value freedom and travel on their own.
Enjoyed reading this article? Share it!