Nationwide Program Dealer of the Year 2015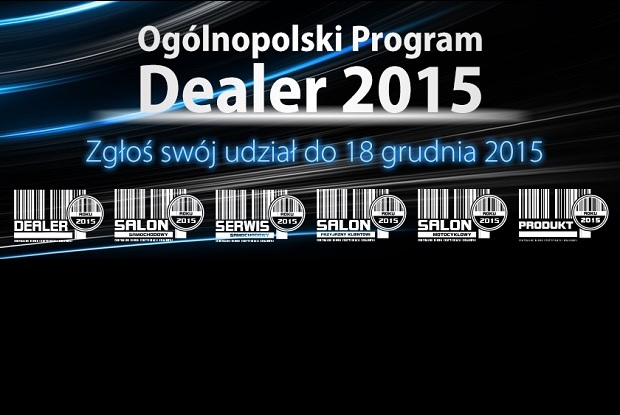 The Central Office of National Certification has announced this year's edition of the National Competition Dealer of the Year 2015. Candidatures can be confirmed until December 18, 2015. The winners will be announced during a ceremonial conference
in the Polish Press Agency SA

The aim of the competition is to help potential customers of car showrooms to choose the best, with the highest standards, from the multitude of offers on the market. However, for business entities awarded with this Emblem, it is a confirmation of the highest quality of service, professionalism and individual approach to the customer, as well as the opportunity to stand out from the competition.

Companies can apply in the following categories:
Car Showroom / Motorcycle Showroom - will be granted to those Dealers who, with their activities, offer the client a wide range of options related to the purchase of cars, motorcycles and servicing. The best salon is one where we can buy, insure, equip and service,

and all this will be done efficiently and in a nice atmosphere
Customer-friendly salon - characterized by the ability to properly guide the customer through all levels related to the purchase of the vehicle and its subsequent use
Car Service - is a company that provides comprehensive maintenance services, short repair times and competitive prices. Availability of courtesy cars and easy contact with the service center are a very important aspect
More about the competition can be found at www.c certacjakrajowa.org.pl
We have created the CampRest portal for people who value freedom and travel on their own.
Enjoyed reading this article? Share it!