Antwerp - Belgium's jewel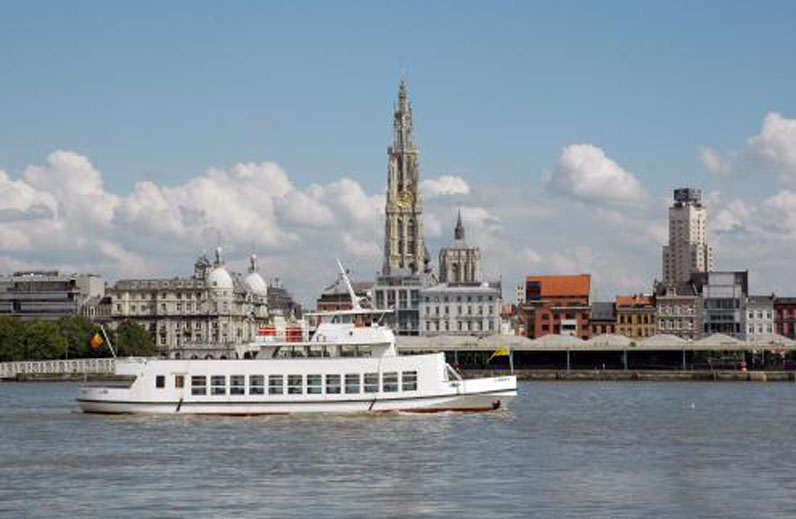 City of Rubens
Antwerp, on the Scheldt River, is Europe's second largest seaport after Rotterdam. But that's not the only reason why the Maritime Museum (Nationaal Scheepvaartmuseum) was created here, where today we can see models of ships from different historical periods. The museum is located by the river, in the 12th-century Steen Fortress.
Antwerp is an important research center (there are two universities here) and also the birthplace of Rubens. The city devotes a lot of attention to nurturing the master's memory. His works can be admired in the huge Royal Museum of Fine Arts (Koninklijk Museum voor Schone Kunstem). In addition to the works of Rubens himself, there are also paintings by Hals, van Dyck, Breughel and other artists.
The city is Belgium's jewel, both literally and figuratively, the world's center for the production of ornamental diamonds. Being here, you must visit the Pelikaan Straat. There are jewelery shops and diamond grinders, as well as appraisal companies. It is also impossible not to visit the huge Diamond Museum (Koningin Astridplein).
Antwerp sights and pubs
The most valuable monuments can be found on the Main Square (Grote Markt). On the spot, the traditional narrow houses with high roofs, as well as the 16th-century town hall (Studhuis) standing in the center, are immediately noticeable. It is recognized as one of the most important Renaissance monuments in the entire Netherlands. Antwerp also boasts one of the tallest cathedrals in the world - the Cathedral of Our Lady.
The oldest building in the city is the 13th-century Steen Castle, standing on the banks of the Scheldt. In the past it served as a prison, later it was the seat of the archaeological museum. Today it houses the aforementioned Maritime Museum.
Pubs are undoubtedly interesting places. Antwerp has its own Koninck brewery, and the beer produced is served in establishments known as "bolleke". There are also "ordinary" pubs, although the word "ordinary" does not describe them very well. In such places, barrels as tables or original styling with hundreds of bottles on the walls are not uncommon. The main advantage of such pubs is a huge selection of beer types - they serve up to 300 types, from traditional hoppy to fruity light and dark ones.
In some pubs, apart from a glass of beer, you can also enjoy a warm meal with music from CDs or live.
A city of fashion
In Antwerp you will also find fashion districts, and this is the big M. Shops such as Ann Demeulemeester and Dries van Noten have opened here. Avant-garde designer salons have accumulated around the Kammenstraat, while at the Schuttershofstraat you will find many haute couture shops.
Clothes and jewelery are designed in the city. Willing people can visit the artists in their studios and order a one-of-a-kind ring, necklace or brooch.
If we enter Antwerp from the Brussels side, we will end up in the Jewish quarter. We will get to know its inhabitants right away - they clearly distinguish themselves from tourists with their clothes. Most of them are Hasidim. Visitors eagerly visit the kosher restaurants located here. You can get acquainted with the really excellent cuisine, and one of the recommended restaurants is run by the three brothers Hofiy's (Lange Kievistraat 52). You can eat there, among other things, a plate of traditional starters.
Where can I park my motorhome?
Those who travel with their own motorhome can choose from several nice campsites located in the area. Camp Baalse Hei *** (Roodhuisstraat 10, 2300 Turnhout) is one of the most popular among tourists. It is a year-round camping where you can come with your own boat - there is a lake approx. 0.1 km away. Two people can spend the night on it for approx. 25 euro / day (the price includes a motorhome pitch and access to electricity). There is a washing machine and dryer, ironing area and kitchen.
The second camping all year round is Hof van Eeden *** (Kempische Ardennen 8, 2260 Westerlo / Heultje). Here you have to pay from 17.50 to 23.50 euro per night for two people, depending on the season. There is a fast food bar on the campsite with take-away options open all year round, there is also a restaurant. Visitors to Hof van Eeden can easily replace the gas cylinder, and special amenities have been introduced for motorhomes - including paved pitches.
It is also worth considering the offer of camping Houtum (Houtum 51, 2460 Kasterlee). Also open all year round, it offers guests the opportunity to play mini golf, boules (there is a so-called boulevard) and table tennis. There is a small and large playground for children, and a sports ground for fans of arcade games. In summer, tourists can take advantage of the fast food bar, and there is a restaurant and shop all year round. The price for a stay of two people here is from 17.80 to 20.70 euro / day.

Souvenirs from Antwerp
In one forum, a user wrote: "Antwerp is a paradise for lovers of trinkets and fashionable clothes." Maybe it is, but is it a disadvantage or an advantage? Everyone can come here and judge for themselves. And on the occasion of the trip, he will surely spend fantastic moments here and leave Antwerp with a whole lot of positive memories.
A writer by profession, a passion of a cat. One day he will see what is behind the Urals - good to Vladivostok. So far, when he can, he enjoys the sun of the countries of southern Europe. And it's also fun;)
Enjoyed reading this article? Share it!