Bansko - a treasure in the Pirin Mountains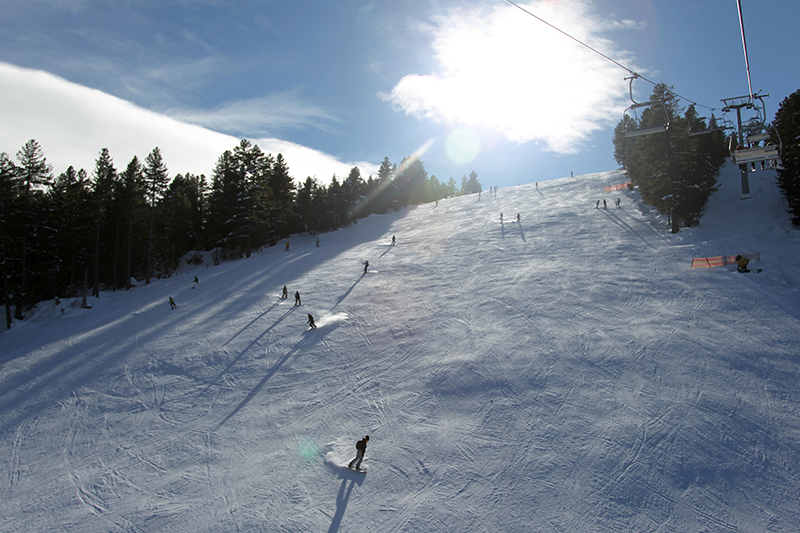 Those who missed this year's opening of the new season in one of the most famous Bulgarian ski resorts, regret it! On December 15, 2012, Bansko was visited by such famous sportsmen as Hermann Maier, Olympic medalist, three-time world champion, four-time World Cup winner, Marc Ghirardelli, five-time World Cup winner, as well as Peter Popangelov junior, Bulgarian alpine skiing star.
But let's start from the beginning. First of all, the fact that probably some are surprised by the very fact that there are modern ski resorts in Bulgaria. Meanwhile, not only do they exist - they are one of the most visited ski resorts in Eastern Europe. Among them, Bansko, a small town situated at the foot of the Pirin Mountains, in the southwestern part of the country, is in the lead. It is located about 160 km from Sofia and 6 km from Razlog. In Bulgaria itself, it has been known for a long time, and in less than a decade it has gained considerable popularity also outside the country.
Tourists are attracted by great skiing conditions, the beauty of the surrounding nature (Pirin National Park entered on the UNESCO World Cultural and Natural Heritage List) and the mountain settlement itself. The organization of sports events such as the Big Mountain freeskiing competition and the rapid development of infrastructure should not be overlooked - since 2012, more snow cannons have been snowing on the slopes, and further investments have been planned for the coming years.
Offer for skiers
What tempts skiing enthusiasts? Extremely long season, snow cover guaranteed from December to mid-May (in case of problems with the weather snow cannons mentioned above), 15 slopes, 70 km of ski slopes of various levels of difficulty. The longest exit, the blue route, is 16 km long and leads from Todorka to the gondola station, one of the most modern in Europe. The longest red route, Balkaniada, is 2.5 km long, there are also many black routes (including the famous Alberto Tomba). In addition, a well-organized system of lifts - 7 chairlifts and 7 drag lifts, as well as children's lifts.
The highest peak of Bansko is Vihren (2,914m), and the routes are concentrated around the Chalin Valog and Shiligarnika snow arena. They are situated approx. 10 km above the town and are easily accessible thanks to the gondola. Cross-country skiers can use the 5 km route at an altitude of 1530 m above sea level. Avid snowboarders have the first fun park in the Balkans at their disposal. Every day, both them and lovers of two skis can take part in competitions on the new slope on Shiligarnika.

Ski pass prices in the season 2012/2013
If you want to go crazy on the slopes of the Bansko resort, please refer to the ticket price list. For example, for 1 day of driving an adult you have to pay 58 BGN (Bulgarian Lev), a child - 38 BGN. When using the "Half pass day" offer, you can ride cheaper after 12.30. An adult will then pay 45 and a child 32 BGN. A 6-day pass for an adult costs 327 BGN, and a child ticket - 212 BGN.
You can also buy a pass for the entire season and ride without restrictions. An adult skier will pay BGN 1,450 for it, while the cost of a ticket for a child is BGN 700.
Campsites close to the region
What if someone wants to come here with their own motorhome? Bulgaria (and certainly this part of it) is a bit "wild" for that matter. On the forums of caravanning enthusiasts you can read a lot of information about intimate campsites, often little advertised, which makes it difficult to find them. This does not mean, of course, that it is impossible to find a suitable place and we only have a rich - albeit slightly more expensive - offer of hotels and guesthouses.
About 15 km from the resort is Camping Predel (2770 Bansko, on the road between Bansko and Banderitza). It is open all year round, has its own restaurant and bar, where you can play billiards. Those willing to ski can also rent ski equipment. Pets are allowed here.
The second place, a bit more distant from the resort, is Camping Liubovishte (2800 Sandanski). In both camps the prices oscillate around BGN 25-30 / night for two people (including a place for a motorhome).
What besides skis? The rich offer of the Bansko resort
Bansko has many strengths and knows how to use them. This is not a ski resort, and other attractions are a kind of addition. No, not here. You can easily come here even when you don't want to touch your skis at all. It is a town that combines culture, history and nature into one. There are many museums and monuments waiting to be explored, the architecture of old buildings will catch your eye, and your ears will be attracted by the music coming from numerous pubs.
The menu of traditional Bulgarian restaurants (called here "mekhana") will satisfy even the most exquisite gourmets. Especially that there are so many of them - over 200 - and apart from delicious food, they give tourists a unique opportunity to taste great types of Bulgarian wine with folk music. Clubs and discos are open until the last guest leaves. There is no such climate anywhere else, so it's no wonder that the resort attracts tourists every year.
A writer by profession, a passion of a cat. One day he will see what is behind the Urals - good to Vladivostok. So far, when he can, he enjoys the sun of the countries of southern Europe. And it's also fun;)
Enjoyed reading this article? Share it!