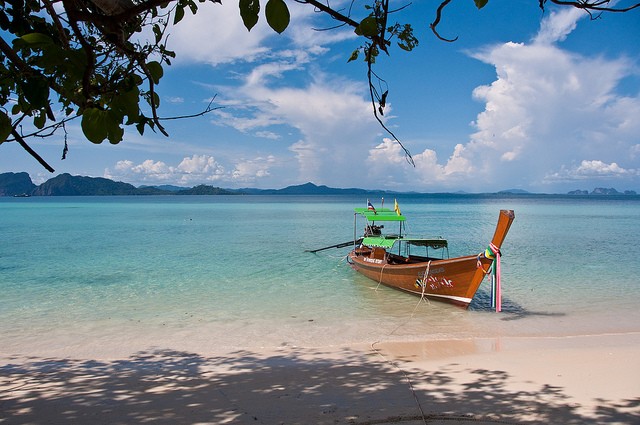 Phuket is the largest island in Thailand, which is very popular with tourists. It owes it to its beauty and easy access from many places around the globe. The island has an international airport of Phuket through which 3 million people pass through each year. It is perfectly connected with the largest airports in the world and with the country itself.
The surface of the island is very varied - on the west coast there are beautiful sandy beaches, and the center is mountainous and covered with lush vegetation (approx. 7% of the island is a natural forest). Tourists from Europe are particularly eager to visit Patong, which is easy to notice, especially in winter, when there are many of them there.
Attractions of the island of Phuket
Phuket is loud, party-like and very crowded in high season because of its popularity. It is best to visit it in the period from November to February, when the temperatures are most tolerable for tourists from Europe. Active leisure enthusiasts will not be bored here - they can bungee jumping, dive in the sea with a tube and fins, or go on an organized trip combined with diving by coral reefs. The abundance of fish and other creatures living in the local waters will charm everyone. You can also treat yourself to a parachute pulled by a motorboat. For those who prefer peace and quiet, there are several beaches to choose from, such as Kata Beach, Relax and Pan Sea. In turn, those who like glitter, parties until dawn and meeting people from all over the world will probably choose the already mentioned Patong beach , as well as Karon. Most of Phuket's beaches have windsurfing and water ski rentals.
There are numerous nature reserves, picturesque lagoons and dozens of wonderful Buddhist temples waiting to be explored. Tourists also admire the limestone caves, as well as the beauty of the Khao Phra Thaeo National Park , where you can see porcupines, gibbons and bears. Two beautiful waterfalls are the great attractions of the park, visitors are also attracted by the unique silver palm tree growing here, as well as artificially grown pearls.
Also worth seeing are the collections of the world's largest museum of sea shells . Among them are fossils, a quarter-ton seashell and the largest golden pearl in the world.
Phuket Vegetarian Festival
Soon there will be a great party on the island combined with parades and views painful for the eyes of the average viewer. On October 5-13, 2013, the Vegetarian Festival will take place, during which parade participants will pierce their bodies to cleanse them and invite ghosts to them. Such people are referred to as "mah song", which means that they put their bodies under the protection of spirits that can lead them like mounts ("mah" in Thai means "horse"). For them, self-harm is also a form of protection against evil powers, and piercing is said not to cause them any pain.
Thais believe that the festival and the accompanying rituals bring happiness to all those who take part in the rituals and obey the rules in force. Chinese people should strictly adhere to a vegetarian or vegan diet during the celebration. It serves spiritual purification, and people who are highly religious add to it giving up sexual activity, drinking alcohol, swearing and using profanity. Their physical and spiritual purity is symbolized by the white robes worn at that time. During the festival, sacred rituals are performed in sanctuaries and temples. walking barefoot on hot coals.
The Thai Vegetarian Festival is popular in many regions of the country, but the most effective celebrations are held in Phuket. Vegetarian tourists staying on the island at that time will have no difficulty in finding a restaurant with a suitable menu for them - they will be marked with yellow flags with red letters.
Driving through Thailand - visiting elephants
Those who intend to spend more time in Thailand can also get to know other islands, as well as go to the mainland. Some of them will want to visit the most famous attractions, see a number of temples and go elephant trekking. Many of these dignified, proud animals share the fate of horses carrying people to the Sea Eye, so if someone would like to meet them, and their welfare is especially important to him, he should visit the Elephant Nature Park in the northern part of the country, where elephants live in natural conditions. They don't carry anyone on their backs, but for BHT 2,500 (about PLN 250) you can feed them, bathe in the river, and learn about their habits. There are individuals saved from mistreatment of their owners - it is a kind of shelter and at the same time a rehabilitation center.
During our stay in Phuket, we can get to know the local flora and fauna, admire the monuments and spend time on the beach or under the water surface. We can rest or play sports or party until the morning. There are many possibilities and whatever we choose, we will be satisfied.
A writer by profession, a passion of a cat. One day he will see what is behind the Urals - good to Vladivostok. So far, when he can, he enjoys the sun of the countries of southern Europe. And it's also fun;)
Enjoyed reading this article? Share it!