Resort Serra da Estela - Portugal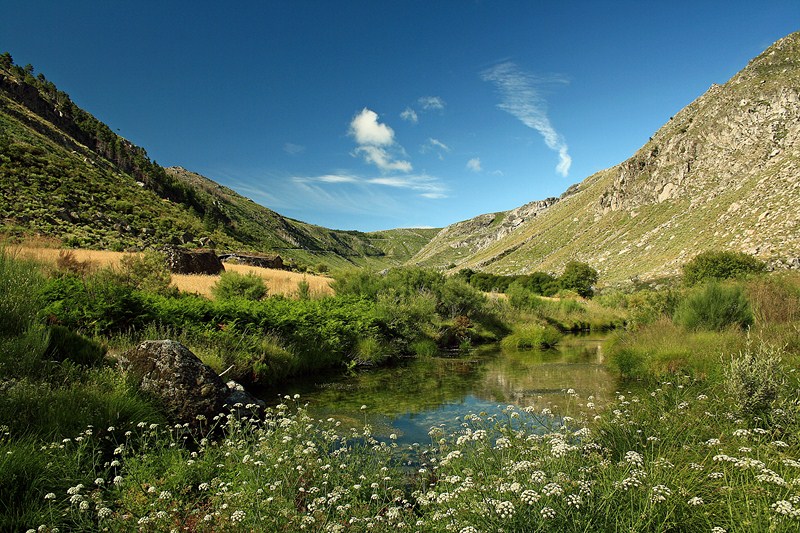 Skiing in Portugal? And why not?
That's right - although it may surprise you. In Portugal, we find one and only tiny ski resort, Serra da Estrela. Its highest peak, Torre, is 1993 m above sea level, and in winter crowds of Portuguese descend to the slopes. You can also ski here in summer, when skiers use the artificial slopes in Seia.
The resort is located in the north-central part of the country, in the highest mountain range in Portugal. Skiing in Serra da Estrela is more of an addition, an attraction in itself than a tourist offer, after all, it cannot compete with the majesty and landscapes of the Alps. On the other hand, wouldn't it be great to boast about skiing in Portugal?
Skiing in the country of mandarins
Well, there are just 4 ski lifts and 9 7.7 km long slopes (2 blue, 2 green, 4 red and 1 black). It cannot be denied that these are not impressive figures, which does not take away the charm of this inconspicuous resort. And despite the fact that the routes are mainly for beginners, there will also be places that will interest more experienced skiers. Snowboarders - there are snow parks waiting for them - and skiers who prefer climatic skiing at night have not been forgotten either. The slopes here are well lit.
The Portuguese like their tiny resort very much, which explains the crowds at weekends. It's much quieter during the week and, as many people write on the forums, it's a great place to learn skiing with friends. There is one ski school, equipment rental, restaurant, and winter activities include snowmobiling, sleigh rides and snowshoeing.
When it comes to the prices of ski passes in the 2012/2013 season, a skiing day on the slopes costs EUR 25 in the season (November 2012 to May 2013) and EUR 15 in the remaining months. Willing to start learning to drive will pay 30 euro / person per hour. Here you can repeat after forum members that Serra da Estrela is a good place to exercise with friends - for an hour of study in a group of, for example, 5 people, you will pay 50 euros.
Caravanning in Portugal
Portugal is one of the favorite destination for tourists traveling by motorhomes. They praise the country's beauty very much, a large number of wild places with a beautiful view of the ocean, and ... the police, which look at stops outside the campsites with a more favorable eye than, for example, the Spanish police.
But there are also a lot of campsites, so those who want to get to know the snow on the slopes of Serra da Estrela can easily come here with a motorhome. One of the campsites worth visiting is Camping Toca da Raposa (3405-351 Meruge). In the period from June 16 to September 15, one person costs 4 EUR / day, while from 16/09 to 15/06 - 3.5 EUR / day. The cost of a child's stay is 2.50 and 2 euro / day, respectively, for a place for a vehicle we will pay 7-6 euro / day, and for a dog - regardless of the season, 1 euro / day. Approx. 100m from the campsite there is a free private car park that you can use. The owners also offer daily meals.
The second year-round campsite, Ponte das Três Entradas (3400-591 Santa Ovaia), located at the foot of the mountains, next to the Serra da Estrela National Park, is also noteworthy. In the season, adults pay 3.50 euros per night, and 3 euros in the remaining months, children - 2 and 1.60 euros. For a place for a motorhome you have to pay 4.50-4 euro / day, respectively. The campsite has 75 pitches in the vicinity of a river and a small waterfall. It is not only beautiful here, but also relatively inexpensive.
Cão da Serra da Estrela
About 150 km from the mountains, the sea rustles, and everyone who has had the opportunity to get to know the Portuguese coast knows what a wonderful experience it is to drive along it. In Serra da Estrela itself, three rivers have their springs: Mondego, Alva and Zezere, so if someone loves water, they will definitely have the opportunity to contact it. Especially when he comes here in the summer and will be able to go on one of the many bicycle routes.
And there is a lot to see in this beautiful area. There is a bread museum in the town of Seia - when we visit it, we not only see how traditional Portuguese bread is made, but we can also try pastries in a nearby restaurant. Speaking of tasting, it is worth knowing that the famous Queijo Serra da Estrela cheese is produced in the Serra da Estrela mountains.
In the opinions of tourists who visited these regions, the statement is repeated: there is nothing like it anywhere. The Serra da Estrela area is a unique place, enchanting with the variety of Palaeozoic rock forms where erosion has left fanciful gouges. There are also old glacial valleys and steep peaks, which are a challenge for mountaineers. The best example is Cantaro Magro.
And let's not forget one more thing - this is where the Estrela Mountain Dog (cão da Serra da Estrela) comes from. This beautiful shepherd dog is a nice symbol of the area. Maybe the place of his birth will be the purpose of the next trip to Portugal?
A writer by profession, a passion of a cat. One day he will see what is behind the Urals - good to Vladivostok. So far, when he can, he enjoys the sun of the countries of southern Europe. And it's also fun;)
Enjoyed reading this article? Share it!