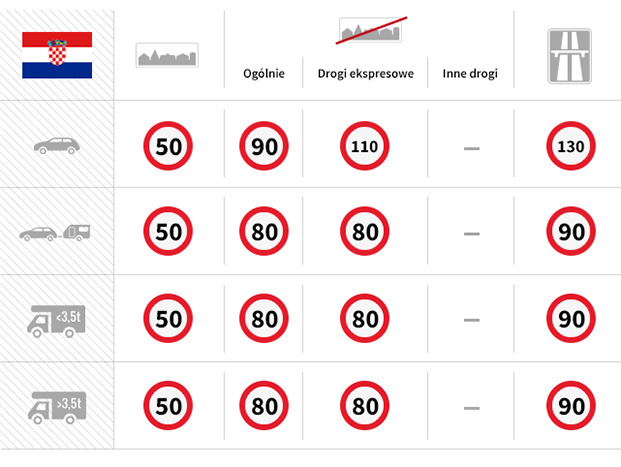 Obowiązkowe wyposażenie pojazdu w Chorwacji
Obowiązkowo powinna być używana przez kierowce i wszystkich pasażerów w przypadku opuszczania samochodu w terenie niezabudowanym, drogach szybkiego ruchu i autostradach
Minimalna wysokość bieżnika
1,6mm (opony letnie); 4mm (opony zimowe)
Obowiązkowo an wszystkich kołach od 15 listopada do 15 kwietnia lub łańcuchy śniegowe na osi napędowej podczas złych warunków drogowych
W regionach Lika i Gorski Kotor łańcuchy przeciwślizgowe są obowiązkowe nawet w przypadku gdy pojazd jest wyposażony w opony zimowe
Obowiązek posiadania dodatkowych lusterek bocznych (jeżeli przyczepa jest szersza od pojazdu ciągnącego), dodatkowy trójkąt ostrzegawczy
Komplet żarówek zapasowych
Brak specjalnych przepisów
Brak specjalnych przepisów
0,5‰ W przypadku kierowców pojazdów powyżej 3,5 tony, kierowców zawodowych i kierowców do 24 roku życia - 0‰.
Jazda z włączonymi światłami mijania
Obowiązkowo tylko w nocy, a w ciągu dnia tylko w przypadku złych warunków atmosferycznych. W zimie, w okresie od ostatniej niedzieli października do ostatniej niedzieli marca używanie świateł obowiązkowe przez 24h. Motocykle i skutery - używanie świateł mijania obowiązkowe przez cały rok przez 24h.
Jazda w pasach bezpieczeństwa
Zakaz przewożenia dzieci (do lat 12) na przednim siedzeniu samochodu, niezależnie od wagi i wzrostu.
Noclegi w pojeździe kempingowym poza kempingiem
Zakaz noclegów poza kampingami
Korzystanie z autostrad jest płatne. Wysokośc opłat uzależniona jest od kategorii pojazdu i przejechanego odcinka autostrady. W celu oszacowania kosztu autostrad proponujemy zrobić to na stronie www.viamichelin.com
The data on this website is for informational purposes only. If in any doubt, remember that the road traffic regulations in your country always take precedence. The portal is not responsible for the consequences of using the information provided here.
The Vienna Convention on Road Traffic, which many countries have signed, sets out only the minimum characteristics of motor vehicles and trailers involved in international traffic. At the same time, it allows a given country to expand and tighten its requirements for vehicles traveling on their roads, so it is worth checking before leaving what additional equipment of the vehicle is in force in a given country to avoid unnecessary discussions with the police about the Vienna Convention.
Portal CampRest stworzyliśmy dla ludzi, którzy cenią wolność i podróżują na własną rękę.
Enjoyed reading this article? Share it!