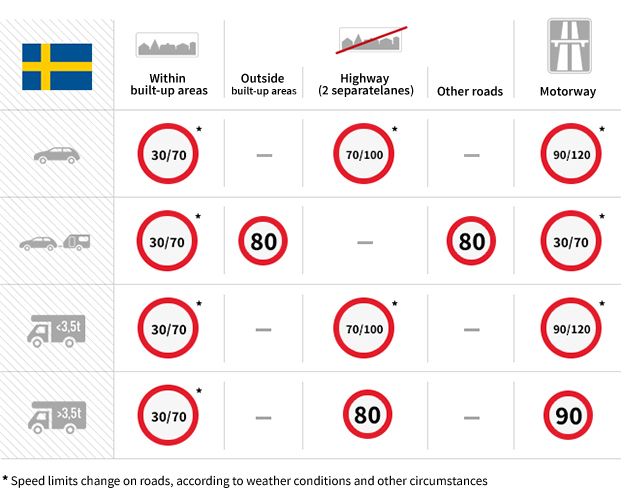 Mandatory vehicle equipment in Sweden
Minimum tire tread height
1.6mm (summer tires); 3mm (winter tires)
The obligation to use winter tires from December 1 to March 31, if we pull the trailer within this time, this should also be equipped with winter tires
Allowed on all wheels from October 1 to April 15
Allowed if the snow or ice layer is on the road
The obligation to have additional side mirrors (if the trailer is wider than the towing vehicle), additional warning triangle
Other legal restrictions in Sweden
Driving with the dipped beam headlamps on
Mandatory around the clock all year round
Children with a height of 135cm must be transported in special seats or elevations
Using the road network in Sweden is free. On the other hand, the passage of the Oresund bridge connecting Sweden with Denmark.
The data on this website is for informational purposes only. If in any doubt, remember that the road traffic regulations in your country always take precedence. The portal is not responsible for the consequences of using the information provided here.
The Vienna Convention on Road Traffic, which many countries have signed, sets out only the minimum characteristics of motor vehicles and trailers involved in international traffic. At the same time, it allows a given country to expand and tighten its requirements for vehicles traveling on their roads, so it is worth checking before leaving what additional equipment of the vehicle is in force in a given country to avoid unnecessary discussions with the police about the Vienna Convention.
We have created the CampRest portal for people who value freedom and travel on their own.
Enjoyed reading this article? Share it!