Christmas gifts for the caravanner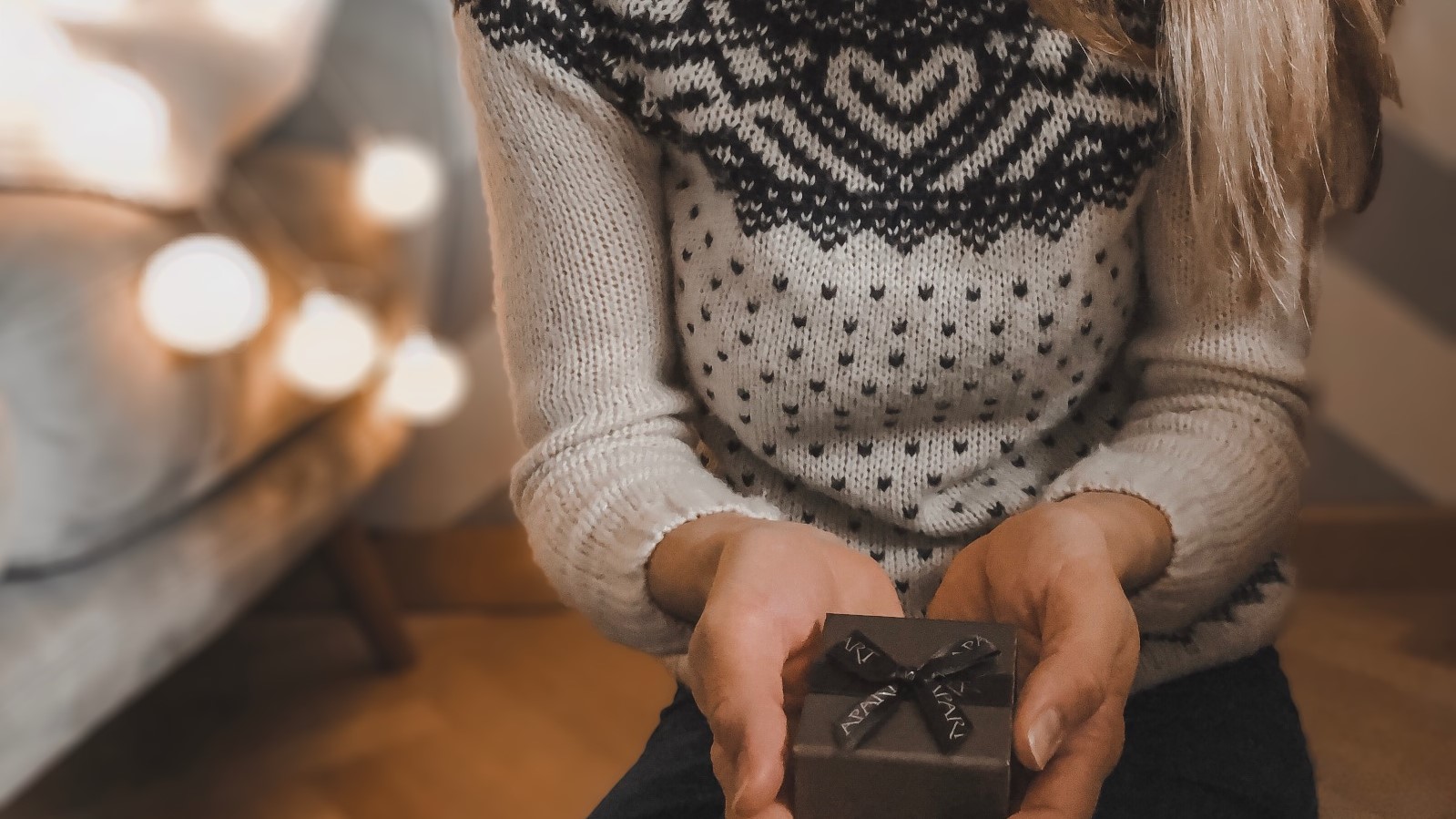 I present to you as many as 30 ideas on what to buy for Christmas to people crazy about caravanning, camping, but also to those who like hiking and simply like being outdoors.
We have had most of the products on this list and have been using them for several years, so I recommend them with a clear conscience. Some of them are on MY letter to Santa. Who knows, maybe he is reading it too :)
Tourist grill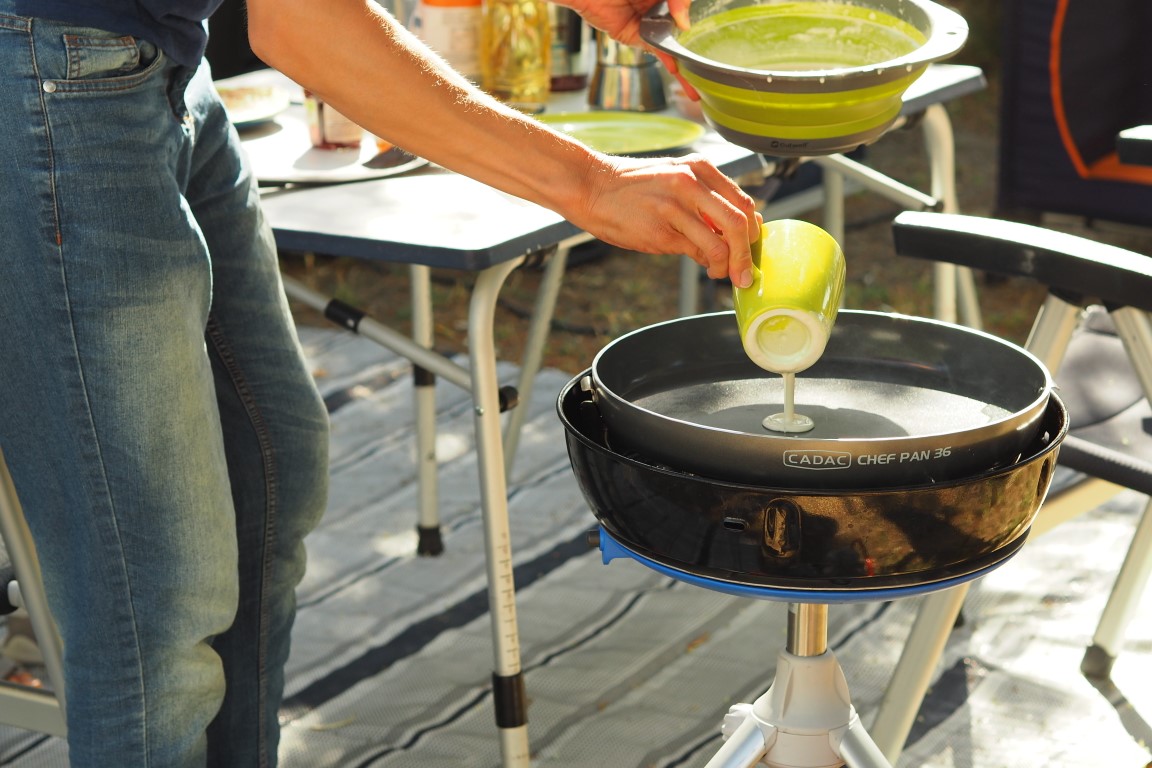 Once you buy a Cadac grill , you will never buy another one. Great for transport, takes up little space and is lightweight. It is also easy to fold. We like to cook outside, and the RV is often too warm to do so. Some people are additionally bothered by the smell of cooking food in the car. You can cook on this grill like on a normal gas stove, and food from it tastes even better than on a traditional garden charcoal grill . The advantage of having a gas grill is that you can cook on it practically at any campground, because most campsites abroad are prohibited from lighting charcoal grills.
You can buy it here: Grill
Hammock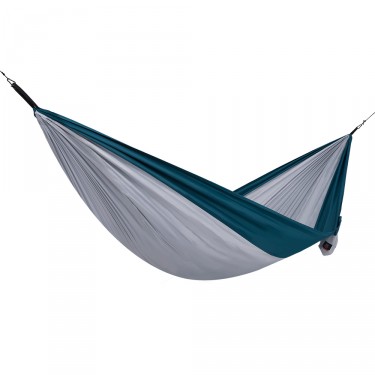 Taking a nap outdoors at the campground is best in a hammock, and it could be even better in this two-person hammock! This model has a load capacity of up to 180 kg, and at the same time is very light.
You can buy it here: Hammock
Camping flashlight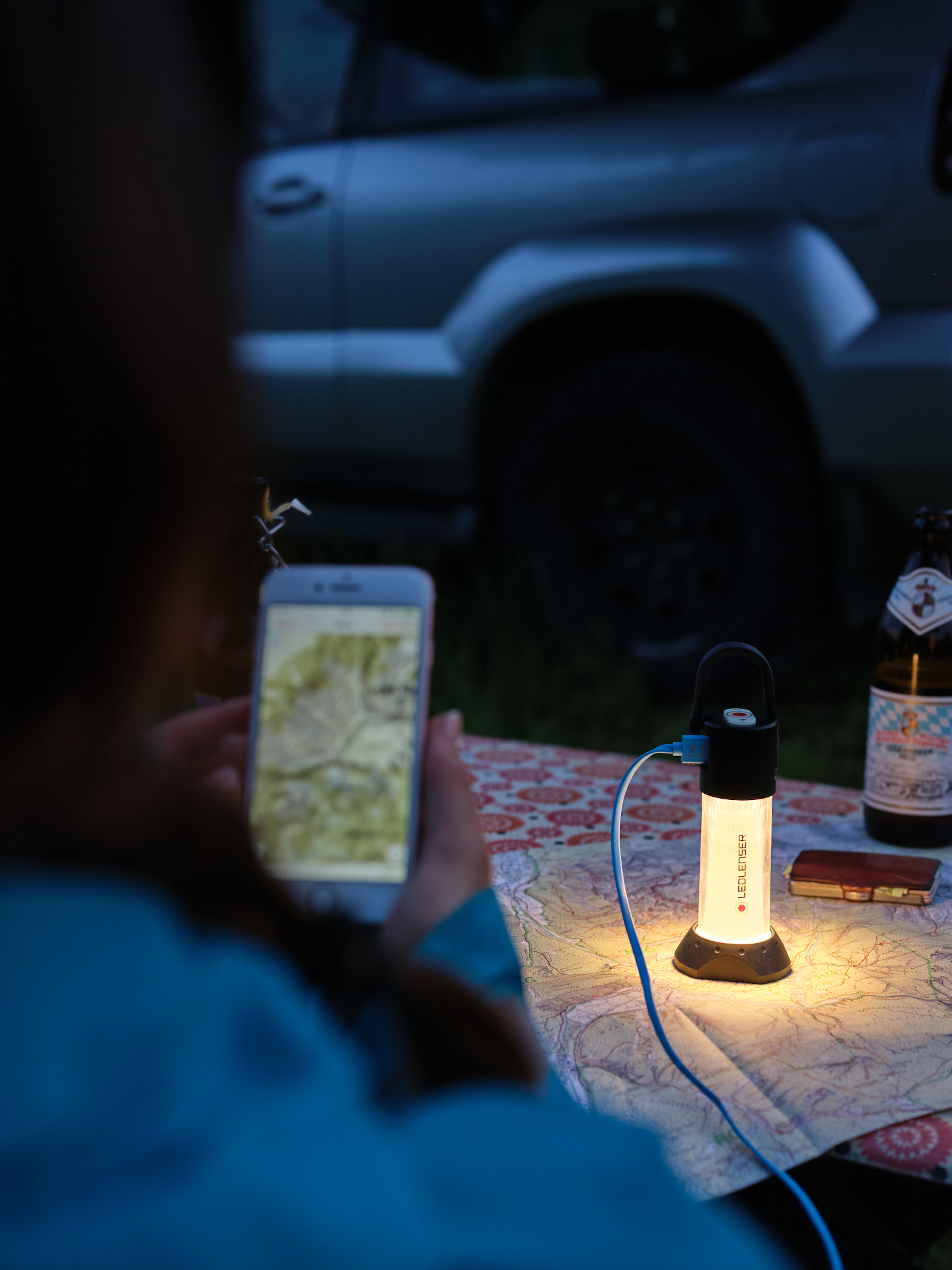 A very universal camping flashlight that can be "glued" to the car with a magnet or hung somewhere with a hook. In addition, it has the ability to charge, for example, a phone via USB.
You can buy it here: Camping flashlight
Hand torch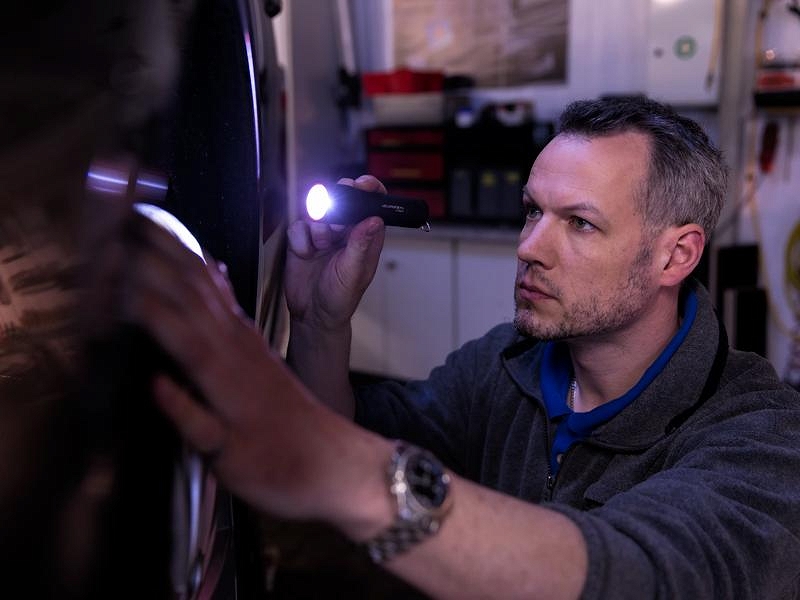 We have been using this flashlight for a short time and we decided to keep it in the car. The flashlight comes with a special holder, to which you can connect the charging cable, so we always have a charged flashlight at hand! In addition, charging is inductive, so you do not need to disconnect and connect any cables every time you take the flashlight out of the car and put it back in.
Very nice stepless focusing function, Warranty up to 7 years. Lighting duration up to 40h. 1000lm power.
You can buy it here:Car Flashlight
Headlamp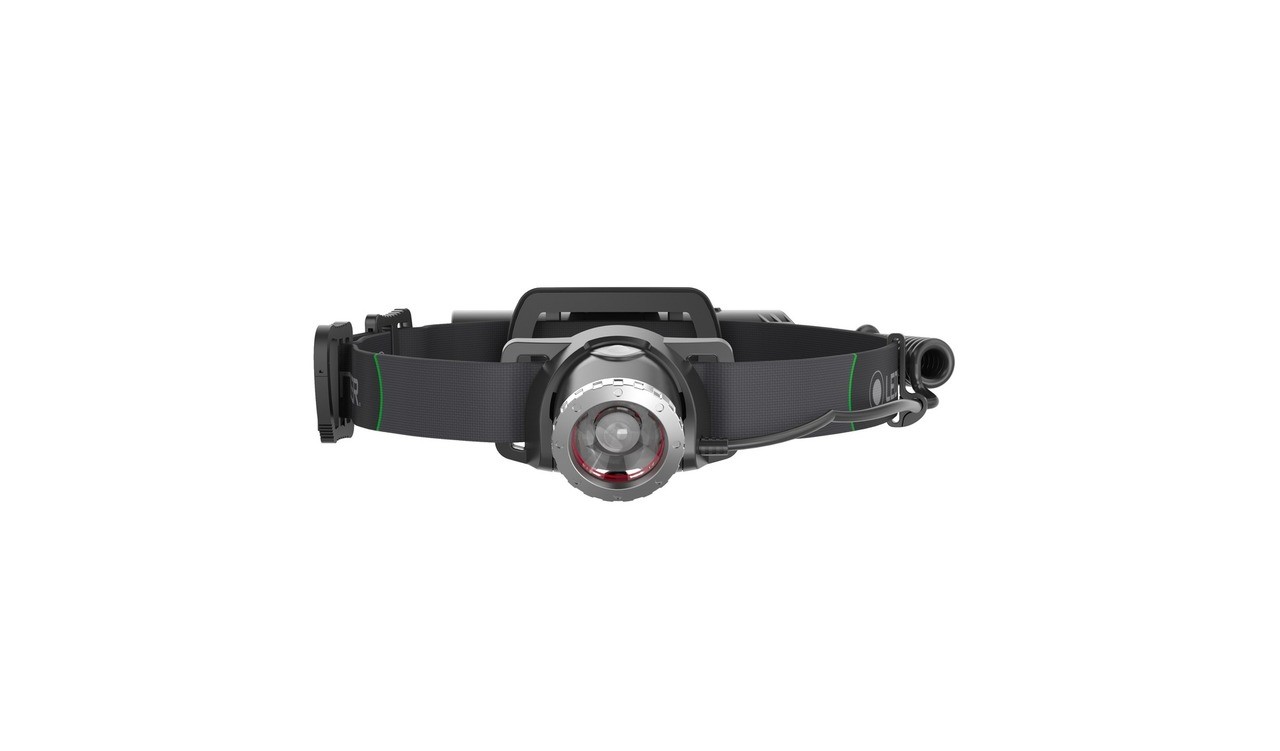 Ultralight headlamp with a very strong beam of light. It has as much as 600lm with a range of 150m of light. With this highest power, it can work up to 10 hours! There is also a small red light on the back, thanks to which you can see our position even more precisely. It will surely appeal to those who like to climb somewhere high and far for a camping trip.
You can buy it here: Top
A headlamp for the whole family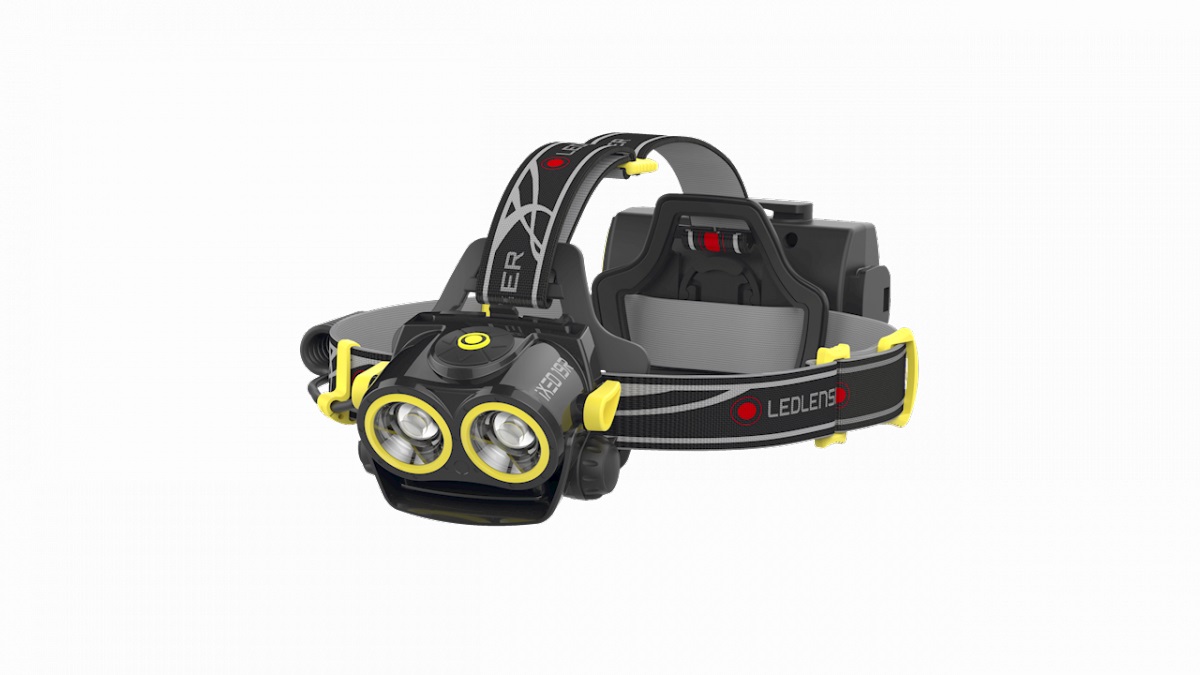 This headlamp gives such a strong light that if we walk in a group, it will calmly light the way for the whole team or family. It gives a light with a power of 2000 lm and has a range of 300 m, and its battery provides up to 20 hours of continuous operation in economy mode and 4 hours if we use it in BOOST mode.
You can buy it here: Top
Tourist chair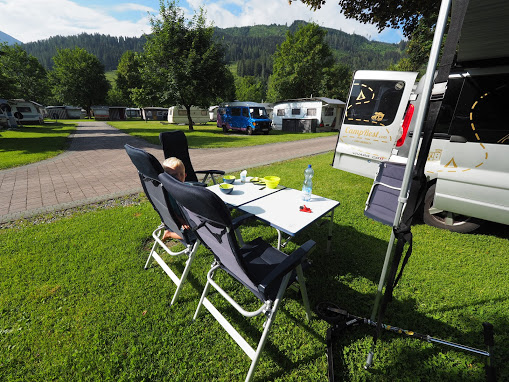 We've had Westfield folding chairs since 2015 and they still look like new. No wonder that the manufacturer gives a 5-year warranty on these chairs, because they are actually indestructible. You know how much we use them, and in addition, we fold them almost every day and put them in a car or trailer. They undergo an exceptional endurance test here.
In addition, they are so convenient that we always take them with us when we go to our friends for a barbecue, because we know that it is the most convenient on ours. In addition, we have footrests for them, and in this solution you can even take a nap comfortably on these chairs.
You can buy it here: Westfield camping chair
Windshield insulation mat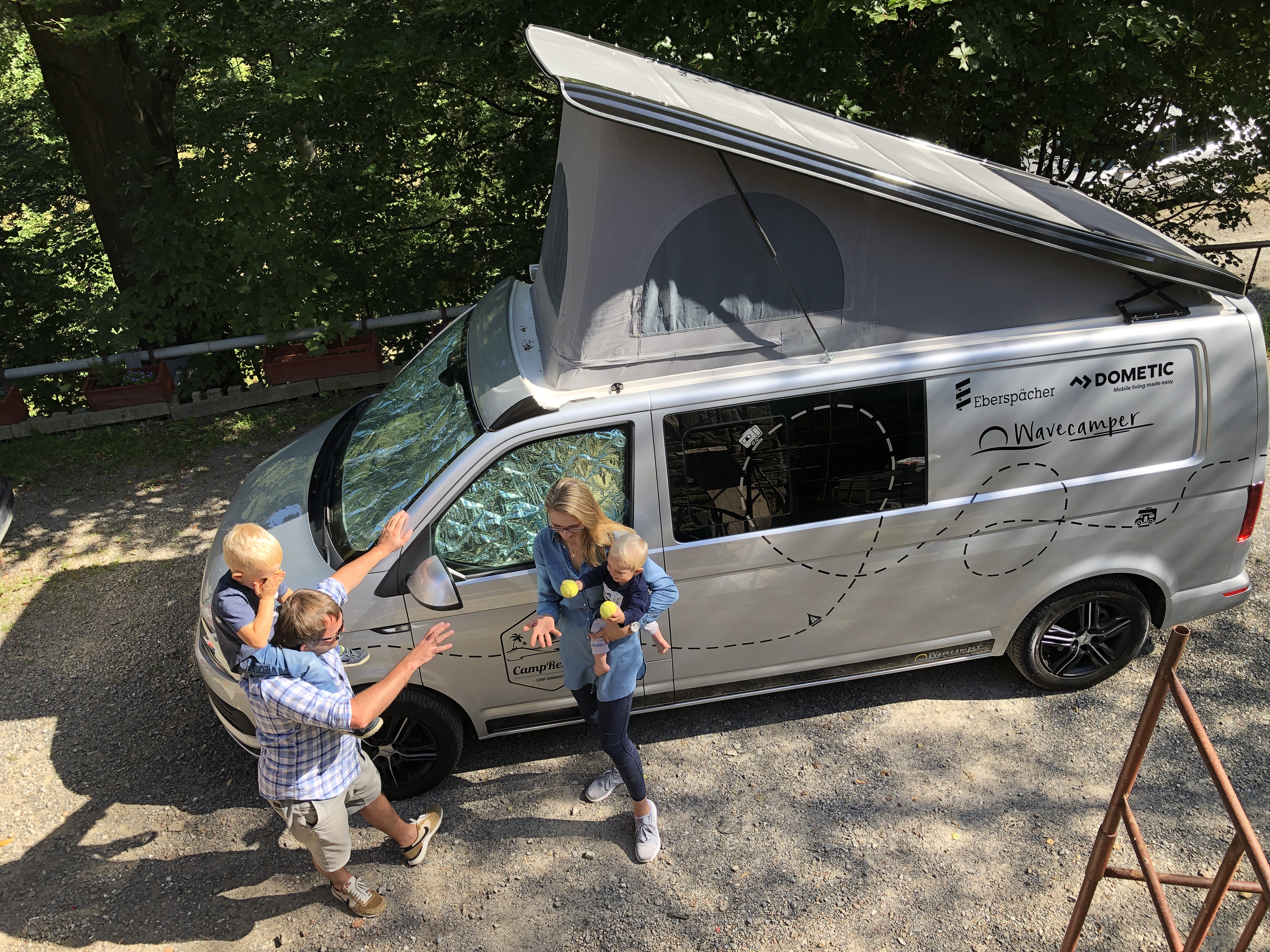 If you want to give a gift to someone who drives a campervan like us, insulating mats are a great idea. They insulate great and the car doesn't really get hotter in summer. In winter, it's also nice to have a mat on the rear window if someone sleeps on the fold-out couch downstairs.
You can buy it here: Glass insulation mat
Liquid for tourist toilets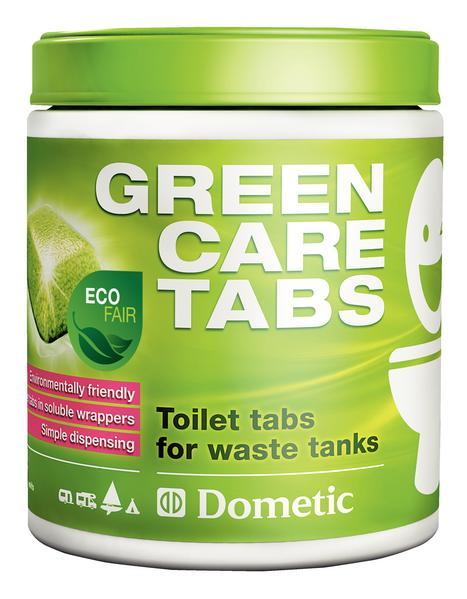 If you like giving practical gifts, this is something for you. When buying toilet chemicals, remember to choose products from good and well-known brands. Thanks to this, you will be sure that the motorhome will not smell like TOI TOIu.
You can buy it here: Toilet chemicals
Tourist toilet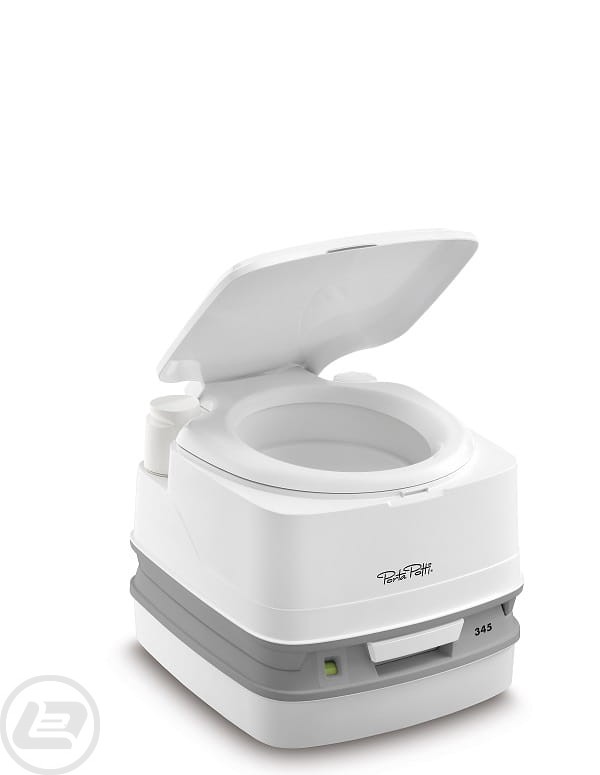 A portable toilet is something that will work for campervans users, which usually do not have a toilet with a chemical cassette. If, in addition, children travel in such a campervan, I guarantee that it will be used often. Such a toilet is like a large potty with a closed tank and the possibility of flushing the water.
You can buy it here: Portable toilet
Tourist utensils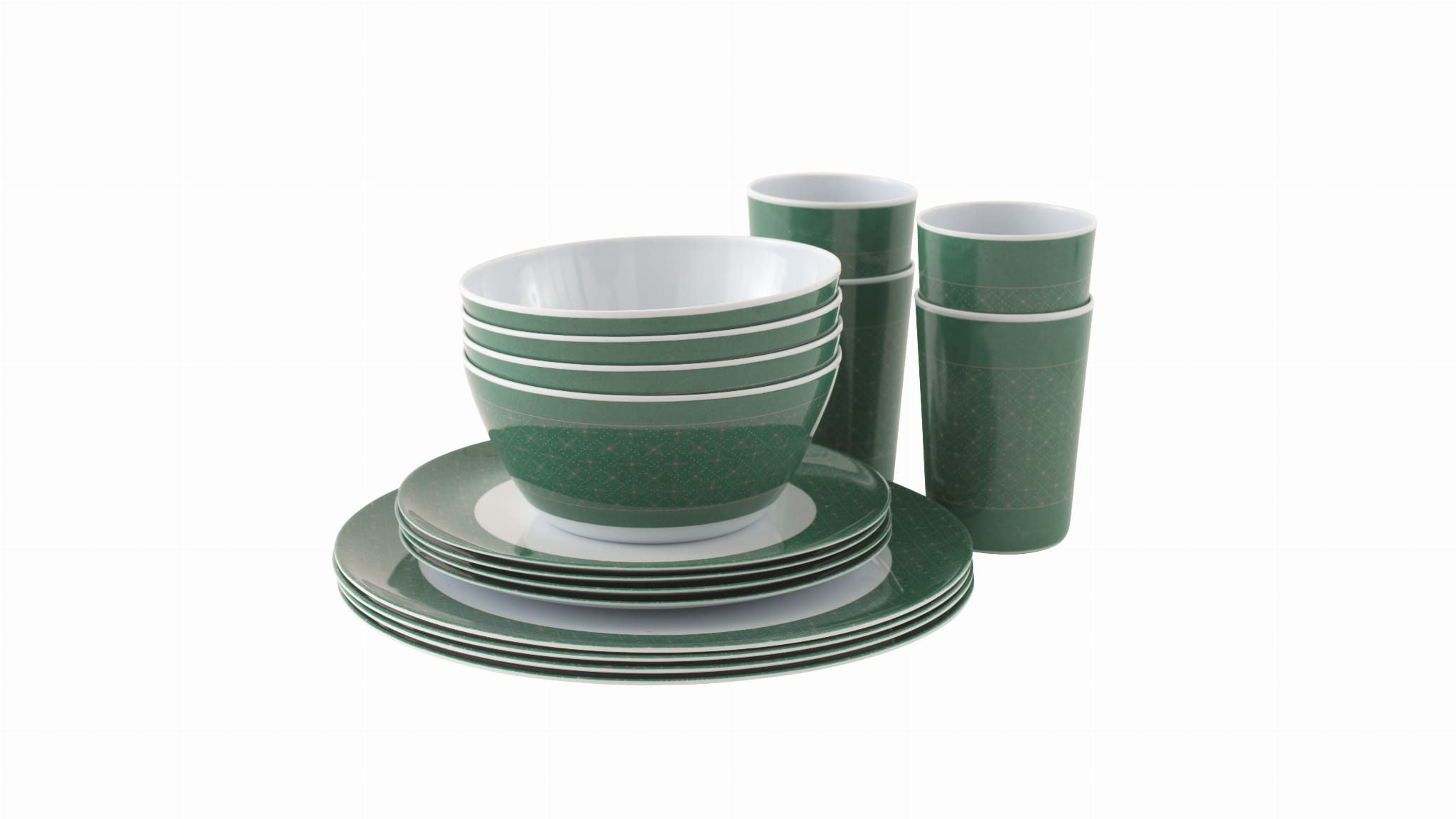 Melamine utensils are above all lightweight, and the weight is what all caravers look at when they are packing. If someone you want to give them does not have them yet, they will surely be pleased with the gift. If you are not sure if this person has plastic dishes, you can always buy melamine wine glasses or melamine beer mugs .
You can buy colorful plates here: A set of melamine plates
Thermal mug
Thermal mugs will be useful to everyone, even the mother on the maternity wandering around the block. I have only been using Contigo for several years. They keep warm or cold for a long time. Interestingly, I mainly pour water into them, because it does not change the taste in them like in plastic bottles, and I try to drink tap water, so a reusable bottle is the basis for me.
You can buy it here: Thermo mug
Mugs with print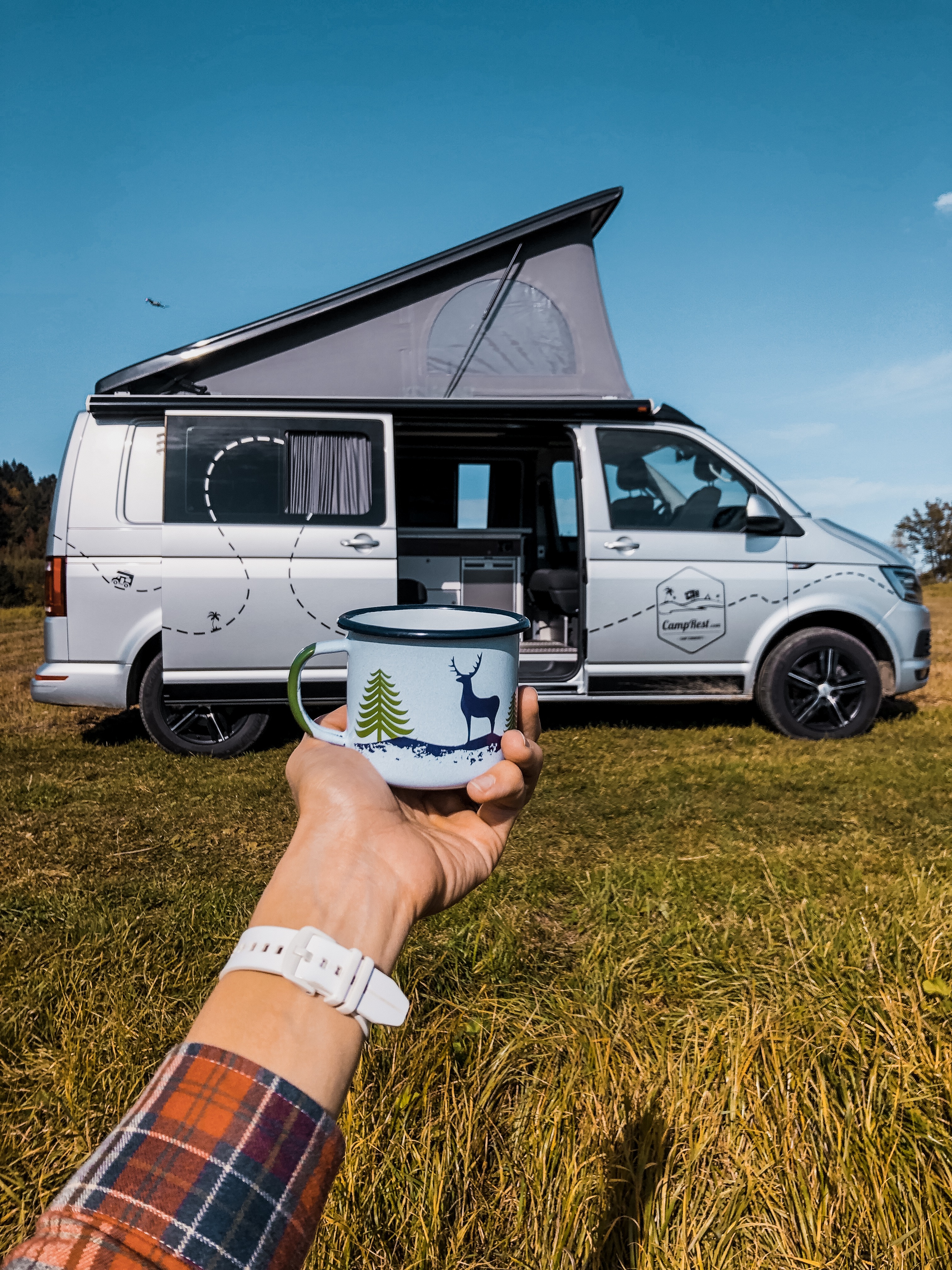 Once the best mug for camping , now an inseparable element of instagram photos. If for some reason you do not want to use reusable plastic cups or even plates, you can find all the enamelware at Emalco.
You can buy them here: Emalco - National Parks series
Recoil free hammer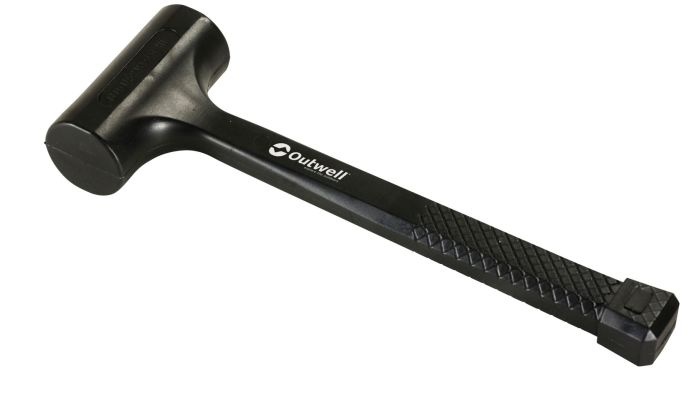 We always have a rubber hammer in the car. It is useful for attaching storm straps to the awning or for herring at all.
You can buy it here: Hammer , but you can also find it in any DIY store
Hat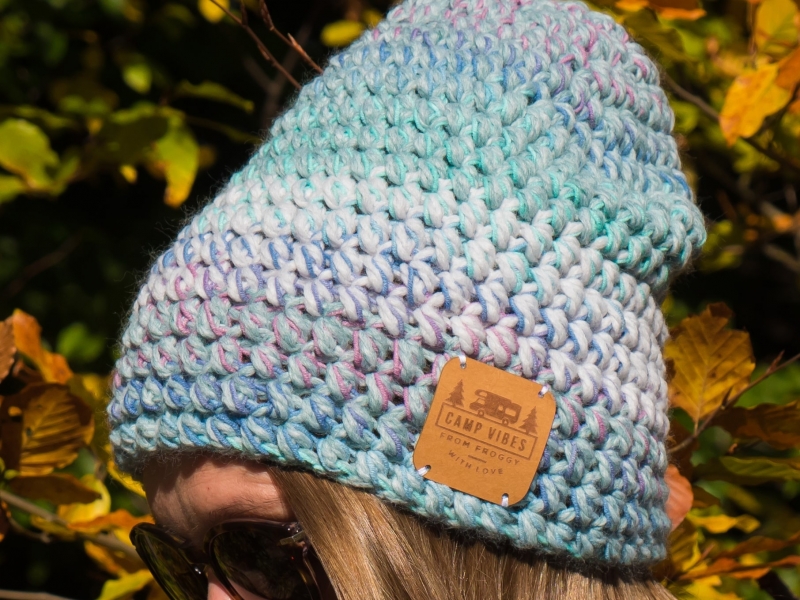 Handmade crochet winter hat, but most of all with a camping theme!
You can buy it here: Camp Vibes Cap
If you prefer wool hats, I recommend Piumo . It's a company from our hometown, and they made hats before I think I was even in the world.
Socks
This is perhaps the most popular Christmas gift choice, or at least in our family. We always buy colorful socks . As once no one got socks under the Christmas tree, they were tears;)
If you want to give a gift to someone who's cold feet, choose the woolen ones.
You can buy them here: Wool socks
Down jacket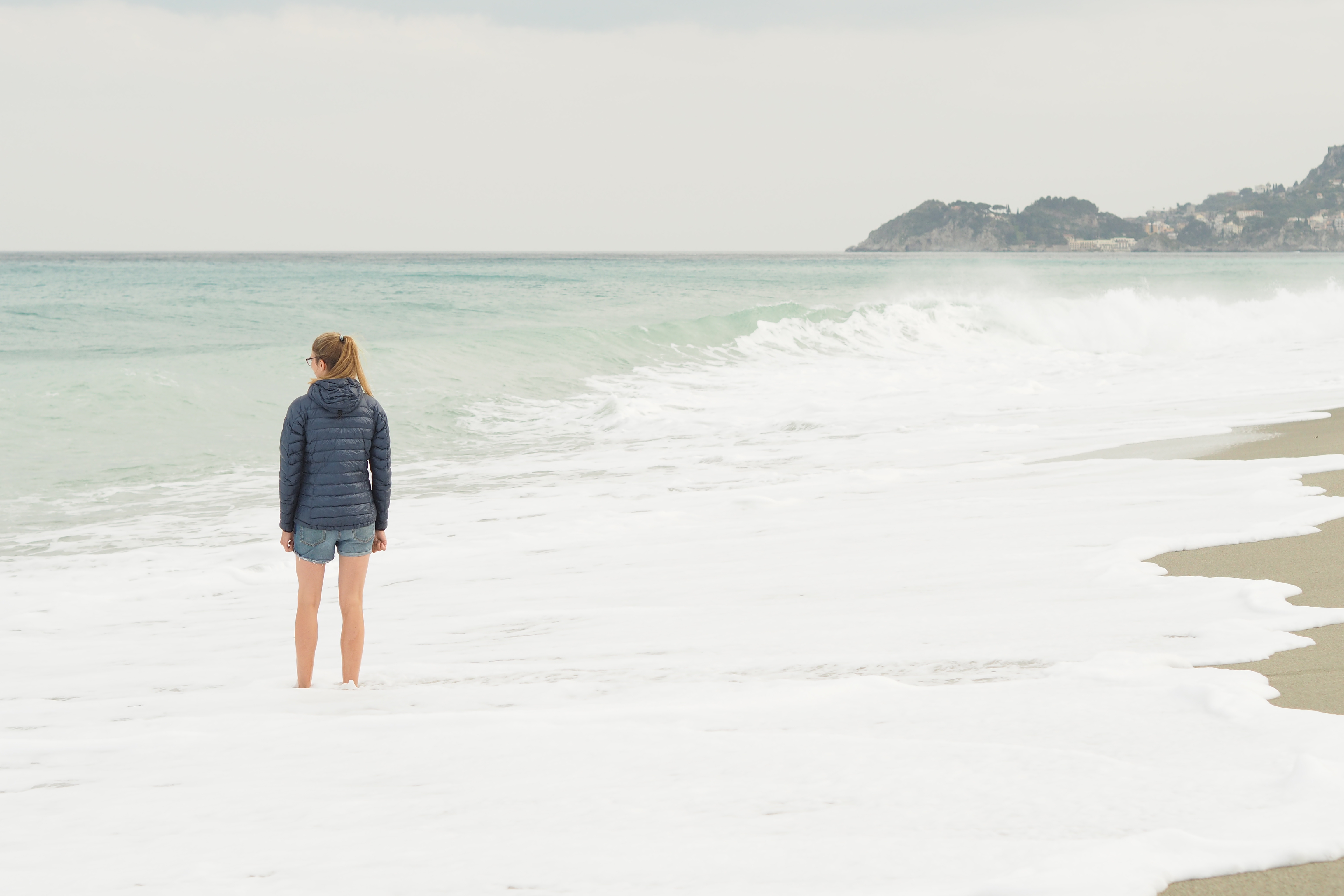 From this year on, our entire family has Pajak down jackets. They are very light and incredibly warm. We wear them all year round, because winter jackets can easily be put on top of down ones.
In addition to great insulation, jackets have the advantage over other outer garments that they can be rolled up into really tiny balls. They take up extremely little space for something so warm.
After buying a down jacket, read the instructions for its use, or read this article right away. How to clean a jacket and a down sleeping bag?
You can buy it here: Ultralight down jacket
Cardigan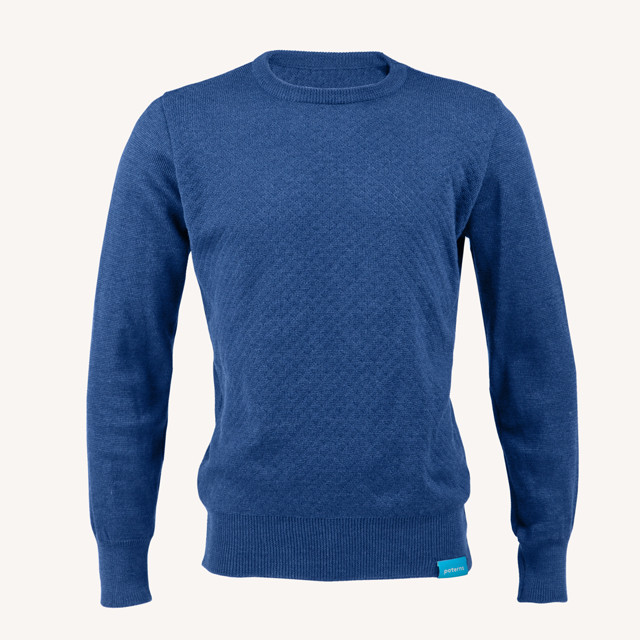 Sweaters are another gift hit in our family. Recently, I have been paying attention to the composition of the things we buy. I prefer to buy more expensive clothes that will last us longer and such clothes are made by the Polish company Paterns. They offer women's sweaters, men's sweaters , sweatshirts, t-shirts and clothes for children
You can buy woolen clothes here: Paterns
Travel books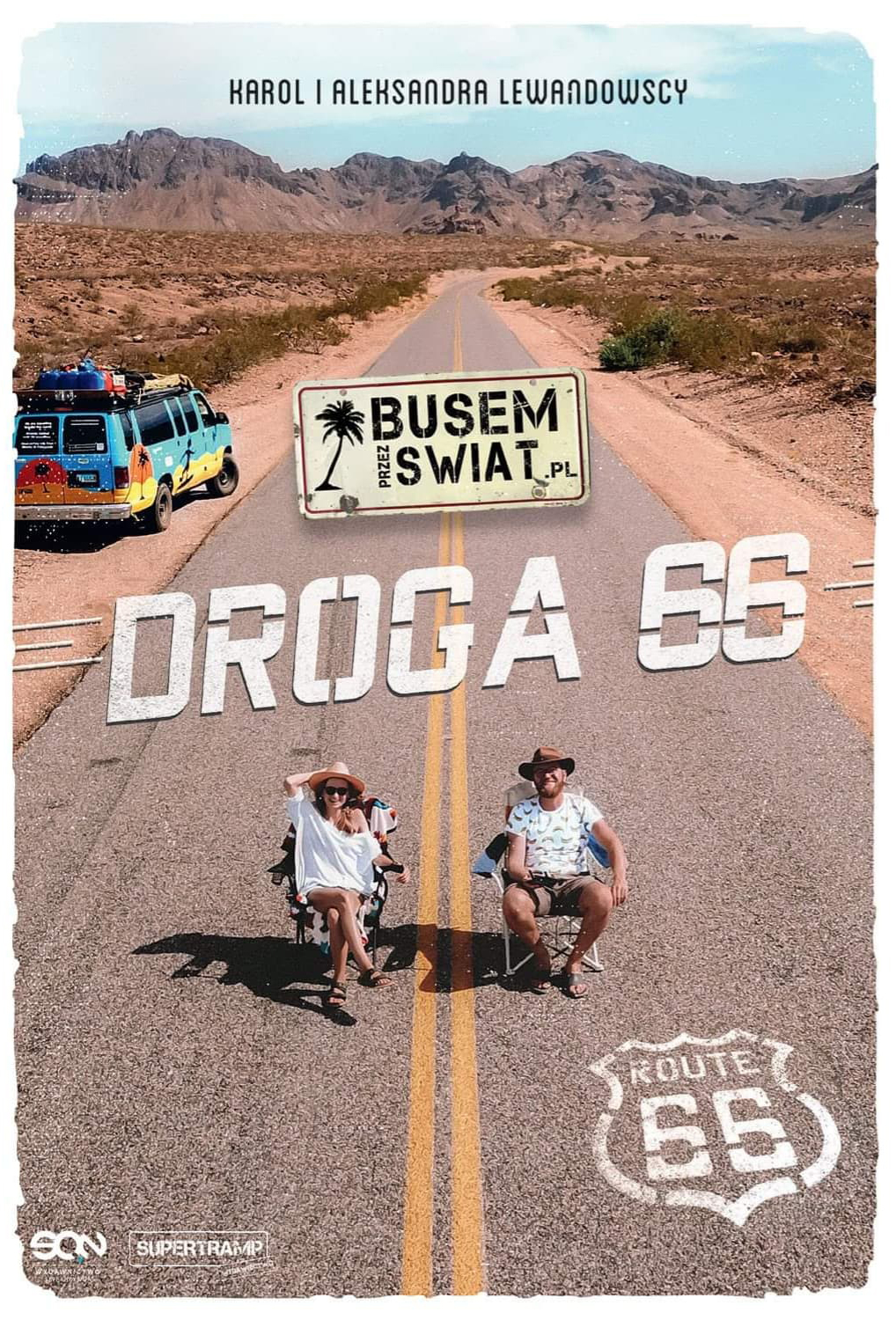 Probably everyone who drives a van or camper knows Ola and Karol with busemprzezświat.pl. Their books can be a fantastic Christmas gift idea. This year, they also released a calendar with their beautiful photos, but it was probably only available for pre-sale.
You can buy them here: Travel books
Books for kids
When we are talking about books, our book could not be missing here. Unfortunately, we do not send it anymore, but you can buy it in many bookstores in Poland.
You can buy it here: Children's book "Fairytale Camping"
Sun shade for awning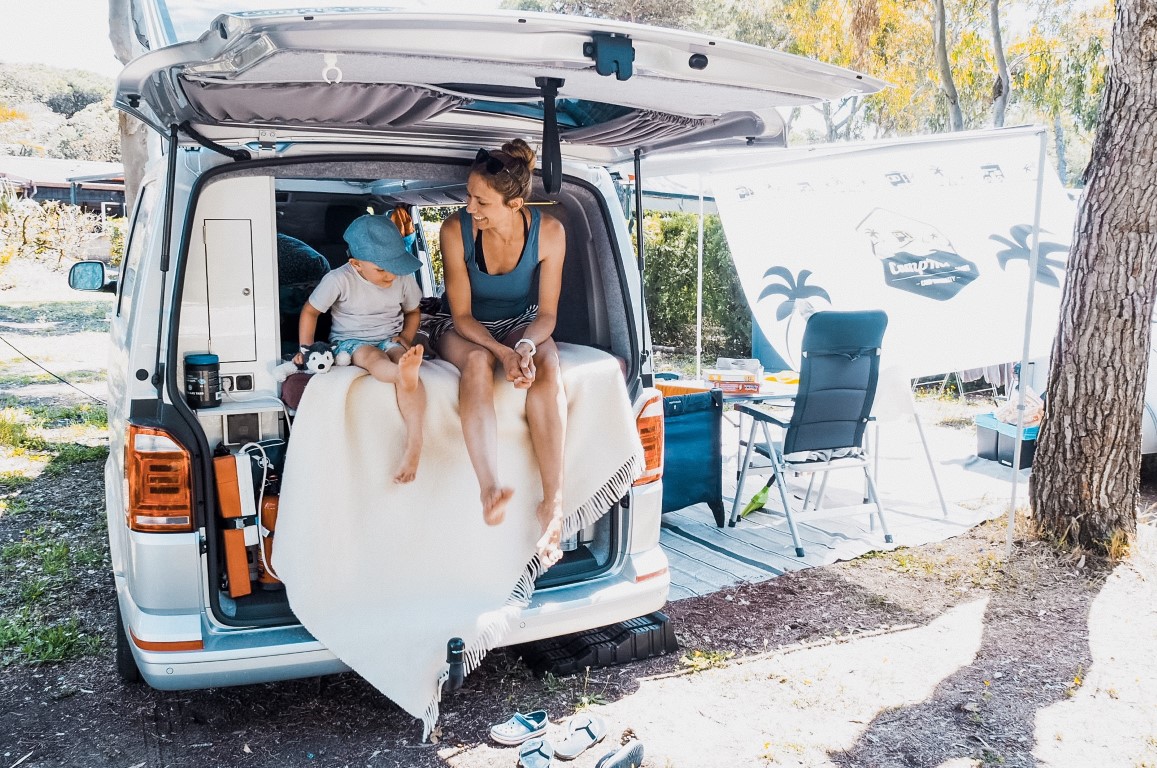 We have a similar one and it is great as an additional shade source on the lot. It's nice that you can roll it up and hang it under the awning. It also protects a little from driving rain, but it is not rainproof because it is made of mesh. Which, in turn, in the summer does not inhibit the air flow under the awning.
You can buy it here: Awning shade
Multitool
Combination pliers, knife, scissors, corkscrew, screwdrivers ... all day long you could change what else can be found in the Leatherman multitool. This is something that is always in our car and is used very often.
You can buy it here: Multitool Leatherman
Foldable bowl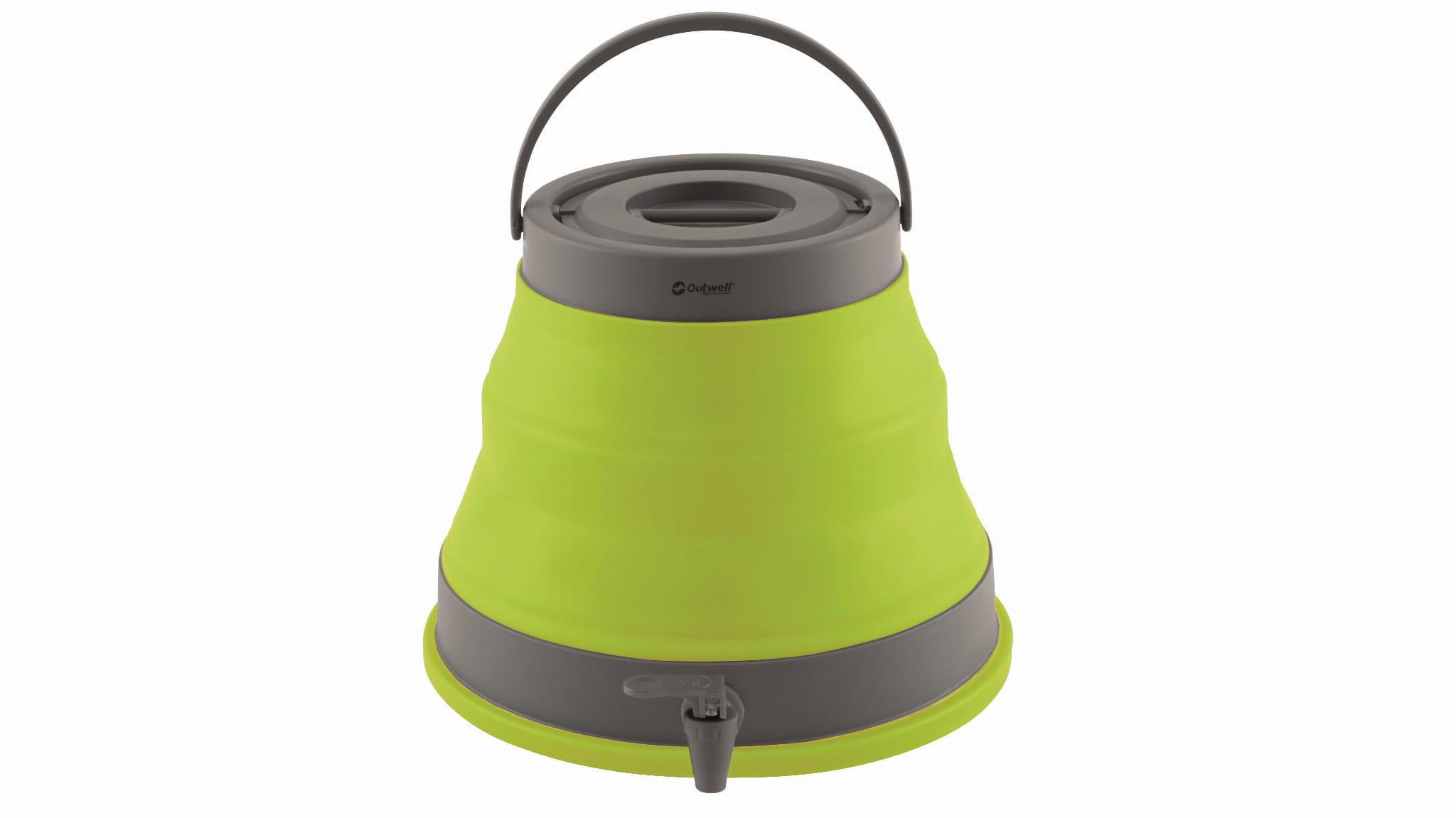 You know that every centimeter in a camper is worth its weight in gold, so if you can fold something for transport, it must be good! And this bowl also doubles as a water reservoir.
You can buy it here: Foldable bowl
Tourist table
We like to carry a large table with us. With a few people, it can be cramped at a small tourist table. That's why we chose the folding tourist table. I will not recommend the one we have exactly, because I do not like that it gets dirty very easily, you can clearly see dirt on it, which in addition hardly comes off, so I paste a link to a similar one.
You can buy it here: Folding table
Board games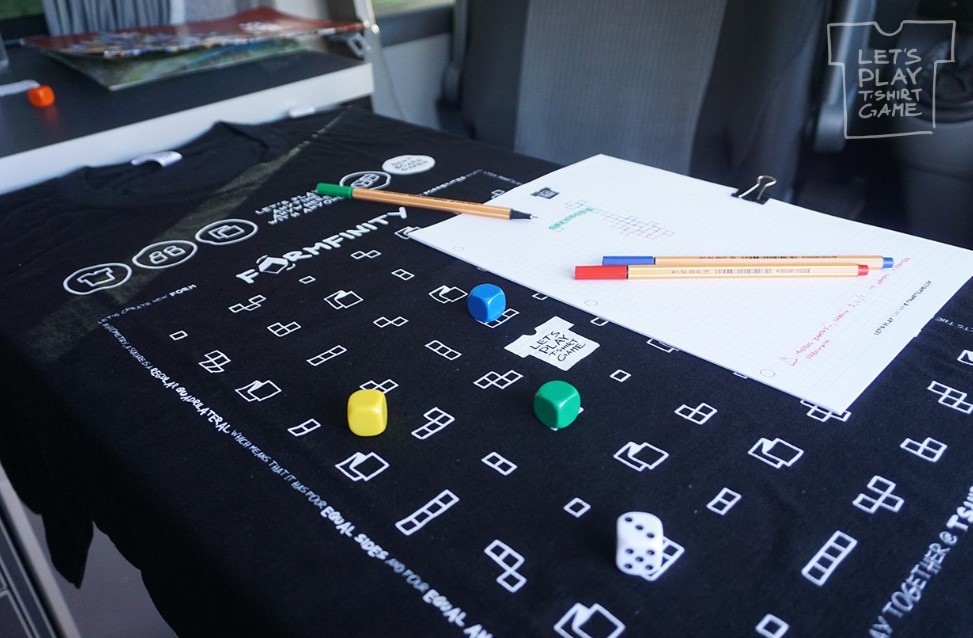 It's best to spend long free evenings at the campground in the company of fun games. We recommend a solution that works perfectly in a motorhome, i.e. T-shirt games. They take up very little space, they are easy to transport, and when you run out of T-shirts, you put on the game.
You can buy them here: T- shirt games
Sleeping bag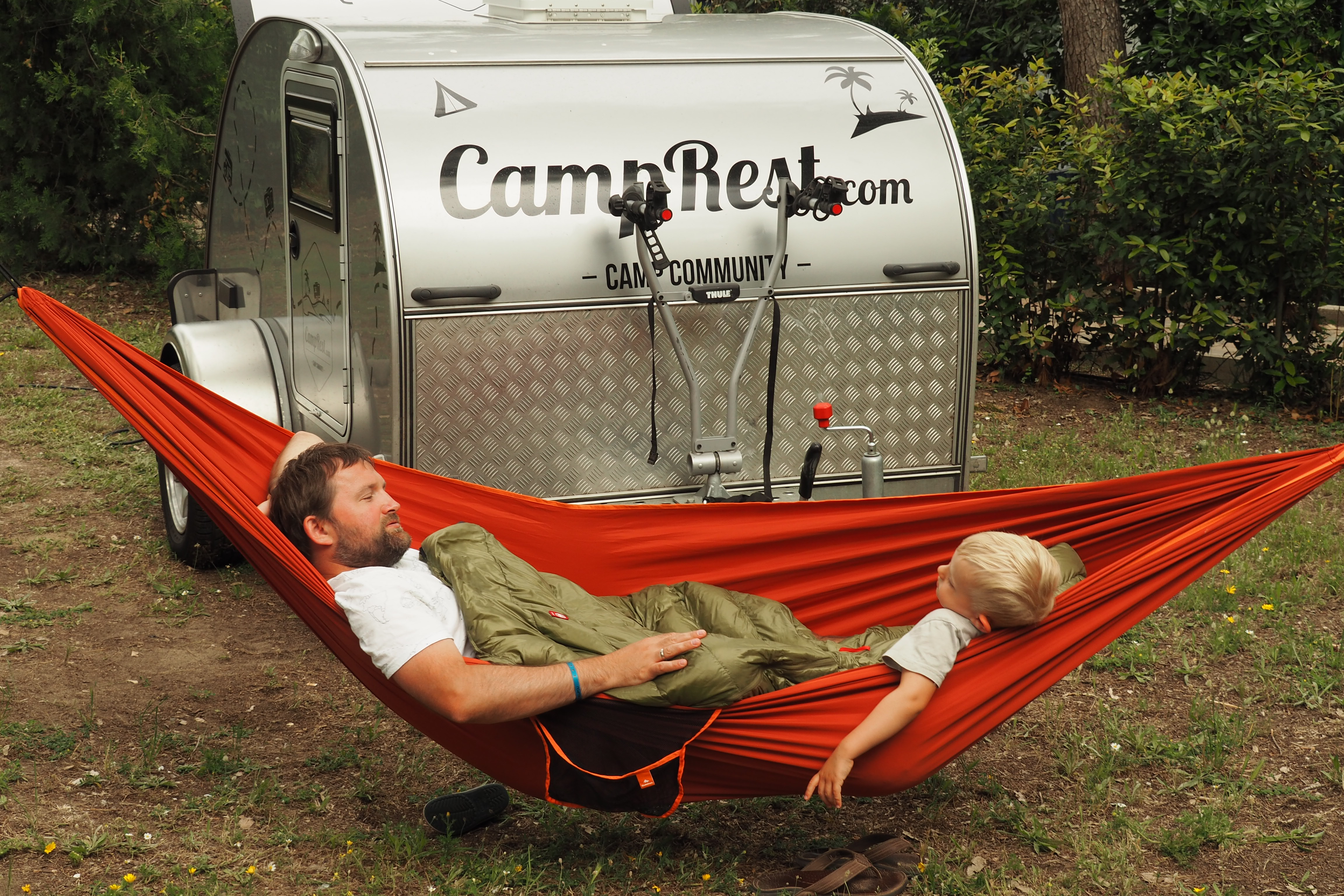 In addition to down jackets from Pajak, each of us also has our own down sleeping bag. We have already written about them, for example here: How to choose the right sleeping bag? These are the best sleeping bags on the market, and interestingly, we have had Pajak sleeping bags since we were a child, because it is a company from our hometown and they were already producing the best things (20 years ago).
You can buy it here: Sleeping bag
Jewelry and a set of cosmetics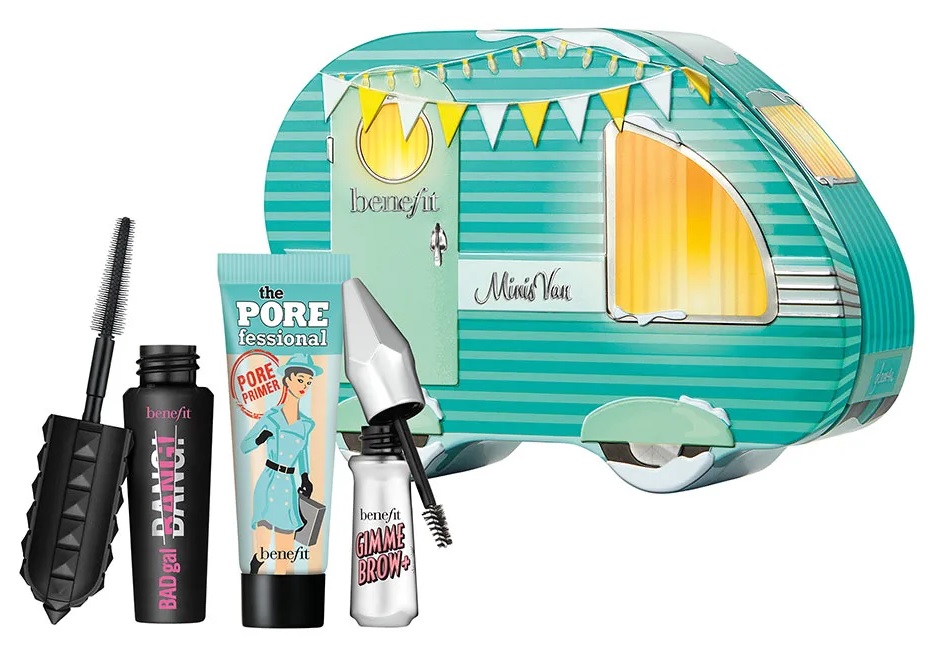 One thing is certain: probably every woman will be pleased with jewelry or cosmetics under the Christmas tree. If they are additionally packed like these benefit cosmetics , then every caravanning enthusiast will surely like it.
You can then keep gingerbread in the box, or the caravan keys;)
You can buy it here: Benefit Bundle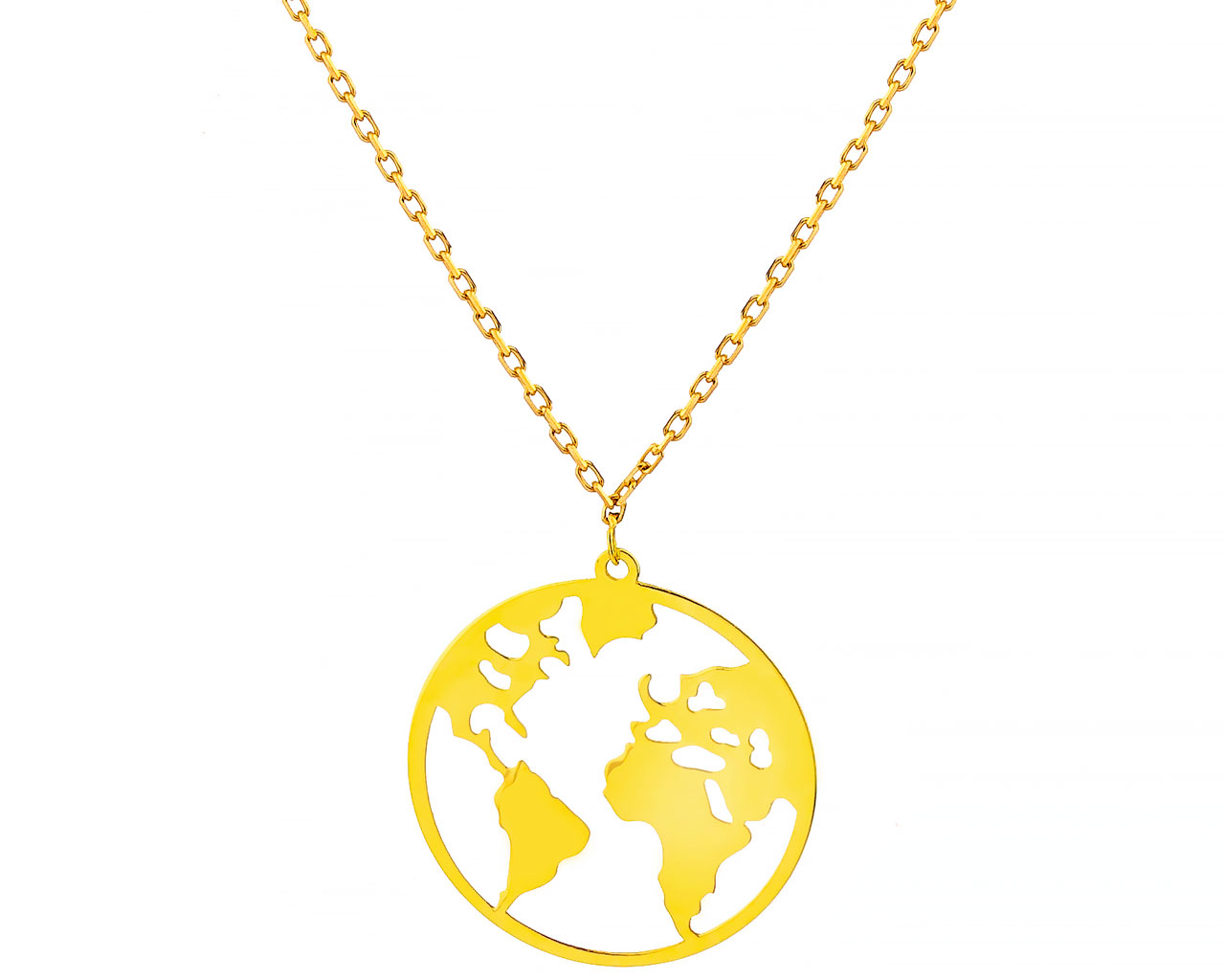 Beautiful and delicate - perfect for any occasion.
You can buy it here: Globe necklace
Tourist kettle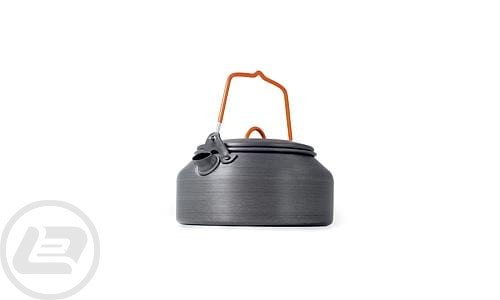 I also found such a beautiful gas kettle. It is very light and nice. Not every caravanner will want to take it with them on a trip, because it does take an extra space, and you can always boil the water for tea in a pot, but I like it very much and I think they were perfect for a gift.
You can buy it here: Teapot
Refrigerator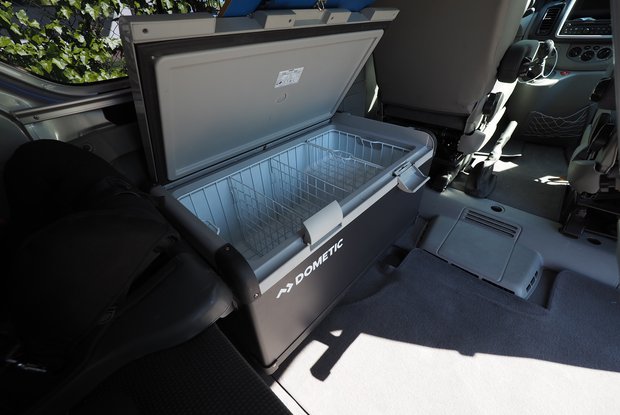 At the very end of the list there is a portable fridge , but in my opinion it is one of the best gifts you can give to someone or even yourself. It may be expensive, but this quality is worth the money. We have written about these refrigerators many times, for example here: Dometic CFX 100W compressor cooler - CampRest Test
You can buy it here: Car refrigerator
An engineer with a passion for traveling. My dream is to drive a motorhome through the USA from coast to coast. I would also like to do a few longer bike trips around Europe, but I have to convince my husband to do that;)
Enjoyed reading this article? Share it!