Gas in the motorhome - gas cylinder replacement in other countries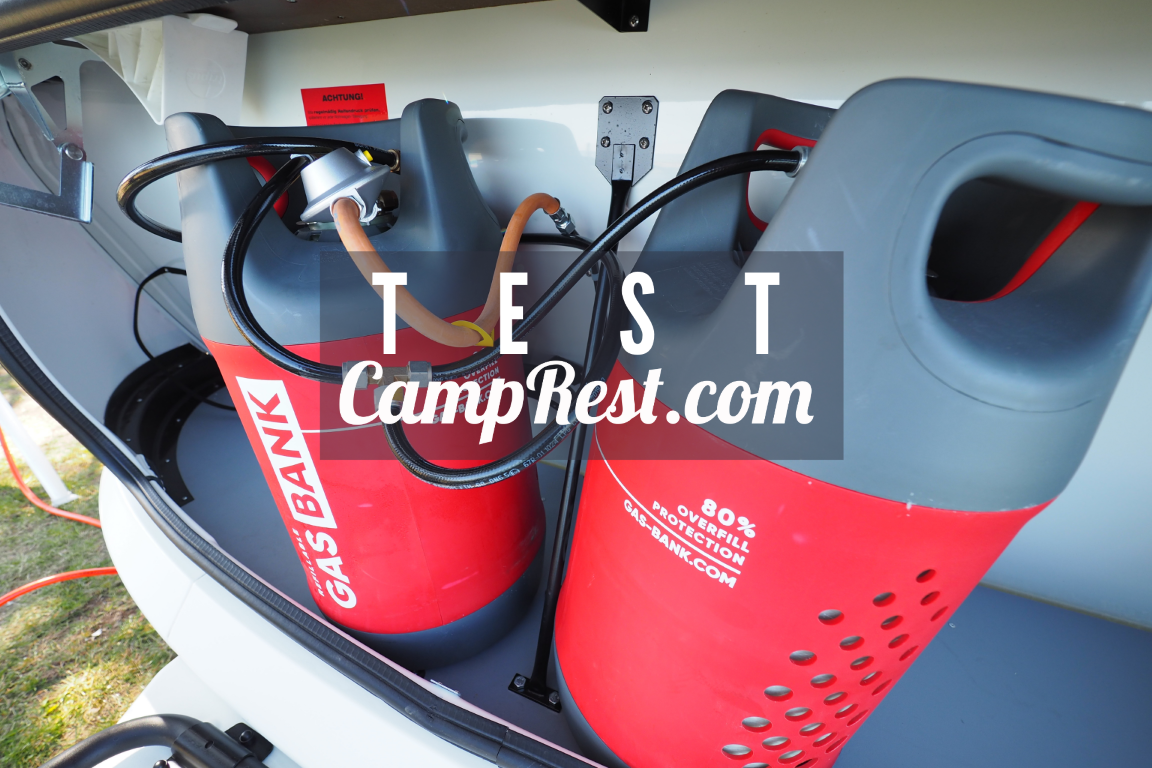 Gas is the most popular fuel used in motorhomes and caravans. We use it to power the stove when cooking dinner, heating the interior or heating water.
We can buy gas in replaceable steel or composite cylinders of various capacities. Steel cylinders are most often borrowed by paying a deposit at a given point and then such cylinders can be replaced at other points by paying only for the gas itself.
Gas cylinders in Poland can usually be replaced at gas stations, camping sites and various points of sale.
Exchange of Polish gas cylinders abroad
There is no problem with the availability of gas in various European countries. It appears when we want to replace a Polish cylinder, e.g. in Germany , Austria, France, Croatia, Italy or any other country in Europe.
Unfortunately, no one abroad will accept Polish cylinders for replacement , because our cylinders are different from those used in other countries.
Of course, you can buy / rent cylinders in a given country, but we will still have to transport our empty ones, which becomes problematic due to the limited space and load capacity. It should also be remembered that cylinders in different countries have a different standard and thread output from the cylinder, which differs from those in Poland. In order to connect such a foreign cylinder to a Polish installation in a motorhome, you will have to use various adapters for screwing onto the thread.
You can find reductions on the Internet, thanks to which we will even be able to refuel a Polish steel cylinder at a foreign LPG station . However, it should be remembered that it is illegal and there is a risk of an explosion of such a cylinder if we fill the gas with more than 80% of its capacity. It is not difficult to make a mistake in calculating how much gas should be refueled, so we warn against such experiments.
Gas-Bank - A gas cylinder for a motorhome that can be refueled at an LPG station
Last winter, when I tested Frankie Platin , I was going on a 3-week tour in a camper through Germany, Italy and Austria and I knew that 2 cylinders installed in a camper as standard would certainly not be enough for me during the entire trip and I would have a problem with replacing it in all these countries.
I found a very nice solution from Gas-Bank , i.e. composite gas cylinders for a motorhome that can be refueled at LPG stations .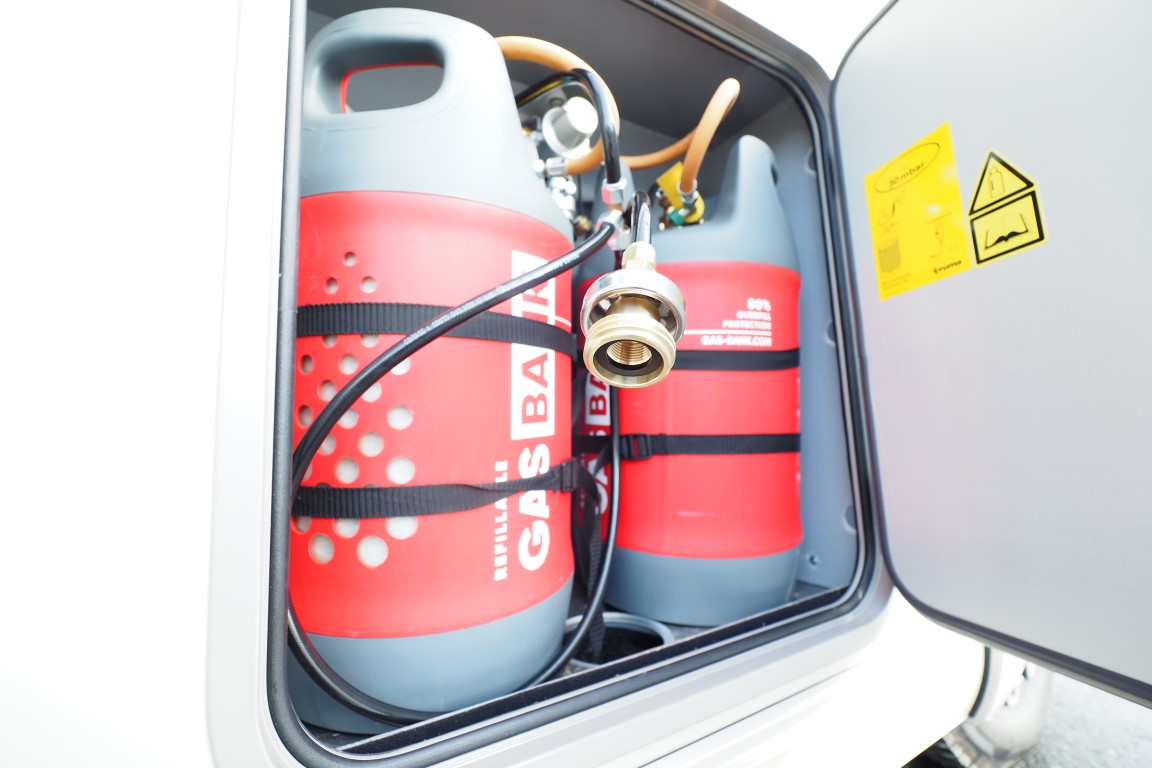 The cylinders are composite and as empty they weigh only 5 kg, which means that we already save weight, which is very important in caravanning. During the first refueling, 19 liters of LPG entered my empty cylinder, which is close to the value of 11 kg in a standard steel cylinder.
This is a great solution, because we have no problem with buying cylinders in a given country and looking for a place where this cylinder can be sold before leaving it. In addition, we do not have to bother with unscrewing, lining and inserting heavy steel cylinders.
In this case, the cylinders once placed in the hatch in the camper stay there for a long time. To refuel them, just drive to the dispenser and refuel them like a standard tank in a car with an LPG installation.
Installation and refueling of Gas-Bank cylinders at an LPG station
Gas-Bank cylinders are mounted in a motorhome or caravan in the same way as standard steel cylinders.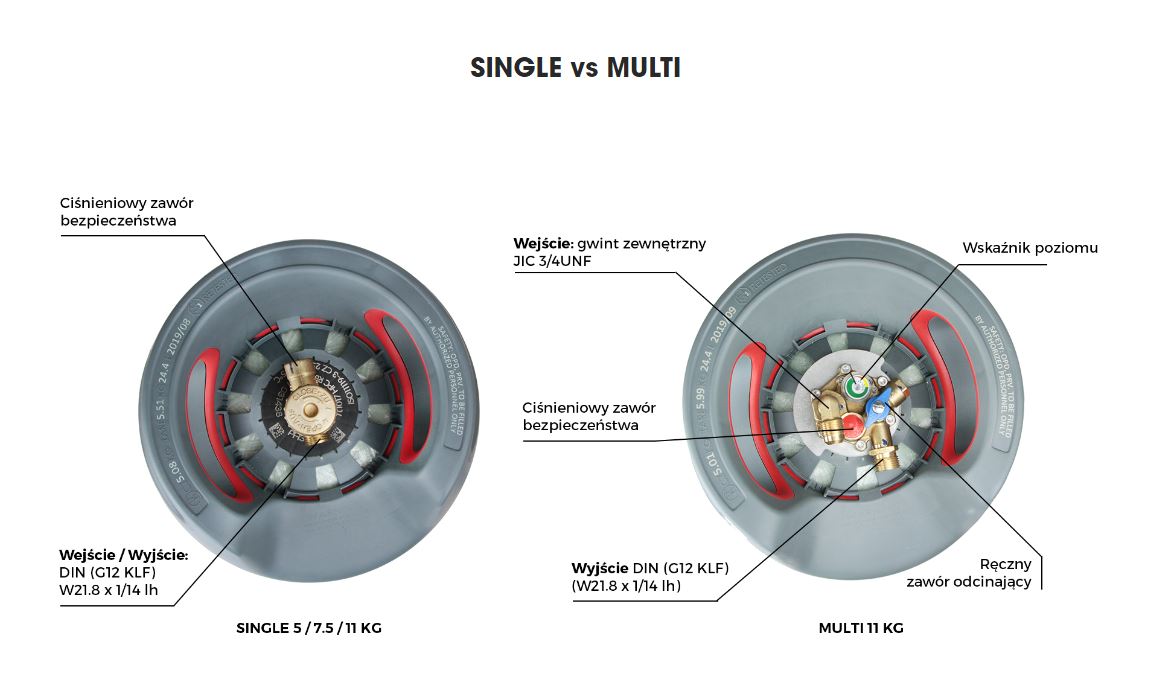 I have a set of 2 MULTI cylinders , which have an inlet valve for refueling and a separate outlet valve for connection, for example, to an installation in a motorhome. Both cylinders are connected with one refueling hose, so when refueling at the LPG station, we do not have to refuel each cylinder separately.
If we want, we can install an external gas inlet in the wall of the motorhome, which looks like in a car with an LPG installation. This way , we don't even have to open the hatch with cylinders when we want to refuel at the station.
The installation of such a filler should not cause any problems, but if you do not feel up to it, every motorhome service should do it in no more than a few hours.
The distributor of these cylinders, i.e. CarGO from Poznań, installs such infusions in motorhomes at the request of its customers. We learned that virtually every new motorhome purchased in their showroom comes with such a set - which is a sufficient confirmation of their practicality.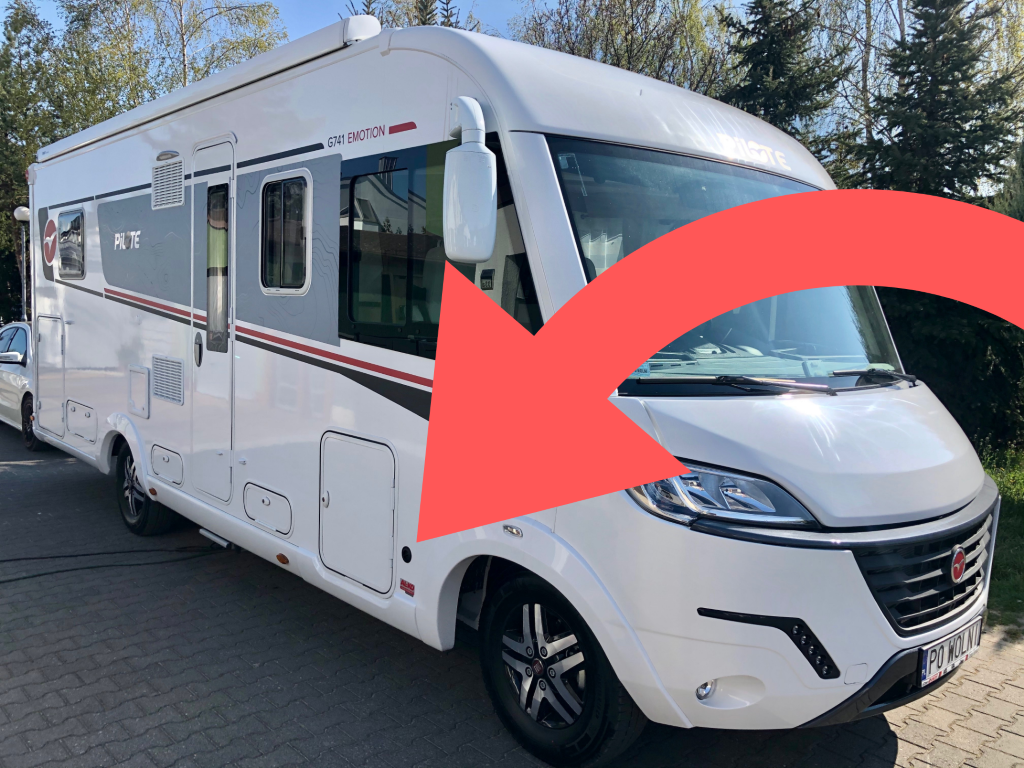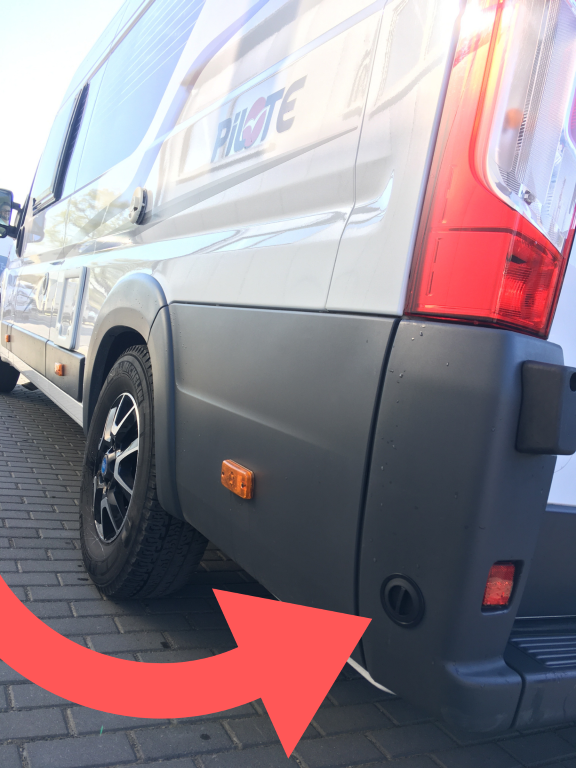 Refueling is safe because the cylinders have an automatic OPD valve (Overfill Protection Device), which cuts off the refueling of cylinders when the amount of gas in the cylinder reaches 80%.
The cylinders look very nice and have a clear REFILABLE with OVERFILL PROTECTION inscription, which means that the cylinders are refilled with an overfill lock. Together with the cylinders, we receive a TUV certificate, which we can show to the station employee who will have any objections that we refuel the gas cylinders.
I have already refueled my cylinders about 15 times (in various European countries, including Poland) and the station employee did not allow me to fill up such a cylinder only once. This was in Italy where an employee claimed that he could only fill gas for the engines that power the vehicle, not the heating.
At subsequent stations in the same country, I had no such problems and it must be noted that in Italy each LPG distributor is serviced by an employee who clearly saw that he was filling gas cylinders in a motorhome.
Recently, I had the pleasure to test the Hobby 545 KMF De Luxe caravan and gas cylinders from Gas-Bank worked just as well in the caravan.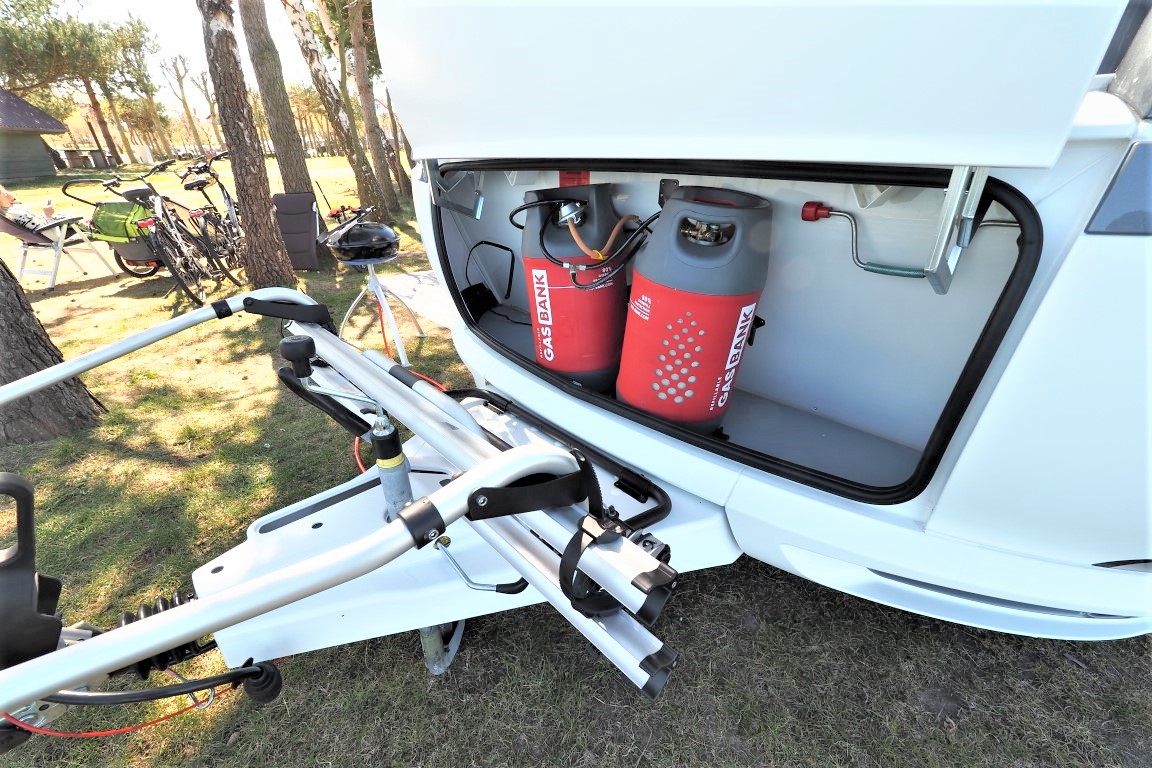 Indicator showing the amount of gas in the cylinder and overfill lock
The cylinder gas level indicators , which are mounted on the top right next to the valve, are also very helpful. There is no need to wonder if we only have 50% or maybe 20% of gas left in the cylinder - just look and we already know whether we need to look for a station, or whether we still have enough for the next few days.
The investment in such cylinders will pay off very quickly because before each trip we usually replace the cylinder with a full one, even if the previous one has not run out to zero. In this case, we only refuel to the full and do not throw away the unused gas as before.
LPG in winter
In winter, it is best to have cylinders filled with pure propane , not a propane-butane mixture. The flat has a different density and in the case of minus temperatures, such gas can freeze if less than 1/3 of it is left in the cylinder.
Because we will not fill up with pure propane at LPG stations and the mixture I was a bit afraid of going on a winter trip. However, LPG stations for winter have a "winter" mixture with more propane and only once I have managed that at -10, when about 25% of gas was left in the cylinder, frost and the system appeared on the cylinder, Duo-Control switched gas consumption to the cylinder in which there was more gas.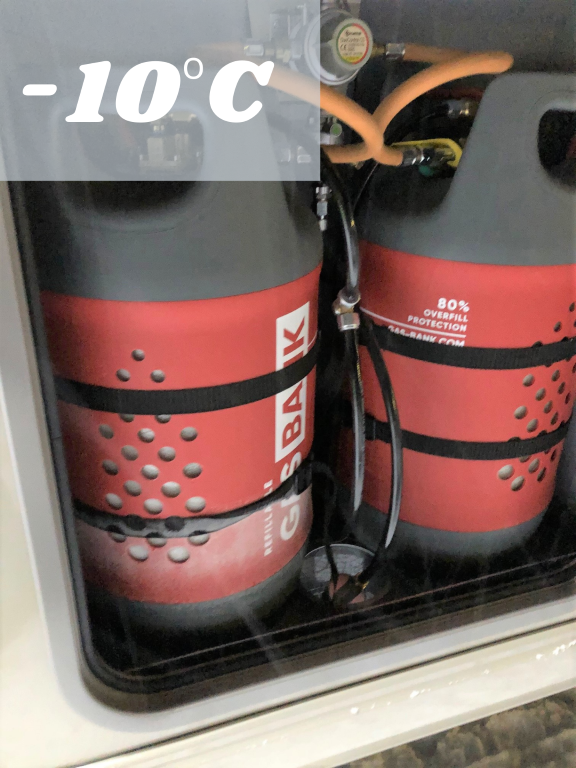 To avoid this, it is enough to remember to have 2 cylinders always full and in this way we should calmly heat the motorhome, even in severe frosts, for about 4-5 days on the gas purchased at the LPG station.
Yet another solution is the use of heating mats that can cover the cylinders or bring warm air to the cylinder hatch, but this is a topic for a separate article.
More information about the Gas-Bank cylinder can be found on the manufacturer's website www.gas-bank.com and for shopping, please visit the Accessories-Kawodowe.pl store.
Personally, I highly recommend them both for summer and winter trips.
gallery
We have created the CampRest portal for people who value freedom and travel on their own.
Enjoyed reading this article? Share it!