Unique gas cylinder design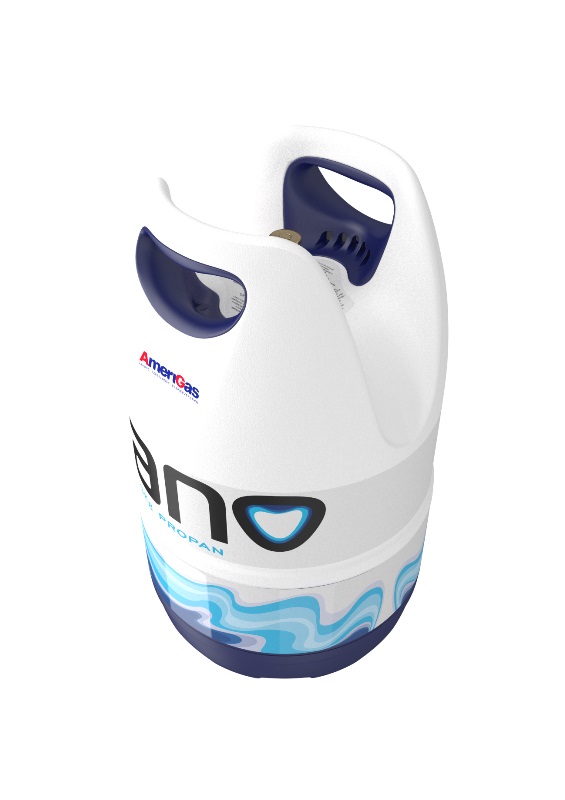 It is extremely light and very durable, because it is made in a modern, three-layer technology. AmeriGas NANO is a gas cylinder designed with the customer's comfort in mind.
Users, in addition to the attractive appearance, will surely appreciate the ergonomic size and low weight of the AmeriGas NANO. An empty 8 kg cylinder weighs only 6.5 kg - 40% less than steel cylinders. The Klik-On valve (the so-called quick coupler) guarantees safe connection or replacement of the cylinder without the need for any tools. The proposal is distinguished by its unique aesthetics, which was appreciated at international competitions for the design of consumer products (including the Red Dot Award), and in February this year the cylinder was awarded at the 22nd Interbud Construction Fair in Łódź.
Twintex
The low weight of the cylinder is achieved thanks to the composite material. The three-layer structure of AmeriGas NANO is a steel tank surrounded by Twintex material, placed in a plastic, aesthetic plastic housing (57 cm high and 30 cm in diameter). The revolutionary properties of the Twintex composite are, above all, light, stiff and extremely resistant to abrasion and impacts. The outer layer (plastic housing) is of course resistant to mechanical damage, but most of all, it is insensitive to temperature changes and UV radiation. What is not without significance - all materials used in the construction of the cylinder are recyclable, so they are environmentally friendly.
Capacity 8 kg
Ergonomic handles make it possible to conveniently carry, insert and remove cylinders, e.g. from the gas grill cabinet. The new standard of AmeriGas NANO cylinder capacity will be appreciated by women who come to replace the cylinder. Although gas cylinders with a capacity of 11 kg are most often used in households (e.g. for supplying household stoves and stoves, but also e.g. forklifts), cylinders with a capacity of 5 kg, and even smaller for tourist cookers (from 0.5 to 3 kg). Recently, there are more and more cylinders, which are a compromise between the guarantee of the largest possible capacity and the ease of carrying.
More information at: www.nano.amerigas.pl
Writing, traveling and good campers are what Rex likes the most :)
Enjoyed reading this article? Share it!