What surprised Adria in 2019?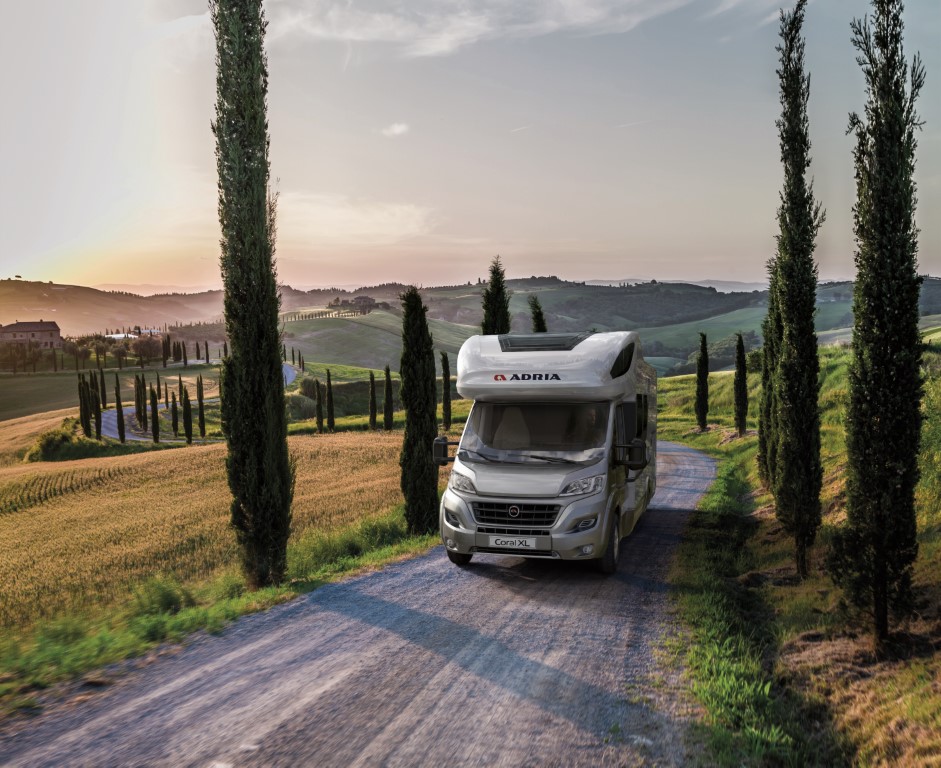 Adria's motorhome and caravan models in 2019 are an interesting offer for caravanning enthusiasts who value comfort and modern design. The Slovenian manufacturer, as always, took care of the highest quality of finish, ergonomic solutions, rich standard and optional equipment. Thanks to a wide selection of interior layouts, including the new Open Salon layouts and Sky Roof panoramic roofs, the vehicles are even more comfortable and give a sense of greater space, and at the same time differ from standard solutions offered on the market.
Adria Twin - award winner!
Vans from the Twin series have been produced by the Slovenian manufacturer for over a decade. Since then, it has been almost regularly awarded with numerous awards of specialists and users, and they are gaining an increasing group of users. The latest, richly equipped Supreme version has won the European Innovation Award, awarded at the CMT fair in Stuttgart. The jury appreciated, among others the panoramic Sky-Roof, so far only available in motorhomes and caravans, and systems that provide a sense of space and comfort. Twiny, available in several colors, combine modernity, eye-catching design and classic functionality. They are produced with 2-liter Citroen engines or a Fiat 2.3-liter engine.
Adria Matrix perfect for the family
The Matrix series is a real bestseller. Family motorhomes powered by 2-liter Citroen engines in the Axess version or 2.3-liter Fiat engines in the Plus and Supreme versions are constantly popular among buyers. A characteristic element of the entire series is an electrically lifted bed in the living area and a large selection of layouts in the sleeping area, thanks to which the model is the optimal solution for a family of 4- or 5. Matrixes are prepared for year-round use - they have gas heating Truma Combi 6 or optionally gas-electric heating and underfloor heating. A fully equipped kitchen and ergonomic bathroom delight with elegance, and plenty of cabinets, storage compartments and a heated boot give great opportunities to organize all the things necessary during the trip. New in the 2019 version are the so-called Open Salon layout with two sofas located in parallel in the living area. Such a non-standard layout has been available since this year, among others in motorhomes from the Sonic, Matrix and Coral series. It is a great alternative to classic motorhome interiors. Additionally, the rear seats are equipped with the Isofix mounting system, which facilitates the installation of child seats.
For a larger team - Adria Coral XL
The alcove type housing is a proven solution for a larger family or group of friends. Adria offers it in the Coral XL model , in 3 systems and 2 equipment versions - Axess and Plus. It is one of the few models available on the Polish market that has up to 7 sleeping places. The space offered by Corala XL allows for free travel and comfortable use even for such a large group of passengers. Like other campers, Adria is adapted to year-round trips, thanks to gas heating and underfloor heating.
Adria trailers
For enthusiasts of traveling with a trailer, Adria offers as many as 5 series , with different layouts and types of finish. The smallest of them is Action - a 2-3 person caravan, whose characteristic shape, colors and minimalist finish will not let you pass by indifferently. The most prestigious Alpina series, available in as many as 10 layouts, is an example of a combination of modern, almost loft style with classics. Like most Adria vehicles, it is year-round, and its distinguishing feature is the extremely efficient Alde water heating system.
All models are available from an authorized dealer of the brand, Camp & Trailer . Selected items will be displayed at their stand during the upcoming Motorshow 2019 fair in Poznań.
We have created the CampRest portal for people who value freedom and travel on their own.
Enjoyed reading this article? Share it!