Caravans Salon Poland on September 21-23, 2018 in Poznań! - motorhome and caravan fairs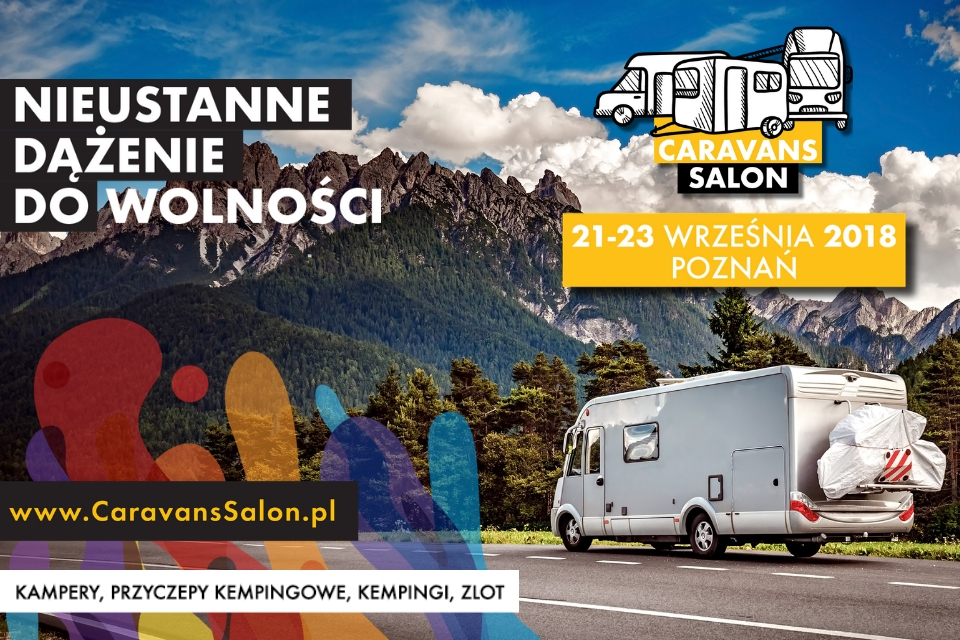 We invite all traveling enthusiasts to Caravans Salon Poland, which will be held at the Poznań International Fair in September 2018.
Caravans Salon is an inseparable element of the Poznań Motor Show - as one of 4 car showrooms. Since 2012, hundreds of thousands of visitors could learn about caravanning and tourism, co-creating the first fully professional fair of this industry in Poland. Observing the growing interest in caravanning and the development of camping and motorhome tourism, the organizers decided to organize Caravans Salon in an additional, September 21-23, 2018
News from the caravanning industry
Caravans Salon Poland in Poznań is the perfect place to buy your dream motorhome or caravan and see new products from the carvaning industry, in addition, during the event you will be able to order vehicles or necessary equipment for the 2019 season. camping holidays and representatives of the caravanning industry.
What can you see at Caravans Salon in Poznań?
During Caravans Salon Poland you will be able to see caravans, campers, mobile homes as well as camping and caravanning equipment. A specialized offer will also be presented - installations, heating, gas, water, antennas, receivers, navigation systems, as well as parts for vehicles and trailers. Lovers of holidays in the bosom of nature will also find something for themselves - tents, accessories for camping tourism.
Brands presented at the Caravans Salon in Poznań:
Adria Mobil
Agachem
Azar 4
Bavaria
Benimar
Bürstner
CamelCamp
CarGO! Rent a camp
Kutno Camping Center
Elcamp
Frankia
Globe-Traveler
Hobby
Hymer
iKamper
Campers Poznań
Knaus
Ocean Cross
Pilote
Tabbert
Westphalia
VIII National Caravanning Rally - welcome!
Mark's Square - the area in front of pavilions 3, where the Caravans Salon fair will be held, will host motorhome and caravan owners. Everyone who practices this type of tourism is welcome at the rally, as well as people who would like to experience caravanning. Each Rally is an opportunity to meet, talk, exchange valuable experiences and jointly plan trips in the coming season. The rally is co-organized by the CamperTeam forum and with the media support of "Polish Caravanning".
A rich program of events during the Caravans Salon
Caravans Salon is also an interesting program of attractions - meetings with travelers, lectures and meetings with specialists are an additional value for the participants of the event. The Polish Championship of Motorhome Drivers will be prepared for motorhome drivers. They will be tested in terms of efficiency in the smallest maneuvers and their knowledge and skills in fixing technical problems. Another item on the agenda are meetings with travelers - we will be visited by, among others: Kuba Bielak, who hosts the "Wypad z Kraju" program, or Łukasz and Magda from "Travelers' Stories". Caravans Salon participants will be able to learn how to survive while traveling without access to campsites ... at a Survival Workshop . They will learn how to light a fire, treat water or build a shelter, learn field orientation with a map and compass, the healing properties of herbs, in a word they will be able to gain many interesting skills.
Attractions during the fair
Caravans Salon participants will not only be able to see campers and caravans, but also have the opportunity to take part in the program of events related to caravanning and traveling.
Survival Workshops - how to survive without camping?
Saturday - September 22, 2018
Lighting a fire, modern and prehistoric methods (demonstration, lecture)
Outdoor equipment (lecture)
Survival Psychology (lecture)
Call for help (demonstration)
Tools in field use (knife, ax, etc.) (demonstration)
The camp and everything related to it (demonstration, lecture)
Expedition provisions (show)
Off-road orientation with a map and compass and emergency. (show, lecture)
Sunday - September 23, 2018
Field herbal medicine kit (lecture)
Lighting a fire, modern and prehistoric methods (demonstration, lecture)
Methods of calling for help (lecture)
Crossing terrain obstacles (demonstration)
Selection of equipment and clothes according to the season and type of activity (show, lecture)
Methods of obtaining and treating water (demonstration, lecture)
Improvised Shelters (screening)
Fundamentals of methods of obtaining food (demonstration, lecture)
Methods of calling for help (lecture)
Emergency (survival) situations, what to do when you are lost or you have lost your equipment. (lecture)
Polish Championship for Camper Drivers
Both experienced and novice motorhome drivers will be able to try their hand at the Polish Motorhome Drivers' Championship. We will check not only efficiency in the smallest maneuvers and efficient movement of a larger vehicle, but also knowledge and efficiency in finding and fixing technical problems.
A trip around Poznań, this one!
We also invite all willing participants to take part in a unique trip prepared by the City Adventure crew. The guides will lead the interested people through the most interesting points of Poznań, revealing their historical secrets, unknown even to the indigenous people of Poznań! Participants will see the city from a bird's eye view, learn about the scandalous businesses of the Poznań executioner and his wife, and end the trip with a typical Poznań snack. The attraction is additionally payable.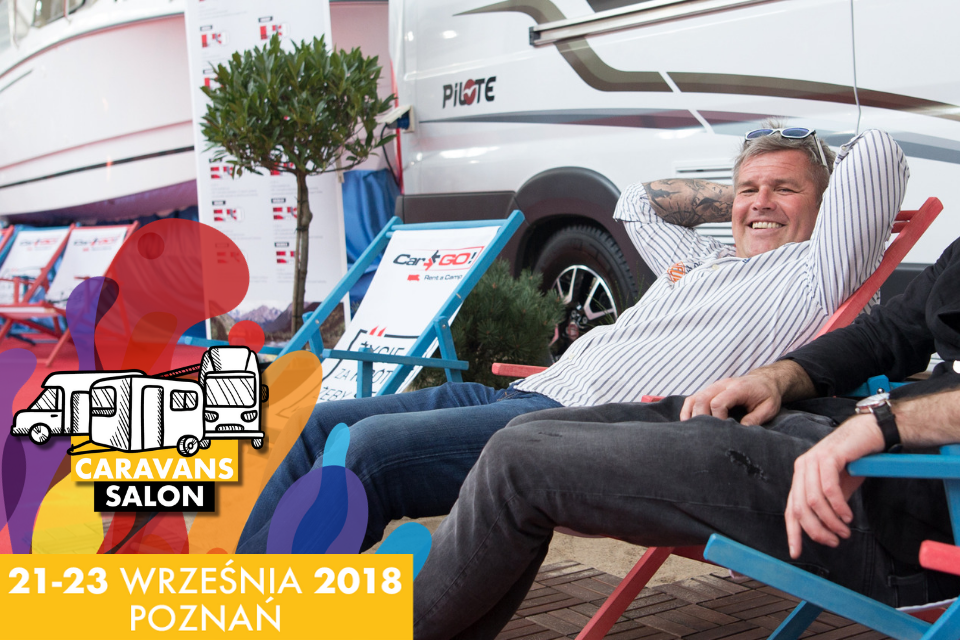 Meetings with travelers
Caravans Salon in Poznań will be visited by Kuba Bielak, TVN Turbo journalist - expert in the field of road safety, driving technique training, and avid traveler. A motoring journalist of TVN TURBO, hosting such programs as "Polish Driving", "Driving Not Polish", "K2 - Two Drivers", "Wypad z Kraju". Fans of exotic travels will be able to meet Łukasz and Magda from "Traveling Stories" - they spent 3 years traveling through Asia, Australia and the Ocean. During the Friday meeting with them you will find out: What can you get for a 5 euro banknote on the border between Kyrgyzstan and China? What does a 20-day-old duck embryo or a 1000-year-old egg taste like? Who are the "Gray Nomads" in Australia?
Media patrons of Caravans Salon Poland are: Polski Caravaning and CampRest, Otomoto, Yanosik and Radio VOX.
Ticket prices: presale - PLN 15, on the day of the event - PLN 20, plots at the Rally from PLN 85.
More information can be found at: www.CaravansSalon.pl
We have created the CampRest portal for people who value freedom and travel on their own.
Enjoyed reading this article? Share it!