NEW MOVIE "LEGO® MOVIE 4D" ONLY IN LEGOLAND!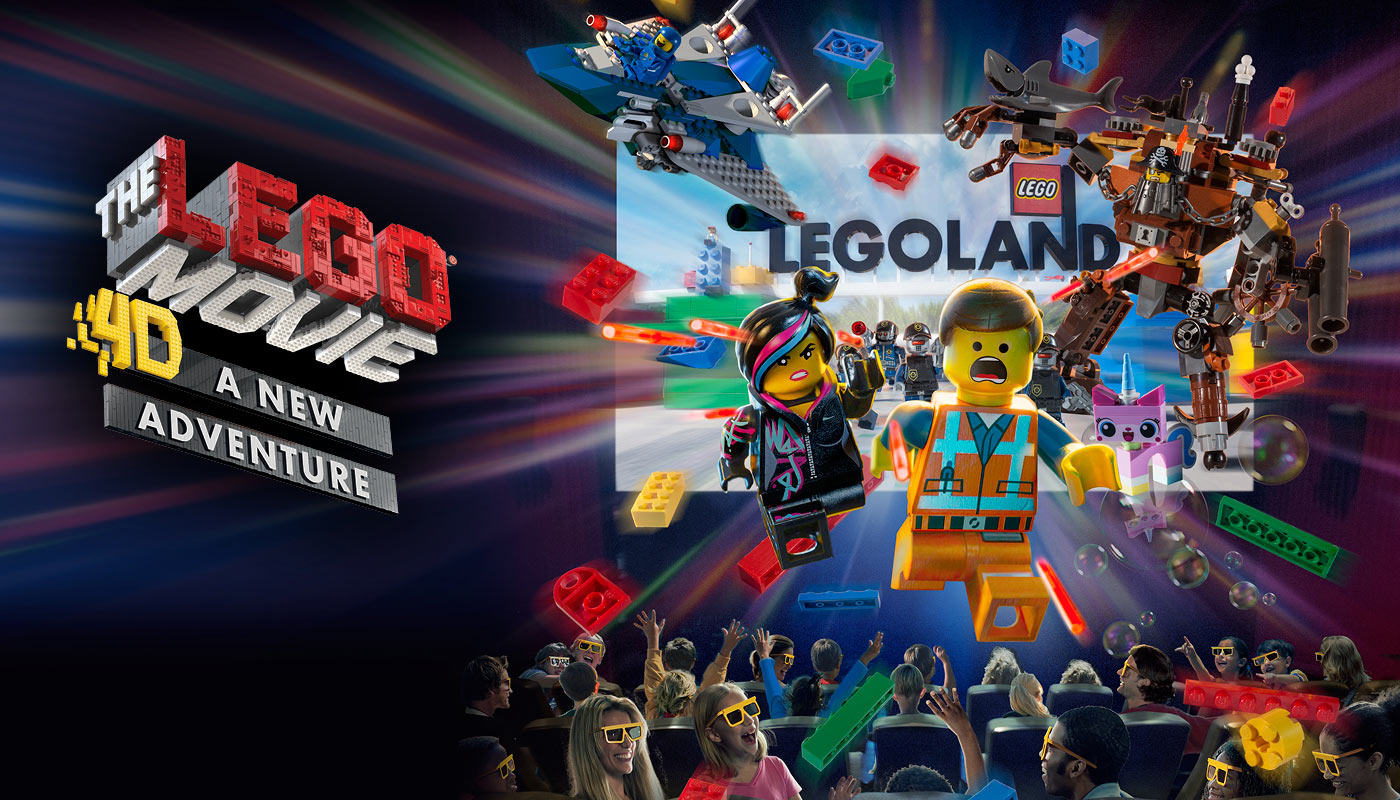 The new movie "LEGO Movie ™ 4D - A New Adventure" has its premiere in Danish LEGOLAND® Billund. Big and small viewers can watch and experience new and amazing adventures of their favorite characters from "LEGO® Adventures"! The film is shown exclusively at LEGOLAND amusement parks.
To quote the lyrics: "Everything is awsome"! The heroes of the LEGO Adventure, one of the most popular children's films, are back! At Danish LEGOLAND Billund, the animated short film "LEGO Movie ™ 4D - A New Adventure" is already showing at LEGO® Studios - Scandinavia's largest 4D cinema, which stimulates all the senses! Thanks to the latest technology, viewers will not only watch the movie on the big screen, but also experience amazing special effects and feel smoke, wind, light and water.
LEGO Movie ™ 4D - A New Adventure follows the adventures of Emmet and his friends on a trip to LEGOLAND. Everything is great until Lord Business shows up with his devilish plan. Friends must work together again to survive the many challenges and troubles.
LEGO Movie ™ 4D - A New Adventure is an exciting proposition for all LEGO Adventure fans who are excited to see the sequel in 2018. We are happy to be able to offer our guests such an exclusive attraction. Emmet's New Adventures is a completely new story that takes place in LEGOLAND and is shown exclusively in LEGOLAND. We are sure that all fans big and small will be thrilled with special effects that they would never experience when watching a movie at home. You're welcome. You can watch the trailer by clicking on the FILM link, says Christian Wollen, CEO of LEGOLAND.
LEGO Movie ™ 4D - A New Adventure will only be shown at LEGOLAND theme parks in 2016. The video is 12.5 minutes long and is shown many times a day.
LEGOLAND Billund in Denmark is the most visited amusement park in Europe and an ideal proposition for a dream family vacation or a creative weekend with children. The 2016 season lasts until October 30. During this time, children and their parents from around the world can play in an amazing world made of over 58 million iconic LEGO bricks. Their attractions are waiting for them in 10 thematic zones:
NINJAGO World - this year's novelty! An adventurous world of LEGO bricks for little ninja warriors, inspired by the popular LEGO NINJAGO series. The most amazing attraction is the interactive NINJAGO The Ride, thanks to which, using advanced technology, children can move to the world of LEGO NINJAGO in the 4D dimension!

Miniland, known as the heart of LEGOLAND. It is a miniature land full of the most famous and beautiful buildings in the world, capitals, small towns, waterfront and amazing buildings, built from over 20 million LEGO bricks. There are also carousels, LEGO mini boats, trains, the 36-meter LEGOTOP® lookout tower from which you can enjoy a view of the entire LEGOLAND.

Imagination Zone - an underwater world with sharks, giant crabs and exotic fish, a musical water fountain and LEGO® Studios - the largest 4D cinema in Scandinavia, which stimulates all the senses are the greatest attractions of this zone.

Polar Land - the polar zone with a bay of real penguins, the largest and fastest in LEGOLAND with the Polar X-plorer roller coaster, which runs 65 km / h, and Ice Polar School, a carousel similar to a flight simulator.

Pirate Land - a paradise for little pirates and lovers of water attractions. There you can, among others get on a rocking pirate boat, swim in mini-waterfalls or go crazy in pirate waterfalls - a huge playground with slides, water cannons and gushing springs.

KNIGHT'S KINGDOM ™ - a world of brave knights, beautiful princesses and legendary Vikings. You can, among others, visit the royal castle, take a thrilling roller coaster ride that feels like flying on the back of a dragon, or take a boat trip on the extreme downstream expedition that ends in a waterfall.

LEGOREDO® TOWN modeled on the Wild West. One of the attractions is the Haunted House where it haunts, the Gold Mine and the LEGO® Canoe, which is a real Indian canoe trip.

Adventure Land - a land full of wild beasts and living mummies, which guarantees a thrill for the whole family. The bravest can go on an extreme ride around the temple and look for treasure in total darkness, or take the X-treme Racers roller coaster, the speed of which is dizzying. For sports enthusiasts, there are water scooters and a monkey grove resembling a jungle;

DUPLO® LAND - the best playground for children from 1.5 years of age, with slides, rocking horses and colorful houses where children can play firefighters, policemen, farmers or salesmen. You can also fly a DUPLO® plane or ride a DUPLO Electric Train.
When going to Legoland in Billund, Denmark, it is worth staying at the wonderful Randboldal Camping located only 10 km from Legoland. It is worth noting that this campsite is run by a very nice Polish woman - Ms Danuta.
We have created the CampRest portal for people who value freedom and travel on their own.
Enjoyed reading this article? Share it!