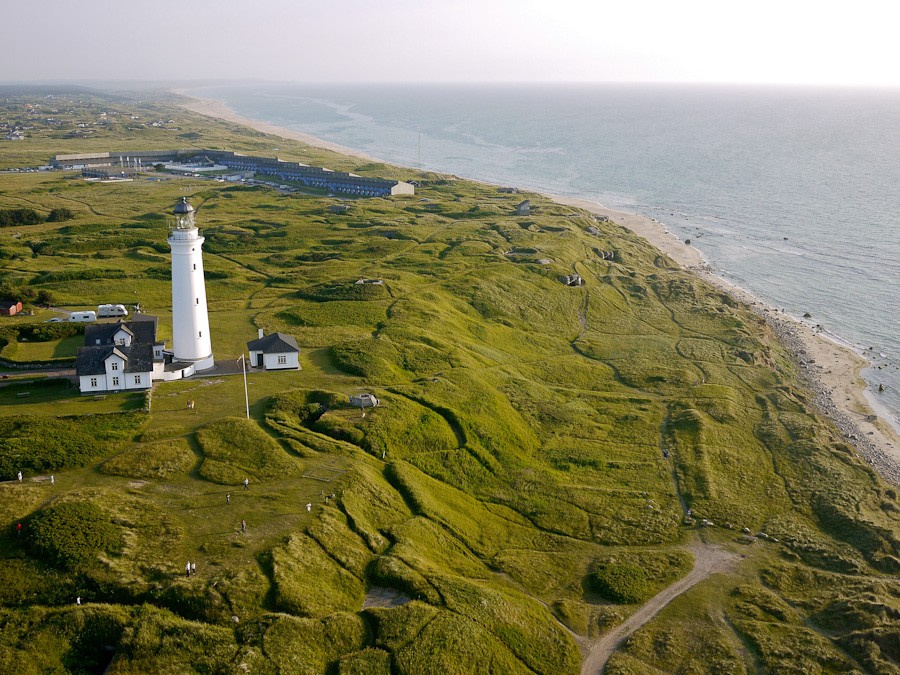 Those who wandered to the north of Denmark may encounter animals that amaze with their appearance. They will see sunfish floating in a huge aquarium, they will also see happy seals and the entire flora of the North Sea.
Lovers of marine fauna and flora look for new places on the map where they can see exotic creatures from the ends of the world live. One of them is located in Hirtshals, Denmark, at the very tip of Jutland. It is the most interesting Danish aquarium called Nordsøen Oceanarium, the largest of its kind in northern Europe.
Nordsøen Oceanarium
The heart of the oceanarium, which attracts tourists from different countries, is a giant aquarium with a capacity of 4.5 million liters. By standing next to it, you can lose the sense of time and reality, and most of all feel fragile, petite and small. On the other side of the thick glass, not only sharks, flatfish and rays, but also giant sunfish move in the sea water. They make the greatest impression on tourists - not only because of their size (specimens of this species weigh up to 2 tons), but also because of their original shape.
The sunfish from the aquarium are named Andrea and Anton. They are much smaller than their kinsmen who are swimming in the wild - Andrea does not even have 300 kilograms. Visitors can see the performances of the giants, as well as listen to a diver talking about their habits.
The entrance ticket to the aquarium costs Dkr 160 for an adult, while the ticket price for a child is Dkr 85.
Things to do Hirtshals
The Oceanarium is undoubtedly the biggest but not the only tourist attraction in Hirtshals . Whoever visits the city will probably visit the lighthouse sooner or later. It serves as a viewing point for visitors. The beaches and shopping and walking streets with 9 supermarkets and 60 themed shops are also beautiful and tempting. There are also galleries and around 20 cafes in the city.
Another attraction that the town is famous for is FunPark Hirtshals . About 70 different animals live on the area of 30 ha, including ponies, goats and deer, as well as more exotic species such as raccoons, coats and lovebirds. In a beautiful setting, children can play Indian games, ride horses or learn to shoot a bow while their parents relax with a cup of coffee in the cozy cafe. You can also have a picnic here.
Picturesque fishing harbors, even created for romantic walks, add to the charm of Hirtshals. Travelers eager for longer trips can take the ferry - it leaves the town, among others, to Norway.
Where to stay
As befits a place crowded with tourists, Hirtshals has a very well-organized accommodation base. There are many hotels waiting for guests, there are also quite a lot of campsites, including a few offering beautiful views - they are located right next to the sea. One of them is the 3-star Hirtshals Camping , open from April 25 to September 14. It is a family campsite with all amenities, from a TV room, a children's playground and a barbecue area to a mini market.
Campers can quickly get to Skagen, Blokhus and Hjørring thanks to frequent buses. There are many cycling and walking routes around, and the Uggerby River offers great opportunities for recreation and fishing. An overnight stay for an adult costs Dkr 78-86, while the price of a child up to 11 years old is Dkr 53-58.
Hirtshals is a small, picturesque town in a great location. Its climate will charm anyone who loves the beauty of nature - even the more harsh nature of the northern parts of the continent.
A writer by profession, a passion of a cat. One day he will see what is behind the Urals - good to Vladivostok. So far, when he can, he enjoys the sun of the countries of southern Europe. And it's also fun;)
Enjoyed reading this article? Share it!