The May Day Caravanning Rally JAWORKI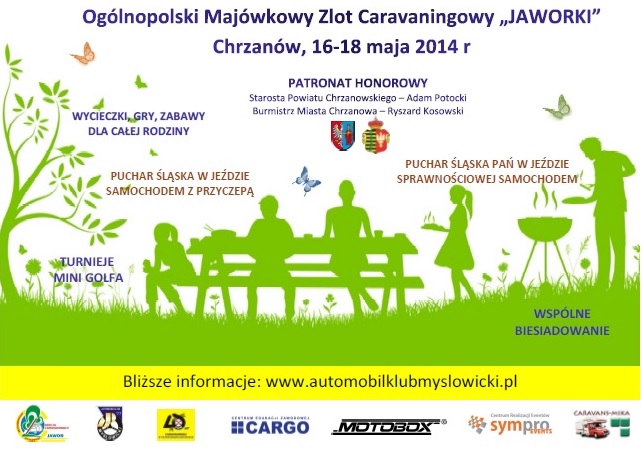 The Automobilklub Mysłowicki Association invites all lovers of camping and caravanning tourism to participate in a unique event - in the National May Day Caravanning Rally "JAWORKI".
The honorary patronage over the event was taken by the Starost of the Chrzanów Poviat - Adam Potocki and the Mayor of the City of Chrzanów - Ryszard Kosowski
From 16 to 18 May 2014, crews from all over the country will visit the Basen-Kąty recreation center in Chrzanów . It will be a great opportunity not only to learn more about the history and monuments of the Lesser Poland region (including a trip to the Będkowska Valley) but, above all, to find time for the May barbecue and rest with friends.
We hope that each of you will find something interesting in the program ... we have prepared, among others a playground for children, art competitions, tournaments in "Mini-Golf", bicycle trips in the picturesque surroundings of Chrzanów.
This year, additionally, as part of the rally, there will be the Silesian Cup in Driving with a Trailer and the Silesian Cup of Ladies in Driving by Car.
It is worth taking part in the "JAWORKI" rally because you can:
learn about the history and monuments of the Lesser Poland region,
spend free time with family in an active way,
experience an amazing adventure,
integrate with other lovers of caravanning tourism,
feel the adrenaline while competing in a competition in driving with a trailer.
We hope that the rally will be remembered by the participants for a long time. You're welcome. Let's meet in Chrzanów!
We have created the CampRest portal for people who value freedom and travel on their own.
Enjoyed reading this article? Share it!