At the foot of Mount Olympus - Litochoro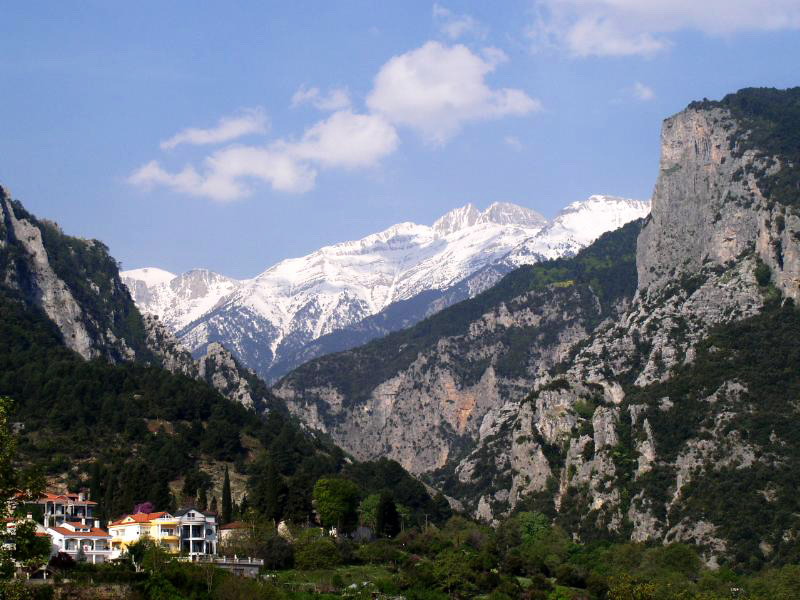 Welcome to Litochoro!
About 90 km from Thessaloniki, at the foot of the mythical mountain of the gods, not far from the Mount Olympus National Park, lies the tiny resort town of Litochoro. The only paved road to Mount Olympus leads from it, therefore it is the best starting point for lovers of mountain climbing and hiking. There are also tourists who prefer more extreme adventures - fans of canoeing and rafting, who are attracted by the Enipeas river canyon.
There are not too many monuments in the town, but you can enjoy a rest here in the full sense of the word. In the center, in numerous cafes, you can spend many pleasant moments with friends, sipping delicious Greek wine.
Litochoro - "stone place" surrounded by treasures
Those who come here to regain their strength and forget about their daily duties can safely hide in a cove and expose themselves to the sun. On the other hand, those who want to burn unnecessary calories or simply get rid of excess energy, have a choice of many tourist attractions in Litochoro Plaka, a resort located 5 km from Litochoro itself. The beaches here are sandy, sprawling, with fine pebbles, and perfectly organized to attract as many people as possible.
The surroundings of the village are equally picturesque - which way you go, you will find something interesting. For example, Platamonas, not far from Mount Olympus, is a beautiful tourist resort with lots of olive and plane trees. There is a majestic castle in which the Olympus Festival takes place every August. There is also a fishing port and a market square with an orthodox church.
From Katerini there are the most beautiful views of Mount Olympus. The great location of the town allows you to admire the mountains from every part of it. In Korinos, on the other hand, it is worth seeing Macedonian tombs and the monastery of Agios Georgios located nearby. Tourists are especially tempted by the sandy, 3-kilometer long beach, over 100 meters wide. Moreover, the Chalkiddiki peninsula is easily accessible from Korinos.
If, on the other hand, someone wants to go to a traditional market with artists and craftsmen from all over the world, he must come to Leptokaria. The eye is also attracted by the historic buildings of the basilica and the market square, as well as the beautiful park.
Campsites in and around Litochoro
The areas surrounding Litochoro are tempting with attractions and are best visited by motorized tourists. Several campsites have been created with them in mind, and most of them are highly recommended by former guests. One of them is the Mitikas campsite (Gritsa Litochorou, Litochoro 60200), named after the highest peak of the massif. It is green and clean, the camp is surrounded by over 200 trees, and the water that is available to tourists comes from springs gushing in the mountains. The campsite has a traditional Greek restaurant, supermarket, guests are served daily fresh fruit, salads, meat dishes and fish dishes - it is easy to complete the menu for vegetarians.
You have to pay 5-6 euro per night, 5.80-6.50 euro / day is the fee for a motorhome place, while access to electricity, regardless of the season, costs 3.50 euro / day.
The second noteworthy place is the Poseidon Beach campground. It is located just 300m from the castle in Platamonas, right on the N. Panteleimon beach. The on-site restaurant offers guests a wide selection of delicious Greek dishes, drinks and ice cream. A parking space for a camper costs here, depending on the season, EUR 9.50-6.50 / day, the price of an adult's accommodation is EUR 7-4.50 / day, and access to electricity - EUR 3.50 / day.
It is also worth considering the offer of another campsite located nearby, Kalamaki (M. Alexandrou, 60065 Platamon). Approximately, the prices of stay here oscillate between 26-34 EUR / day (including the fee for a place for a motorhome and accommodation for 2 people). From May to September, the campsite has a well-equipped shop where you can buy fresh bread every day. You can use the bar all year round, it is also allowed to bring a pet.
A vacation in paradise
As you can see, tourists who come to these areas have a chance to get to know many beautiful places at once. In Litochoro, apart from climbing or walking to Mount Olympus and the Pieryjskie Mountains, they can play tennis in a sports club, ride a horse and jump with a parachute. There are also several shops where you can buy souvenirs and traditional products, there are also taverns and restaurants. In a word, during our stay we will feel with all our senses that we are in a wonderful place. Great food, the sound of the waves, golden sand under the feet, rays of the sun and a variety of entertainment will not let us leave here without regrets.
A writer by profession, a passion of a cat. One day he will see what is behind the Urals - good to Vladivostok. So far, when he can, he enjoys the sun of the countries of southern Europe. And it's also fun;)
Enjoyed reading this article? Share it!