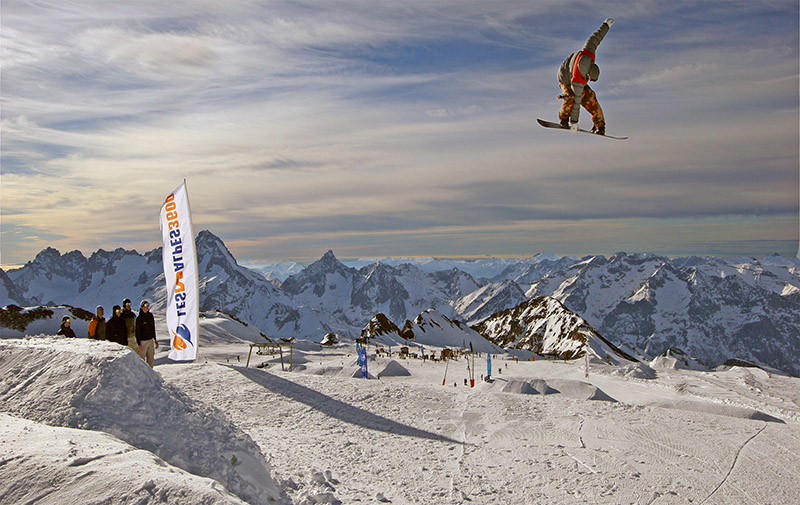 Les 2 Alpes is one of the largest ski resorts in the French Alps. After Chamonix, it is the second oldest ski resort and the largest glacier area in Europe. It is situated on the border of the northern and southern Alps, in the Rhone-Alpes region. It is most popular among families with children - it even received a special Famille Plus Montagne label, which is a symbol of a holiday destination recognized in France, intended mainly for them. It can also be proved by the large number of offers targeted at families. There are many types of nurseries, kindergartens and even nurseries here, and the offers themselves are adapted to different age groups.
But this does not mean that enthusiasts of rougher driving have nothing to look for here. On the contrary. The area can be divided into two parts: the gentle slopes of Pied Moutet in the west, suitable for the aforementioned families, less experienced skiers, as well as snowboarders, and the eastern part, which has a lot of steep and short runs, mostly black. They are entwined by a network of lifts and cable cars leading to Doma de la Lauze, and there is an ambitious downhill run only for the very experienced. After overcoming the difference of over 2,000 m, it ends in La Grave.
Routes
Les 2 Alpes has more than 225 km of pistes at altitudes from 1,300 to 3,600 m above sea level. Skiers will find 93 runs (21 red, 42 blue, 19 green, 11 black) and 53 lifts at their disposal. The slopes of the resort are divided into 4 sectors: Les Cretes, Vallée Blanche, Mont de Lans village and altitudes between 2600 and 3600 meters above sea level. What distinguishes this station from other resorts? Here it is the opposite of other places - the easier routes are higher than the difficult ones. Thanks to this, even those less advanced can feel the snow of the glacier under their skis and see views that are usually reserved for daredevils. Just keep in mind that from Les Cretes, the slope becomes more difficult.
For beginners, there is an offer of the ESF freestyle park, where you can practice under the supervision of experienced instructors. More advanced riders have numerous routes off the slopes at their disposal. Another advantage of Les 2 Alpes is that you can reach the lifts and back without taking your skis off.
The origin of the name of the center arouses curiosity. There are several theories, the most popular one is that Les Deux Alpes comes from the names of two towns - Mont de Lans and Venosc. From both stations there are lifts, and the station itself is extremely picturesque, surrounded by three-thousanders, among which the Pic de la Meije peak (3982 m above sea level) towers. Thanks to the combination of two alpine slopes, the resort can offer visitors a double pass and a very wide selection of slopes.
Ticket prices
The prices of ski passes are varied, so everyone can easily choose the option that suits them best. The Ski Sympa pass, which allows you to use 21 lifts, costs EUR 22.50 / day (adults and children), while the price of one unlimited skiing day is EUR 42.5 for adults and EUR 34 for children. The 7-day pass costs EUR 237 and EUR 189.60 respectively. Family pass prices are favorable - for example, a 7-day pass costs 218 euros.
Campervan
What if someone came here to go skiing in a motorhome? He will find the right place without any problems - he will definitely like Le Champ du Moulin (Bourg d'Arud, 38520 Venosc, Les Deux Aloes). From 15.12, the following prices are valid for a night of stay: EUR 17.7 for a place for a vehicle and 2 people, EUR 1.5 for a dog, no fee is charged for children under 3 years of age. The campsite offers 30 to 50 places (depending on snow conditions), a games room and a TV room, as well as discounts on equipment rentals at the Venosc Sport shop in Les 2 Alpes (2.9 km). The ski area itself is 2.3 km away. It is easily accessible and offers unlimited access to the attractions offered by the station.
Other attractions
And it must be admitted that Les 2 Alpes has something to attract. Everyone will find something for themselves. On both sides of the valley there are ski lifts and ski runs that meet in the vast center. There are many boutiques and shops waiting for customers, there are also several restaurants with excellent French cuisine. Tourists have at their disposal an open-air swimming pool, sauna, ice rink, those who want to play bowling without any problems, climb up by helicopter or on a paraglider, and those who still have little experience and adrenaline can ride a car on the ice or take a snowmobile away . There are also "classic" entertainment such as clubs (Brasiliens and La Avalanche).
The winter season starts in October and lasts until the end of April. The largest Snow Park in Europe is operating here all year round, many attractions await those who are willing on the routes and beyond - on La Grave there is a huge field for freeride enthusiasts. You can spend more than one vacation here, and you will probably not have enough time to see everything. One thing is certain - it is worth coming here, preferably with the whole family.
A writer by profession, a passion of a cat. One day he will see what is behind the Urals - good to Vladivostok. So far, when he can, he enjoys the sun of the countries of southern Europe. And it's also fun;)
Enjoyed reading this article? Share it!