Lizard-shaped island - Norderney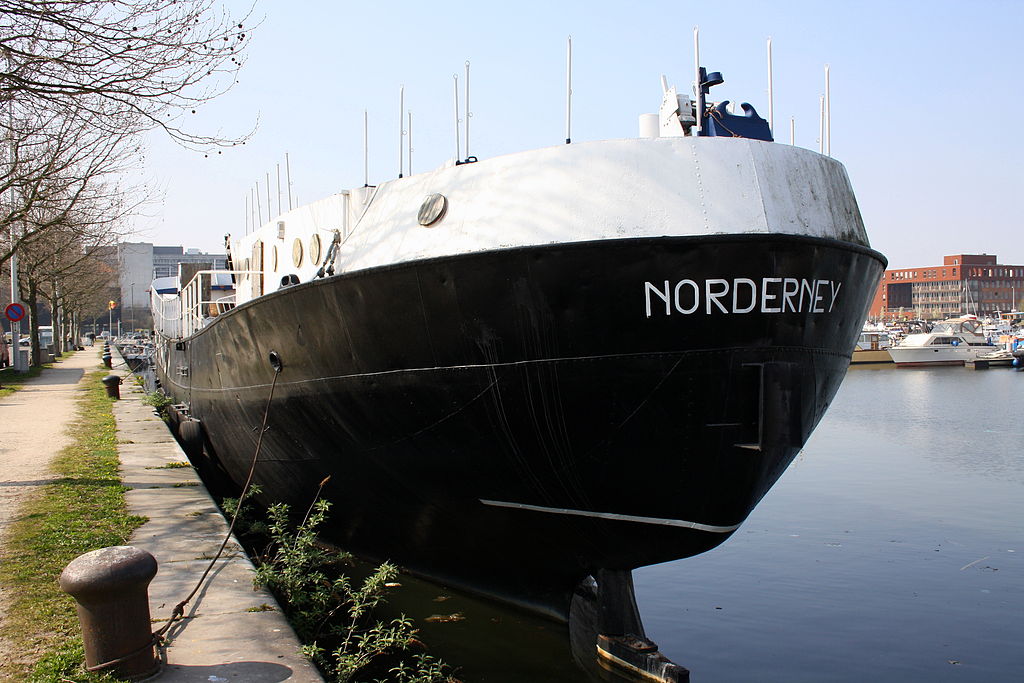 To relax on a beautiful island, you don't necessarily have to travel thousands of kilometers. In the North Sea there is a small but very picturesque island of Norderney, which belongs to Germany.
Not everyone knows where the East Frisian Islands are located, and many will be surprised to find out that our western neighbors, Germany, have at least a few islands. What's more, these islands are very attractive to tourists, although they differ from their hot sisters scattered in the southern seas. One of them is Norderney, belonging to Lower Saxony. It is not too big, but it offers visitors many attractions, including meadows and moors, as well as beautiful beaches stretching for several kilometers. The loveliest of them are: Nordstrand, Oststrand and Weststrand.
Norderney is easily accessible by ferry. If someone would like to take a motorhome longer than 5 meters, they will pay about 140 euro for the transport (this is the amount given by the FRISIA guide). The price includes all fees and a one-way trip for 2 people.
Windy Norderney Island
The island is a paradise for windsurfers and kitesurfers. It is also very popular with nature lovers who prefer long walks in meadows and moors instead of the attractions of big cities. It is intersected by many hiking trails where you can lose track of time. One of them leads through the backwaters and dunes, leading people walking to the old lighthouse, from which you can see the expanses of lush green meadows. Wandering further, you can reach a small wooden booth, and then a 7 km route through the sand dunes awaits us. At the end of the trail is the Wattenmeer nature park, where you can encounter seals.
One of the local attractions is the picturesque shipwreck in the sand, covered with (you might even say speckled) colorful graffitti. Standing at the edge of the mainland, we can see the neighboring island of Baltrum, where huge windmills are steadily spinning.
The healing effect of sea water
In the past, Norderney was part of Buise, an island that has been fragmented into smaller islands by erosion. Currently, it is 2.5 km wide, 14 km long, and its shape resembles a lizard. The resort of the same name has been a popular health resort since the 18th century. The healing climate and a large number of spa houses attract patients who want to regain strength in beautiful surroundings.
The island is home to Germany's largest thalassotherapy center - Badehaus Norderney . It offers guests a number of treatments based on sea water, which stimulates the circulatory system, improves metabolism, and also helps to maintain the correct body temperature and the appearance of the skin and hair. A 4-hour admission ticket to the downtown swimming pools costs 13 euros.
The town of Norderney attracts tourists with numerous boutiques, souvenir shops and an extensive restaurant menu. In summer, it attracts something else - with great concerts. Throughout the season, 2-3 concerts a day take place here, and the Warsaw Philharmonic has been their star for over 30 years. The repertoire also includes songs at the request of people from the audience, thanks to which the listeners can see not only the classics, but also hear, for example, music from popular movies.
Overnight on the island
For a relatively small island, Norderney offers tourists a large number of beds. It's not just about hotels and guesthouses - there are also some nice campsites where you can stay with a motorhome. One of them is located about 3.5 km from the town of Norderney. We are talking about the "Um Ost" camping site, where a day of stay of an adult costs 6 euros. We will pay the same for a stand for the vehicle, while access to showers costs 1 euro.
Walks in green meadows, the subtle scent of moors and a nourishing sea breeze - this is waiting for us on Norderney Island. If someone loves peace and contact with nature, he will be happy here.
A writer by profession, a passion of a cat. One day he will see what is behind the Urals - good to Vladivostok. So far, when he can, he enjoys the sun of the countries of southern Europe. And it's also fun;)
Enjoyed reading this article? Share it!