The silent faces of Easter Island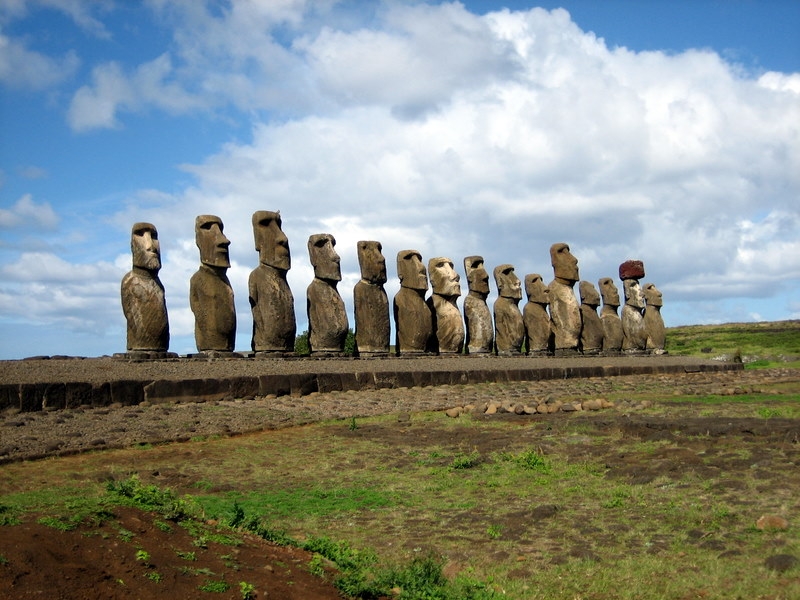 There are people who love to travel because of the countless opportunities to make new friends, meet new people. There are also those who would like to wander the world alone, because what matters to them is only contact with nature. The latter would be delighted with Easter Island - the second inhabited island in the world, the second most remote from human clusters. In its solitude, it is second only to the islands of Tristan da Cunha.
A trip to the homeland of the Rapa Nui people is a real challenge. Only one airline, Chilean LAN, reaches Easter Island, so it is fully understandable that it is impossible to spend a few days' holiday here. In order not to feel unsatisfied, you should devote much more time to the island, made famous by the government of great heads.
It is worth knowing that you can buy an admission ticket to the National Park at the airport. On the other hand, to see most of the historic sites of Easter Island, you can do without it. It is actually required only in two points: in the village on the slope of the Rano Kau volcano and in the area of the Ranu Raraku quarries, where silent statues were built.
Far away from home
Standing on the seashore, you can feel mercilessly lonely - so far from everything that is known. However, instead of missing unconstructively, it is better to think about an island sightseeing plan that will allow you to get to know all the interesting places.
As for sightseeing, you can do it in several ways, depending on what funds we have and how much time we have. We will learn the most by hiking with a local guide, and the cheapest is to visit the island by planning trips on our own. There are several rental shops on the main street in Hanga Roa where you can rent a bike, scooter and motorbike, as well as a quad bike or a car.
For a group of several people, it will be a good idea to rent a car for 24 hours. Without a car, we will not reach, among others at sunrise to the largest stone platform on the island, or Ahu Tongariki . It is not possible to get there by bus as public transport is not working.
If not moai, then what?
Contrary to what many people think, Easter Island is not only moai. Stone statues silently stare into the distance - the most famous ones on special platforms, and the rest scattered around the island. They are the main attraction, but not the only one.
In addition to admiring the figures, you can get to know the trails leading to volcanoes or along steep cliffs. Lovers of water entertainment will be delighted with the conditions for surfing, snorkeling and diving. In turn, tourists looking for local attractions can watch folk dance shows organized several times a week.
There are also festivals on the island, for example on the occasion of Women's Day. On this day, representatives of the fair sex can count on special considerations, such as a relaxing massage, breast examination, make-up or cooking course.
Accommodation and meals on Easter Island
There is a well-prepared campsite on Easter Island where you can spend the night without even having your own tent. Several hotels and some residents also offer their services (as part of couchsurfing), so you can find accommodation for every budget.
It is a bit worse with food in this regard. We will only bring packaged and processed products to the island, so the option of economical preparation of meals is somewhat limited. The food is delicious, but several times more expensive than in Chile, and you have to keep that in mind. The local specialty is dumplings stuffed with seafood, vegetables or meat - empanadas .
From the holidays on Easter Island, apart from memories, we will probably bring small moai. They are sold everywhere in the form of key rings, figurines, pendants and chocolates. Standing on a shelf next to other souvenirs, they will silently remind you of the island surrounded by the endless ocean.
A writer by profession, a passion of a cat. One day he will see what is behind the Urals - good to Vladivostok. So far, when he can, he enjoys the sun of the countries of southern Europe. And it's also fun;)
Enjoyed reading this article? Share it!