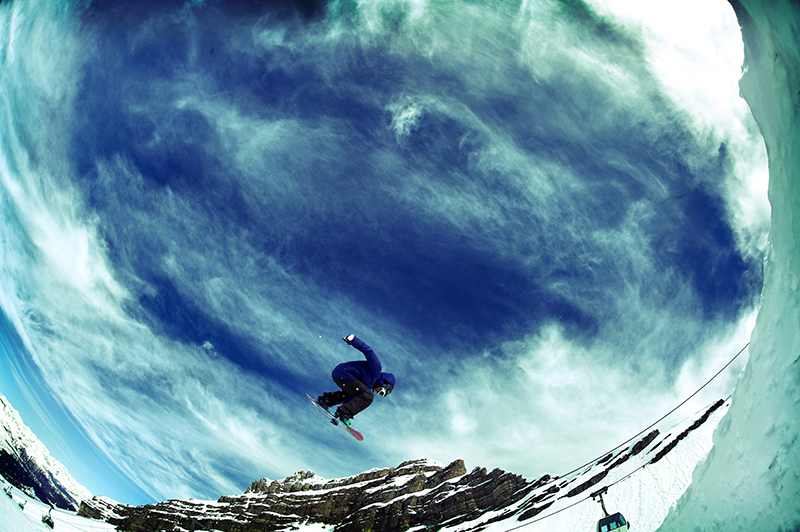 Madonna di Campiglio is located in northern Italy, surrounded by the peaks of the Brenta Dolomites and the Presanella Dolomites. The town is known as the place of rest for princess Sissi herself, and today it is adored by winter sports enthusiasts. Every year, a team of alpine skiers and snowboarders meet here at the World Cup. Due to its location - 1,550 m above sea level - and gondola lifts open all year round, Madonna di Campiglio is the starting point for mountain climbing.
You can drive here on scenic routes, most of which are easy to medium difficult. The exception is 3 Tre, the slalom world cup race track and the fast Amazzonia on the slopes of Spinale. Skiing is also possible in the evening - the illuminated ski run Miramonti is waiting for those willing.
Ski runs
Together with Pinzolo Madonna di Campiglio, they are the most famous runs on this side of the mountains. Its highest altitude is 2443 m (Passo Groste), while in Pinzolo the routes are up to 2101 m above sea level (Doss Del Sabion). The resorts are connected by a recently established, in 2011, ski carousel, which includes not only these two resorts, but also Folgarida and Marilleva. This gives a total of 150 km of runs, 59 lifts and 3 snow parks. Two new variants of the DoloMitica route have been marked out: Star (3.5 km) has been prepared for experienced skiers, and those slightly less advanced can ski on the Tour (5.5 km). Thanks to the modernization, ski fans can go crazy on the previously inaccessible routes of Pinzolo, at an altitude of 2100 to 900 m above sea level. The modernized lifts are able to carry about 30 thousand. skiers within an hour. An additional attraction is the fact that most of the snow-covered slopes allow you to spend time actively, even in April.
Ticket prices in Madonna di Campiglio

The ski carousel is part of the Skirama Dolomiti Adamello-Brenta area. To try skis in such beautiful scenery, it is best to get a lift pass. It is issued in the form of an electronic chip card, for which a refundable fee of EUR 5 is charged. As a rule, the refund is made at the cash desk of the statement. You can buy a pass, which will be valid only in the place where it was issued, another option is to buy a Skirama ski pass for a period from 5 to 14 days, thanks to which you can ski for 1 day at any other ski station in this area. The price per day is 42 euro (low season), 45 euro (high season) or 47 euro (New Year's Eve). The cost of a 6-day pass in the 2012/2013 season ranges from EUR 212 to EUR 253.
However, one cannot think that only ski lovers come here. There will also be comfort enthusiasts who like relaxing in the raw mountain air. What can I say - hotel prices in Madonna di Campiglio are not low, but 26 thousand. The accommodation facilities at the resort are of a good or very good standard.
In a camper van at Madonna
But you don't necessarily have to sleep in a hotel. Those arriving with a camper can stay overnight at Camping Faè (Sant`antonio di Mavignola). It is open from 01/06 to 30/09 and 01/12 to 30/04. The current prices per night are: adults - EUR 9.5, children under 12 - EUR 7, the pitch - EUR 14, dog - EUR 3. The cost of the stay includes hot water, one parking space, and you have to remember that the dog must be a small dog. The place is highly praised by tourists, besides, it is a great starting point to Val Redena, Adamello or the Brenta Mountains.
On the other hand, Camping Parco Adamello is open all year round. You can also come here with a dog, and the prices are, depending on the time, 8-10 euro / day for adults and 7-8 euro / day for children under 12 years of age. . Skiers staying on the camp can count on a free shuttle to the Pinzolo and Carisolo lifts.
Camping Val Rendena near the Sarca River, 10 km from Pinzolo, is also highly recommended. There is a sports center with tennis courts nearby, you can also play golf and do Nordic walking under the supervision of a trainer. There is a path for cyclists alongside the campsite and along the entire Rendena valley.
Other Attractions
The neighborhood has a lot to offer. In February, the Habsburg Carnival celebrates the visit of Emperor Franz Joseph and Empress Sissi. In addition to paragliding at the top of Pradalago and Spinale, visitors can climb the frozen waterfalls, take the opportunity to ride a mountain bike in the snow, hike in snowshoes and spend the night in an igloo, ride a dog sled or snowmobile. In Madonna di Campiglio there is also a fitness center, ice rink on the lake and tennis courts. In short, it is impossible to be bored.
In the nearby town of Caderzone, the thermal water complex Terme Val Rendena - Forte San Antonio was built some time ago. There you can use the sauna, solarium, beauty treatments and steam bath. In turn, Pinzolo offers a holiday with the family, and Madonna di Campiglio tempts with clubs and discos. During the day, you can stroll along its main street and admire the exhibition of regional products - high-quality cold meats with garlic from the Val Rendena valley and spirits with herbs. You just want to go in and buy it. Of course, the prices - as in the mountains - are exorbitant. But it is worth coming here at least once in your life, because you will never forget such an adventure.
A writer by profession, a passion of a cat. One day he will see what is behind the Urals - good to Vladivostok. So far, when he can, he enjoys the sun of the countries of southern Europe. And it's also fun;)
Enjoyed reading this article? Share it!