Polish campsites for Easter 2022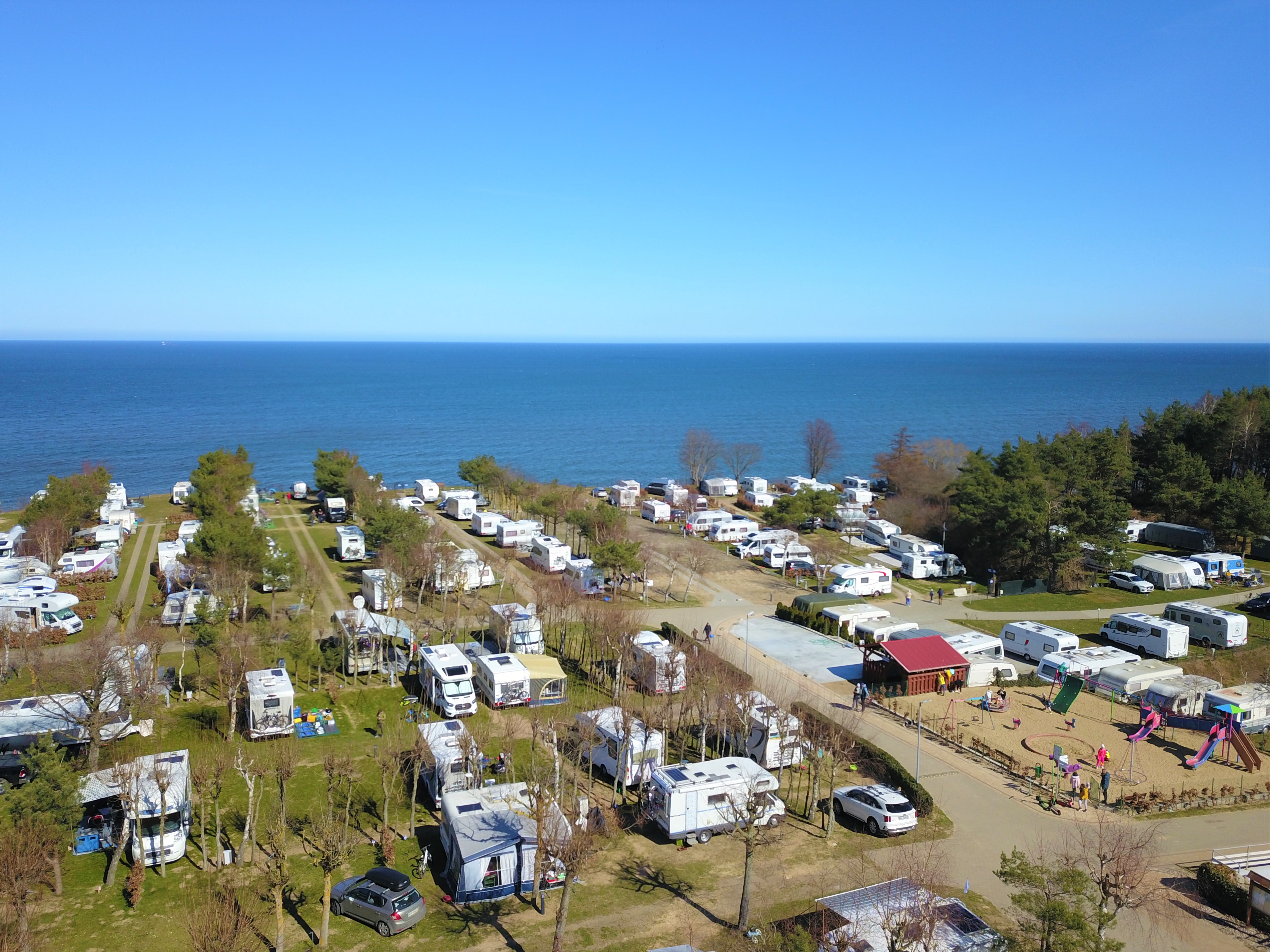 Have you ever thought about spending Easter on the Baltic Sea? Spring comes to life, and nourishing iodine is floating in the air on the beach. Most importantly, there are no crowds yet.
It will not be an exaggeration to say that there is always a good time to go to the Polish seaside. In summer, there are plenty of attractions for tourists of all ages. In winter, you can breathe in silence, looking at the frozen shore and listening to the sound of the waves. In spring and autumn, visitors enjoy the closeness of nature that comes to life. Or he is slowly getting ready for sleep. More and more people come not only for picnics. Holidaymakers are happy to combine relaxation with the celebration of Easter. They stay in hotels, but are also eager to choose a campsite or camping. If you were wondering if this is a good idea, we invite you to read it. After reading this article, you will have no doubts.
A campsite or a campsite by the Baltic Sea?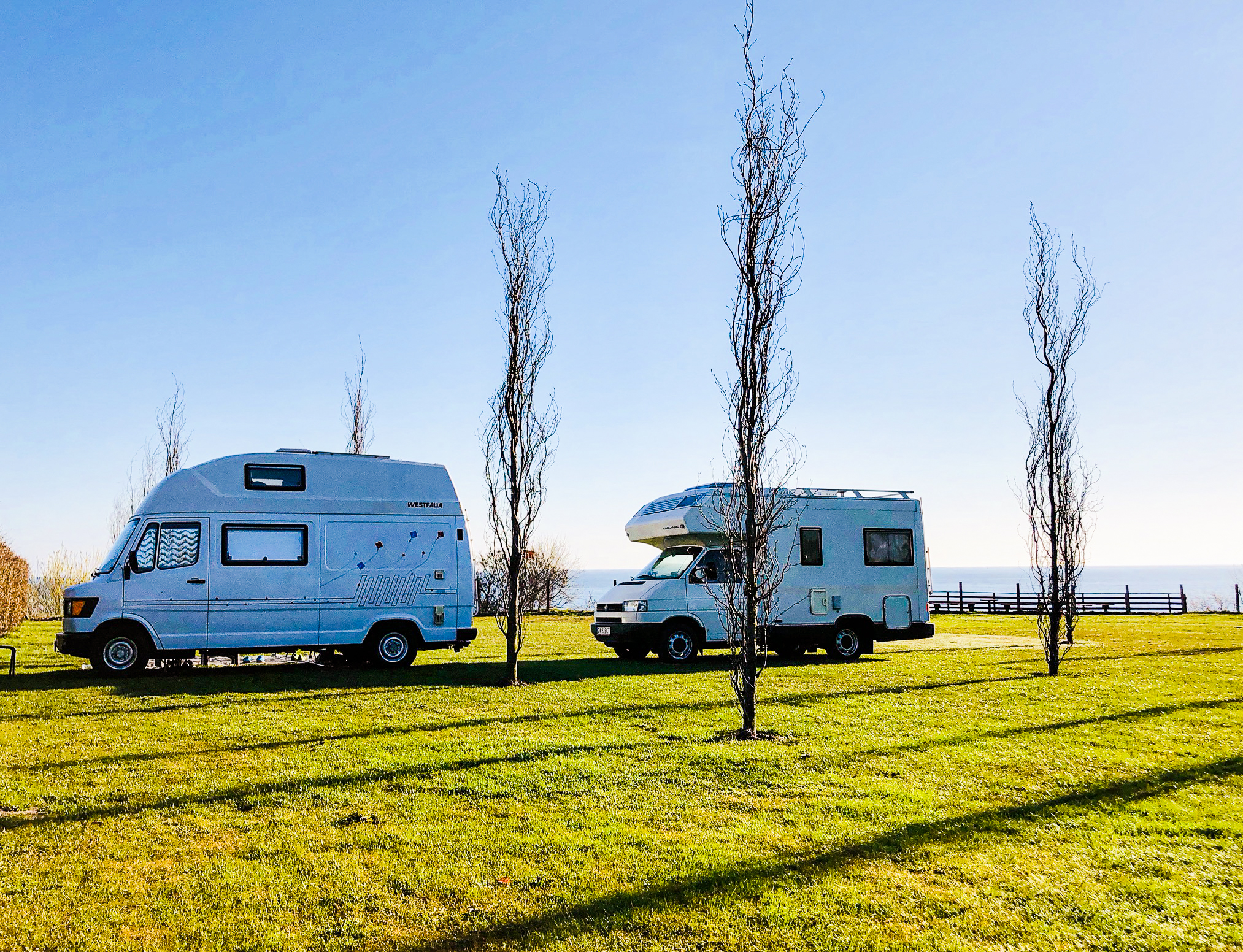 "Classic" tourists might wonder if Easter is too early for camping. Caravanningists know there is no wrong time. All you need to do is find the right object. The first location we would like to draw your attention to is camping Horyzont . It stretches directly on the beach in Władysławowo. You will start each day with the sight of the sea and you will hear its soothing sound before going to bed. In summer, families with children rest here. They appreciate the gentle descent to the beach covered by the ankle. But in April there is also a lot to do. You can sit on the sand for hours (on a thick blanket) or visit. It is an ideal seat reservation for long walks - the area is exceptionally picturesque.
The campsite has an interesting location and attractive prices. The property has sanitary facilities, a washing-up point and a kitchen with a refrigerator. For an additional fee, you can use the washing machine and dryer. Works with coins, but you can pay by card. Amenities include a bar, Wi-Fi and TV. Each position has access to electricity, water and sewage. What awaits vacationers? Plots of 60-80 m², caravans for groups of 3-5 people and comfortable Sea Homes. They will work for 4-6 people. Who knows, if you spend Easter camping, maybe next time you come camping? There are places with a direct view of the Baltic Sea.
Camping on the Baltic Sea on a cliff
The next facility that we would like to recommend to you is Mały Horizon . You will find it right at the base of the Hel Peninsula, in the charming fishing village of Chłapowo. It stole the heart of many people because it is entirely located on a cliff. Guests have an amazing view of the sea and the beach, and the descent to the shore is just 30 meters from the campsite. If you want to spend Easter camping this might be the perfect place. Holidaymakers praise both the great location and the tranquility that reigns here. In spring it will be wonderfully quiet, which guarantees that no one will disturb your rest.
Location on the cliff of Chłapowo, peace and quiet are not the only things that guests of Mały Horizon can expect. There is also a viewpoint with a spectacular panorama. Get ready for your dream photo session!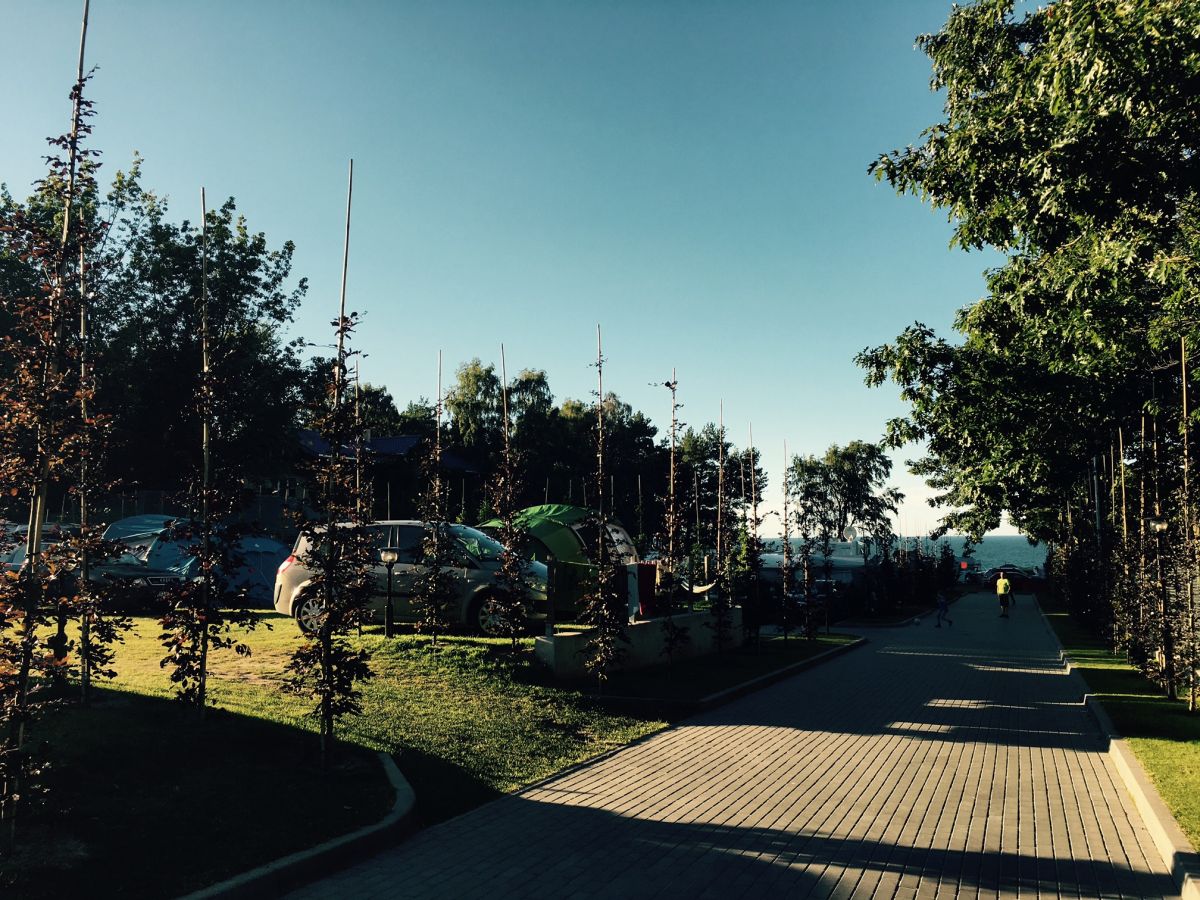 Okay, but what kind of accommodation does this charming campsite by the Baltic Sea offer? Owners of a motorhome or caravan can reserve a plot with access to water. Another option is to rest in a rented caravan. You can choose a variant for 3, 4 or 5 people. Depending on the standard, you will find single or double beds, a refrigerator and a table with chairs. There is also a vestibule-tent. You have free toilets with hot water, a place for washing dishes and a paid laundry service. The price includes access to a kitchen with a gas stove, fridge and kettle, coffee machine, TV and Wi-Fi.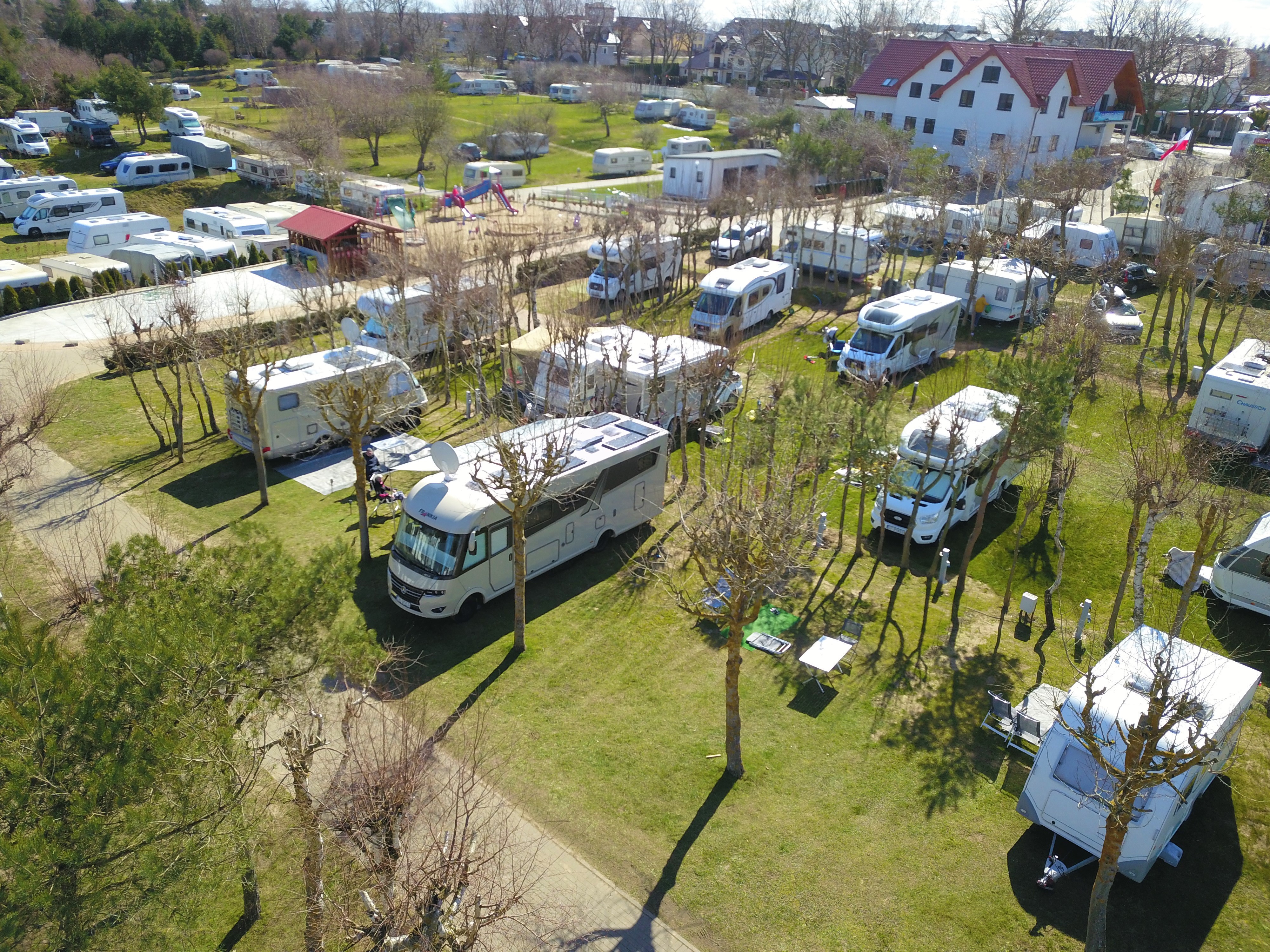 There is another point of interest in Chłapowo. This is Camping Alexa , also situated on a high cliff. You can perfectly see not only the Baltic Sea, but also Władysławowo and Rozewie. Fans of close contact with nature will be delighted with the location in the area of the Coastal Landscape Park. You can rent a plot in one of five categories (including Standard, Premium or Nadmorskie XL). All pitches have electricity, water and gray water outlets included in the price. You can use the toilets, bathrooms and showers for free.
If you are interested in family camping on the Baltic Sea, Alexa will be perfect for you. Its area is fenced and guarded, and the facility has professional service. There is a nice playground for the little ones.
A campsite by the Baltic Sea and a lake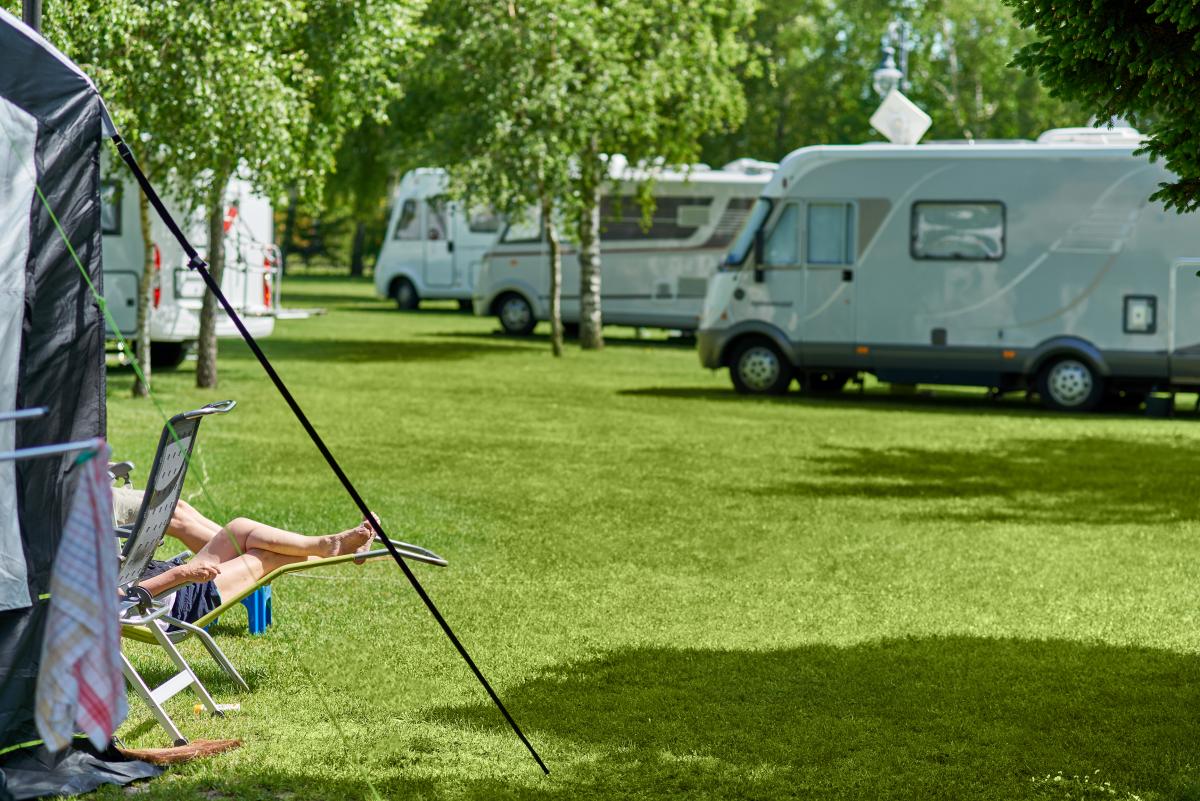 Now let's move west. Another point on our Easter map is an offer for those who love water. If they can have easy access to the seaside beach and the lake - and at the same time! - will not miss such an opportunity. So let's go to Łeba. Right next to it, about a kilometer from the Baltic coast, you will find a beautiful lake. It is Sarbsko, where Camping Leśny Łeba No. 51 is located. The reservoir is located in the eastern part of the Słowiński National Park buffer zone, on the Słowiński Coast. Fans of exploring the area by bike can cycle around them.
The campsite itself is only a few hundred meters away from important points. For example, from a PKP / PKS stop - 500 m, from a pharmacy or taxi stand - 300 m, and from a health center - 250 m. As for accommodation, tourists can rent a room, stay on a plot or in a cottage. Let's stop for a moment at the last option. The cottages are equipped with an air-conditioning and heating system. Even with capricious aura, you have the comfort of rest. 5 people can stay in them. They have 2 bedrooms, a bathroom, a living room with TV and a kitchenette. Each has a parking space.
It is worth noting that Camping Leśny is a campsite by the Baltic Sea and a lake at the same time. It is located close to the beach and the very center. You will be close to it everywhere, but the location in a quiet, quiet part of Łeba will save you from the hustle and bustle. The property has a shop, a playground for children, a laundry room and a sauna. There is also a common room.
A unique campsite on the Baltic Sea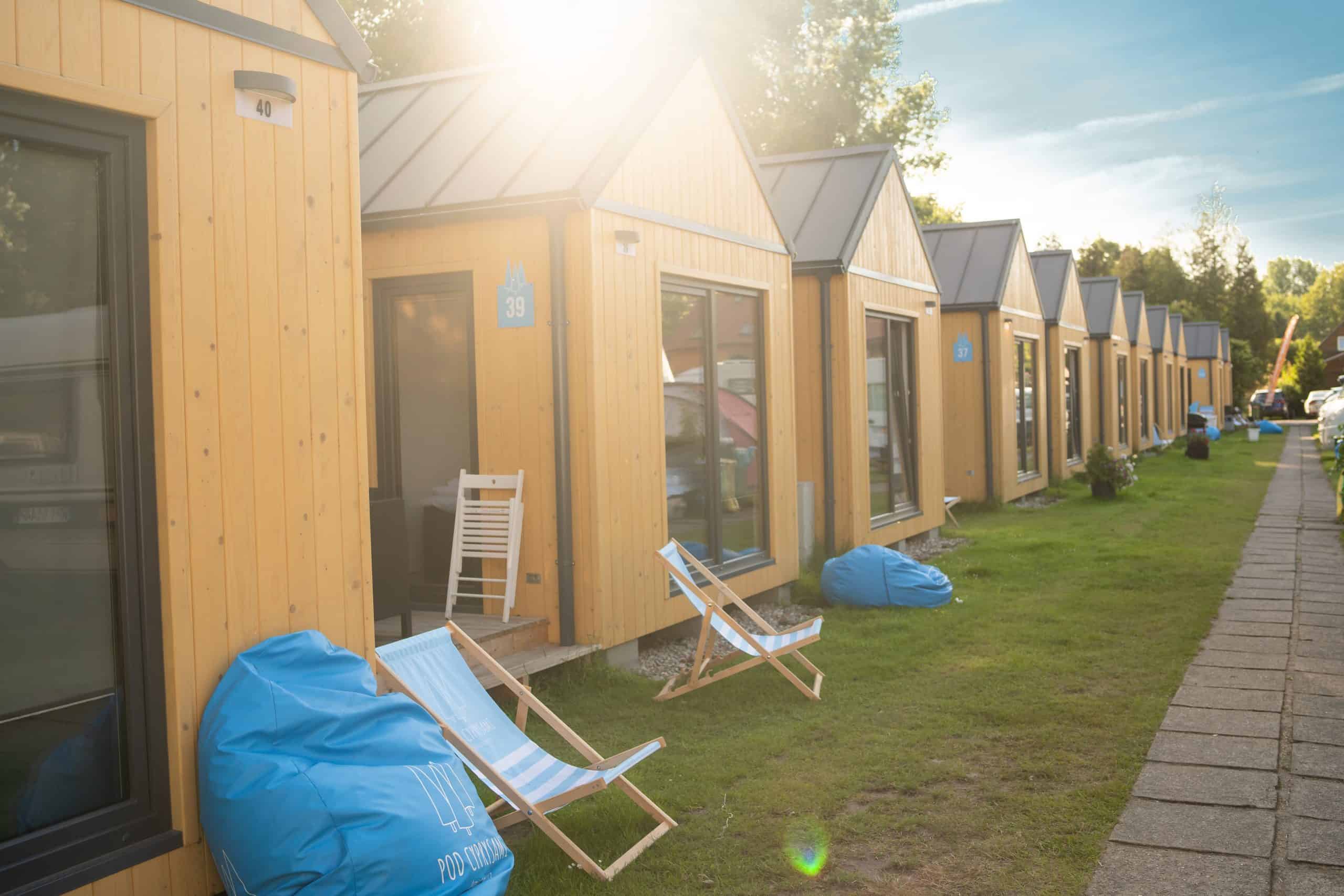 The next place captivates with its location. In a straight line, they are separated from Władysławowo by approx. 20 km, and the mentioned line runs nowhere else, but along the Hel Peninsula. This place is Jastarnia, located between the tourist pearls of the region, i.e. Chałupy and Hel. The family resort Pod Cyprysami welcomes its guests here. With its location between the Bay of Puck and the sea, it perfectly fits the slogan "camping by the Baltic Sea". The proximity of popular seaside resorts and great communication with other cities are the town's huge advantages. Just 300 meters from the reception of the center, there is the Jastarnia Wczas train station. You will get from there, among others to the Tri-City.
Pod Cyprysami invites visitors to its houses, apartments and a hostel. It has a special offer for people who want to celebrate Easter at the campsite. If you decide to come during this period, you will take part in a festive Easter breakfast. You can prepare a basket with święconka together, paint Easter eggs or participate in Śmigus Dyngusie.
The resort is not an ordinary recreational facility that was lucky to be located in an attractive point. This is one of the most interesting campgrounds in the region. You can rest on it in all possible ways - literally. The proximity of the sea and clean air will make it easy for you to fall asleep. You have a chance to calm your mind, relax and get rid of signs of stress or negative energy. A hot tub, sauna, meditation and regenerative yoga are waiting for you. In addition, a lot of sports entertainment, activities with animators for the youngest, gym, fitness, massages ... Is there a better opportunity for inner renewal than a stay by the sea?
A quiet yet luxurious campsite by a lake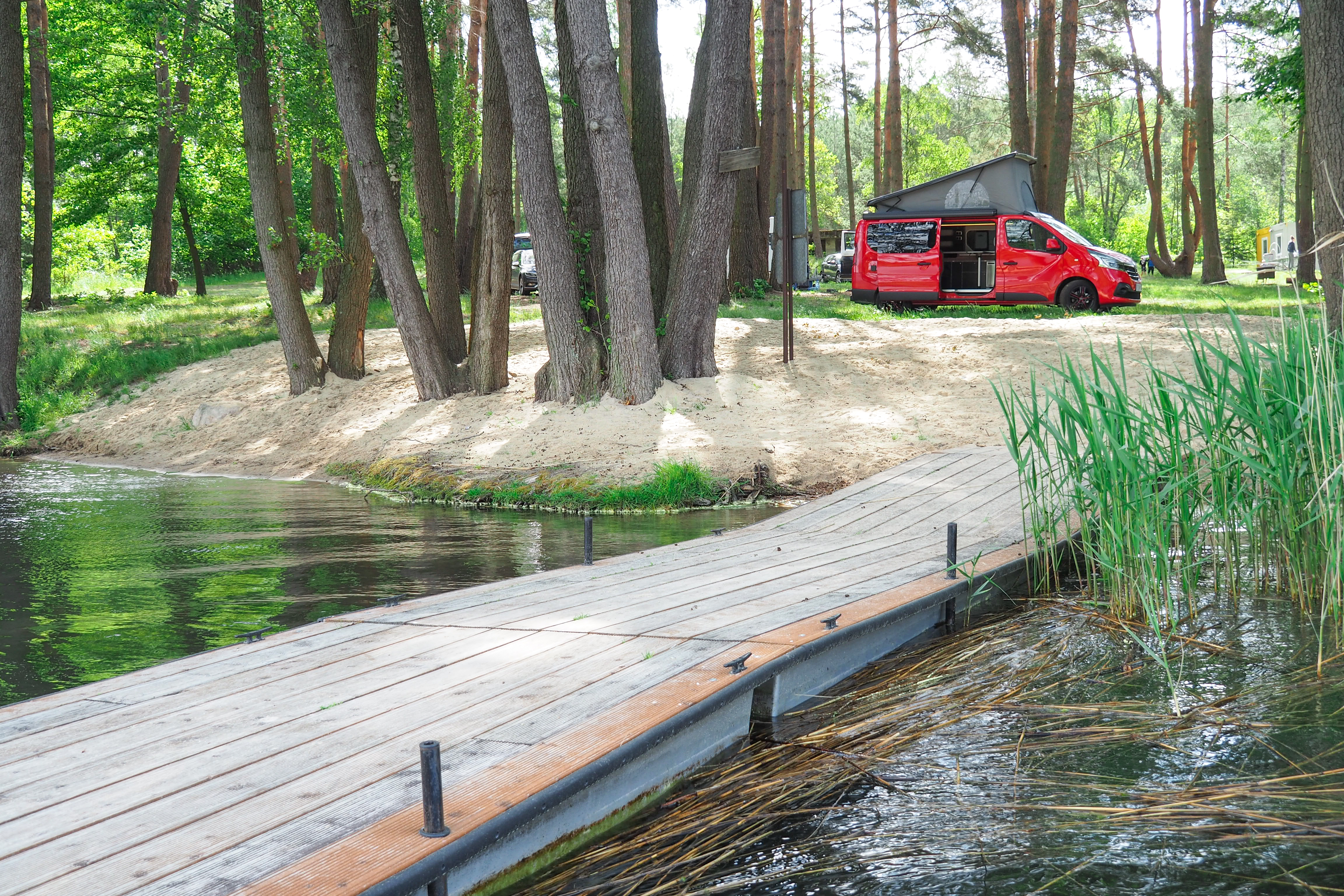 Someone mentioned peace, quiet and relaxation? If you dream of a vacation in such a place, you will love the Zacisze.pl Resort . To go to it, we have to move several hundred kilometers from the sea. For example, it is approximately 250 km away from Międzyzdroje. Zacisze.pl is located in the picturesque town of Łagów, in the Lubuskie Province. The facility is located on Lake Łagowskie, in a landscape park included in the Natura 2000 program. To say that it is beautiful here is not to say anything. It is an ideal place for nature lovers, amateurs of walks in the forest and activities by the water. A tourist paradise for those who avoid the crowds. It is not without reason that the center made a note on its website that Lubuskie is one of the least populated voivodships in Poland. If you have to act quickly and work under stress on a daily basis, you will regain your inner balance in this facility.
Zacisze.pl is a perfect campsite by the lake for anyone who wants to get away from civilization. If you do not want to integrate with other guests, the center will help you keep your distance. It offers bungalows with individual entrances and covered terraces. There are no common areas such as elevators or corridors. There is also a camping part, which - like other areas - has recently been modernized. Among other things, more positions for caravanning enthusiasts have been allocated. The entrance to the campsite has been improved, more electrical boxes and toilets have been made available. The dry trees were disposed of and the old trunks were cut. There is a post for refueling a motorhome or caravan. It is worth coming here to personally test the new products and, above all, enjoy the charms of the area.
Another interesting campsite by the lake is not so much a campsite as a palace. Even the name is adequate to the offered standards: the Palace on the Lake ( www.palacnadjeziorem.pl ). Look for it in a small, but extremely picturesque town called Chociwel. As you can read on the commune's website, it is "a city that is comfortable for residents, open to tourists, attractive to investors". It is located in the province Zachodniopomorskie, in the Ińsko Lake District, on the Starzyca Lake and the Krąpiel River. It is hard to find a more beautiful place in the region - and there are many wonderful places there.
The Palace on the Lake is suitable for any occasion, from a picnic to any holidays. You can come here for the anniversary of your first date or organize a wedding. The property has 2 apartments and 17 en suite rooms. You can see the lake from some of them. In addition, the palace invites you to holiday cottages and pitches for motorhomes.
Guests have at their disposal a restaurant with a stylish fireplace, drink bar, grill and a place for a bonfire. You also have access to a swimming pool, tennis court and gym. In a word, it is a campsite by the lake where you can cut yourself off from civilization and enjoy the closeness of nature. If you want to enjoy the luxuries, there is nothing to stop you from doing so.
A campsite by a lake in Masuria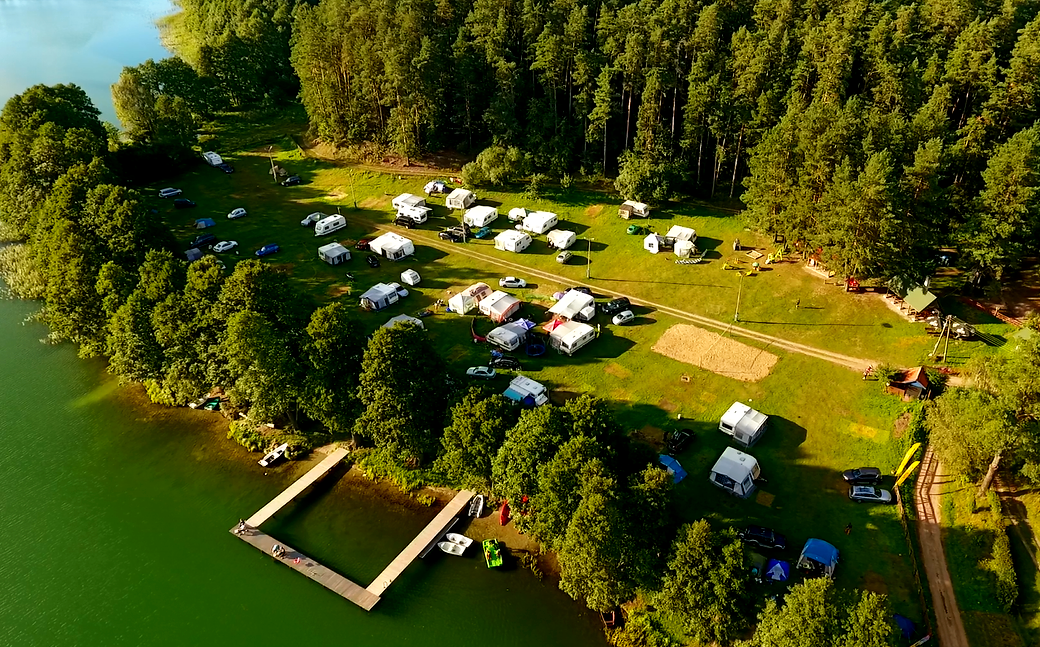 Now let's move to the Land of a Thousand Lakes. According to many tourists, Masuria beats the Polish sea with its beauty, infrastructure, clean water and atmosphere. It is not up to us to decide which area is more beautiful. Nevertheless, many believe that Masuria has the best campsites in the country. Some prefer camping on the Baltic Sea, others cannot imagine not visiting Mikołajki or Mrągowo again. Still others like intimate areas and choose, for example, the modest Dłużek Lake, instead of Śniardwy. It houses Camping Dłużek No. 135 , about which we want to tell you a few words.
The campsite and campsite are situated by a lake and are surrounded by a dense forest. It is a complex that is part of the Masurian Landscape Park. You will rest here for all the times. Not only the water is clean, but also the air, which is especially appreciated by residents of large cities with smog. On the area of about 2 ha, there are pitches for caravans, campers and tents. Regular guests say that it is one of the most beautiful places to stay in Masuria. It works from spring to fall, so you can come here for Easter.
The property encourages you to book a place at another campsite. If you want, take advantage of this recommendation and visit Camping Binduga 69 , for example during the picnic. It waits for tourists between the villages of Warchały and Brajniki, in the Jedwabno commune. It was also situated by the reservoir, namely the Narty Lake (Świętajno). It is located on a small hill, from which you can perfectly see the surrounding area - the surface of the lake and the green trees. If you do not like crowded centers, you will feel at home here. We recommend coming especially to families with children. In comparison to other reservoirs, Świętajno is distinguished by a shallow bottom, noticeable far from the shore. In summer, little ones love to splash in it. Holidaymakers can walk around the area or relax on the beach, admiring the surprising cleanliness of the water.
The camping offers caravans, cottages and a campsite. What is worth emphasizing, you can check which object (Binduga or Dłużek) you will like more. You just need to check in and have a reservation to be able to stay at both campsites.
The last place we would like to take you is the Ruciane Park family resort. It is situated by the lake Guzianka Wielka, in the beautiful Piska Forest. A forest road leads from it to the city, stretching for about 3 km. Tourists wishing to come here for Easter can stay in the cabins. They are placed in several shorelines, so you have a choice of how close to the lake you want to be. The houses have electric heating, they consist of a living room with a kitchen, a bedroom, a mezzanine and a bathroom. They also have a terrace. They can accommodate a group of up to 6 people.
Ruciane Park has prepared a similar holiday offer as the Pod Cyprysami center. You can paint Easter eggs, fill an Easter basket, eat breakfast etc. The youngest guests will be delighted with the rich program. From the morning animations are organized, they also look for chocolate eggs, a family cinema, a fire with marshmallows and family competitions. In addition, the price includes meals - the chefs from the FoodPort restaurant will take care of them. It is worth mentioning that Ruciane Park is a pet-friendly facility. Go ahead and take your pooch with you!
As you can see, there are plenty of places where you can celebrate Easter. It can be a campsite on the Baltic Sea, in Masuria, in the West Pomeranian Voivodeship or in the Lubuskie Voivodeship. Several interesting facilities are also located in Lower Silesia. Look out for Camp66, Camp4U or the Fortress. It is only up to you which one you choose.
A writer by profession, a passion of a cat. One day he will see what is behind the Urals - good to Vladivostok. So far, when he can, he enjoys the sun of the countries of southern Europe. And it's also fun;)
Enjoyed reading this article? Share it!