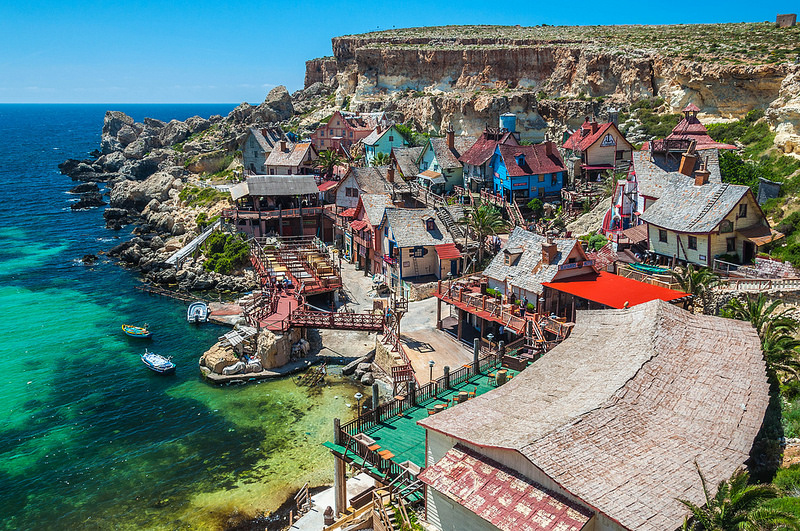 For Popeye, a good sip of canned spinach worked like blueberry gum on a gummy beast or a magic drink for the Gauls. It replaced him with months of the gym in seconds. 85 years have passed since the birth of a somewhat crazy sailor, but he still has vigor. Let's visit him in Malta!
Gone are the days when spinach was associated with a childhood nightmare. Today, no one is being forced to do it - quite the contrary. It is recommended for people who have problems with the pancreas, hypertension and constipation. It has an anti-cancer effect, it is also used by people who want to increase their muscles. There was a reason why the muscular sailor Popeye encouraged people to eat the green vegetable - and it is about him, not about spinach, that this story will be about.
Visit Popeye
Popeye is a hot-tempered, good-hearted strongman who often gets into fights. Today he is an old man - he was born in the late 1930s. In 1980, his adventures were devoted to the musical comedy "Popeye" , in which the main roles were played: Robin Williams (Popeye) and Shelley Duvall (Olive Oyl). The Popeye movie wasn't much of a success, but it was nothing more than it was meant to be - a Popeye movie. More amusing than funny, with acting that mimics the behavior of a cartoon character. But even today it may appeal to children.
Popeye Village , also known as Sweethaven Village, was built specifically for the production. It was created in Malta, on the Anchor Bay. Today, it is a children's amusement park with wooden houses, a small railway, water trampolines and playhouses for children. There is also a confectionery factory here, and when the weather is nice, boats with tourists run around the bay.
Admission to the settlement is paid and its cost depends on the season. From October to May, the ticket price for adults is EUR 10, and for children - EUR 8. From June to August, adults pay 12.5 euros and children - 10 euros. Popeye Village is open until 4:30 PM . It is wise to check what time the last bus leaves, otherwise we may have to hike back on foot. The village is approx. 3 km away from the nearest town.
Camping in Malta
In case of late arrivals for the last bus, free riders are left with a walk or looking for accommodation. Fortunately, there is no problem with the latter. In the northern part of Malta, there is Malta Campsite , where you can stay overnight in a cottage, room, tent, or even your own camper (the cost is 7.5 euro / day). The campsite has pitches with electricity (3.5 € / day).
One of the greatest advantages of the facility is its intimacy and location - within a 20-minute walk you can walk to Mellieha, a town with a sandy beach. Cirkewwa, from which the ferry to the island of Gozo runs, is also nearby. It is worth taking advantage of this opportunity, because on Gozo there is the so-called Azure Window. It is a natural corridor through which seawater flows. Seen from the right perspective, it makes a huge impression.
We are visiting Malta
Not only the north of the island hides many curiosities tempting tourists. On the south shore, near the town of Rabat, there is a place considered to be one of the most beautiful parts of Malta. These are the Dingli cliffs , protruding above the water surface to a height of over 250 meters. From them you can see the sea and a desert island called Filfla. Less than 14 km further, heading south, we will see another attraction of Malta - Blue Grotto . These are caves and grottos where the water takes a wonderful blue color. Volunteers can participate in a boat cruise around the grottoes.
Malta is not big, but it is very exciting. Starting from Popeye Village, where not only children will have a great time, through monuments dated at 3.5 thousand. years BC, and ending with excellent diving sites. It is beautiful here (mountains, cliffs and prickly pear bushes), and in summer there is practically no chance of bad weather. Sounds like a great vacation idea?
A writer by profession, a passion of a cat. One day he will see what is behind the Urals - good to Vladivostok. So far, when he can, he enjoys the sun of the countries of southern Europe. And it's also fun;)
Enjoyed reading this article? Share it!