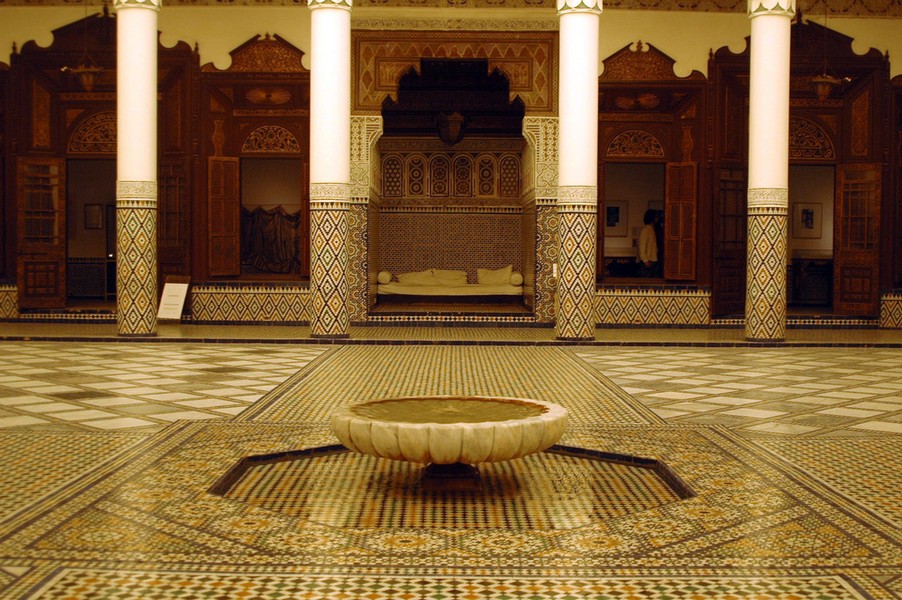 Recently, you can buy Moroccan cosmetics in Polish drugstores. Maybe not like mushrooms after the rain, but new shops are appearing quickly, where it smells intensely of incense, sandalwood and ambergris, and lovers of oriental cosmetics can buy henna, hair conditioners and body lotions.
Morocco itself is a beautiful country and if we have a chance, it is worth visiting. We will get acquainted not only with intoxicating smells, but also tastes that cannot be found anywhere else. For where can we drink mint tea with wormwood or eat a dish saturated with spices such as saffron, turmeric or anise seeds? Not to mention the generous use of the aromas of pickled lemons.
Although it takes quite a long time, you can get to Morocco on your own wheels. As experienced travelers say, it takes about 3 days if we decide to reach the south of Spain. You can also take the ferry in Italy - for example, go on a cruise from Livorno to Tangier and spend about 60 hours at sea. On African soil you will then become a bit tired, but after resting you can start enjoying the scorching sun and the exoticism of a country that is beautiful, but full of contrasts . It is rich and poor here, clean and dirty at the same time, and people are kind and willing to shell out the last dirham from a tourist's wallet.
The red of Marrakesh
Tangier is approximately 575 km away from Marrakesh. When we get there, we will be overwhelmed by the hustle and bustle of the city. It is considered one of the most exotic in the country, and has been popular with tourists from all over the world for some time. It is the cultural and historical capital of Morocco and one of the four largest agglomerations. It is divided into a rich new metropolis and a fortified old part, surrounded by a red brick wall, to which Marrakesh owes its name - the Red City . And behind the wall there is an atmospheric medina full of souks, i.e. traditional Arab bazaars.
Djemaa el Fna , known as a magic square without a mosque, is one of the most interesting and most attractive places in Marrakesh. It is the focus (not only of the nightlife) of the city. Together with the entire historic center of Marrakesh, it has been included in the UNESCO World Heritage List. In the morning it acts as a marketplace, and in the afternoon it attracts people from afar with lights and laughter. We will meet snake charmers, dancers and all kinds of street artists here. In the square, you can buy literally anything from wooden camels and boiled snails to fake Coco Chanel glasses. The salespeople are very persuasive, so be sure to practice assertiveness first. Let's not forget about the necessity to bargain.
Near the square, towering over the flat roofs of the rest of the buildings, stands the stately Koutoubia, the city's main mosque.
Don't look like a tourist!
Morocco wants to promote itself as a fashionable tourist destination, but there is something that stands in the way of it - and it is something that catches the eye in Marrakesh. In addition to the passion of sellers, visitors to the city are disturbed by the so-called faux guides , or false guides. You don't even have to stare at the map with an uncertain expression in order to be harassed and receive an offer of help. Most often, this help consists in taking the tourist to a shop or souk run by someone from the family and persuading them to buy. Faux guides will guide us where we didn't want to be, and at the end we will see an eloquent hand outstretched. Because, of course, "help" is by no means free.
For the natives, scamming tourists in this way is not a scam, but an opportunity to earn a few dirhams. Oh, the art of resourcefulness.
Where to stay in Marrakesh?
In Morocco, we will have no problems finding a place to stay - there are many campsites in the country where a motorhome can stay. A noteworthy place is Ourika Camp Marrakech , where two people will spend the night for 115 Dhs (about 48 zlotys). The rate applies when we stay at the campsite from 1 to 10 days, and if longer, it drops to 105 Dhs. The price includes a motorhome pitch, access to a shower with hot water, as well as the stay of a dog if someone plans to take it with you. 25 Dhs a day costs access to 10 amps of electricity.
While in Marrakesh, it is worth planning a longer stay and getting acquainted with the attractions of the area. In addition to the beautiful valley of the Ourika River, located in the Atlas Mountains, tourists are also delighted, among others, by the mouth of the Essaouira River and the Beni Mellal Falls. You should definitely not miss a visit to Chefshaw, a fairy-tale blue city where buildings merge with the sky. His beauty deserves a separate story.
A writer by profession, a passion of a cat. One day he will see what is behind the Urals - good to Vladivostok. So far, when he can, he enjoys the sun of the countries of southern Europe. And it's also fun;)
Enjoyed reading this article? Share it!