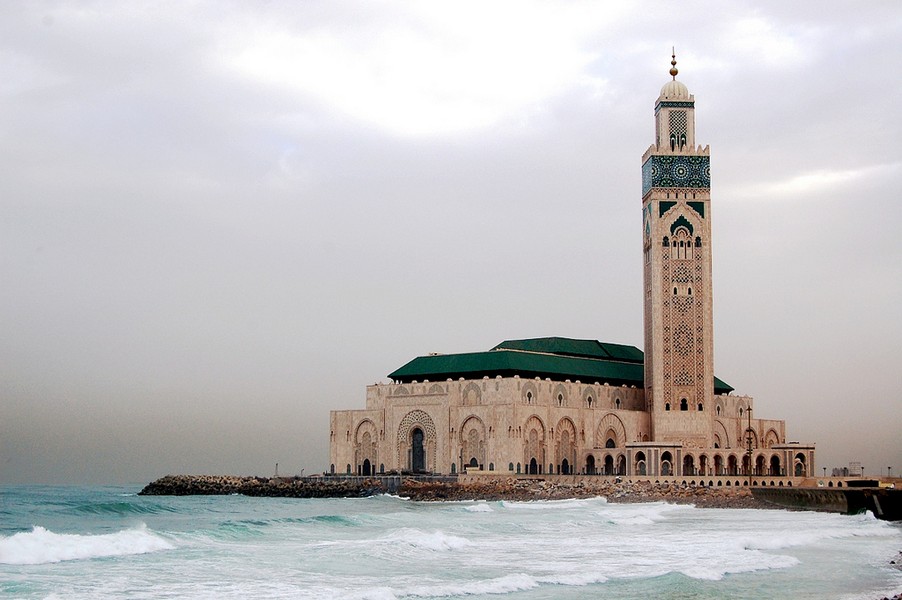 Most often, one of the most interesting and attractive cities for tourists in a given country is its heart - the capital. It is different in Morocco, although it cannot be denied that Rabat, which serves as the capital, is also beautiful and worth seeing. However, there is a larger city and much more interesting for many people, and it is the famous Casablanca.
Everyone knows its name, even if they do not know exactly in which country it is located or why it is really famous. Over 70 years ago, Humphrey Bogart and Ingrid Bergman , cinema icons and heroes of the melodrama described today as cult, walked its streets. Is the work created in the golden age of Hollywood really so brilliant - everyone can judge for themselves. Nevertheless, the city that provided the film with a background for a love story is beautiful and worth visiting, even though it has changed beyond recognition since the filming of Casablanca.
Casablanca 70 years later
The title Casablanca is located in the western part of Morocco, on the shores of the Atlantic Ocean. In the past, it underwent several periods of lush development and destruction to surprise tourists with its size and modernity. Because it must be admitted that this modernity dominates the city's architecture. A tourist who has made the decision to get acquainted with the monuments and feel the atmosphere of an old Moroccan town, must work a bit.
When visiting the city, it is worth visiting the Quartier Habous , a new medina built in the 1930s. We will see both history and the present, woven together in a specific combination of traditional architecture and European glitz. It is noisy, crowded, loud and colorful, and at every turn we will encounter sellers of various trinkets and souvenirs. People who lack assertiveness will also quickly run out of money.
A more ancient past, undisturbed by modernity, can be found in the old medina, surrounded by walls protecting against noise and haste. Tourists wishing to calm down for a while and escape from the busy everyday life can wander the alleys of the old town in peace, sipping tea with mint.
Experienced travelers say that the medina and its surroundings are the safest for both tourists' wallets and the tourists themselves. There are not too many faux guides ("false guides") here, like in Marrakesh, ready at any moment to "help" the lost. On the outskirts of the old town there are the cheapest restaurants, cafes and pubs where you can eat delicious Moroccan food for a small price. Those who do not like experiments and prefer to eat meals known to their European stomachs will easily find a restaurant with a menu prepared for their tastes. Of course, correspondingly more expensive.
City attractions
Casablanca's most famous landmark is the monumental Hassan II Mosque , a gigantic structure surpassed by only one pearl of Islamic architecture, the mosque in Mecca. An interesting fact is that after dark, a laser beam is sent from the top of the temple towards Mecca, visible from a distance of about 30 km.
The imposing structure of the Hassan II Mosque outshines the other monuments of the city with its beauty, and its minaret is the tallest in the world - it is 200 meters high. The mosque stands proudly on the shores of the Atlantic Ocean, and its interior can be admired for hours walking with your head turned up (and often with your mouth open with admiration). It is also worth looking at your feet, because in some places you can see the sea under the glass floor. The mosque was built at the meeting point of three elements - it stands partly on the ground, partly above water, and the third element stretches over the heads of visitors when a special mechanism opens the roof of the structure. One can get the impression that in the spacious interiors, an echo would answer every word. The mosque is one of the few temples in Morocco that non-Muslims can enter. It can only be visited with a guide.
What else is worth seeing while in Casablanca? If we have more time, we can take care of getting to know the palace of Mahkam du Pacha . It is visited only with a guide, after prior notification at the tourist information desk. The palace was built in the 1950s, but it looks much older. With a large main courtyard and two smaller ones, built with enormous splendor, visible not only in dimensions but also in decorations, it is an example of old Moroccan architecture - lush and dripping with decorations.
It is also noteworthy that there is a Jewish Museum in the city. It is the only place of its kind not only in Morocco, but also in other Muslim countries. Tourists have the opportunity to learn about the history of the country's Jewish community from Roman times until independence, when Jews emigrated for fear of persecution.
Where to stay
Those who have been delighted with the beauty of Moroccan architecture and culture that they want to spend more time with it, will probably be wondering about a place to stay. Both in the vicinity of Casablanca and in the city itself, we should have no problems finding a suitable campsite. On average, we will pay about 50 MAD for a stay of 2 people and a place for a vehicle, which is approximately PLN 18.70. Not far from the city (approx. 7 km) there is Camp de Mediouna, where you can park your camper. We will rest in a beautiful area, taste local dishes and be close to the monuments of Casablanca and other attractions.
After exploring the city, you can move on on an expedition through Morocco. Simple but delicious cuisine saturated with aromatic spices, as well as wonderful landscapes full of delicious mosques and colors - all this is waiting for us, promising unforgettable experiences and a lot of memories.
A writer by profession, a passion of a cat. One day he will see what is behind the Urals - good to Vladivostok. So far, when he can, he enjoys the sun of the countries of southern Europe. And it's also fun;)
Enjoyed reading this article? Share it!