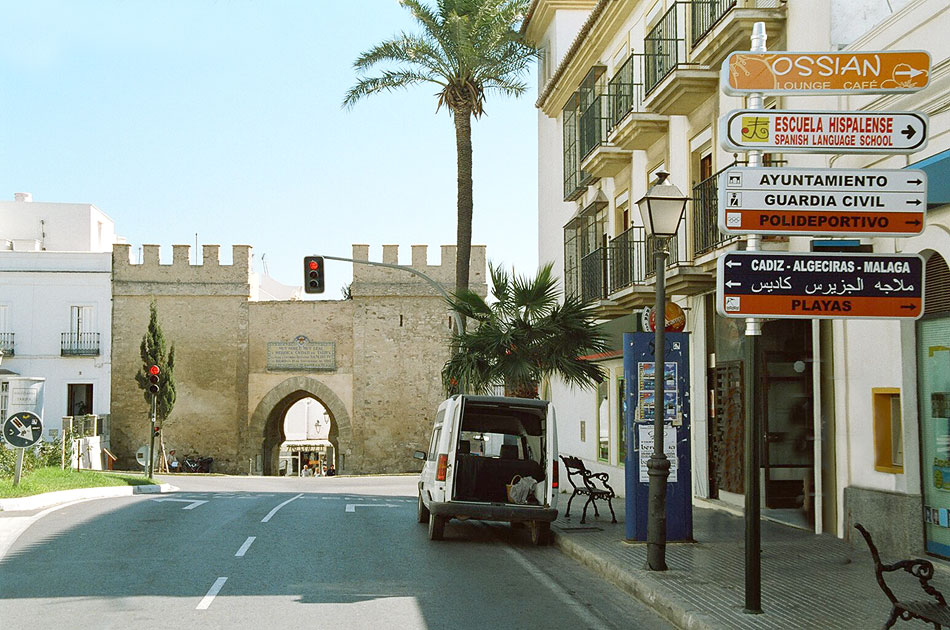 Sun, beach and birds
When snow outside and frost draw fanciful patterns on the glass, many of us dream of going to a place where you can put your face to the sun, walk on loose sand and swim in the warm sea. And hot Spain comes to mind for many of us.
Where can it be the warmest? In a region that lies, colloquially speaking, a stone's throw from Africa. In other words, in Andalusia. The southernmost Spanish center is Tarifa, from which you can see the lights of the African city of Tangier at night. After all, they are only 30 km away.
There is probably no person who would not know that birds that fly away to warm countries for the winter, fly towards Africa. Tarifa is one of the best places to watch their migrations. During bad weather, exhausted herds stop in the mountains, often spending several days there. So it can be said that Tarifa is a holiday destination for both people and birds.
An interesting fact is also the legend of Alonso de Guzmán (de Guzmán el Bueno), the ruler of Tarifa. During the enemy invasion, he sacrificed his son to save the city. Contrary to the expectations of the invaders, he did not give up his government in exchange for freeing his descendant, he allowed him to be killed. Today, near the port and the castle built in honor of the steadfast lord, you can also see his monument. Ironically, "bueno" means "good".
The world center of the surfing subculture
Tarifa is considered the surfing capital of Spain. Kitesurfing and windsurfing enthusiasts also eagerly come here. They are attracted by beautiful beaches that are second to none, just like the specific climate. One of the largest beaches in the province is Zahara de los Atunes. It stretches from Zahara to Cabo de Plata. Golden sand and moderate waves - perfect for fishing and swimming. The aforementioned Cabo de la Plata offers visitors peace and relaxation in a wonderful environment. There are cozy houses with small gardens at the beach.
If someone came here mainly to practice windsurfing, he will probably go to the beaches of Valdevaqueros or Los Lances. There are several surfing clubs around them, offering equipment rentals or lessons with an instructor. Diving and fishing enthusiasts often choose Cala Picacho with its white sand, romantic coves and picturesque rocks emerging from the water. Wonderful sand and crystal clear water can also be found on Arroyo del Cañuelo. Those who forget about reality will feel like in paradise when looking at the underwater flora and fish.
Under your own roof - to Tarifa with a camper
In such a beautiful region, it is not necessary to look for hotel accommodation. Those who prefer to travel by their own means of transport and appreciate the freedom to stop at any chosen point know it well. There are several campsites that are worth paying attention to.
A place recommended by caravanning enthusiasts is the Paloma campsite (Ctra N340 Cadiz-Malaga, km 74, 11380 Tarifa). Two adults who will come here with a camper will pay from 32.10 to 42.80 euro per night, depending on the season. In summer, dogs are not allowed, but you can bring your own boat. Trips are organized at least twice a week, so if someone does not have a pre-arranged plan for getting to know the area, they can take advantage of this opportunity. The campsite has a restaurant, shop and snack bar all year round.
The second place to stay is the Valdevaqueros campsite (Ctra N340, km 75.5, 11380 Tarifa / Cádiz). Here, two adults will pay from 30 to 40 euro / day for the night. There are 10 pitches for motorhomes, so it is quite intimate. The campsite is fully adapted to the needs of the disabled, and you can bring your dog both in and out of season. The campsite owners also organize excursions to discover the area's attractions.
Another interesting campsite is El Jardín de las Dunas (Los Algarves / Punta Paloma, 11380 Tarifa). The approximate price for a stay of two people is EUR 28.40-39 / day. Of course, it is year-round, and there are marked hiking trails along its premises. Guests can use a common room, washing machine and tumble dryer. You can also play tennis, ride a horse, but you cannot bring pets.
Visiting the area
Beautiful beaches, clear water and lush greenery - Tarifa has something to captivate. And what else can you see here? Lovers of old fortifications and monuments should visit Baelo Claudia, approx. 12 km away. There are ruins of a Roman city there. However, in Tarifa itself, you can see the ramparts, as well as Sante Mateo, a 15th-century church with a Gothic interior and a baroque facade. Also noteworthy is the castle from the 10th century, partially rebuilt 800 years later.
Above all, however, let's remember that this is a city from which you can see a second, exotic continent. A continent, for many of us, remains an attraction that you can only read or watch a movie about. Meanwhile, here in Spanish Tarifa, you can sit on one of the local wonderful beaches and gaze at the outline of the land on the horizon. And contemplate this amazing moment.
A writer by profession, a passion of a cat. One day he will see what is behind the Urals - good to Vladivostok. So far, when he can, he enjoys the sun of the countries of southern Europe. And it's also fun;)
Enjoyed reading this article? Share it!