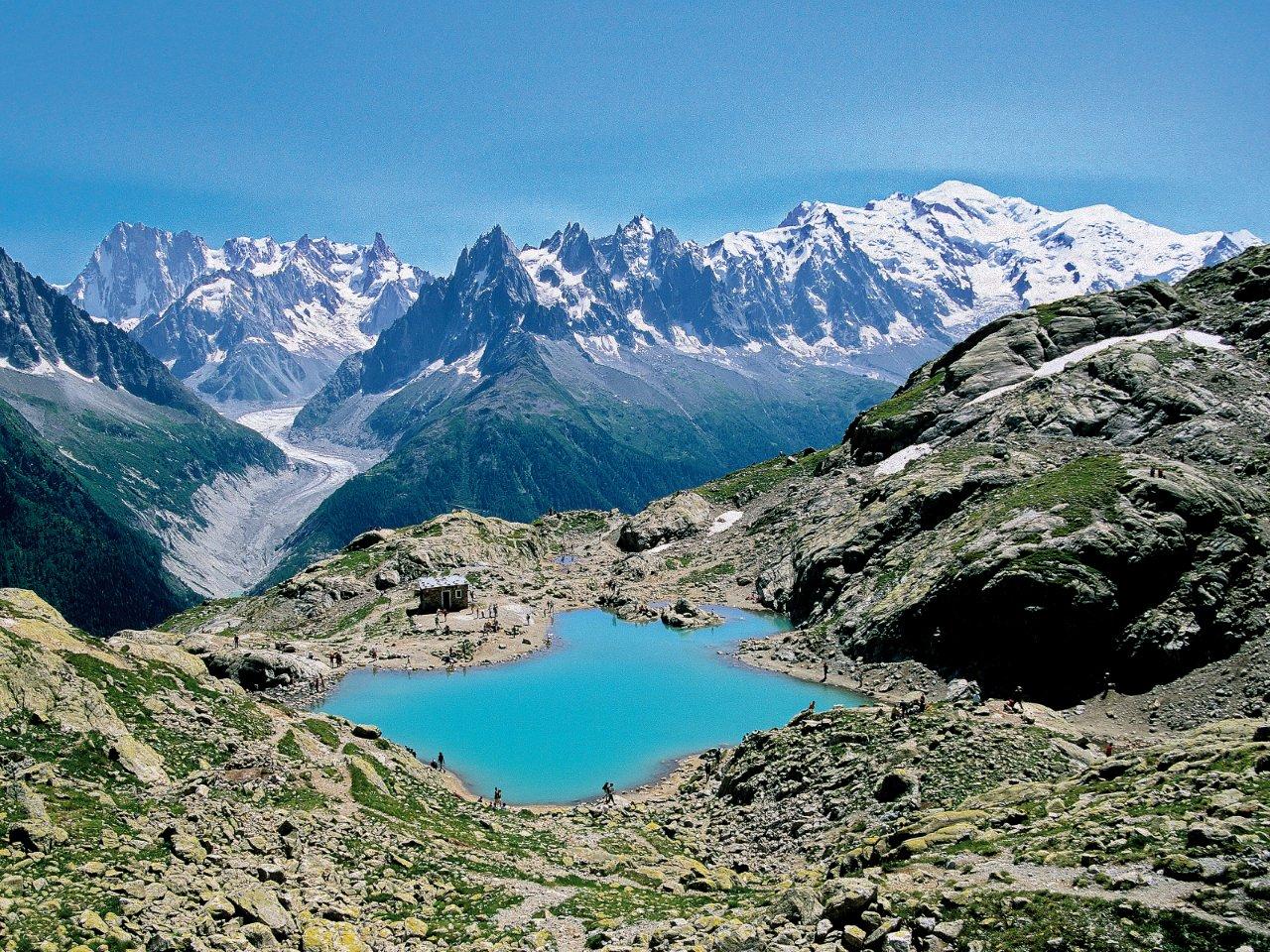 At the foot of Mont Blanc lies the Chamonix Valley - a place that will amaze everyone. It is a small mountain town in the Haute-Savoie department (Rhone-Alpes region), which was practically unknown until the 19th century. It was then - precisely in 1786 - that two daredevils climbed the "mont audit" ("cursed place") for the first time. When the highest peak in Europe was conquered and the notoriety was broken, mountaineering enthusiasts, artists and scientists began to flock to Chamonix. Today the resort is one of the most famous ski resorts in France.
In addition to the mountain itself, which impresses visitors, there are 400 other peaks, over 70 glaciers and 7 valleys, including Chamonix. The first Olympic Winter Games were organized in the resort, and the first association of mountain guides was also founded here. Snow, climbing and winter elements - Chamonix is irresistibly associated with it. The longest cable car in the world is also located here, going from the resort to the summit of Aiguille du Midi. It was established in 1920. Together with the cable car to Pointe Helbronner, the top of the Aosta Valley in Italy, it allows you to travel the entire Mont Blanc massif by cable car.
Chamonix Valley
The rich offer of the Chamonix-Mont Blanc valley consists of 4 municipalities that make it up: Chamonix itself, Valloraine, Les Houches and Servoz. Tourists are attracted by the attractions of 6 main centers - apart from the town, guests are invited by Le Brévent, Les Houches, La Flégère, Le Tou and Grands Montets. Hiking enthusiasts will find here countless routes (their total length is as much as 310 km). A well-organized infrastructure is an additional incentive.
Downhill routes
What skiers are most interested in is, of course, the downhill runs. There are 69 of them here (8 green, 28 blue, 20 red, 10 black), and their total length is 108 km. Grand Montents station tempts with unmarked trails, a snow park and long ski runs. You can ski here until May 10. On the other hand, at the La Flérège station, we have guaranteed beautiful weather - which is explained by its common name, "solar station". Le Tour / Blame station is suitable for skiers of all skill levels, and Les Houches has something to raise the adrenaline for those who like challenges - here is the famous "La Verte des Houches", the world championship run.
One of the greatest ski attractions may be the Aguille du Midi descent via Valle Blanche. From the edge of the Valle Blanche glacier, there are several kilometers of descent among the glacier crevices to the lower part of Mer de Glace waiting for the really experienced. It is a wonderful trip and an amazing experience, but at the same time it involves a lot of risk, so not for everyone. Off-piste adrenaline hunters (over glaciers and steep lobbies) can be found most often around Grand Montets, the summit above the Argeniere Glacier. On the other side of the valley (Augilles Rouges massif) there will also be a lot of lobbies, especially in the Index and Flegere areas.
Passes
The prices of the passes are not the cheapest, but, for example, after buying "Mont Blanc Unlimited" you can use the slopes in three countries without restrictions (Chamonix slopes, Italian Courmayeur, and Swiss Verbier). A weekly pass for an adult costs 299 euros, a two-week pass for 500 euros. However, if you use the "Chamonix Le Pass", you can buy a family package for 2 adults and a child, then the second child can ride for free. Such a one-day package costs 154 euros, and a weekly one - 706.80 euros.
Camping in Chamonix

The hotel accommodation offers are also not very cheap, although their conditions would certainly satisfy everyone. More financially advantageous, but closed in winter, are camps, and thanks to their atmosphere, beautiful views and efforts of the owners, they attract many caravanning enthusiasts. The three-star Camping L'Ile des Barrats, offering 49 spaces amidst greenery, is highly recommendable. Depending on the season, you pay here about 24.30-28.30 euro / day (2 people, a car, a place for a tent or a trailer and access to electricity).
If, in turn, we choose Camping Mer de Glace, a campsite with a beautiful view of Mont Blanc, for 2 people, a car and a tent or a trailer you have to pay, at different times, from 20.60-25 euro / day. There is a laundry room, a playground for children and internet access. =
However, if we decide to go with a camper or a caravan for a winter trip to Chamonix, you can easily stop at the parking lots in the town, unfortunately without any amenities for camping vehicles.
Who else is Chamonix attracting to?
In fact, Chamonix attracts mainly skiers. We will meet various types of mountaineers and freeriders (fans of extreme mountain biking), but this does not mean that there is nothing interesting for others. On the contrary - you can go to the cinema, play bridge and even go to the casino. There is also a rich offer of local SPA centers, where you can visit a beauty salon and undergo treatments in the field of aromatherapy or Shiatsu (acupuncture without needles).
So you can see that under the Roof of Europe there is a small but rich tourist center, where everyone will spend a unique holiday.
A writer by profession, a passion of a cat. One day he will see what is behind the Urals - good to Vladivostok. So far, when he can, he enjoys the sun of the countries of southern Europe. And it's also fun;)
Enjoyed reading this article? Share it!