Skiing in Gstaad - Switzerland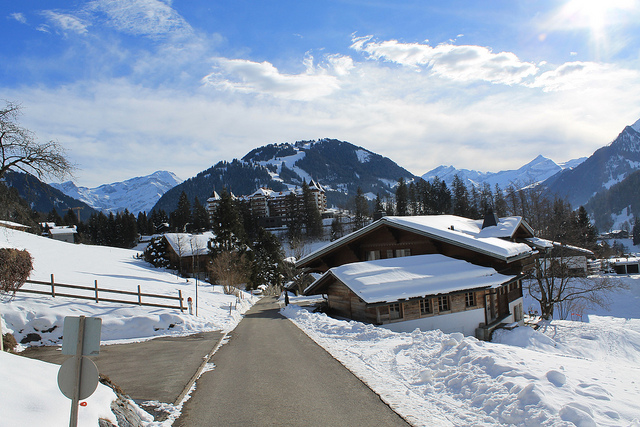 In the western part of Switzerland, in the canton of Bern, there is a city on whose name many Poles have been breaking their tongues for a long time. Gstaad is a famous tourist and ski resort, part of the Saanen urban complex. It attracts visitors all year round with its rich tourist infrastructure, greenery and interesting architecture, but it owes its greatest fame to its ski slopes. It offers a total of 250 kilometers, and tempts with a wealth of places for tobogganing, the number of snow parks and lifts.
A proud, majestic structure towers over the city, glowing white in the sharp mountain sun. This is Gstaad Palace , a 5-star hotel with 104 rooms and suites. At night, it is beautifully lit, which, combined with the lights of the houses at the foot of the town, flashing in the dark, creates an exceptionally festive atmosphere. This is especially true in winter, when all buildings are covered with a thick layer of snow.
Gstaad - kilometers of routes and prestigious night clubs
The resort is advertised as one of the safest and largest areas for skiing and snowboarding in Switzerland. Gstaad offers excellent conditions for winter sports enthusiasts - snow lies on the slopes from mid-October to early May, and 60% of the main routes are artificially snowed. 50 of them are blue (124 km), 35 red (81 km), while 11 are black routes with a total length of 45 km. Tourists visiting the resort can use 53 cable cars, 22 ski lifts, 10 gondolas and 17 chairlifts. The ski lifts can transport 53,000 skiers or snowboarders per hour.
Gstaad offers visitors 10 ski schools as well as an extremely varied après ski offer. Party lovers will not be bored, although you have to bear in mind that the best nightclubs in the city are also the most expensive. The Greengo nightclub, located at the Gstaad Palace Hotel, ranks first in various rankings. As the residence is located close to the lifts, many skiers direct their steps to the club in advance, without waiting for the evening. Popular clubs also include the Dorfli Piano Bar at Ermitage Golf Hotel, Richi's Pub and Pubbles, among others.
In the city, you can also play bowling, take part in a sleigh ride or go sledding in the evening. There is no shortage of places where you can dance the night away, there are also cinemas and a casino waiting for guests. There are often live concerts , and visitors will also have the opportunity to see cabaret shows many times.
Ski pass prices in Gstaad in the season 2013/2014
One of the most interesting information for people planning a holiday among the landscapes of Gstaad are the prices of ski passes. In the upcoming season, they are as follows: an adult will pay CHF 62 for one-day skiing on the slopes of the resort, CHF 31 for a child, and CHF 56 - for a senior. A 6-day pass carries a cost of CHF 301 for an adult, CHF 151 for a child and CHF 269 for a senior.
Parents of young skiers under the age of 9 will be delighted to learn that their offspring can ski for free. In addition, the purchase of a pass for more than one day allows us to use the slopes of the entire region, including the Glacier 300 slopes, also known as Gstaad 3000 AG.
Come to Gstaad!
Tourists who would like to go to Gstaad by motorhome can stay, among others, on Camping Saanen (Campingstrasse 15). It is a year-round campsite, and caravanning enthusiasts visiting it have the opportunity to refuel with fresh water and pour out dirty water. The nearest grocery store is 0.3 km away. The price of an adult's accommodation in the period from 1 December to 28 February is CHF 6.40, i.e. approx. PLN 22. We will pay CHF 3.50 for a child and CHF 14.50 to 16.50 per day for a motorhome pitch.
Others can take advantage of the rich offer of accommodation in boarding houses and hotels. There is something for every budget - even the most cavernous one. An example is the most luxurious hotel in the city, The Alpina Gstaad , a residence with 56 rooms. In case anyone wonders, the price of a day spent in a Panorama Suite with 3 bedrooms, a SPA lounge with a jacuzzi, sauna and steam room, as well as a kitchen and a cook in high season costs PLN 21,000. dollars. It is worth adding that the apartment is reserved for more than half of the season.
Gstaad enjoys the growing interest of tourists from all over the world. Not only skiers, snowboarders or lovers of unspoiled nature. It is also visited by thousands of tennis fans every year - the ATP Allianz Suisse Open Gstaad tournament takes place here. In addition, Gstaad is famous for its luxury hotels and shops. In the city, millionaires and the so-called ordinary tourists, all social groups have a great time. It's worth coming here.
A writer by profession, a passion of a cat. One day he will see what is behind the Urals - good to Vladivostok. So far, when he can, he enjoys the sun of the countries of southern Europe. And it's also fun;)
Enjoyed reading this article? Share it!