Sports holiday - Camping Zelena Laguna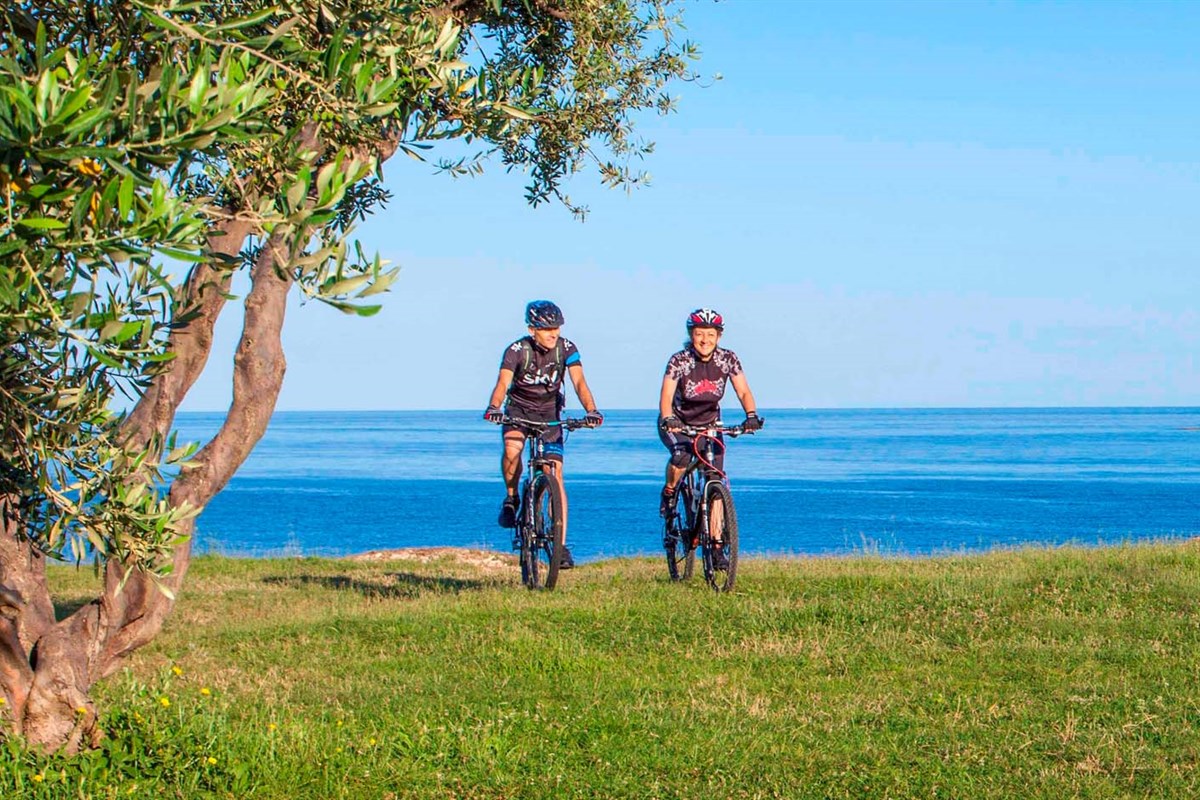 You can relax in various ways. Some prefer blissful relaxation on a deckchair, others cannot imagine a vacation without sightseeing or other activities. There is no single recipe for a successful holiday, but those who like sports love to visit Istria.
If you dream of a holiday in a green place, preferably with a sea view of exceptional color, we encourage you to choose Istria. There is no shortage of small and large recreational facilities on the Croatian peninsula. Go to the Funtana area, where there are several resorts that may surprise you with their size. Among other things, this is Camping Zelena Laguna. Families with children, fans of cycling and many other holidaymakers like it. Would you like to explore the area on two wheels? It's the perfect place.
Camping Zelena Laguna - location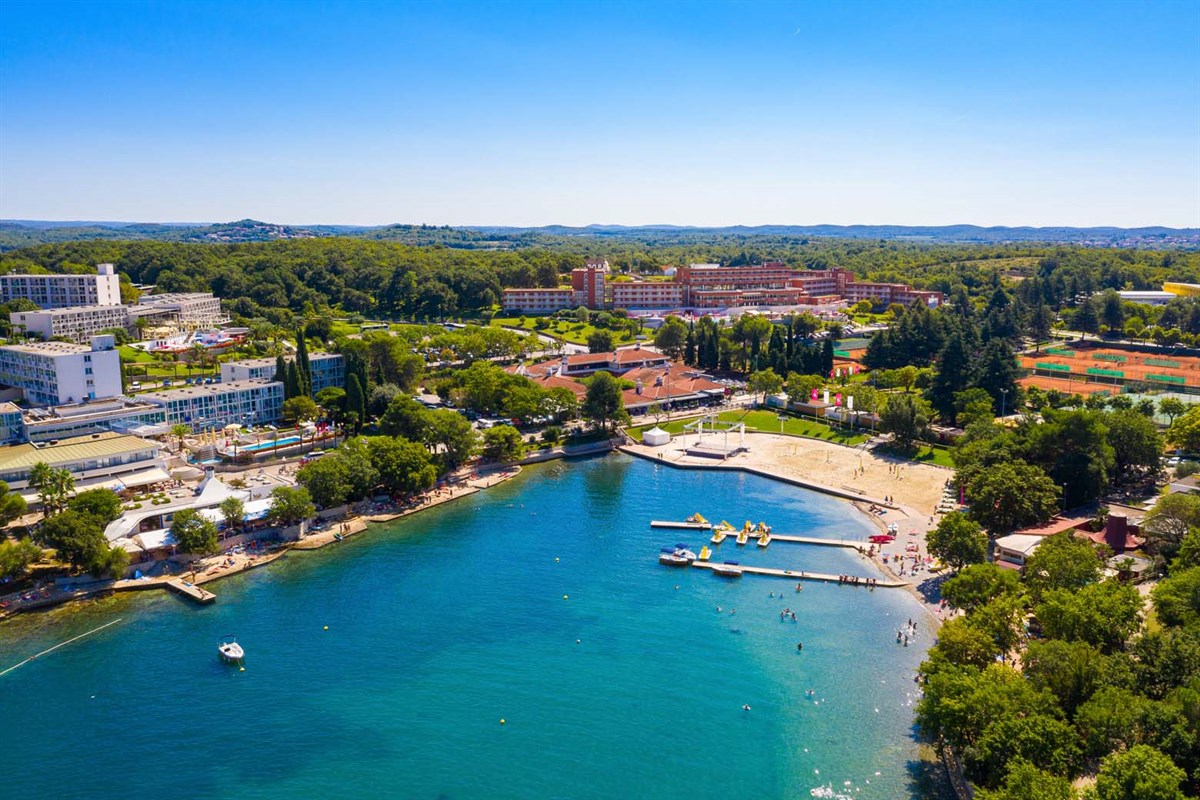 The resort stretches over a wooded area, so holidaymakers can relax in the shade of trees. Most of the nearby beaches are clean, but have rocky surfaces. Shoes are a must, especially when you want to go into the sea. You can also use a special ladder to get into deeper water.
I must admit that this is a really large camping - on the Internet you can find opinions that a bicycle is useful on it. Zelena Laguna is located in Funtana, approx. 7 kilometers south of Poreč. In high season, a special tourist train runs every half an hour, which will take you to the resort. The station is located at the Parentium Plava Laguna Hotel.
The facility is well-equipped. It has, among others restaurant and ice cream parlor. In one you will taste delicious ice cream and desserts (as well as prosciutto and Istrian cheese), and in the other you will get to know the local cuisine. Gourmets can order a special four-course dinner. This proposal is aimed especially at people who want to test local wines. Customers will be able to try four Istrian liquors that perfectly match the dishes.
Where to sleep at the campground?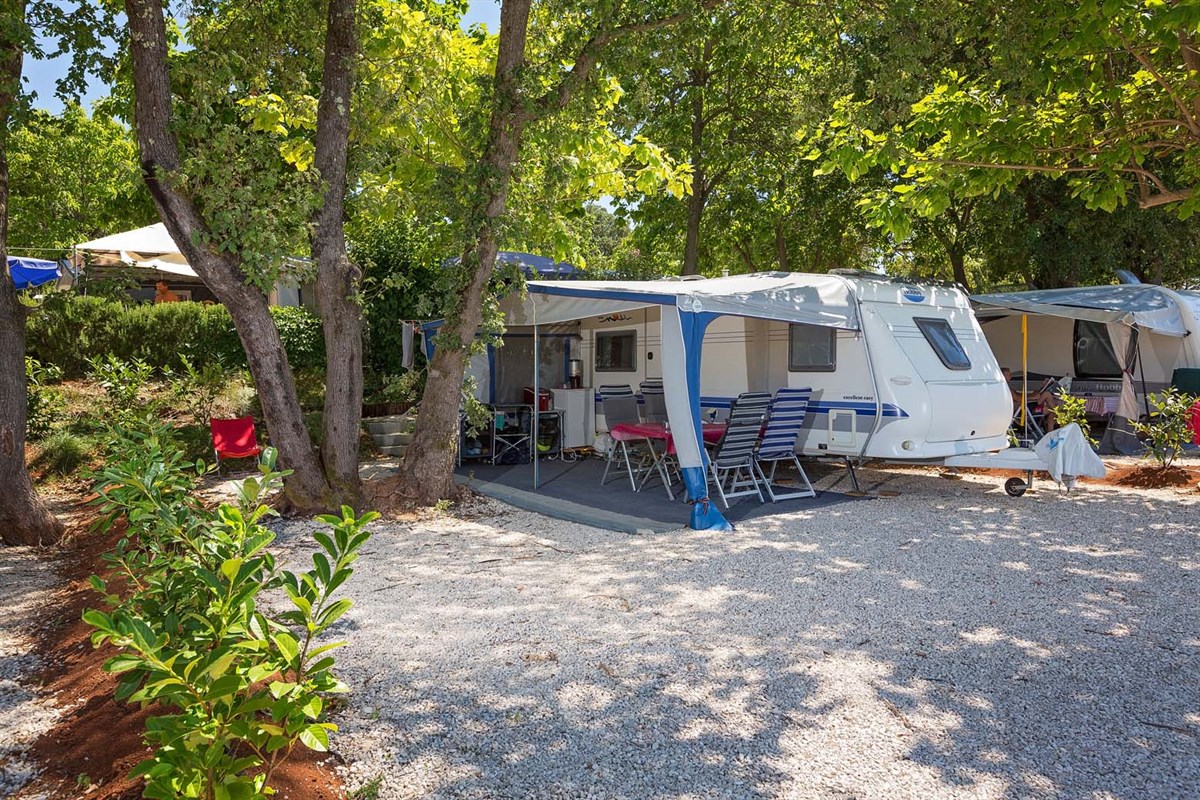 As befits a facility of this class, Camping Zelena Laguna offers numerous amenities. As for the accommodation base, the guests have at their disposal several hundred plots located in three zones (A, B, C). Most of the pitches have access to water and electricity. Those wishing to have a sea view can book a spot near the beach. It is correspondingly more expensive, but for the landscapes that can be admired from it, it is worth it.
Luxurious pitches are lined up in two rows by the sea. They are larger than the lots in the other two zones. They are 70-110 m², while the others are 60-80 m². The acceptable dimensions of a motorhome or caravan that you will be able to put on them are also larger (7-11 meters).
Bicycle routes for young and old
The bicycle paths in this part of the peninsula (and not only in this part of the peninsula) are very well maintained. No wonder you will often meet other tourists there. They will be both families with toddlers and seniors, groups of friends or people riding together. The routes are on both sides of the campsite, right next to the sea. You have a chance to enjoy landscapes that are unforgettable.
If you don't have your own, you can rent a bike at the campsite. There is a rental shop on site. It is worth emphasizing that the resort has a lot to offer not only to fans of two wheels. It is eagerly chosen by people who prefer active recreation. In addition to cycling, you can go jogging, play football, beach volleyball, tennis and golf. Do you like water sports? It doesn't matter if you prefer sailing, kayaking or surfboarding - whatever you choose, you will be satisfied. Adrenaline fans will certainly not miss the opportunity to use the water ski lift. It is 700 meters long and awaits the daredevils at the resort.
Zelena Laguna is very popular among tourists. It is easy to understand the popularity of the facility, because it is large, well-kept, very clean and superbly equipped. And these landscapes ... Come here at least once, and you will surely love this place.
gallery
A writer by profession, a passion of a cat. One day he will see what is behind the Urals - good to Vladivostok. So far, when he can, he enjoys the sun of the countries of southern Europe. And it's also fun;)
Enjoyed reading this article? Share it!