Thai Eden - Khao Yai National Park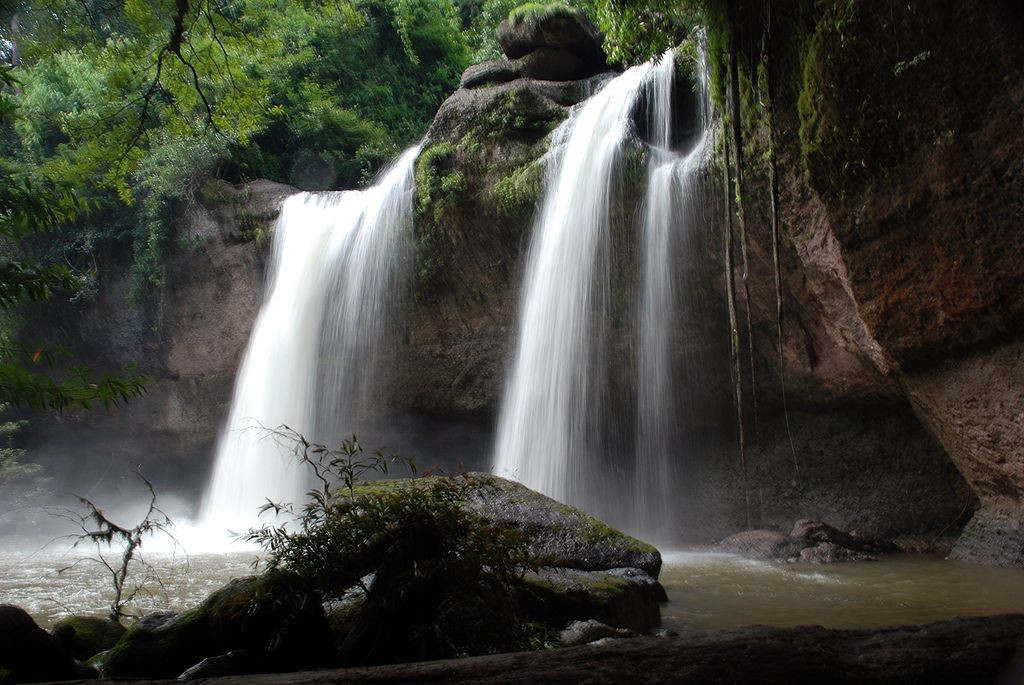 Wandering around Thailand, we have the opportunity to see breathtaking landscapes - blue water like nowhere else, white and powdery sand, as well as delicious temples and modern buildings. Nature lovers will fall in love with the richness of the local forests, the magic of the lagoons and the romanticism of the coves. In addition, they will fall in love at first sight with the country's oldest national park - Khao Yai . The park in question is one of the most magnificent protected areas in the world. It is located approximately 250 km northeast of Thailand's capital, Bangkok, and includes mountainous areas and vast jungle areas. There are approx. 2 thousand. plants, including lush ferns, lofty palm trees, and fluffy mosses.
Tourists heading to the park from the capital city should head to Pak Chong. On the way, watch out for monkeys walking on the road. The gates of the park can be reached by a small truck with benches on both sides - it is called songthaew ("two rows") and probably many people associate it with movies about Vietnamese jungles.
Khao Yai National Park
At the very beginning, it is worth knowing that we do not have to worry about accommodation. Both in the park and in the immediate vicinity, you can easily find many places where you can spend the night for a low price. What's more, in local hotels you can hire a guide who will show you around the jungle. When planning a trip, do not forget about comfortable footwear and pants with long legs . In the upper parts of the forest it is relatively cool, but in the summer, and especially at noon, we can feel scorching heat. Even though the sweat will be pouring down our backs, let's also take a long-sleeved T-shirt - you never know what would like to join the trip and make yourself comfortable on our backs. It also doesn't hurt to take an insect repellent with you.
The area of Khao Yai Park is crossed by numerous hiking trails of varying difficulty, some of which require hiring the aforementioned guide. There are twelve main routes, their length ranges from 2.5 to even 10 km. Depending on the route we choose, we will spend in the jungle from one hour to three days. The most attractive routes lead to true natural wonders, including the Haew Narok waterfall. It consists of three smaller streams and falls down with tremendous force from a 20-meter high cliff.
Safari day and night
In addition to the dense rainforests, the park has vast grassy spaces where not only vegetation is blooming. Wild boars, black Asian bears and jackals live here, we also come across gibbons and many species of birds. Some of the exotic fauna can also be admired at night, during the safaris organized in the park . Tourists find themselves comfortably in an open truck equipped with headlights and thus travel through the jungle full of mysterious sounds and shadows. They can watch animals that lead mainly nocturnal lifestyle, i.e. wild elephants, porcupines and even wild cats going hunting. Tours usually start at 7:00 PM and 8:00 PM, and volunteers must purchase a ticket by 6:00 PM.
You can also go on such an exciting trip at dawn. Then the night hunters go to sleep and, for example, white-handed gibbons come to life. Apart from that, from 6 am to 6 pm, you can use one of the two observation towers. One is near Mo Sing To, a pond that is a source of water for many species, and the other is near the Nong Phug Shee Water Reservoir.
The place from which we can admire the pristine landscape of the park is Khao Khaew View Point (Pha Trom Jai), a famous viewpoint. You can perfectly see the Khao Rom Mountains, gently turning into a dense rain forest. Many travelers climb here to see the sunrise and the peaks drenched in gold and red. The views are unforgettable. It is worth remembering that if we want to go on one of the six mountain trails, we must first ask for the permission of the park official. The routes are 2 to 8 km long and take 1-5 hours for tourists.
A visit to paradise
Khao Yai National Park is only 3 hours away from Bangkok. When in the capital of Thailand, it is worth heading north-east and spending at least a few hours in the lively Thai jungle. Otherwise, we will regret the fact that we gave up the opportunity to see dozens of waterfalls, beautiful trees wrapped in lianas and the blaze of colors of the local vegetation.
A writer by profession, a passion of a cat. One day he will see what is behind the Urals - good to Vladivostok. So far, when he can, he enjoys the sun of the countries of southern Europe. And it's also fun;)
Enjoyed reading this article? Share it!