Winter in Grandvalira - Andorra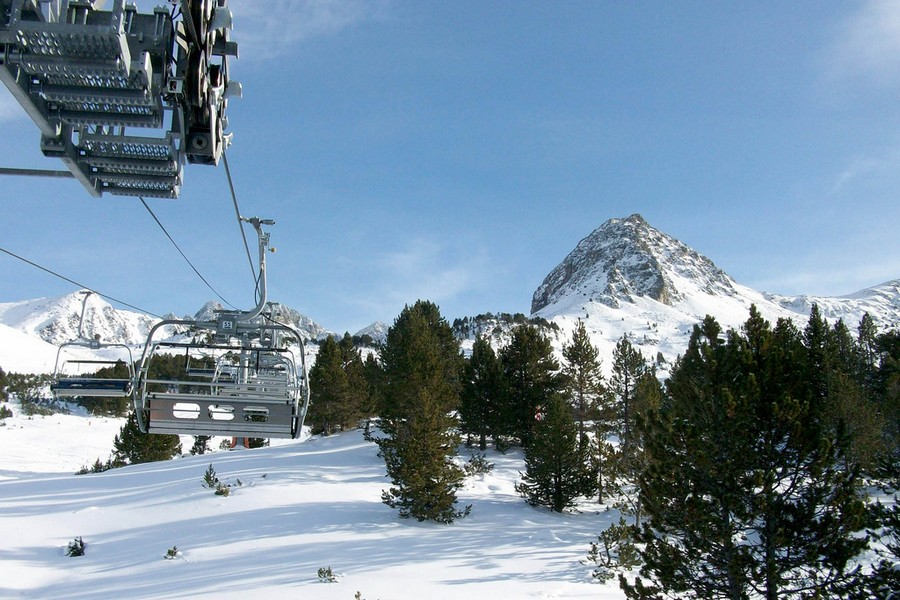 300 sunny days a year and 210 km of ski slopes - so much is offered by such a small country. Excellent conditions for skiers can be found in Andorra, nestled between France and Spain.
In the Pyrenees, belonging to the miniature state of Andorra, there is a modern ski resort Grandvalira , eagerly visited by enthusiasts of white madness. It is the largest in this mountain range, and consists of six climatic towns: Pas de la Casa, Soldeu, Canillo, El Tarter, Encamp and Grau Roig. All of them are connected by a system of modern lifts, thanks to which avid skiers can move freely around the entire complex.
Grandvalira - liked not only by the British
Since its inception, the resort has been very popular with tourists, especially the residents of the British Isles, who can be found here at every turn. Polish skiers are still not entirely convinced that modern lifts and great runs can offer them great experiences, but every year more and more of them appear in Grandvalier.
And what can we find in the resort? At an altitude of 1,710 to 2,640 meters, there are 1,926 hectares of ski area. The local routes are perfectly prepared - in the event of weather conditions, 43% of them are artificially snowed by 1,097 snow cannons. Grandvalira has 74 modern lifts with a capacity of over 100,000 km. people per hour.
The routes are not only properly prepared, but also varied. 210 km of slopes are divided into 18 green, 38 blue, 32 red and 22 black. Both advanced skiers and those who do not feel confident skiing yet. The former have FIS-approved routes, while the latter can prove themselves on wide and gentle slopes. Both beginners and experienced skiers have snow parks at their disposal, and the youngest winter sports enthusiasts will be pleased to visit a unique children's amusement park. Learning to ski will be a real pleasure for them.
The resort attracts skiers, snowboarders, fans of cross-country skiing and other winter sports. Every year the resort hosts the Total Fight Masters of Freestyle freestyle competition. That's not all - on the local snow track, located at an altitude of 2,250 m above sea level, you can test the latest models of Audi cars. Boredom has no chance of getting that high.
Ticket prices at the Grandvalira resort in the 2013/2014 season
Skiers who are already looking forward to putting on their skis and going to the slopes should get acquainted with the offer of passes for the upcoming season. After comparing the prices, they can choose the best option for them. A 1-day ticket for an adult costs EUR 44, the price of a ticket for a child aged 6-11 is EUR 32, and for adolescents (12-17 years old) - EUR 41.
As you know, it is cheaper in the package, so if you intend to spend more time on the slope, it is worth getting the so-called multi-day pass . For example, if we buy two 1-day passes, we will pay 88 euros, while a 2-day pass costs 84 euros. If, however, we want to ski on the slopes for more than a week, the price of one day will be 40 euro for an adult, 27 euro for a child and 36 euro for young people.
Après Ski offer
Grandvalira has a lot to offer not only on the slopes, but also when you take your skis off. There are many fast-food bars on site, and numerous mountain restaurants tempt with a diverse menu. Motorized tourists have a great opportunity to get acquainted with the surrounding attractions, as well as go to the capital of Andorra to take advantage of the offer of one of the largest mountain SPAs in Europe, i.e. the Caldea Thermal SPA water park. Hot geothermal springs will relax us better than an intensive massage.
A great attraction for visitors is the Igloo Hotel , the only one in southern Europe. This amazing structure sparkling with ice was made entirely of snow. It was designed by local artists and is located in the Grau Roig area. Amateurs of extreme sensations should also visit Iglu Bar Grandvalira, where - despite the walls made of ice - there is a hot atmosphere. He, in turn, can be found in the area of Pla de les Pedres.
And since we are in Andorra, it is impossible to miss one of the biggest local attractions, i.e. the countless shops. Visitors to this small country can use the duty-free zone at will. In addition to their memories, they can bring cheaper brand clothes, alcohol, jewelry, electronic and sports equipment, as well as perfumes from their holidays.
Overnight in Grandvalira
The resort tempts not only with excellent skiing conditions, but also with an extensive infrastructure. A large number of hotels, guesthouses and campsites attract tourists from different countries, as does the rich entertainment offer and the ease of access. Guests from Poland can board a plane to Barcelona (approx. 2.5 hours flight), and then reach the resort by coach, driving approx. 3 hours along the beautiful scenic route. You can also easily get here by your own car or motorhome. Caravanning enthusiasts can stay, among others at Camping Casal , only a few hundred meters away from the resort. One day of stay costs 3.5 euros, access to electricity - 3 euros, and for a motorhome pitch we will pay 7 euros a day.
As you can see, despite its tiny size, this charming country is tempting. Until recently, visitors from Poland knew it more as a stopover on the way to the Iberian Peninsula. Today, however, more and more often they see it as a real tourist gem. And rightly so.
A writer by profession, a passion of a cat. One day he will see what is behind the Urals - good to Vladivostok. So far, when he can, he enjoys the sun of the countries of southern Europe. And it's also fun;)
Enjoyed reading this article? Share it!