10 dishes you must try in Switzerland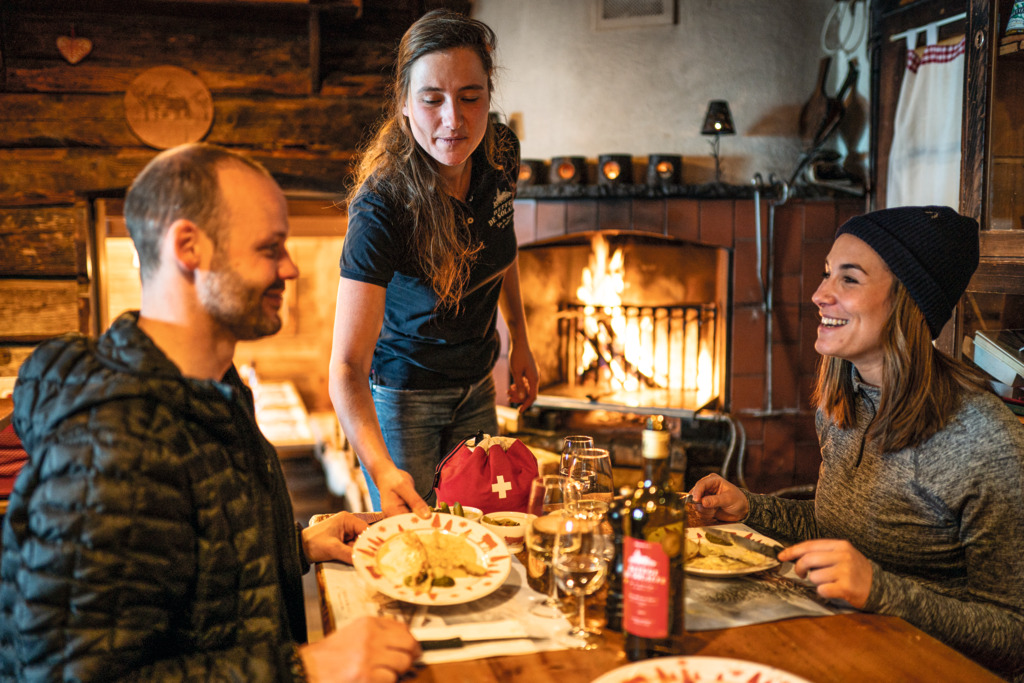 Chocolate, cheese, potatoes - what else do you associate with Swiss cuisine? We have prepared a few tips that may be useful for you while you are in the country of watches.
The traditional cuisine of a given country or region usually consists of simple dishes, with easily available ingredients. The people ate what was at hand and satisfied their hunger for a long time. It also had to provide strength to survive in difficult conditions. These were the meals that landed on the tables of the people of Switzerland. They were dense, nutritious, and at the same time simple and quick to prepare. Today we will focus on the traditional Swiss menu. We invite you to read!
Switzerland - what to eat?
Varsity in Zurich
For a good start, let's start with something delicious, filling, and light at the same time - and without meat. Not only vegetarians will be delighted to visit a place that advertises itself as the oldest vegetarian restaurant in the world. Founded at the end of the 19th century, Hiltl has won over thousands of customers. It's hard to believe that her business did not go very well at first. One visit of a shoemaker was enough to turn a small bistro in decline into a place that you simply have to visit today. It is not too cheap here, but bear in mind that it is Switzerland. It won't be cheap anywhere.
Hiltl captivates with its climate, aromas and taste. Everything is prepared on the spot from fresh ingredients. You can choose the dishes at will, and the range of dishes on offer is really impressive. Go here if you don't eat meat. If you eat, go too, to find out that the "vegus" know what is good.
When talking about Zurich, it is worth mentioning the extensive accommodation base in the city and its vicinity. If you would like to spend a bit more time here, there are plenty of accommodation facilities waiting for you. These are both hotels and campsites. The latter can, for example, rent a place at Camping Fischers Fritz . From here, you can reach the city center in approximately 10 minutes. So close, yet away from crowds and noise, in nature. Anyone who dreams of relaxing in green surroundings and close to the water will like it here. The campsite is located on the shores of Lake Zurich, so you have great views from the very morning.
Zürcher Geschnetzeltes, or veal in white wine
We highly recommend Hiltl, because it is a place known and liked by a large part of the inhabitants of Zurich. And not only. But let's get back to the topic - typically Swiss flavors. What can be included in them? Without a doubt, Zürcher Geschnetzeltes, a dish you will find in Zurich, because that's where it comes from. It is an aromatic, essential veal stew in cream-wine sauce with mushrooms. Sounds tempting? This thick, tasty slices of soup is often served with rösti. You can also order it with rice or noodles.
These rösti are potato pancakes made of pre-cooked, coarsely grated potatoes. They successfully pass the exam as an ingredient in the composition of Zürcher Geschnetzeltes. Then they have the form of small cakes and are an addition to the main element - meat. In addition, they are great as an independent dish. If you choose it, you will get a nice cake that covers the entire surface of the plate. Usually, it is covered with melted cheese, in addition, a fried egg or sausage may appear.
Something for lovers of lovebirds - capuns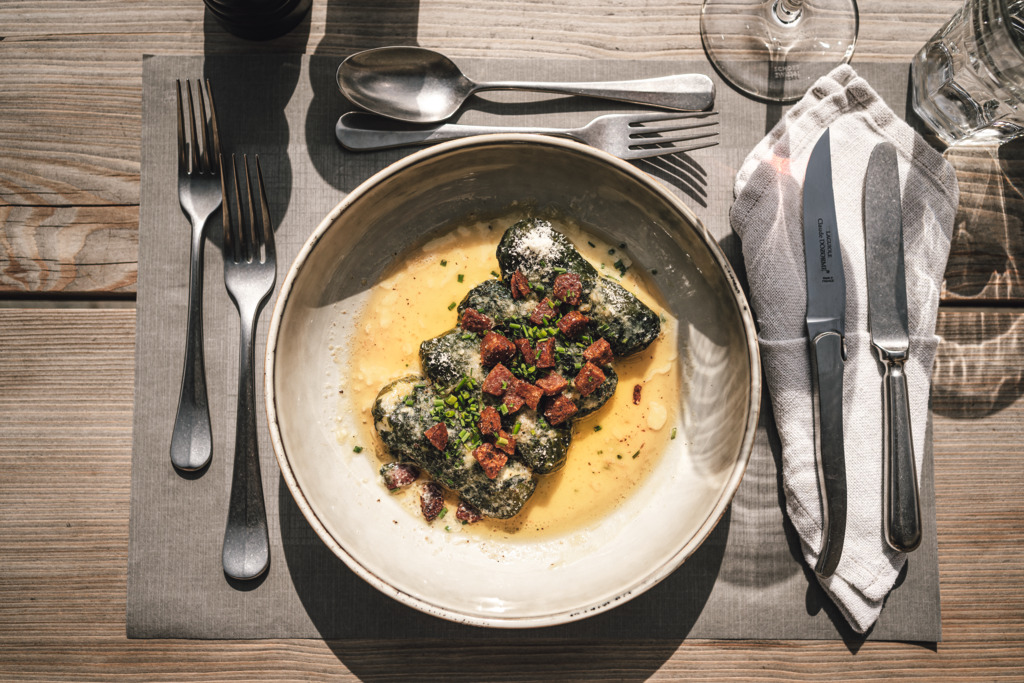 The next proposal is just as filling. It can be served in various versions, both with meat or cheese, and in a classic way, i.e. with a filling made of flour and eggs. The form resembles the well-known cabbage rolls, although the delicious mass is wrapped not in cabbage leaves, but in blanched chard leaves. When capuns are on the plate, they are generously covered with sauce or melted cheese.
This is an interesting dish worth exploring during a holiday in Switzerland. However, it should be emphasized that you may be disappointed if you choose a known taste. Capuns are associated with common cabbage rolls because they have a similar shape, but taste completely different. Which doesn't mean they're not delicious. On the contrary - masses of customers love them after the first meeting.
A pithy mishmash on a plate - maluns
The next dish, like the "Swiss cabbage rolls", comes from the most eastern part of the country, Grisons. Compared to its predecessors, maluns may not look so exquisite, but it tastes good ... In short, they can be described as a crumble made of boiled potatoes and flour. The whole thing is fried in butter until it begins to break down into smaller pieces.
In the past, Maluns was a peasant dish with mostly leftovers after lunch. Nowadays, it is very popular, proving that delicious does not have to be made of expensive or rare ingredients. In addition to grated potatoes and flour, the recipe includes cream, kefir or milk. Meat or cheese may appear in it. If you prefer this sweet delicacy, order it with fruit mousse.
Something to eat - papet vaudois and käseschnitte
When fate or the desire for adventure takes you to the French-speaking canton of Vaud, try the vaudois papet. It might seem that it is difficult to find a more common dish than sausage with leeks and potatoes. Nevertheless, it should be a pork sausage, thick and cold-smoked, with intense fragrances. The leeks are stewed together with the potatoes, and after the flavors and aromas penetrate, they become a substrate for a solid portion of sausage.
There is nothing to hide, papet vaudois is a very simple dish. The aforementioned sausage plays the main fiddle here, so it is so important that it is not accidental. This is a quick meal, just in time to eat before setting off to explore the canton. It will saturate you for a long time and will give you strength for the journey.
The käseschnitte is just as straightforward as it pretends nothing. These are ordinary croutons - bread covered with melted cheese. The quality of the ingredients does the job. Order the käseschnitte and you'll get a hot sandwich with vegetables, cold cuts and eggs, with high-class cheese that will melt in your mouth. It is a great snack to eat quickly. It will also work for breakfast or lunch.
Swiss snacks
Maroni and bräzel for the palate
In autumn, you will find stalls selling edible chestnuts on the streets of many Swiss cities. Maroni can be found in a shopping mall, at Christmas markets and festivals. You will feel them everywhere. Their characteristic taste will not appeal to everyone, but it is worth getting to know them. Who knows, maybe you will become their fans like the Swiss?
If roasted chestnuts do not arouse your interest, pay attention to the bräzel. These are pretzel cookies, something like wafers. Served with whipped cream and fruit, they are adored by gourmands. You can buy them sweet or salty.
Delicious Swiss cheese flavor - fondue and raclette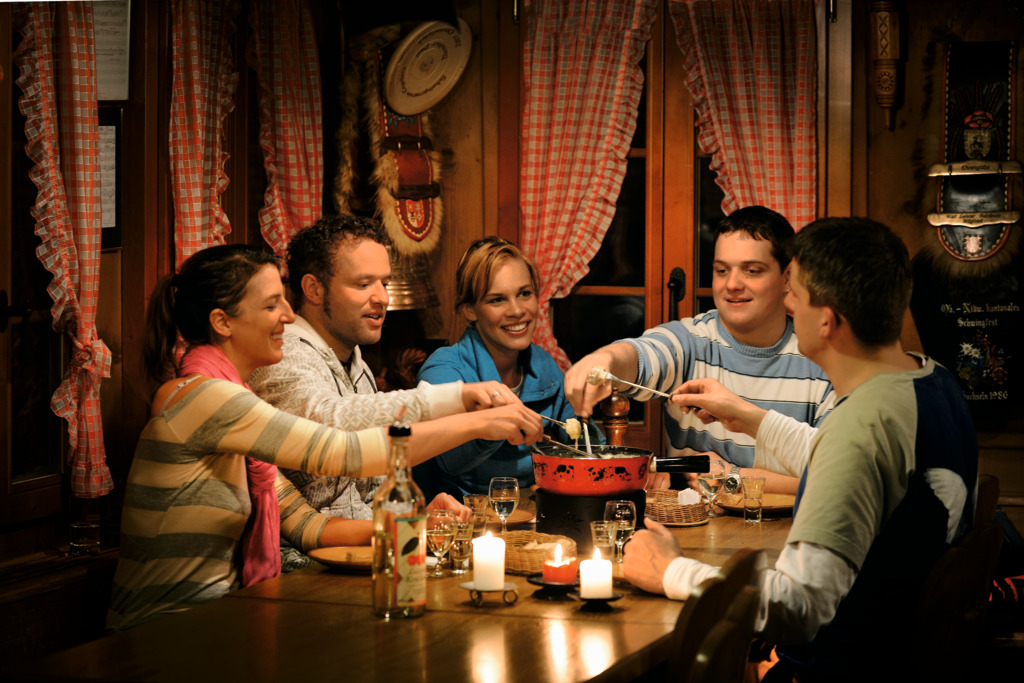 It's best to be invited to the last dishes. If you have the opportunity to host someone who will propose them to you, be sure to agree! Alternatively, you can make them yourself at home, but this will require patience. What dishes are they talking about? If you have a lot of time and want to feast while eating, try a fondue or raclette. The first one is definitely not a fast food when you come back from the slopes and starve to death. It's almost a ritual to prepare it. The time spent preparing a mixture of melted cheese, white wine and spices is fully rewarded with a wonderful taste. Fondue will enrich your social gatherings, relax by the fireplace in a mountain chalet or in a mobile home at the campsite. There are many options.
Raclette is also great for winter evenings. Like fondue, it is based on melted cheese, but it is prepared using a special device. It also needs a specific type of cheese. You can buy it without any problems, whether it is pure or with various additives such as garlic, paprika or pepper. The finished cheese should pour over the boiled potatoes and attach with them on a plate to cured vegetables, pickled cucumbers or grilled pieces of meat. Of course, other ingredients can also be added.
Of course, the suggestions on our list are not all the traditional dishes that you can test in Switzerland. We hope that they stimulated your appetite and made you think about a trip.
The article was written in cooperation with www.MojaSzwajcaria.pl
Z zawodu pisak, z zamiłowania kociara. Kiedyś zobaczy co jest za Uralem - dobrnie aż do Władywostoku. A póki co, kiedy może, cieszy się słońcem krajów południowej Europy. I też jest fajnie ;)
Enjoyed reading this article? Share it!