Holiday checklist from ergokantor.pl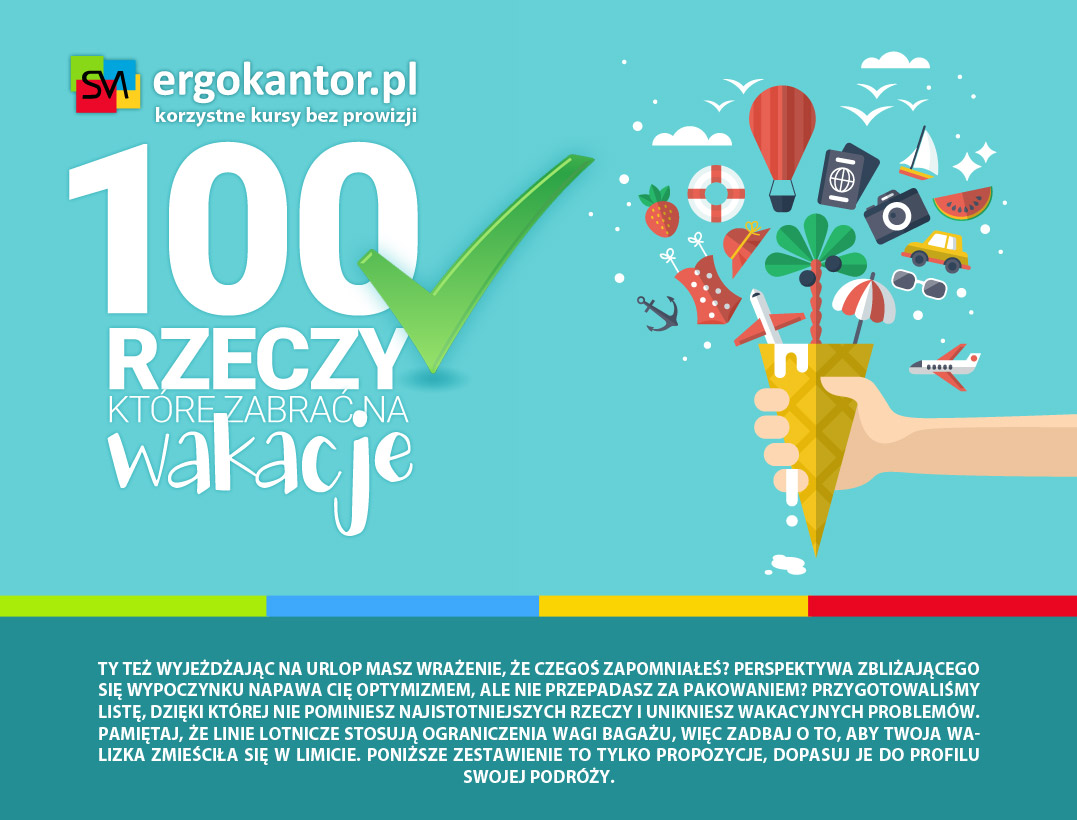 Sea, mountains, forest ... no matter where we are going on vacation, it will be necessary to pack. Good preparation for the trip can save you a lot - not only worries!
Documents first
First - documents. When traveling around the country, you will need an ID card. It will also be useful abroad (in the European Union), although in many cases it is necessary to do without a passport and a visa (if it is mandatory in the place to which we are leaving). For this: EHIC card entitling to use public health services in the EU, confirmation of insurance and vaccination booklet (depending on the destination). If you plan to rent a car - you will need a driving license. Visiting with a discount will be possible with a student or pensioner ID. It is worth taking copies of these documents with you: they will confirm our identity when the originals are stolen or we lose them.
Come on money
Second - money. Thanks to them… as a last resort we will be able to buy all the things that we have forgotten (unless it is about documents or just a credit card). They will be needed in unforeseen situations (such as a visit to the doctor), as well as in the foreseen (e.g. payment of vignettes and fuel when traveling by car). The currency is best replaced at an attractive price in Poland - airports or hotels on site usually impose a high margin. Online exchange offices offer the best course. Cash will also be useful - banknotes in a smaller nominal value or coins - for small purchases or a toilet.
Then clothes
Third - clothes. What clothes we take with us depends primarily on the place to which we are going. If we are targeting warm countries - we will pack mainly summer clothes (shorts, T-shirts, airy dresses), sweatshirts and jackets, and when we choose a more moderate climate. However, let's get ready for any weather by taking one set of clothes to Majorca for cooler evenings, and to Scandinavia - a swimsuit. Appropriate accessories will also be important: a cap, hat, sunglasses and swimming shoes or a cape and trekking shoes.
And medications too
Fourth - medications. A handy first aid kit may be necessary if there is no pharmacy nearby or we are unable to consult a pharmacist. We start with drugs that are taken constantly. Further: dressings, painkillers and antipyretics, medications for digestive ailments. You will also find sunburn relief agents, repellants that repel mosquitoes and insects.
And additionally ...
Fifthly - cosmetics and cleaning products, electronics, books or party games to diversify your free time, beach accessories or camping equipment ... and many other things that are worth taking on vacation , and the list (and checklist for download) has been prepared by ergokantor.pl. Check it out, save yourself the stress and have fun!
The article was written in cooperation with ergokantor.pl .
We have created the CampRest portal for people who value freedom and travel on their own.
Enjoyed reading this article? Share it!