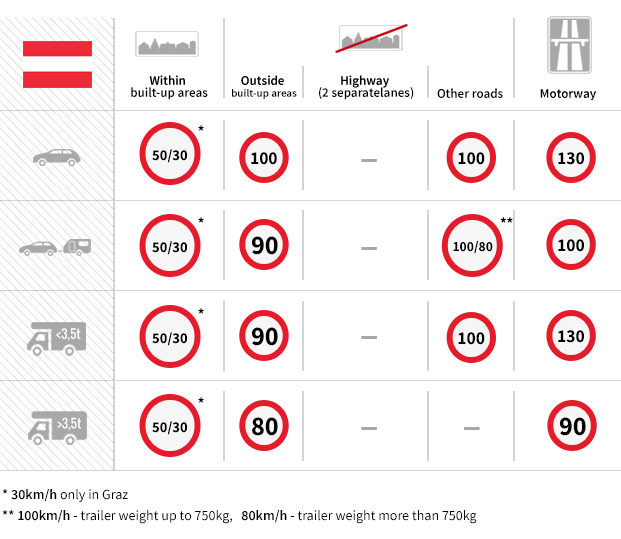 Mandatory vehicle equipment in Austria
Mandatory should be used by the driver and all passengers when leaving the car in an undeveloped area, high-speed roads and highways
Minimum tire tread height
1.6mm (summer tires); 4mm (winter tires)
The obligation to use winter tires on November 1 to April 15 for DMC vehicles up to 3.5t on all wheels and for vehicles pow. 3.5T only on the drive axis, if the vehicle does not have winter tires, it is required to have snow chains
Using spelled tires are allowed in the period from October 1 to May 31 by DMC vehicles to 3.5t equipped with radial tires. If we use spherical tires, we should use them on all wheels. It is required to have a sticker on the back of a vehicle informing about using spelled tires. If the trailer pulling the trailer has treated tires, the trailer should also be equipped with such tires
Using is allowed if atmospheric conditions are bad and the roads are snowing, the Austrian authorities can order the use of snow chains on some road sections
The obligation to have additional side mirrors (if the trailer is wider than the towing vehicle), additional warning triangle
Other legal restrictions in Austria
Overall 0.49 ‰; Drivers holding a driving license less than 2 years and truck drivers 0.1 ‰
Driving with the dipped beam headlamps on
Obligatory only at night, and during the day only in the case of bad atmospheric conditions
Prohibition of children transporting (with a height of up to 150cm and age up to 14 years) on the front car seat without a special security system, or customized seat belts to their growth. Children over 14 years of age and the height below 150cm can use adult belts without a special increase, if the belts do not go to the reign of the child's throat
A one-off accommodation on the square or street is allowed to rest before a further journey. NOTBOARD WARNING IN SERIES OF NATIONAL AWARS AND ZONS CONCERNED NATURE. Always be careful for regional restrictions and best to ask the local population or such prohibitions do not occur
Samochody osobowe o DMC poniżej 3,5t w Austrii muszą obowiązkowo wykupić winietę, jeżeli chcą się poruszać po autostradach. Winietę można wykupić online na stronie ASFINAG. Kupując winietę elektroniczną, konsumenci mają prawo do odstąpienia od zakupu. Dlatego produkt jest ważny dopiero od 18. dnia po zakupie. Jeżeli kupujesz winietę jako przedsiębiorca, prawo do odstąpienia nie przysługuje i winieta jest ważna od razu. Winietę można też kupić stacjonarnine na stacjach benzynowych zlokalizowanych na granicy. Winieta elektroniczna jest przypisana do numeru rejestracyjnego.
Winieta podczas holowania przyczepy w Austrii - jeżeli DMC holownika (pojazd holujący) nie przekracza 3,5t to wystarcza winieta tylko na pojazd osobowy.
Winiety w Austrii są sprzedawane na 10 dni, 2 miesiące lub 1 rok.
Opłaty drogowe w Austrii dla kamperów
Kampery z DMC poniżej 3,5t w Austrii traktowane sa jako samochody osobowe.
Kampery z DMC powyżej 3,5t w Austrii podlegają pod automatyczny pobór opłat, który opisany został bardziej szczegółowo w tym artykule: Opłaty drogowe dla kamperów z DMC powyżej 3,5t
The data on this website is for informational purposes only. If in any doubt, remember that the road traffic regulations in your country always take precedence. The portal is not responsible for the consequences of using the information provided here.
The Vienna Convention on Road Traffic, which many countries have signed, sets out only the minimum characteristics of motor vehicles and trailers involved in international traffic. At the same time, it allows a given country to expand and tighten its requirements for vehicles traveling on their roads, so it is worth checking before leaving what additional equipment of the vehicle is in force in a given country to avoid unnecessary discussions with the police about the Vienna Convention.
We have created the CampRest portal for people who value freedom and travel on their own.
Enjoyed reading this article? Share it!