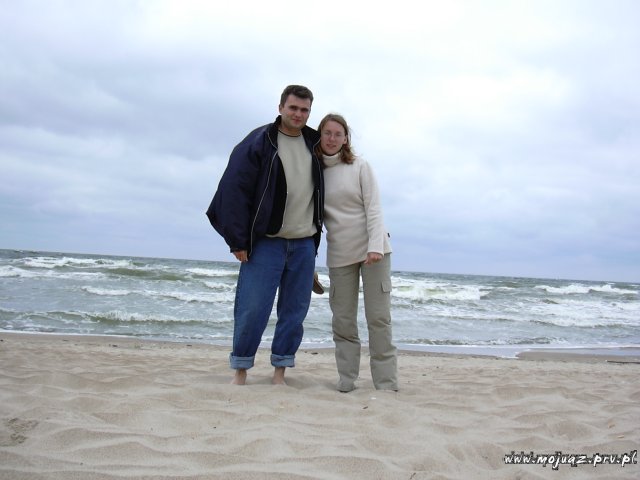 Our first trip to Lithuania.
Report written "on my knee" so I apologize in advance for typos and twisted tasks. I haven't fixed anything, it's just like I saw it in 2005.

June 24, 2005 - the weather is beautiful, it has been hot for a few days, the next weather forecasts do not announce any changes, so just go on a trip ...

Around 8 am we set off in a 10-year-old Fiat Cienquecento towards the Polish-Lithuanian border. Around 11.00 we were already at the border crossing in Ogrodniki. We were surprised to enter the border crossing where there were no queues or many armed border guards ... as it is seen on the Polish-Belarusian border. We covered the crossing without getting out of the car, everything took about 1 minute and we are already on the Lithuanian side.

The landscape is the same, but there are differences. Statoil and Shell gas stations - Europe. However, right next to it you can still see the Soviet kolkhozes and road signs identical to those in Russia or Belarus.
After visiting a few gas stations and getting used to the prices given in litas (1 liter = PLN 1.25), and names - for us the most important thing was LPG - they had DUJOS. Finally, we found a map of Lithuania at a price that was right for us (at the border, the map cost about PLN 15, a few kilometers further we bought the same map for PLN 7).
The road is wide, no lorries, straighten it, let's go forward. Druzgienniki are another target.
It has been a well-known health resort for a long time (I will not tell the whole history of the city, there is already enough information on this subject on the Internet).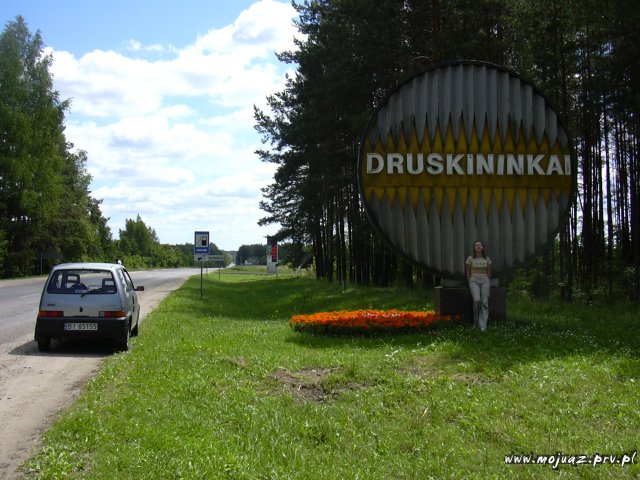 Entrance to Druzgiennik.
From the very outskirts of the city you can see many flowers.
Interestingly, flowers hang on each pole and lantern. Each square is lined with flowers. I admit that it looks very nice.
Druzgienniki can be compared to our Ciechocinek. Similar atmosphere of old spas. Many of them have already been renovated and converted into Hotels, others are decaying and waiting for their time.
I admit that Druzgienniki did not impress us, the city is nice, worth visiting, but nothing special - unless you are going to repair your health.
We continue towards Vilnius.
On the way, we visit an ethnographic park with a rather interesting building
Several dozen kilometers further we reach an amazing place - Gruto Parkas
It is a park with several hectares of memorabilia from the communist era. Monuments to the leaders of the revolution and leaders of communist Lithuania were collected from all over Lithuania. I cannot count how many positions Lenin, Stalin and Dzerzhinsky are presented in. Next to each monument there is a photo and a description of where it stood and on what square. Of course, the largest one is from Vilnius J. During the tour, we come across barbed wires and observation towers. Revolutionary music is constantly being served from the barkers, encouraging you to work. From a car with a large yellow tank, you can buy very good, slightly chilled Kvass. In small houses, costumes from that period are presented, propaganda films are displayed, posters, school rooms and libraries are displayed. Simply a must visit place !!
On our way out, we encounter the path of evolution reflected in concrete:
First there are bare footprints reflected,
Then shoes,
Then UAZ protector
And finally, Gaza 66.
And that's where the evolution ended.

We're leaving this amazing place. We head towards Vilnius. However, we leave the main road and drive through villages and towns, we reach Jasiunai where the palace stands. You can see that it is destroyed. No owner here. However, through the attic window, you can still see the remains of gold decorations on the ceiling.
It's a pity it's deteriorating so much.
Now it's a simple road to Vilnius.
It's quite late so first we need to find a place to stay. We have a printed list of cheap accommodation in the city from the Internet. We get to the first one - there are places for 20 litas a day, but we want to stay here for two nights, and there are places only for today. We decide to look for something else. However, the nice lady porter gives us the address of her friend who rents rooms in her private apartment. We are going to the given address ... unfortunately no one is at home. So we keep looking, wandering around the very narrow and beautiful streets of old Vilnius. We go to a youth hostel and a guesthouse - unfortunately, all cheap accommodation is already booked - no wonder: high season and Friday. So we go back to the hotel where we were the first time. The porter tries again and calls her friend. OKAY. there is, we can check in.
We go to the 4th floor of an old tenement house located in the very old town. The apartment is large, very high, as befits an old building.
Our hostess is an old lady who speaks great Polish. He shows us around the apartment. We have a choice of two rooms, both are nice and clean. I admit that we found the accommodation first class. We have a bathroom and a kitchen at our disposal. We can come back to the apartment when it suits us - we got the keys. Our hostess is so caring that she gave us her towels - saying that if we get ours wet and go further, we won't have anywhere to dry them. Similarly, she gave us freshly washed bedding, claiming that we would still sleep in the sleeping bags. Just a bomb !!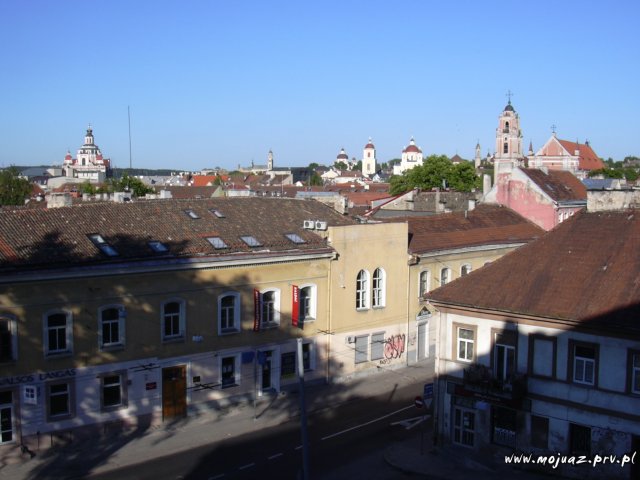 In the evening we go to see the city.
We come back to the apartment, tired. We are getting ready to go to bed, browsing maps and planning tomorrow - all for visiting Vilnius.
We go to sleep, tired.
The first day was great. I wonder what next ...
It's Saturday June 25th. I wake up in the morning - around seven. Agnieszka is still asleep and does not think about waking up.
I get dressed and go in search of bread and something for breakfast.
The city is already teeming with life. I see a lot of people bypassing the little grocery stores and heading towards the big hall. I go and I ...
I reach something similar to our meat halls. In front of the halls - just like in Białystok, old ladies sell carrots, tomatoes, eggs ... and Belarusian spirit and cigarettes. They go inside. A crowd of people, a lot of goods. I find a bread stand. There is really a lot of choice here. I decide on purebred Lithuanian bread with honey.
Coming back to our apartment, I come across a group of young boys, about 15-20, each wearing a white t-shirt with fringes and a black cap. They are led by a tall gentleman in a black frock coat and sidelocks. As you probably guessed, a group of Jewish children led by ... I don't know what the name of such a person is - maybe the teacher ... goes to the synagogue. It is not a common sight, especially since this is the first time I see it - there are not too many Jews in Białystok.
I go back to my apartment, I wake Agnieszka. We eat breakfast, the bread is delicious.
We're going to explore Vilnius.
I will not present our route or individual monuments here. Because I think it makes no sense - you will search the internet and you will find a lot ...
I would just like to present an outline and, in my opinion, the most interesting places.
When walking around Vilnius, try to see places that are somewhat hidden by the tours, and the guides do not show them.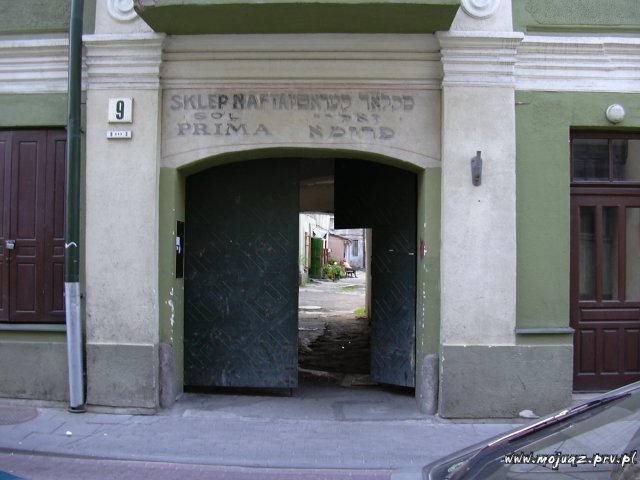 Well, we were enchanted by the small streets of Old Vilnius. Really beautiful and nicely renovated (unfortunately usually only the facades - the courtyards remained the same.
It is also worth climbing one of the Vilnius hills: the Gora of Three Crosses or Gedymin's Mountain.
We climbed onto the latter. Where the castle once stood (its ruins can be seen behind me). It is the oldest part of the city.
The Polish Rossa Cemetery is quite far from the city.
It is a truly amazing place, full of Polish graves and famous names.
It is worth taking a walk and looking at the tombstones. Very interesting and beautiful monuments and inscriptions, for example: 'Here lies a retired PKP employee'.
Phew, we're in the apartment. I fell on the bed, I don't think I will move ...
Aga is already washed and I'm still lying, gathering strength, I have to wash up !!.
Tomorrow we are going on, Trakai and Kaunas.
We eat dinner, pull out maps. When planning the route, we notice that we have not been to another church in Vilnius. Apparently the prettiest ...
Aga went to sleep - although it was only 20:30 ...
Due to the fact that I am leaving tomorrow, I am going to pay for the accommodation. Our hostess is lying down and watching some game shows. I sit down and we start discussing. She tells me about the family, about life in Lithuania, and I about Poland. And so our conversation continues until around 11 PM ... Late but it was worth listening to how people from Vilnius see Lithuania and Poland. He learns, among other things, that Lithuanians, like Poles, go to Belarus for alcohol, cigarettes and fuel, that there is a large divide as far as people in Lithuania are concerned, and that there is so-called poor Lithuania - the east and rich - the west.
We get up as usual ... i.e. I get up around 7 am and Aga is asleep until I pull her legs off.
We eat breakfast, we say goodbye to our hostess - a really nice woman. We pack all the stuff into Cieniask and head towards the most beautiful church in Vilnius - Piotr and Paweł.
Inside, the church is beautiful. Unfortunately, there is no photo, only a postcard.
Decorated in white with many decorations and a very interesting crystal chandelier in the shape of a boat.
There are very interesting legends and facts connected with this church.
Well, the chandelier is shaped like this, because the altar was supposed to be made of crystal. The crystal was supposed to reach Lithuania by sea, but the ship was drowned and a boat-shaped chandelier made of crystal was built to commemorate this.
The second legend and the fact at the same time is that the founder of the church is Pac. Once a very rich man, who, among other things, introduced modern farming methods in the lands of the Suwałki Region, he built a beautiful palace and an amazing gate in Dowspuda (see my previous trips)
Well, this man had to be buried in front of the Peter and Paul church. And put a sign on the threshold with the words 'Here lies the sinner Pac'. However, after several dozen years, lightning hit the plate which broke in two. Then the townspeople decided it was a sign and Pac atoned for his sin. They moved the boards to the wall. However, his remains are still on the doorstep of the temple.
Pac was such a cunning man that he ordered to write at the temple: 'Regina Pacis Funda Nos In Pace' - as you can see in the inscription he included his name twice J
We are already leaving Vilnius, a beautiful city whose history is connected with Poland. Anyway, a man feels like in Poland. People speak or understand Polish, many things can be bought for zlotys.
But we're going on. Direction Trakai and Trakai Castle !!
Of course, this is probably a remnant of uaz travel, instead of entering the town normally, we go around the lake along poor roads and park the car in some yacht port.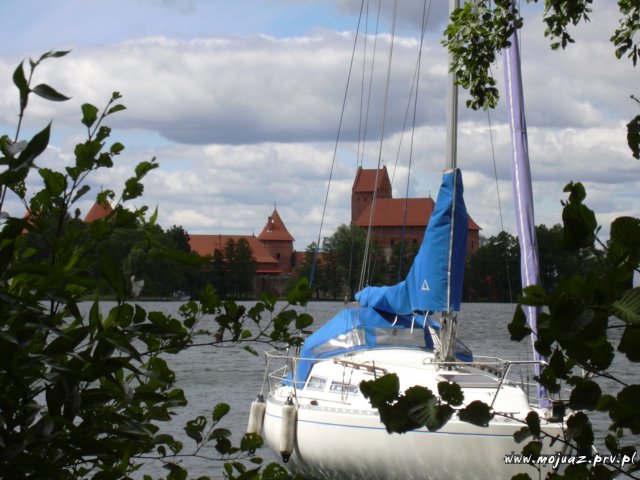 We ask for directions and head towards Trakai. Our route leads along interesting bridges connecting the peninsulas and islands of Trakai Lake. The bridges, or rather footbridges, are very picturesque. Some short, others long placed on floats, which begin to sway under our weight, causing unpleasant swaying.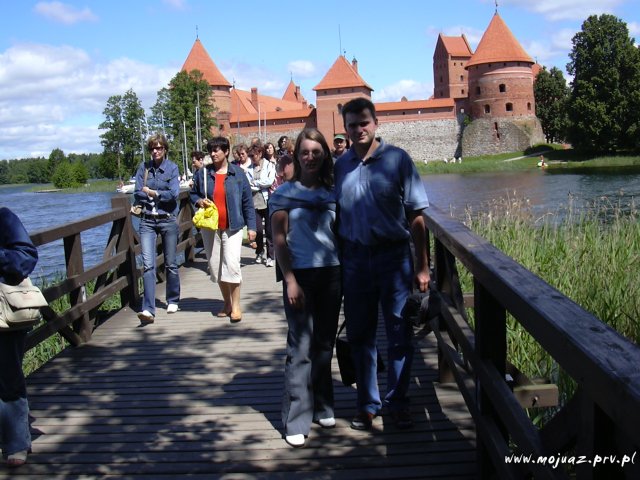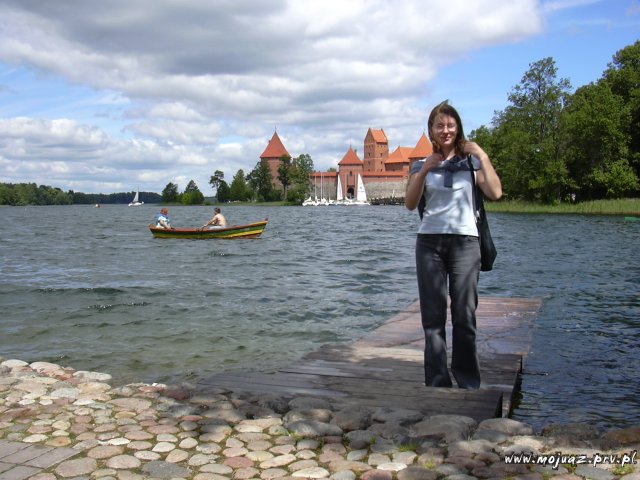 The Karaim people live in Trakai. The ancestors of today's inhabitants of Trakai were brought by King Vytautas from Crimea. They have a synagogue here, and whole streets with characteristic houses, with their gables facing the road and three windows (one for Allah, the other for Witold and the third for Karaim).
It is worth visiting one of the Karaim restaurants and tasting the local teas and specialties.
We leave Trakai and head towards the highway to Kaunas.
A boring road, but I prefer to wander around the villages, not to drive a few hours on the highway ... phew right now Kaunas.
We enter Kaunas from the industrial districts. Factories, wholesalers ... not the most beautiful view.
We are looking for accommodation. We arrive at the address indicated by you at the Tourist Information in Vilnius. It turns out to be very expensive - around PLN 70 per person ... our hostess in Vilnius told us that Kaunas is already 'rich Lithuania'.
But we are not giving up. We are looking for Tourist Information in Kaunas. Although it is Saturday, 6 pm, the information is open and you can communicate in English without any problems. We get addresses of cheaper accommodation along with prices. We go and find out and the address and the price is correct. We choose cheaper accommodation for 35 litas / person in the Kaunas Olympic Center "Sportas".
It is still early so we are going to visit Kaunas.
In our opinion, Kaunas is not a pretty city. Everything here is like something different. The novelty is intertwined with monuments and communist ideas for the city and buildings ... I don't know what to think about it.
After exploring the rather small old town of Kaunas, we decide that it is worth buying something for the collection. We decide to visit a hypermarket and see what the goods and prices are.
At a gas station in the city center, I ask for directions. The vendors only show me one HiperMaxime seat.
By the way - in Lithuania, as we have observed, the largest number of Maxima stores is.
There are Hyper Maxims, Maxims, Mini Maxims here.
When I enter the parking lot, I see an empty seat ... ooo Fiat, in Lithuania I haven't seen Fiat yet, only BMW, Mercedes, Opel, WV and Audi. And here is a little Fiacik Uno ... we drive up and here Poles from Suwałki ...
We shop at Hiper Maxim.
We return to our hotel. The elevator to the 7th floor goes slowly, sometimes it is not known whether it is standing or going ... but somehow it climbs to the next floor.
Our room even has a TV and a bathroom. It is true that the bathroom is ugly, but you can see that it is clean. The beds are new, the wardrobes a bit shabby. But the first class TV set, with a remote control, works. There are even Polish programs: TVP 1, 2, and Polsat and TVN).
We eat dinner and go to sleep.
We wake up in the morning ... I feel weird after the drinks - some Hiper Maxima inventions in bottles ... e.g. tea with 18% alcohol ...
I don't eat breakfast at all, maybe a small sandwich.
We pack into Cieniask and head towards ... Klaipeda. It is true that we were not supposed to go to Klaipeda anymore, but only ride the picturesque road along the Nemunas, but whatever ... we can do it.
We leave Kaunas and head towards the town of Jurbarkas.
We do not want to go to Klaipeda by highway, so we choose the road that runs along the Nemunas river.
The road, just behind Kaunas, almost joins the Nemunas. The Nemunas River on the left. Picturesque and dangerous, on the other, a large mountain with picturesque villages with interesting monuments. The signage is very good. Every now and then we leave the flat road to climb in 2nd or 1st gear, led by signs, to a mansion or castle.
You can see that, like in Poland. The palaces and manors were managed by the Kolchozy and are now in a deplorable condition.
However, in some of them even orangeries have survived.
Others were walled up and the rails were cut off. The stairs on which I am standing are made of real marble - that has not been stolen yet.
The end of a beautiful road we are in Jurbarkas. From here we head towards the city of Taurage, and then to Klaipeda.
Klaipeda - we park the car at the port. We walk around a fairly small old town. We check the prices and times of ferries to Nida (town on the spit).
Unfortunately, today nothing is floating anymore.
We get to tourist information. There, as in Kaunas - it is 8 pm and IT is open and you can communicate in Russian, German and English.
The lady gives us the prices of the cheapest accommodation ... 70litow per person ... well, that's Europe ...
We decide to look for something near Klaipeda, maybe it will be cheaper. We're going towards Melnrage. The road goes along the sea. We deviate from the route and enter a large parking lot next to a restaurant and a large beach.
We see the sea ... we're just stunned. We feel as if we were not expecting water ... a beautiful end to our trip after fasting. We have traveled all of Lithuania from east to west and it is impossible to go further ... we feel amazing, the more that we did not plan to get here.
We soak in the water and head back towards the restaurant. There is a house by the restaurant, what we care about, we'll ask. We come over and I ask for accommodation. The woman does not know English or Polish. So she calls her daughter. Like us, we get along with broken English. There is no room in the house, but there is room in a small house (gazebo). He leads us between carrots and chives, we pass tomatoes and beans. J The house is beautiful, green, with two beds inside, gas stove, sink with hot and cold water. Just a bomb for 20 litas per person ... and 100m from the beach.
I drive up the car to unpack the lumber, the woman notices only now that we are Poles. So he calls his grandfather - it turns out he is a Pole and has two sisters in Poland. He tells stories and shows us around. A very nice gentleman.
Another stroll on the beach and sleep ... 23 o'clock and it's light here ... what's going on ?? I don't know, I turn around and sleep, tomorrow is a long way home.
We get up in the morning, around 7am. We eat breakfast, a few more hours on the beach and it's time to go home.
We say goodbye to the hosts and go back home around 10 am.
The return journey took us exactly 8 hours, as I was at home by 6 PM.
And although we took breaks, refueled gas every 250 km, we got there quite quickly. Maybe this is due to the great Lithuanian roads. There are no lorries or ruts on them. Just 90 km / h and you keep that speed with no problem.
On the way back, we didn't keep an eye on the gas in our tank. J But what else was there? Unfortunately, in spite of anger, the station was quite far away. We were running out of petrol too. In sharper corners, the fuel level arrow dropped below zero and the engine started to stutter ... but luckily we made it.
After crossing the border with Poland - unpleasant surprise ... trucks again. Where do they come from, since there is no one in Lithuania, and just outside Poland, every second car is a truck and they run 100 km / h?
To sum up: A trip great, beautiful places. And again the words are confirmed that it is worth leaving the motorway and taking the side trails.
People in Lithuania are nice and polite. In Vilnius and its vicinity you can easily communicate in Polish, in Kaunas it is less, and in Klaipeda it has no chance. Besides, the accent in Vilnius is soft and pleasant to the ear, while in the West people speak very hard.
Gas, petrol and crude oil prices are very similar to those in Poland, maybe a few pennies cheaper. Likewise, food and alcohol. Accommodation is also similar to ours.
However, when choosing a place for vacation, between Gdańsk and Klaipeda, I choose Klaipeda without hesitation: because: firstly, the access is better - great roads, and cheaper, food much better, and something else ...
Oh, and one more thing - the fact that it was light in Klaipeda at 23:00 - it is the fault of the solstice and midnight sun ... it's called hitting time ...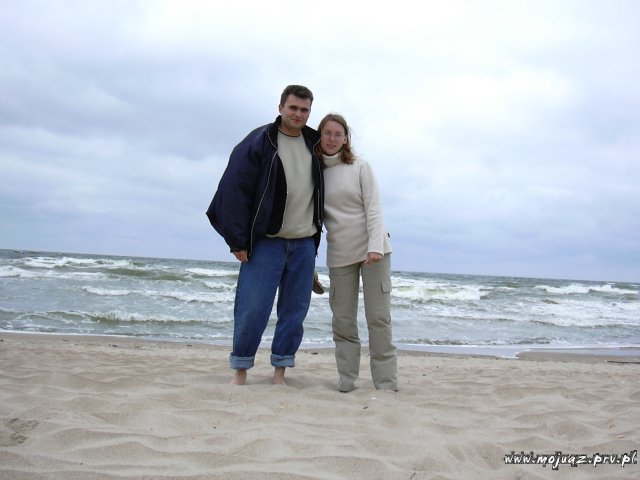 The little Fiacik CC 700 performed great. No failure, we just flew Dujos and off we go. Even though she is 10 years old.
Greetings and welcome to Lithuania
Agnieszka and Stefan
The Baltic States are my favorite place on earth. My life is full of travel, adventure and spontaneity
Enjoyed reading this article? Share it!