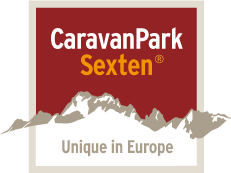 The campsite is open
Open all year
Surface
6.5 ha

Price for 1 night for 2 adults and standard pitches including electricity.

Min - low season / Max - high season

min 41 EUR
Caravan Park Sexten is an innovative camping concept in South Tyrol .
Comfort, in direct contact with unspoilt nature. Surrounded by a charming landscape. The sound of the river, the feeling of unity with nature in the bosom of nature, and at the same time the opportunity to experience the world of innovative services during a wonderful holiday in South Tyrol.
Caravan Park Sexten - spend a wonderful holiday in the Alps!
South Tyrol is a wonderful place for both summer and winter holidays. Poles usually go there in winter to perform winter drying. However, Sexten Camping offers more than just slopes, but also other wonderful views. Many of the wonderful natural creations of South Tyrol are included in the UNESCO heritage list, which clearly suggests that it is worth going there not only for the snow-covered ski slopes. Go there and fall in love with this part of Europe rich in attractions!
Families with small children

Families with teenagers

Active

Naturists

Skiers

Calm & peace lovers
Toddlers' pool

Outdoor swimming pool (heated)

Outdoor swimming pool

Indoor swimming pool

Slides

Sauna

Jacuzzi

Spa

Steam room

Swimming pool (disabled people)

Spray Park
Beach sandy

Beach gravel

Beach rocky

Beach grass

Beach
Animiations

Playground

Playroom

Toddlers' pool

Slides

Babyroom

Toilets for kids

Spray Park
Dog friendly

Dog shower

Beach for dogs
Water sport equipment rental

Windsurfing / Kitesurfing school

Diving school

Boat slip

Marina

Tennis courts

Mini-Golf

Golf

Sport courts

Beach volleyball

Skatepark

Bicycle rental (at the campsite)

Gym

Sport activities with a trainer
Ski lifts (in the distance of 1.50km from the campsite)

Skibus (at the campsite)

Running routs (by the campsite)

Ski lockers & drying

Ski rental (at the campsite)
Grocery store (at the campsite)

Fresh bread (at the campsite)

Restaurant or bar (at the campsite)

Pizzeria (at the campsite)

Shop with camping equipment
Babyroom

Toilets for kids

Private bathrooms for rent

Family bathrooms

Showers

Toilet

Toilets for disabled people

Heated bathrooms

Chemical toilet disposal
Chemical toilet disposal

Waste water disposal

Fresh water refueling

Car wash

Gas cylinders
Electric connection (above 16A)

Water connection

Gas connection

Grey water connection

Private bathroom by the pitch

Barbecue as pitch equipment
Washing mashines

Tumble dryer

Hand washing

Dish washers

Dish washing sinks
Wi-Fi (100% campsite coverage) - payment needed

Wi-Fi (100% campsite coverage) - free of charge
Animiations

Sport activities with a trainer

Organized trips with a guide

Live music & shows
Facilities for the disabled
1 / 4
Toilets for disabled people

Swimming pool (disabled people)

Wheelchair ramps

Leveled ground
Credits cards accepted

ATM / Cash machine

Currency exchange
Public transport (at the campsite)

Shuttle bus

Car rental (at the campsite)

Scooter rental (at the campsite)

Bicycle rental (at the campsite)
By the sea

By the lake

In the mountains
Water sport equipment rental

Bicycle rental

Ski rental (at the campsite)

Car rental (at the campsite)

Scooter rental (at the campsite)