RV toilets - pure travel pleasure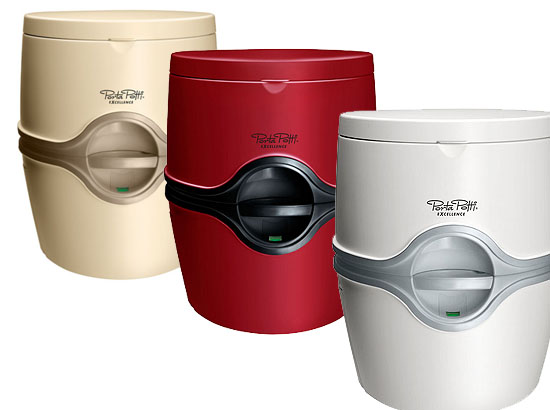 Motorhomes, often referred to as mobile homes, are getting closer and closer to residential buildings in terms of comfort. One of the determinants of their convenience is the ability to access the toilet, without which it is difficult to imagine your dream vacation. To fully enjoy the charms of caravanning, it is enough to decide to buy a toilet - portable or intended for permanent installation. Which model to choose? How to keep the toilet in the motorhome clean? We invite you to read!
Types of toilets
Choosing the right RV toilet is not the easiest thing to do. Leading manufacturers of camping sanitary accessories are outdoing each other in the number of models, sizes and functions they have. Most of all, however, chemical toilets can be divided into two types - built -in and portable .
The former, although they have a more complicated structure and require more valuable space in each motorhome , provide maximum comfort for users. One of the most valued manufacturers of this type of toilets is Thetford brand, which offers the most advanced models - with rotating shells and dirt tanks on wheels.
For those looking for universal solutions, we recommend portable toilets that can be used anywhere - not only during the trip. Their small size is also important, compared to built-in toilets. The price of this type of models is also several times lower. In addition, portable toilets are easy to install and light, allowing for easy movement. As with built-in toilets, great quality portable toilets are offered by Thetford brand, with 40 years of experience in the production of accessories for sanitary applications. The most popular solution available in its offer is the series of Porta Potti Qube models, which differ from each other in the sizes of the tanks for sewage or flushing water and the type of pump used. All models are made of high-quality material and have a modern look. These types of toilets consist of two parts:
a flushing water tank with a toilet bowl and a toilet seat with a lid and
waste holding tank.
For more demanding customers, the brand has prepared the Porta Potti Excellence model with a seat height similar to that of domestic toilets. It has a built-in control panel, a flush water level indicator and an integrated toilet roll holder.

Maintenance of cleanliness
In order for the toilet in a camper or caravan to be spotlessly clean and free of unpleasant odors, it is worth reaching for chemicals available on the market. They are most often liquids and tablets added to water and faeces tanks. Their task is to eliminate accumulating gases and dissolve impurities and toilet paper, which should also be properly adapted to the place where it will be used. In motorhomes it is usually paper made of easily dissolving cellulose.
We invite you to visit the CarGo ! Online store, which has a wide range of tourist toilets , pumps, as well as chemicals for motorhomes and caravans .
We have created the CampRest portal for people who value freedom and travel on their own.
Enjoyed reading this article? Share it!