A bicycle camper, i.e. Globe-Traveler Pathfinder Z - Test CampRest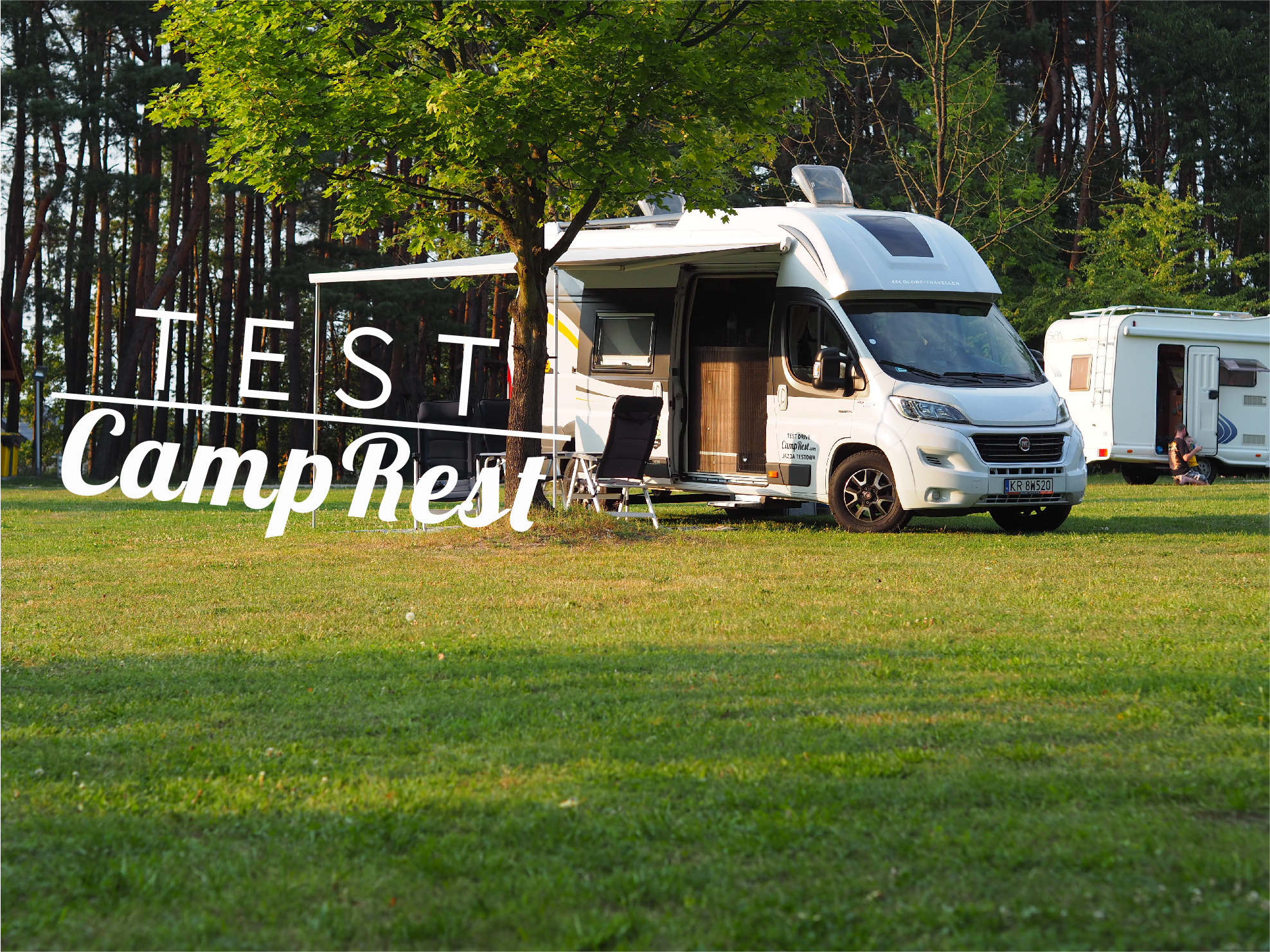 I don't think I need to introduce the Globe-Traveler brand because I have written about it many times. I also had the opportunity to personally test the Voyager XS and Pathfinders XS models, which I also described and encourage you to read (links to the articles are under the names of the models).
A motorhome perfect for transporting bicycles
I wanted to test the bicycle "Z-eta" for a long time because I was very interested in it thanks to the huge trunk for this type of motorhome. Unfortunately, all demo cars built in this version traveled around Europe to the next fair or were sold just before delivery.
One day Igor from Elcamp (exclusive dealer of Globe-Traveler ) called that the car is available and ready for testing. Without thinking for a long time, I told Kasia to pack us and I'm going to Krakow to pick up the long-awaited camper van.
The trunk - the heart of this model
This is what distinguishes this model from the majority of motorhomes built on tin roofs available on the market. A very large trunk which even a 114 cm high Euro pallet can easily enter and there is still a lot of space for other things.
The exact dimensions are 122 cm wide, 98 cm deep + 100 cm recess for bicycles.
In the bicycle version tested by us, a retractable platform was mounted in the trunk, which can accommodate 2 bikes - it is an ideal option for transporting expensive bikes , which are very popular recently, not only in Poland.
Probably no one would sleep peacefully in a motorhome, having 2 bikes with a total value of about 60,000 zlotys on the external rack ...
After putting in 2 bikes, there is still a lot of space. We still managed to fit:
A large camping table
Croozer bicycle trailer
3 large camping chairs
2 footrests
A ROBUSTO box with grill and other junk
Max's toys
A pack of water
A large backpack with a SUP board
Hoses and extension cords
… And some other little things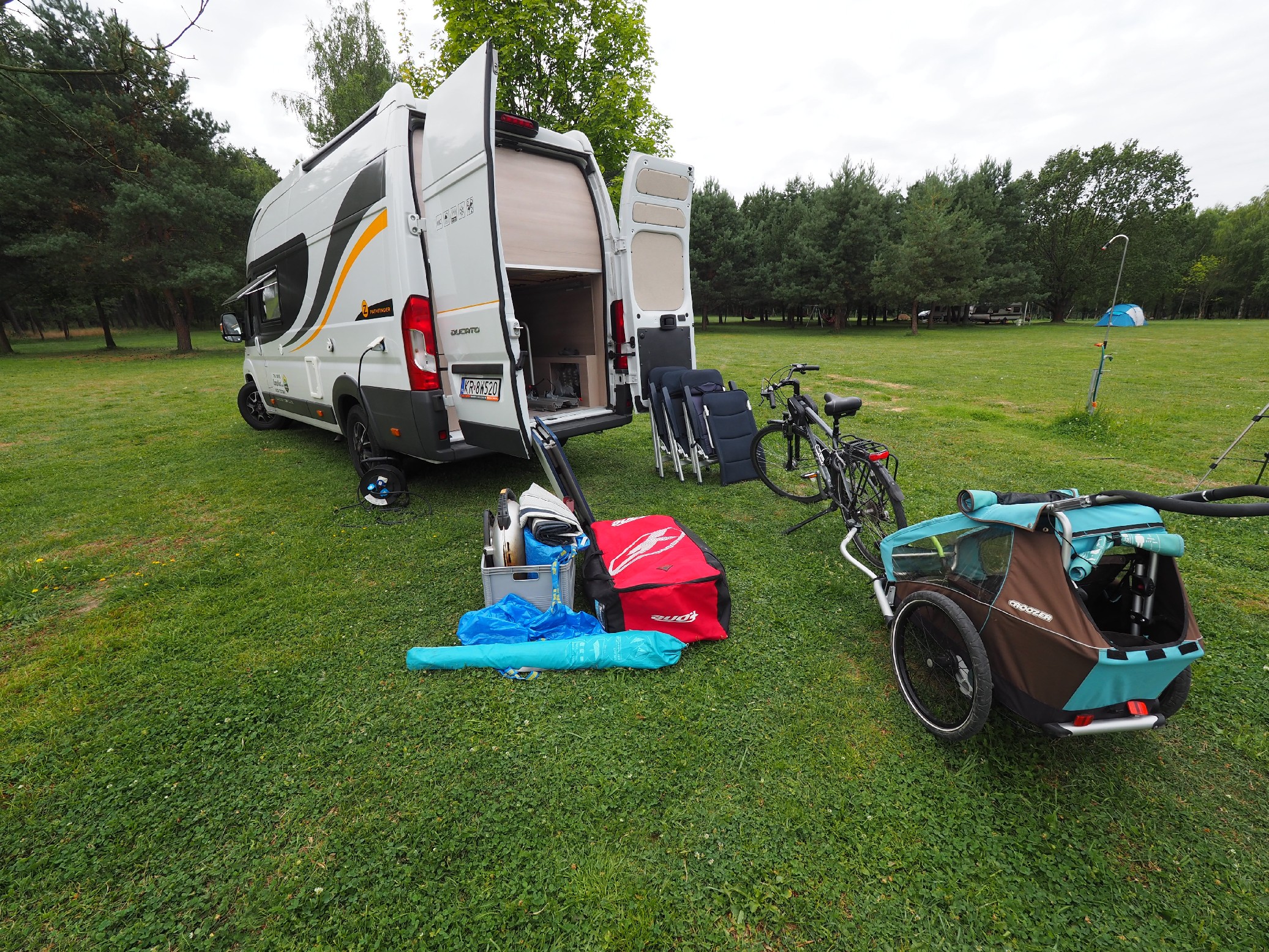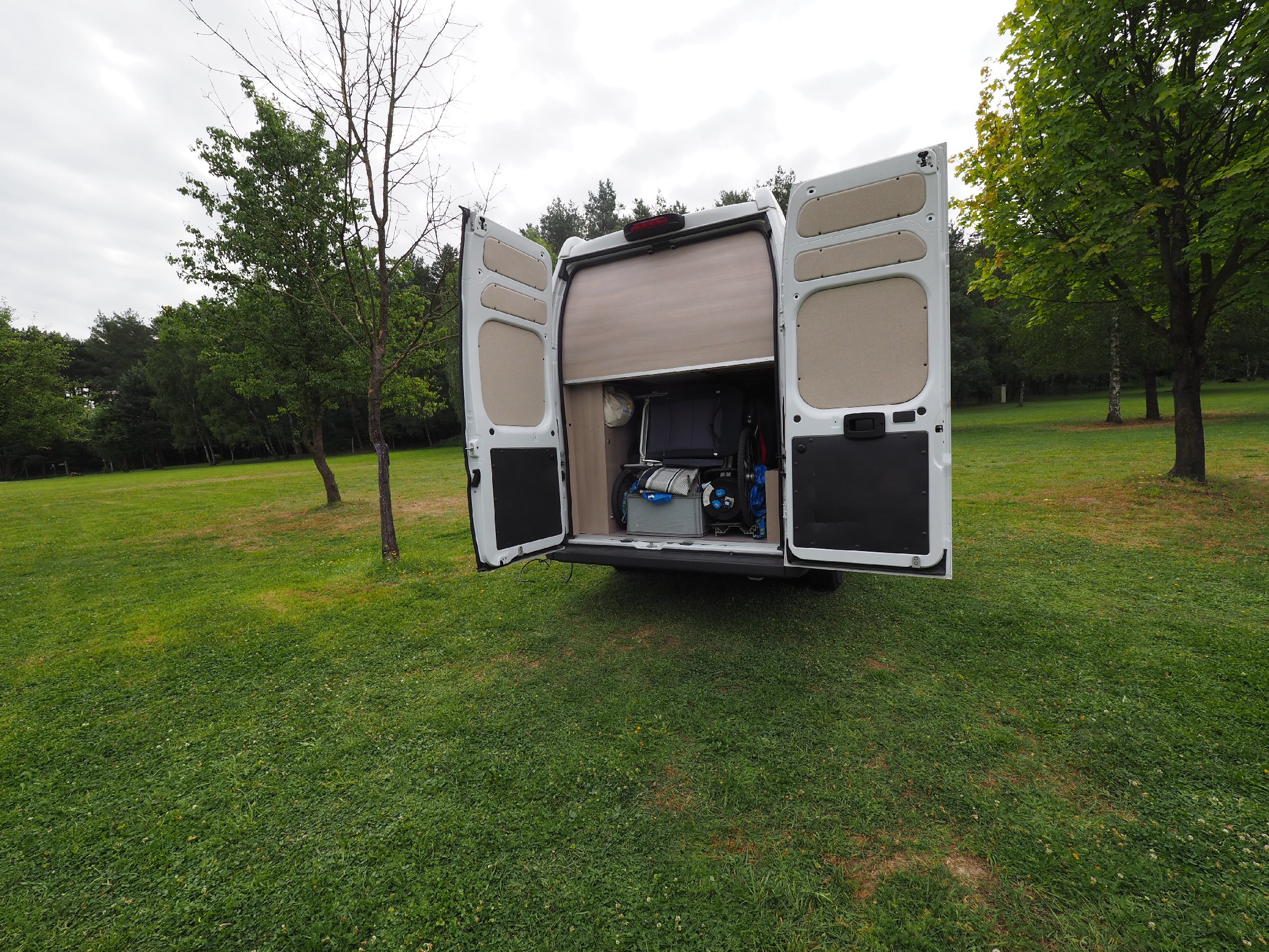 In addition to the main space in the trunk, we also find several cabinets in which we can hide various items. In addition, there is a cabinet for 2 gas cylinders , a cabinet with heating and a Truma boiler, and a parking battery with the central electric unit.
Everything is nicely lit with LED lamps, also at night we will find all the necessary things in it without any problems.
Cab, dining area and kitchen
The dashboard is standard and looks exactly the same as in most cars driven by couriers ... It's a pity because it would be a good idea to use a dust-covered steering wheel as befits cars from the top shelf. The driver and passenger seats are something different than left the factory and are equipped with armrests and turntables.
However, the most important thing about these seats is that the seat belts do not come out of the wall of the car but directly from the seat and the passenger can drive rearward facing.
It worked perfectly for us because Kasia could sit in the front and when Maks needed some attention, she just turned around and they could smile at each other.
Since there is not too much space, in order to install a child seat, we had to disassemble the table during the trip, which made it much easier for us to move around the motorhome even when parked. Even Maks found a perfect place to play in the place of the table.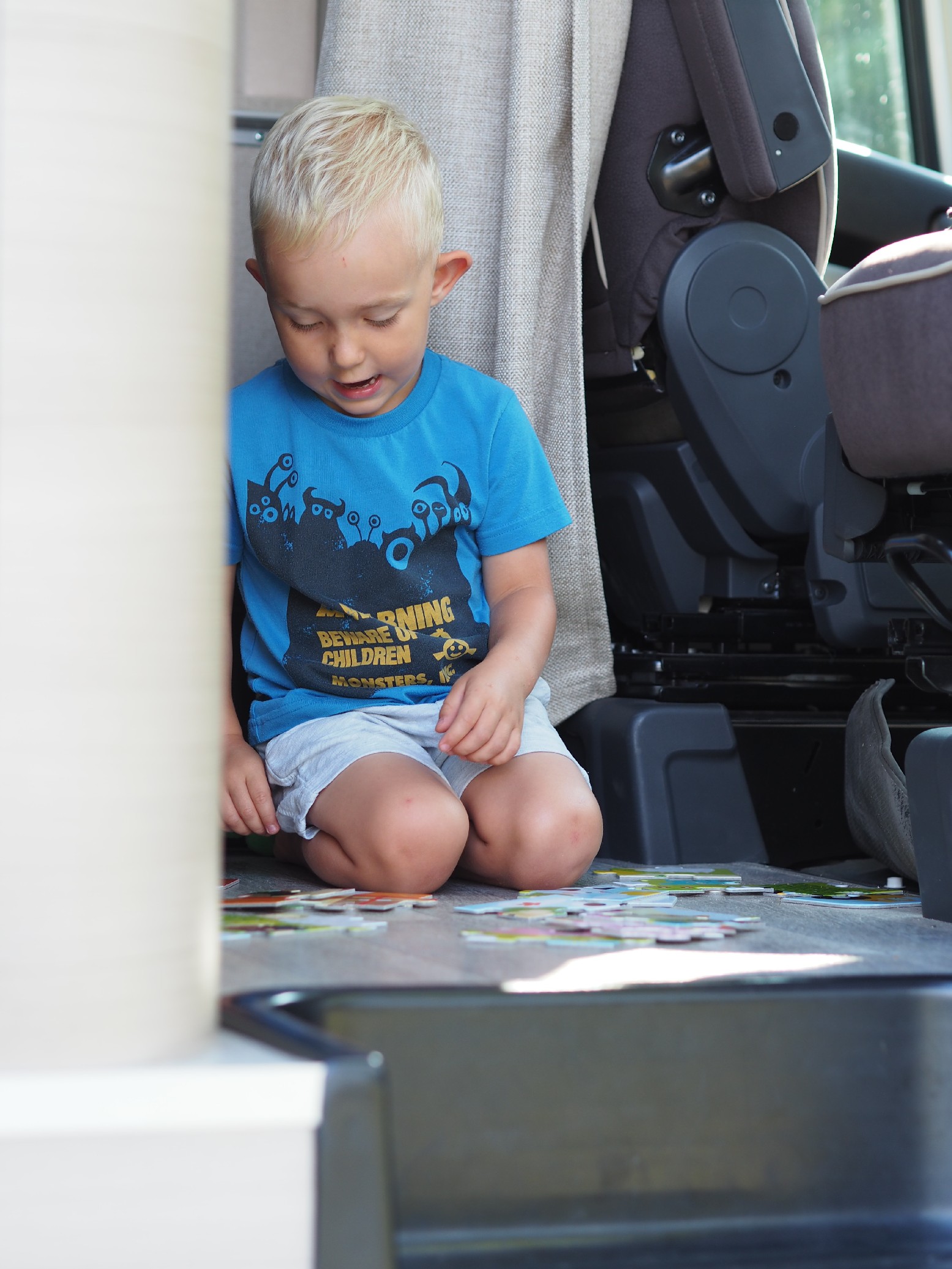 I will not hide - there is a lot of space in the trunk, but inside it is a bit cramped, especially if you travel with a child who wants to be wherever you are.
The biggest disadvantage is the corridor leading along the kitchen - there is no chance that 2 people will pass each other there - especially when one is pregnant and the other has a well-developed ... beer muscle.
The kitchen itself is equipped with a 2-burner gas stove, a sink and enough cabinets. Unfortunately, the refrigerator is placed next to the floor, which is a bit troublesome with frequent bending in this "bottleneck".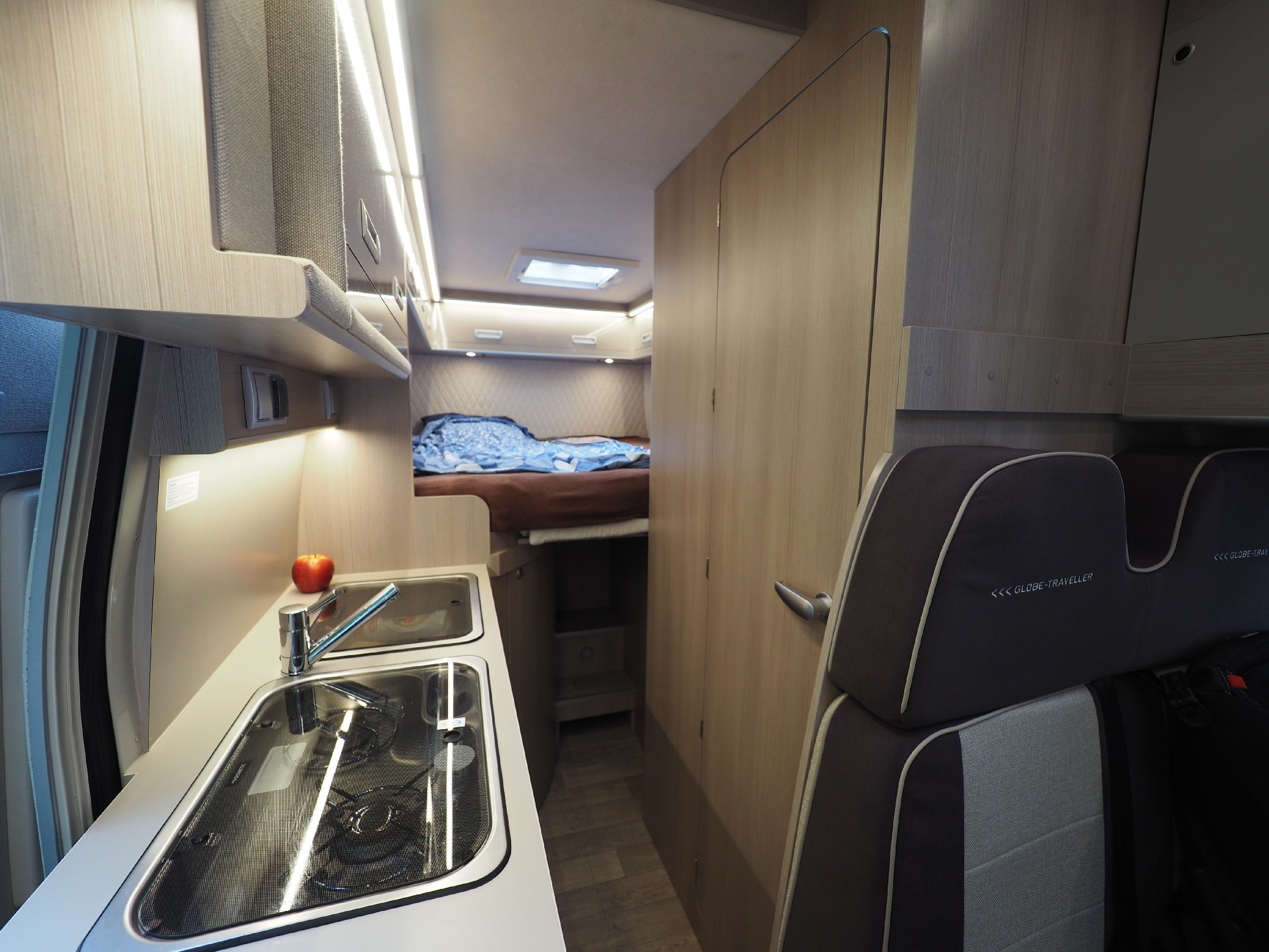 Bathroom
It is to her that we owe such a small space in the kitchen, because it was located in the central part of the motorhome. Not like the shorter XS model, i.e. next to the bed in the rear of the vehicle.
Well, something for something and thanks to this we have a huge bed, which we will talk about in a moment, but we also have a very comfortable bathroom with a cassette toilet, shower and washbasin.
Everything is finished very well and in order to take a shower and not flood the furniture, you should cover it with a special plexiglass door, which is definitely a better solution than sticky foil curtains to the body.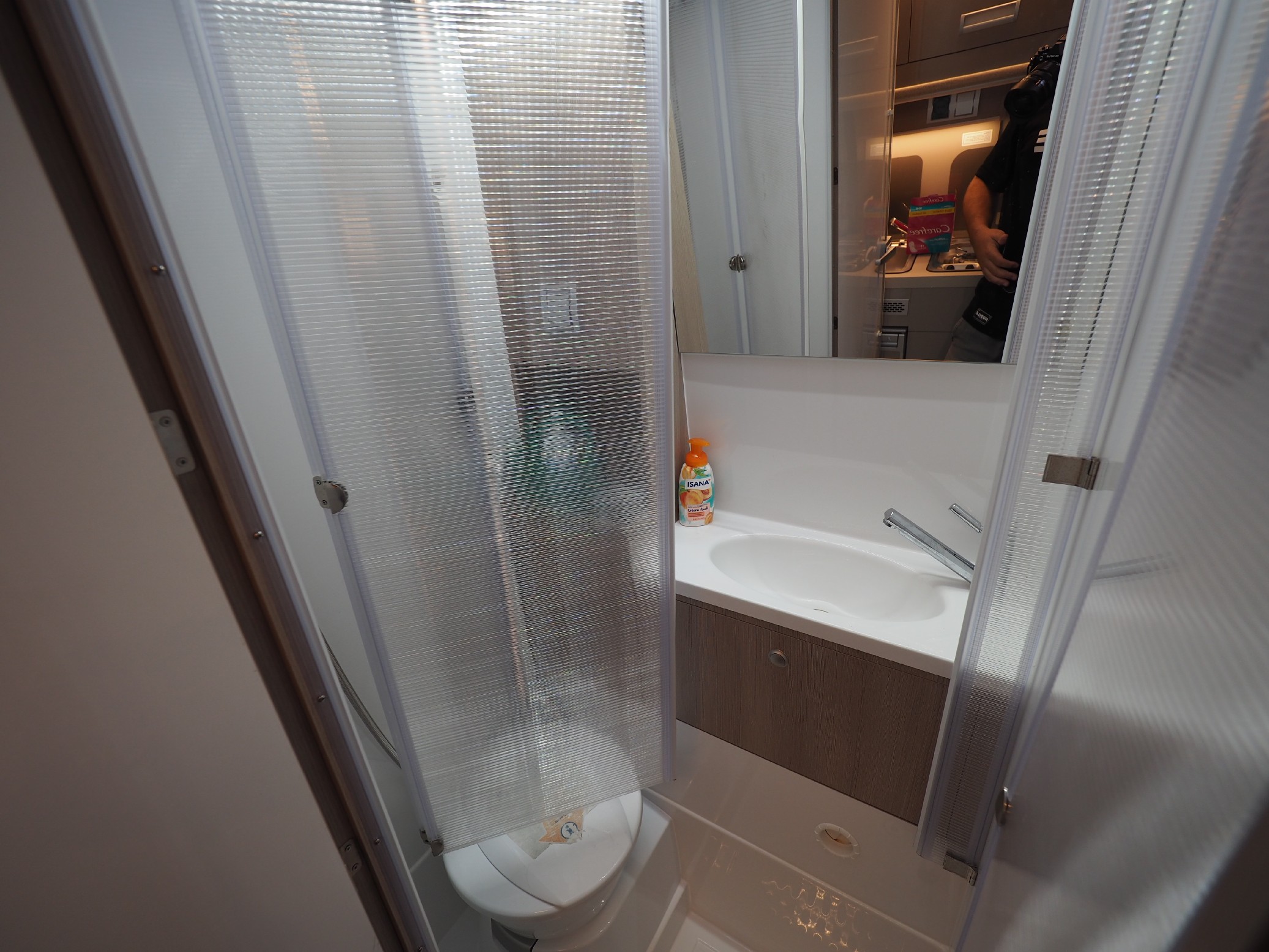 Bedroom
The master bedroom at the back of the vehicle has my favorite layout, i.e. it has 2 single beds on the left and right, which can be connected by adding a mattress inside. This is the perfect bed if you are traveling with children who like to come to bed in the morning and say, "Wake up, it's daytime!"
The height of the bed turned out to be quite a big problem. If the mattresses are joined together, access to the steps is blocked. To get on the bed, we needed an additional IKEA step, which Maks normally uses in the bathroom by the washbasin. I hope that in the latest edition, the designer will look into solving this problem.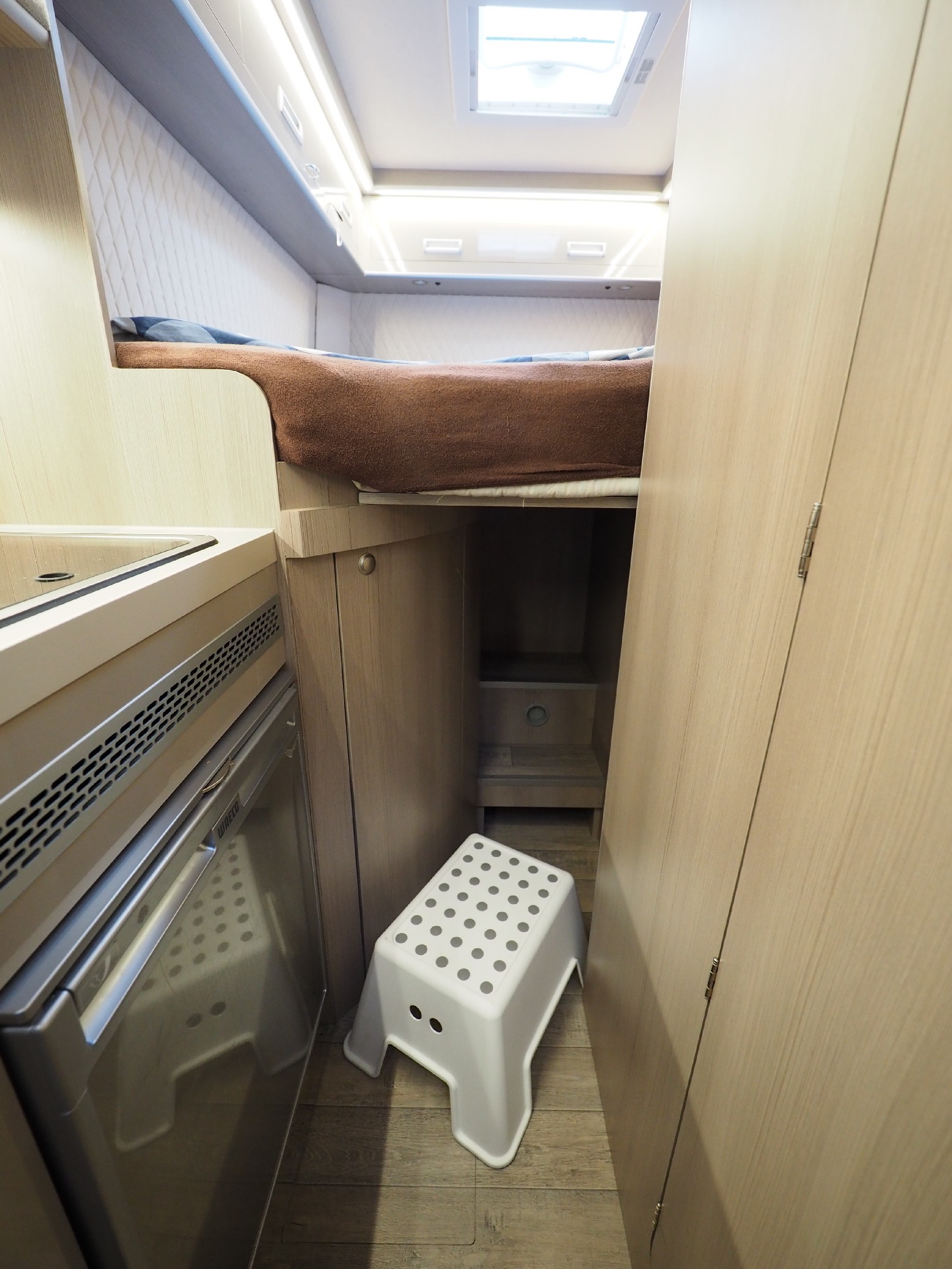 As for the bedrooms in the rear part of the motorhome, we noticed one more drawback - the lack of side windows, thanks to which you can force air circulation. This is quite a nuisance on warm nights and the skylight above the bed is not very good at delivering cool air. I think that 2 small windows would be enough.
The front bed is a flagship solution of the Globe Traveler company, which has been protected by a patent for some time and is used in most models of this brand. We are talking about a very nice solution for a fold-out bed, as if from a cabinet located in the wall of the motorhome. This is exactly what is shown in the video below.
Lockers
We didn't lack space for clothes and small everyday items. There are a lot of lockable shelves for clothes around the bed in the back of the motorhome. Under the bed you will find access to the main trunk and a wardrobe for a hanging wardrobe.
Engine, suspension and structure
The motorhome was built on a Fiat Ducato chassis with an engine power of 150 HP and it is a sufficient power unit for this body. The car generally drives very well thanks to its compact dimensions. But this model was additionally equipped with an air assist suspension, which further improves the comfort and safety of traveling.
Thanks to the double and heated floor, this motorhome can also be used in winter without any problems. For active people it is certainly of great importance to be able to go skiing in a motorhome and sleep right next to the ski lift.
Summary
I will not elaborate on the quality of workmanship again - it's very good! I believe that it is an ideal car for 2 people who like to spend time actively and, above all, travel with bikes that must be safely stored. If someone is planning a trip for 4 people, he can of course also do it, but it is better to prepare that you will spend more time outside. A large trunk and agility in moving definitely win for me and I am able to accept this narrow aisle in the kitchen.
I liked:
Huge trunk
Extendable platform for bicycles
A wide bed that can be split into two separate beds
Suspension
Wide LED lamp in the awning
I would like it more if:
There are even small windows on both sides in the back bedroom
There was a little more space in the hallway
There was a ladder to help you get onto the rear bed
The refrigerator was placed higher
The refrigerator was absorption type, not a compressor one, especially in a car that doesn't have solar panels
During our trip, we had the opportunity to visit Campus Domasławice , located near Wrocław. We highly recommend this place to everyone who likes well-organized camping, peace, quiet, fishing and cycling trips. We will definitely come back there.
gallery
The main driver, founder and the brain of CampRest. He is the one who runs the whole mechanism, implements new ideas faster than he is able to invent them. He used to be a professional driver and have run his own freight forward company - as you can see, he has always been drawn to sleep in the car;) He likes to drive large motorhomes and encourages you to get a C driving license and buy motorhomes over 3.5 tons.
Enjoyed reading this article? Share it!