A motorhome based on a tinplate - Caravans International Kyros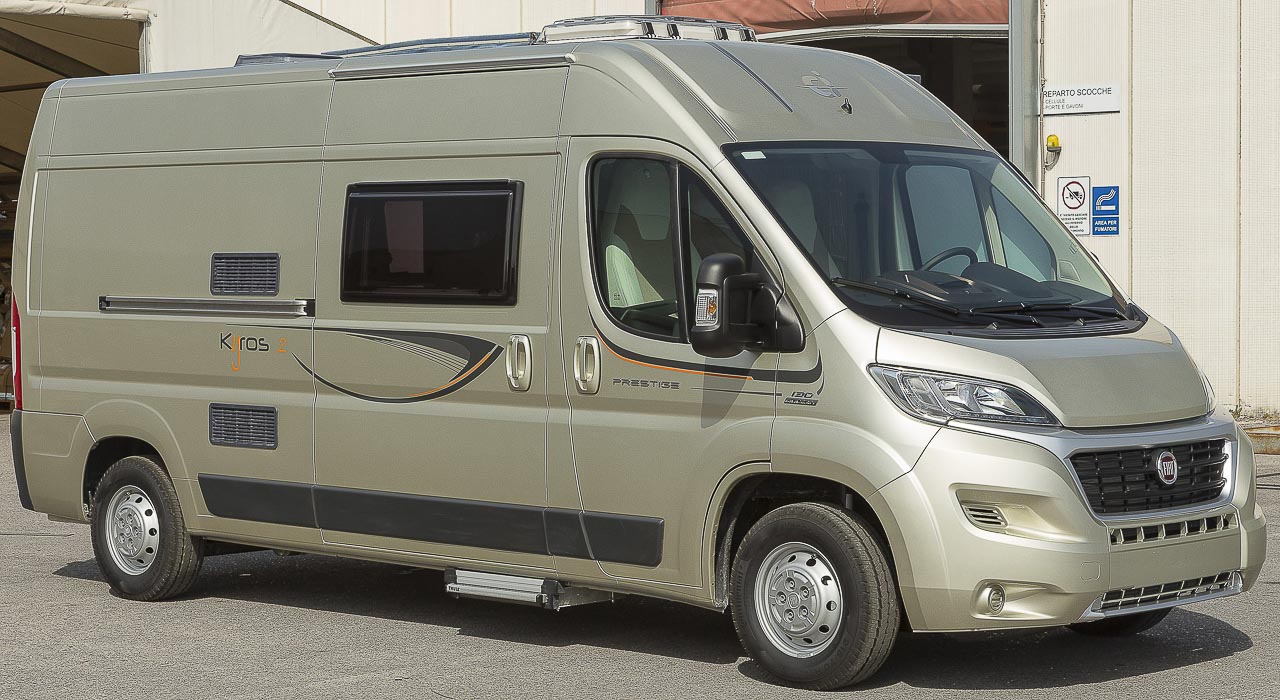 Many drivers starting their adventure with caravanning decide to use the offer of the secondary market. The reason why motorists choose motorhomes that are several years old is, of course, the price . An alternative to used equipment, and at the same time a proposal for less demanding users, are models based on popular delivery vans.
Among the greatest advantages of such structures, as mentioned by all manufacturers, is primarily mobility , unattainable for larger models. The relatively small size makes it very easy not only to maneuver on the campsite , but also to drive around a crowded city. One of the newest offers among budget motorhomes is Caravans International Kyros - planned for 2015 . The smallest and cheapest at the same time ( PLN 125,000 net , including VAT and transport to Poland) model in the Italian manufacturer's offer, like most similar constructions, is based on Fiat Ducato .
Customers can choose between three power units, coming directly from the range of the Italian concern - 2.0; 2.3 and 3.0 JTD . The driver's workplace does not differ from the standard Ducato, we still have exemplary ergonomics, rich optional equipment ( air conditioning, on-board computer, radio with CD ).
Choice of common sense
The interior of the Italian proposal is configured in a manner typical for this segment. After entering, you will find a folding dining table located between a double sofa (equipped with seat belts) and the front seats, which can be turned in a few moments.
Usable space
Delving further into the interior of the motorhome, we will get to a lockable bathroom . Numerous cabinets and suspended shelves will accommodate the most necessary cosmetics and accessories. In addition to the chemical toilet, there is also a small washbasin . On the opposite side of the interior of the vehicle, under the longitudinal tilt window, there is a kitchenette with a two-burner gas stove and a sink . A small refrigerator has been installed below. Right next to the "kitchen" compartment there is a place for a spacious wardrobe.
A motorhome for 2-4 people
According to the approval, Kyros is designed to carry four people , but the manufacturer has provided for two to four sleeping places - depending on the version. Regardless of the variant, at the back of the vehicle you will find an integrated double bed or two separate beds . After opening the rear doors, you will have excellent access to the lockers and compartments underneath them.
Buying even a relatively cheap motorhome is always a difficult choice. In making the final, right decision, the earlier rental of the model you are interested in may be invaluable. From April 2015, Caravans International Kyros will be available at the Camper Planet camper rental in Bielsko-Biała .
I follow the latest trends in the automotive industry, not only in caravanning
Enjoyed reading this article? Share it!