Adria Coral / Matrix Supreme and Mercedes Sprinter - the perfect combination?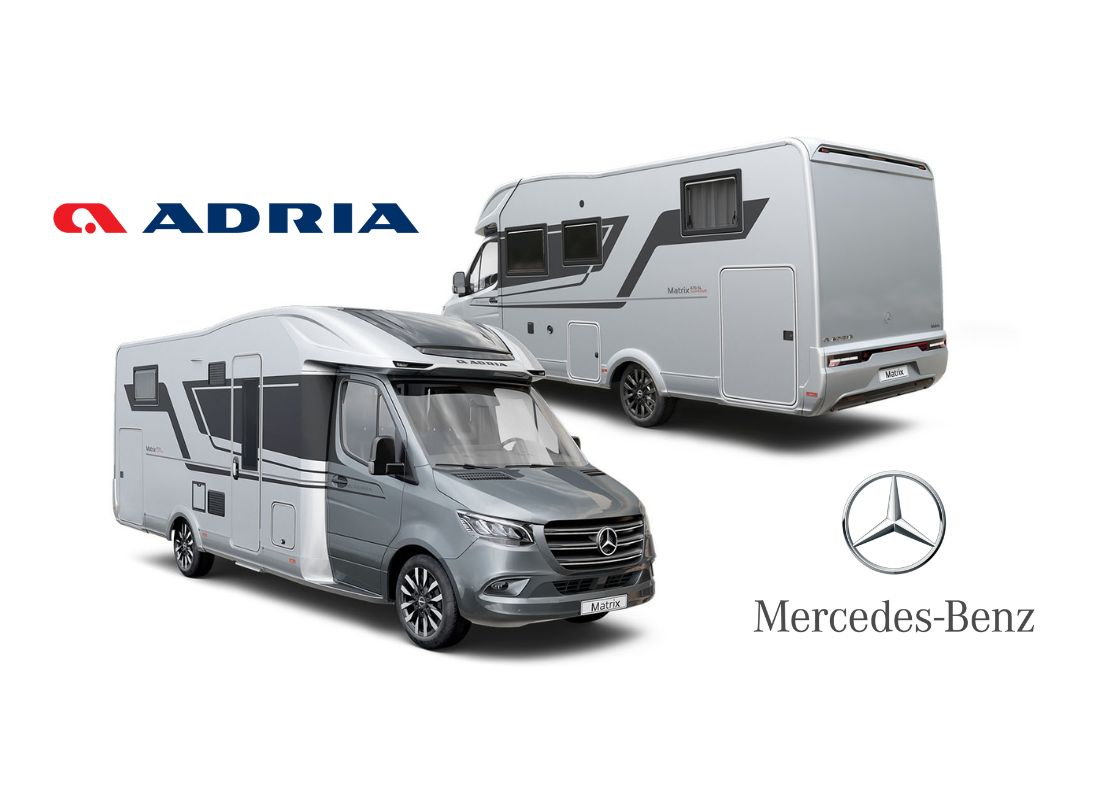 In recent years, more and more premium brands have reached for MB Sprinter chassis, and the star base itself has convinced not only experts, but also the most demanding users.
In the country on the Vistula river, the argument in favor of this solution will be quite prosaic - Mercedes offers units with a displacement of less than 2 liters, which has a significant impact on the final price - often more attractive than in the case of vehicles based on "classic" solutions from the Stellantis stable. Fiat, Peugeot and Citroen brands belonging to this concern offer only 2.2 / 2.3 l units, which automatically translates into an excise duty of 18.6% for the entire vehicle.
However, it is not only the excellent value for money that distinguishes the Supreme models from Adria - today we will look at the offered layouts and equipment of a total of 4 proposals from the Coral and Matrix lines.
Adria Coral and Matrix - the devil is in the details
At first glance, it is difficult to distinguish both model lines of the Slovenian manufacturer from the outside, as they seem to be deceptively similar.
The lines of the body and dimensions are identical, as is the eye-catching panoramic sunroof measuring up to 65 x 130 cm. The differences are the solutions inside.
Coral is intended to be an ideal travel partner for an active couple, while offering an additional 1 or 2 sleeping places for children or grandchildren. On a daily basis, however, we can enjoy here a large space and above-average functionality.
Matrix models, in turn, are equipped with electric, drop-down beds above the living room for 2 people. This solution will be ideal, for example, for active families with children.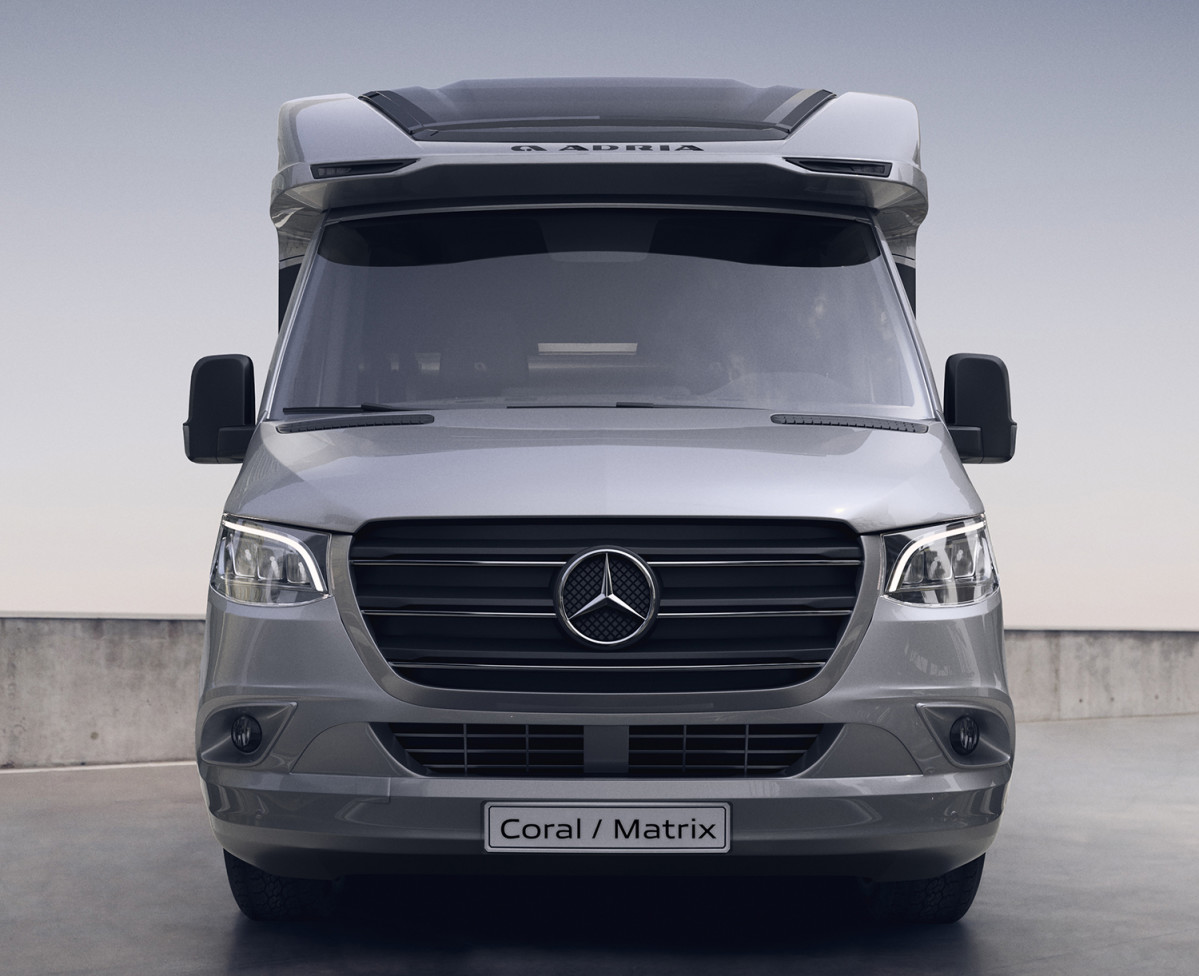 Arrangements with a matrimonial bed
Both Adria Matrix 670 DC and Coral 670 DC measure 769 cm in length, 288 cm in height and 230 cm in width.
Right behind the driver's cab we find face-to-face sofas, and a folding table between them, which makes it easier to move from the front to the rear of the vehicle. Moving on, we are greeted by a kitchen equipped with a countertop equipped with a sink and a 3-burner gas stove.
Opposite the kitchen block, there is a slim tower absorption refrigerator with a capacity of 142 l. A bathing room separating the kitchen from the bedroom has been arranged in a very functional way.
On opposite sides of the motorhome, there is a separate toilet and sink on one side, and a spacious shower cabin on the other.
At the back of the vehicle we have a bedroom with a spacious double bed measuring 195x150 cm.
On both sides you will find wardrobes for clothes and steps to facilitate access to the bed.
The Matrix model offers additional sleeping places on an electrically raised bed measuring 195x150 cm.
In the Coral model, the third bed replaces the sofas in front - it has dimensions of 205x100/85 cm when unfolded.
Single beds that can be connected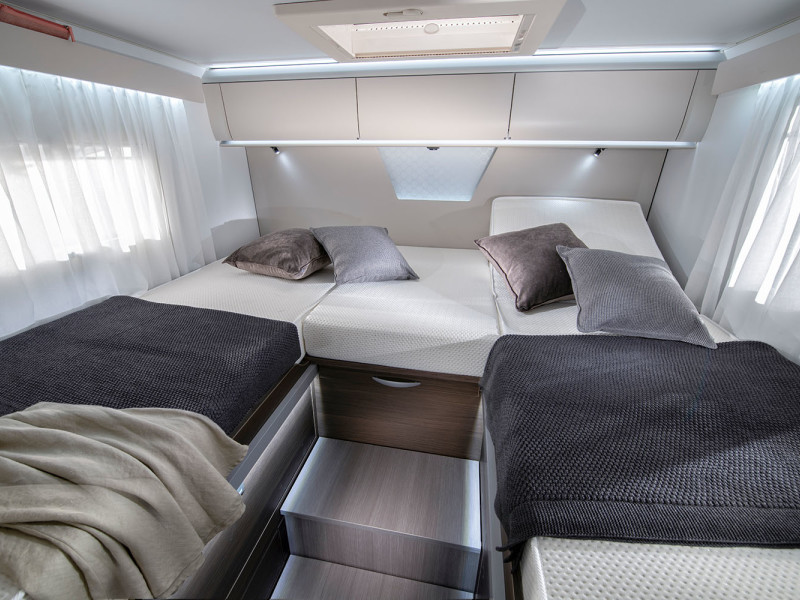 Matrix Supreme marked 670SL and Coral Supreme marked 670DL are proposals with a slightly different interior layout, but identical to the 670 DC variants in terms of external dimensions and design.
The other differences are the use of an L-shaped sofa in the living room and single single beds in the back.
Of course, it is possible to combine them into a huge "family" bed. In combination with a raised bed measuring 125x200 cm (slightly narrower than in DC models), we have here as many as 5 sleeping places.
Year-round construction for many years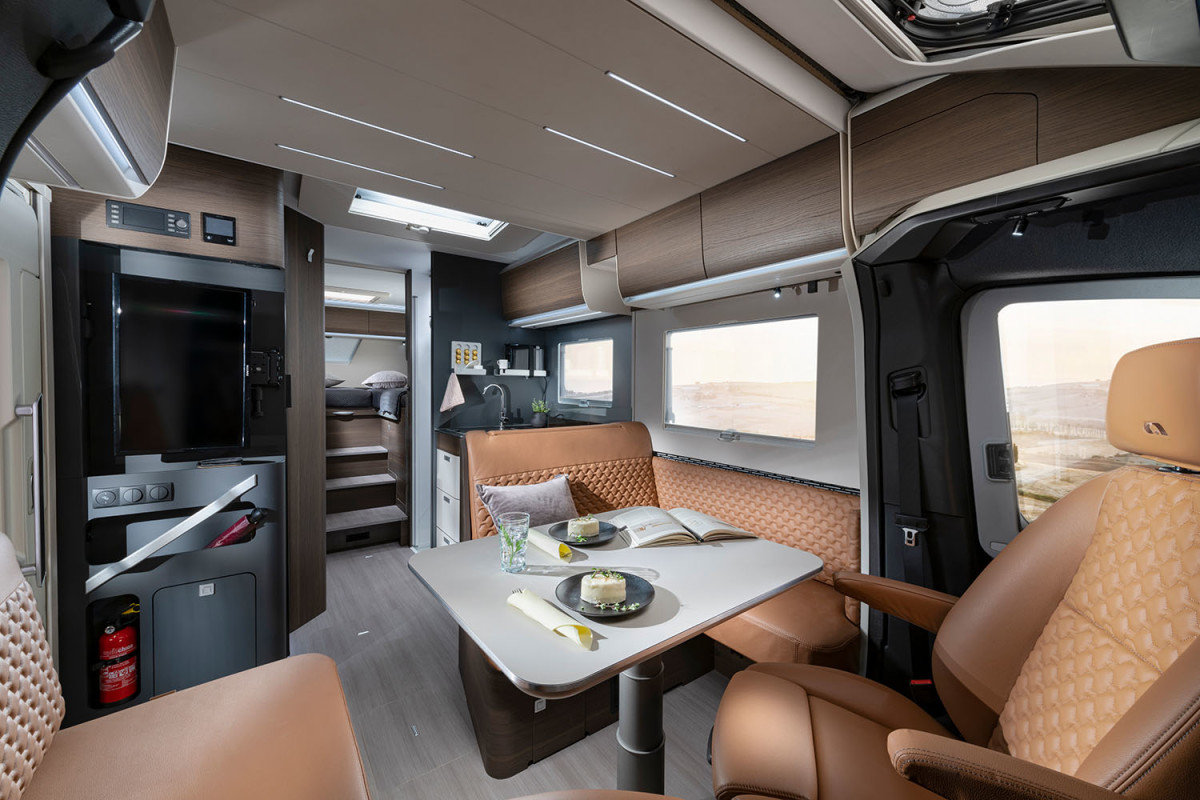 All Supreme models are equipped as standard with the top-class ALDE 3030 heating system , which can be optionally equipped with an engine heat exchanger and additional floor heating in the cab.
In combination with excellent insulation of the walls and ceiling, the manufacturer managed to obtain fully year-round vehicles that deserve to be called "premium".
Service flaps enabling access to the garage space have dimensions of up to 85x110 - we can fit large-sized luggage and accessories here.
Mercedes as a base car in terms of equipment and available options leaves no wish - from the most advanced assistance systems, through the choice of drive unit (150/170 hp), to manual/automatic gearbox - the full possibility of personalization will satisfy the most sophisticated individual tastes.
The motorhomes described above, depending on the equipment, weigh 3250-3300 kg in the ready-to-drive condition. Taking into account possible additional equipment (awning blind/roof air conditioning), meeting the GVM limit of 3500 kg may prove to be a challenge, if we plan trips with more than 2 people
The optional GVW can be 3,880 kg, which offers a payload at a slightly more "life" level of less than 600 kg.
The exclusive distributor of Adria vehicles is the ELCAMP Group based in Krakow.
gallery
This article was prepared in cooperation with Elcamp
I feel best in the form of trade fairs and meetings with enthusiasts. Technical freak. In my life I have dismantled many motorhomes for the first time. Fan of large vehicles, mountain biking and traveling without weight and financial restrictions. At CampRest, I am responsible for all publications on automotive topics.
Enjoyed reading this article? Share it!