BASOGLU trailers - carriages, hotels and offices on wheels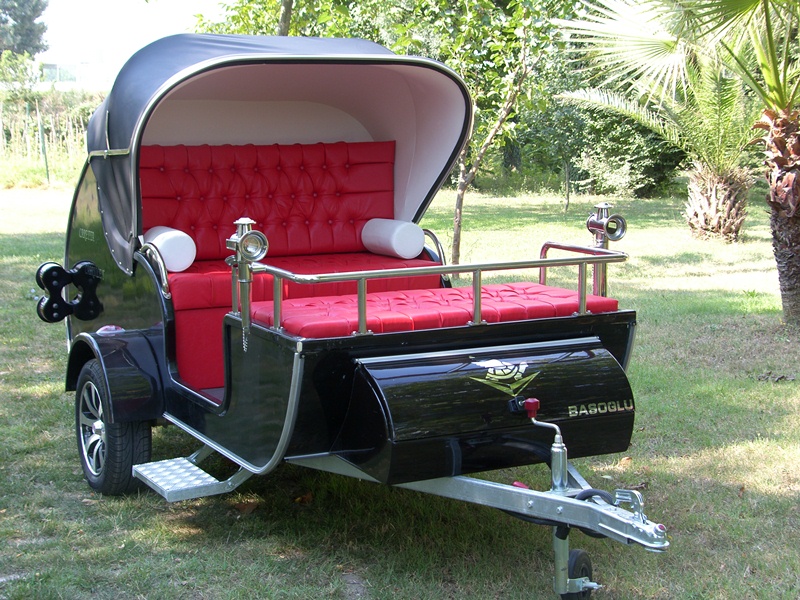 The Turks picked up on the returning fashion for teardrops. But what they do with these (and not only these) caravans may surprise many caravanning enthusiasts.
Turkish teardrops are sold in Europe under the name Turtle, but in Turkey they are called Caretta and are available in a much richer number of versions.
Civil versions of Basoglu Caretta trailers are marked as 1200 and 1500 and are the main export product of the manufacturer. The 1200 model weighs 375 kg and is 3853 mm long. The galvanized chassis and Al-Ko suspension are to guarantee quality. The trailer has accommodation for two people, a set of cabinets, radio, ventilation, alarm. You can also install a refrigerator, a small LCD TV and a DVD player.
Model 1500 (of the same length) is a richer version, with a brake and with more options for retrofitting. The vehicle weighs 460 kg. It can be enriched, among others a panoramic roof, Truma heating and a solar panel. As standard, we will receive, among others electronic control panel.
Caretta Cabriolet
However, it is difficult to admire the standard models when the offer includes real ... Well - what? Karoce? Carriages?
The Caretta Cabriolet is a cross between a caravan, a convertible and a carriage, although such an explanation does not say much until we look at the photos.
The rear of this vehicle is identical to that of the Caretta 1200 and 1500 models. Under the old-fashioned fold-out roof, however, there is a quilted couch, and on the opposite side, the seat is surrounded by an aluminum railing with antique-style lamps.
Such an original vehicle can be successfully connected to a car or ... a quad bike. An unusual set will work, for example, as a wedding vehicle for newlyweds. And this compartment in the front - perfect for gifts.
Caretta for business
But not only the Cabriolet can surprise. Turks are inventing newer and newer applications for their caravan. The Media model, with a large TV set on the side wall, can be used, for example, as an advertising medium. After it is unveiled, the projected image can be presented to passers-by, for example. So that the sun does not reflect too much light, the screen can be covered with a special awning, adapted to the size of the screen.
Caretta Bazaar and Caretta Shop are models dedicated to street vendors. Such a store has everything you need. Inside, you can of course install cabinets, a refrigerator and appropriate appliances. The lifted roof will protect against sun and rain. There is also a fold-out counter where you can display your products. And when the evening comes, you can put it all together in minutes and drive home from work.
Hotel on wheels
Basoglu, however, offers not only trailers based on the model in the shape of a drop of water. One of the most interesting special products are ... hotels on wheels.
The manufacturer directs its offer to hotels which, when fully occupied during the tourist season, can place the surplus of tourists in specially adapted caravans. Some even have windows identical to those used in residential buildings.
You can also order an office on wheels in Basoglu. Anyway, specialists from Turkey are probably able to build any vehicle, as well as convert a car delivered to the company into a camper. I suspect that even if the customer came to Basoglu by tank, the employees would not have a problem to make a motorhome out of it.
Sometimes it is better to get lost than to ask for directions too much. Aldous Huxley
Enjoyed reading this article? Share it!