Caretta Off Road caravan test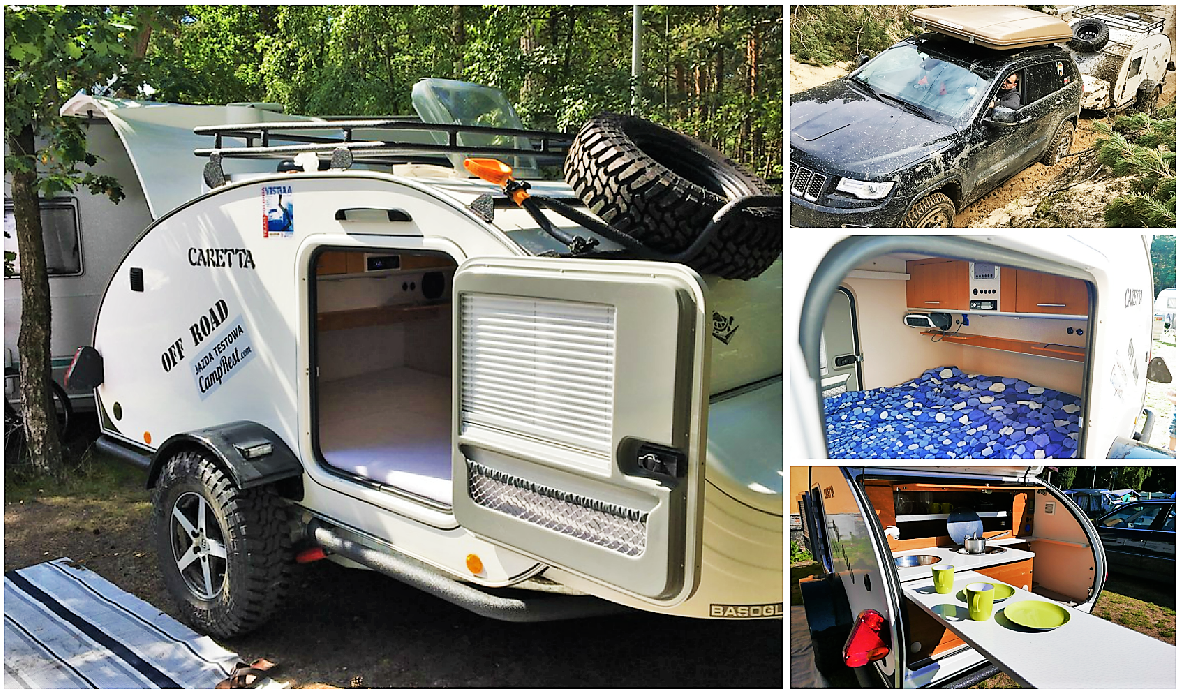 In the last week of July, courtesy of Rafał Bieżuński - the exclusive distributor of Caretta caravans on the Polish market, I had the opportunity to test the Off Road model. We traveled with two adults and a two-year-old child. We spent seven nights in the trailer on two different campsites and drove 400 km on different (Polish) roads, which allowed us to see the advantages and disadvantages of the trailer.
Small tear drop trailers are especially close to me. I have a similar trailer myself and have been traveling with it for two years. I believe that a small and, above all, light trailer, especially in combination with a small bus, is a perfect set. In the article below, I will try to present my subjective opinion about this Caretta Off Road model, but also to present the advantages of traveling with such a small caravan, based on my own two-year experience. We wrote about this caravan in February 2017, when the first model appeared in Poland - you can read the article here .
Unique design on big wheels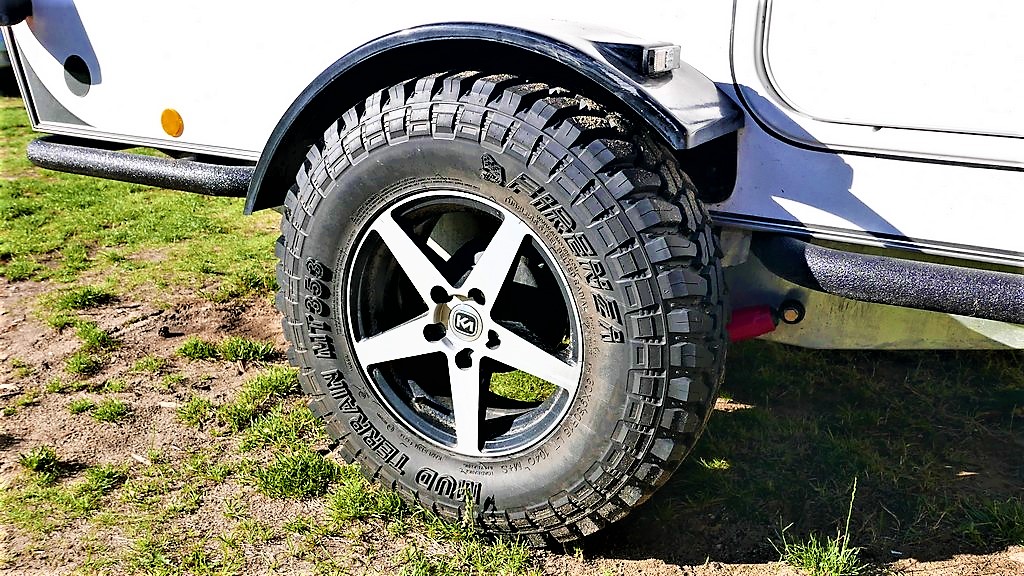 The streamlined and at the same time small body of the trailer, suspended high on large off-road tires, with a spare wheel and a shovel on the roof, attracts attention from a distance. Massive piping around the circumference of the trailer will certainly prove useful when driving off-road and will prevent costly repairs of the plating.
Its appearance is so unique that when driving through Łeba or Jastarnia I felt as if I was driving the latest Lamborghini model. At the campground, we had the opportunity to meet most of the guests in person, because the desire to see the caravan up close attracted whole families to us.
The trailer was built on the AL-KO brand chassis with independent suspension for each wheel. The chassis was equipped with an overrun brake, which I definitely recommend. I believe that even in such a light trailer (empty weight approx. 600 kg) it greatly improves the comfort and safety of driving. The track stabilizer, which the trailer was equipped with, can be forgotten in my opinion, but on the other hand, it is possible that thanks to it, the trailer held so well to the car pulling it on winding and narrow roads.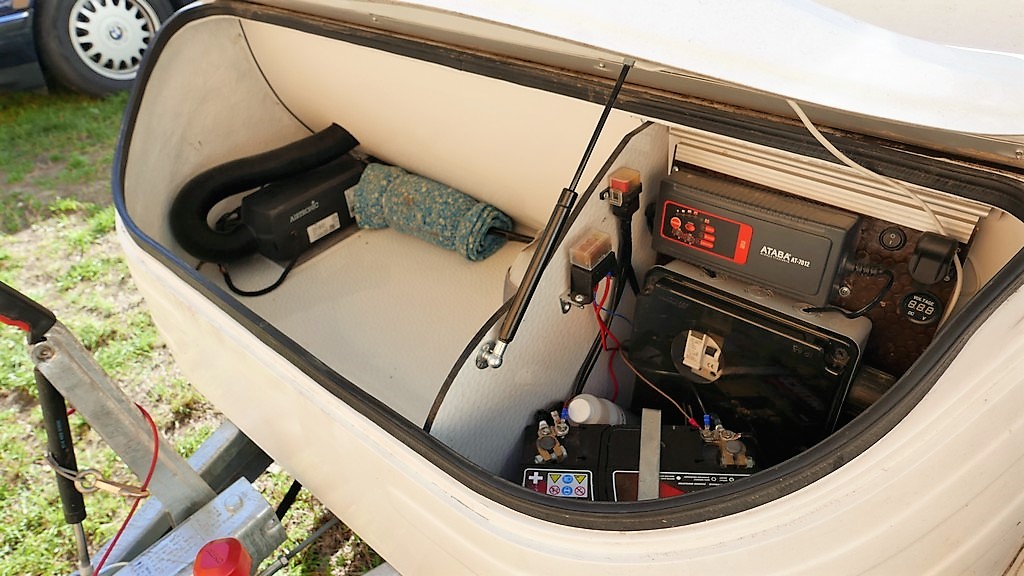 At the front of the trailer there is a streamlined laminate case with a battery and Eberspacher D2 heating with a diesel fuel tank. Heating will definitely come in handy during trips in colder periods. The one that was installed in the tested model effectively makes us independent from access to electricity, which may turn out to be very important during field trips.
The remaining space in the trunk is easily enough to hide various camping accessories or a vestibule, which may be useful to enlarge the seating area (especially in the rain). Unfortunately, the material from which the trunk was made does not fully convince me - it gives the impression that it could easily crack or otherwise be damaged, especially when driving off-road. With this type of trailer, I would prefer a solid steel trunk on which you could even stand to mount something on the roof rack. Rafał Bieżuński, however, assured me that neither customers nor him have suffered any damage so far, although he regularly drives with a trailer into difficult terrain.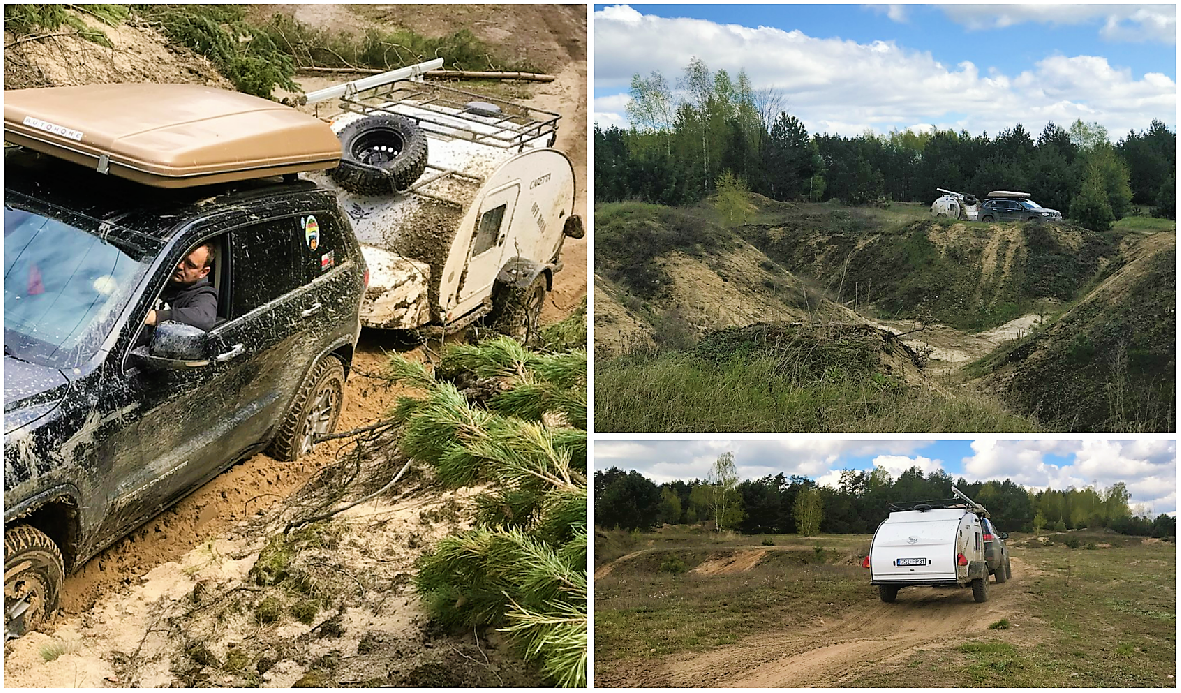 Kitchen
When I tell anyone that in this caravan, apart from the bed, there is also a kitchen equipped from A to Z (well, maybe without a dishwasher), they don't want to believe me. But as soon as I open the tailgate, they see this: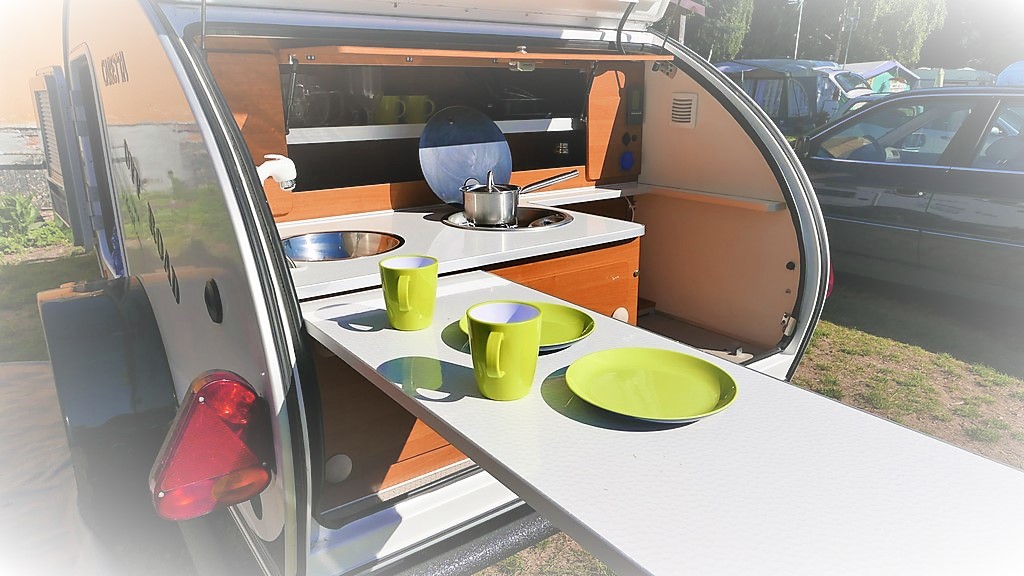 As you can see, the kitchen is equipped with many cupboards and storage compartments, in which we can fit much more than just dishes and provisions. On the right side there should be a refrigerator - unfortunately it was removed for the time of testing because it required service. On the left side, under the tabletop, there are two cabinets. In one of them there is a small tourist gas cylinder that powers a single-burner stove. A bottle is enough for the entire season, unless we plan a real culinary revolution during our trips.
Behind the cabinets there is a place for a 60-liter clean water tank and a 50-liter dirty water tank. The water was led to a small but practical wash basin next to the stove. I consider it an ideal solution, sufficient for a basic toilet, cooking or washing dishes quickly.
Living room and bedroom in one
What seems to be the biggest surprise is hidden inside this tiny trailer - and it's the sleeping area. It consists of quite a large bed, in which we slept very comfortably with our son. And I know people who traveled with this caravan in a 2 + 2 lineup and were also satisfied.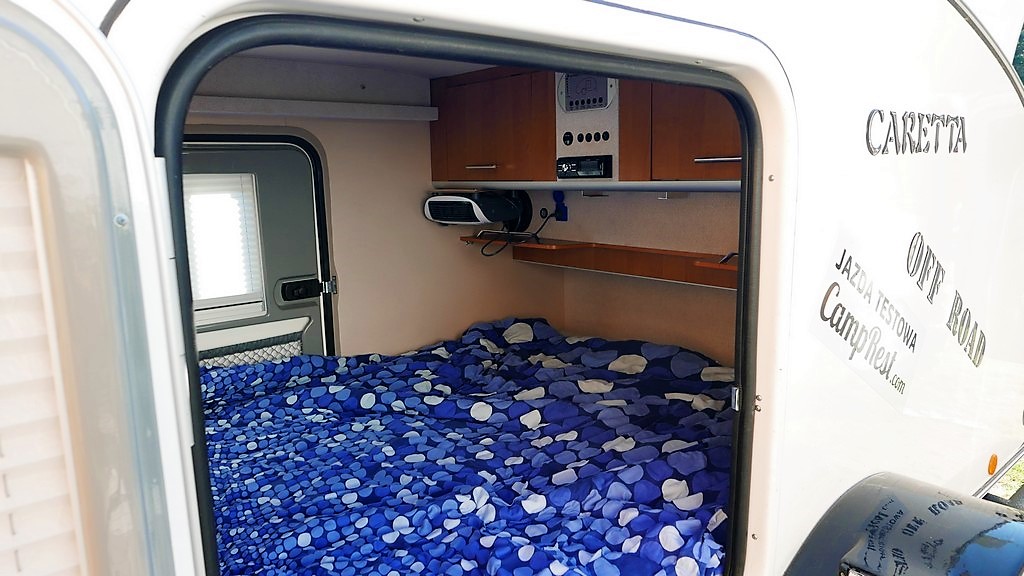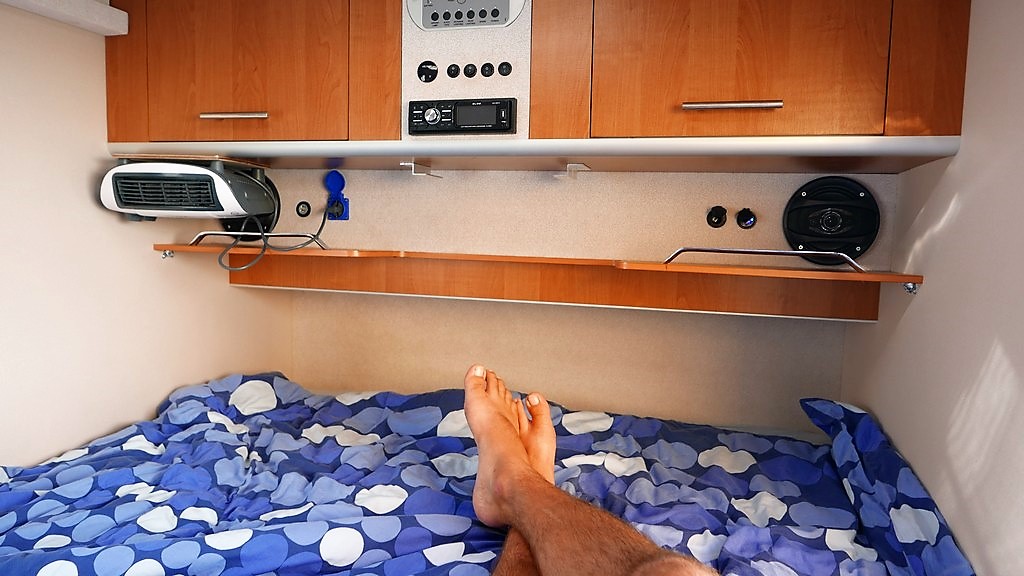 Above the legs, there are spacious cabinets in which you can hide enough wardrobe for a short trip. If someone needs more space for clothes, remember that we pull the trailer in a car, in which we can also transport our luggage.
An additional, quite spacious compartment is placed behind the headroom and, after closing it, can be used as a practical shelf for books or a telephone.
Very wide doors are an unquestionable advantage of this caravan and allow for comfortable getting in and out. The doors are equipped with a practical storage compartment and sliding windows, which, when opened on both sides, efficiently ventilate the interior of the caravan. A better solution, however, would be windows tilted upwards, which will protect the interior from rain and at the same time allow for ventilation.
There is a tilting window in the roof, made of transparent material, which at the same time illuminates the caravan, but unfortunately also warms it up. A better solution would be to use a full window that could be tilted if necessary to ventilate the interior - but it would not heat up. Unfortunately, the blinds, although installed in all windows, allow only a slight shading of the interior, but do not block the access of light. It can be especially troublesome during trips to warmer regions of the world. A nice solution are mosquito nets installed in each window, so we do not have to worry about insects, even when we sleep with the windows open.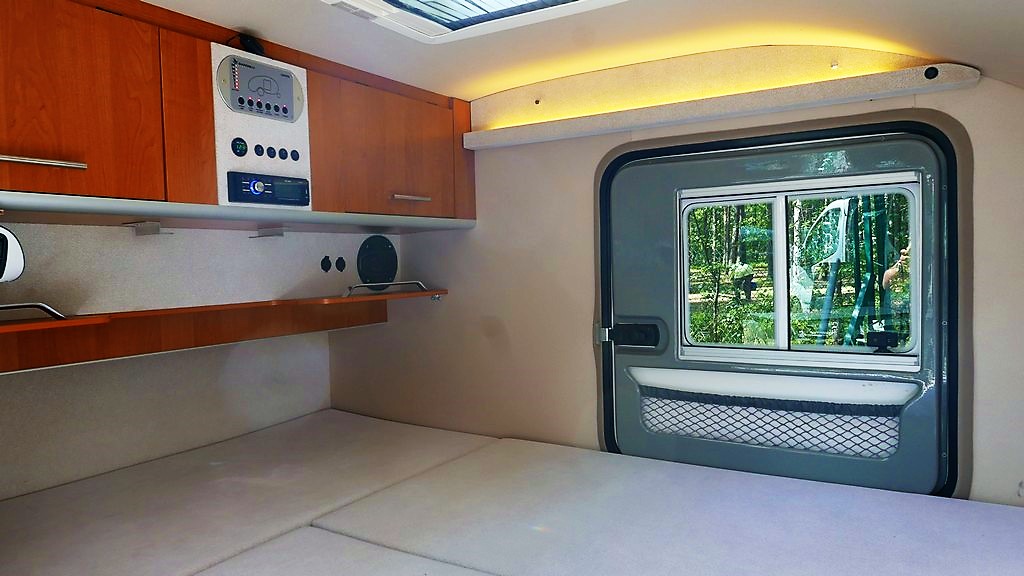 The whole trailer has very good and atmospheric lighting powered by a battery located in the trunk at the front of the trailer. In the sleeping area, you can not complain about the lack of outputs for 12 V charging and USB. However, I missed the 12 V output in the kitchen area to connect the coffee machine - but thanks to this I was able to make coffee without leaving the bed.
The mounted radio with speakers in our case did not work out completely. We have all the music and fairy tales for the child on the tablet, and we connect to our portable speaker via Bluetooth. Unfortunately, such a function was missing in the mounted radio.
Summary
As I mentioned at the beginning, such a small trailer connected to a van is a perfect set for us. We do not need a toilet or a bathroom in the caravan, because we always use campsites, and there are always toilets there.
A small trailer allows us to move quickly on the road without a significant increase in the car's fuel consumption. Since we have a bedroom in a separate cabin, if necessary, we can leave it at the campsite and explore the area by car.
If it rains, we hide under an awning or in a car with a table and swivel armchairs - we can comfortably spend many hours there, even with four people. However, if someone does not have such a large car, then an inflatable vestibule can be attached to the trailer, which unfolds in 3 minutes. In this way, we will significantly enlarge the living space in which you can hide in the rain.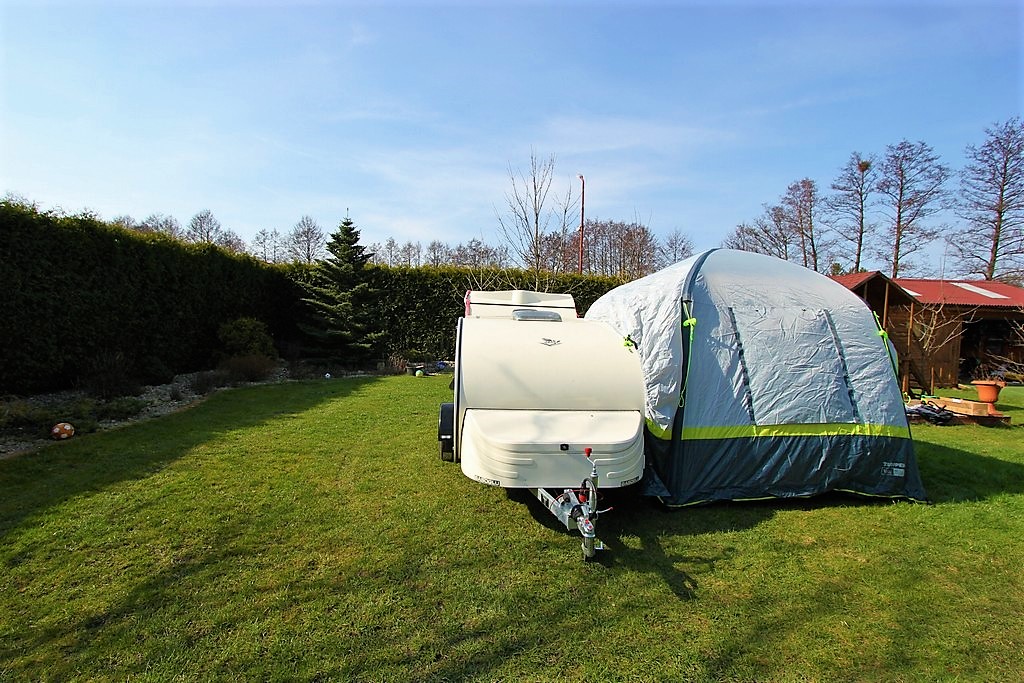 I can recommend Caretta to anyone looking for a small but comfortable trailer. And if you also like to drive off the beaten track, you care about low insurance costs and no need to carry out annual technical inspections, then it will definitely be a perfect caravan.
I liked:
design,
dimensions and weight,
wide door,
AL-KO chassis and overrun brake,
Eberspacher heating,
kitchen.
I would like it more if:
there were roller blinds installed in the windows to shade the interior more,
the door locks were of better quality,
there is a 12 V output in the kitchen,
it was possible to mount the bikes on the drawbar or on the roof.
The main driver, founder and the brain of CampRest. He is the one who runs the whole mechanism, implements new ideas faster than he is able to invent them. He used to be a professional driver and have run his own freight forward company - as you can see, he has always been drawn to sleep in the car;) He likes to drive large motorhomes and encourages you to get a C driving license and buy motorhomes over 3.5 tons.
Enjoyed reading this article? Share it!