Caretta - small on the road, large on the campground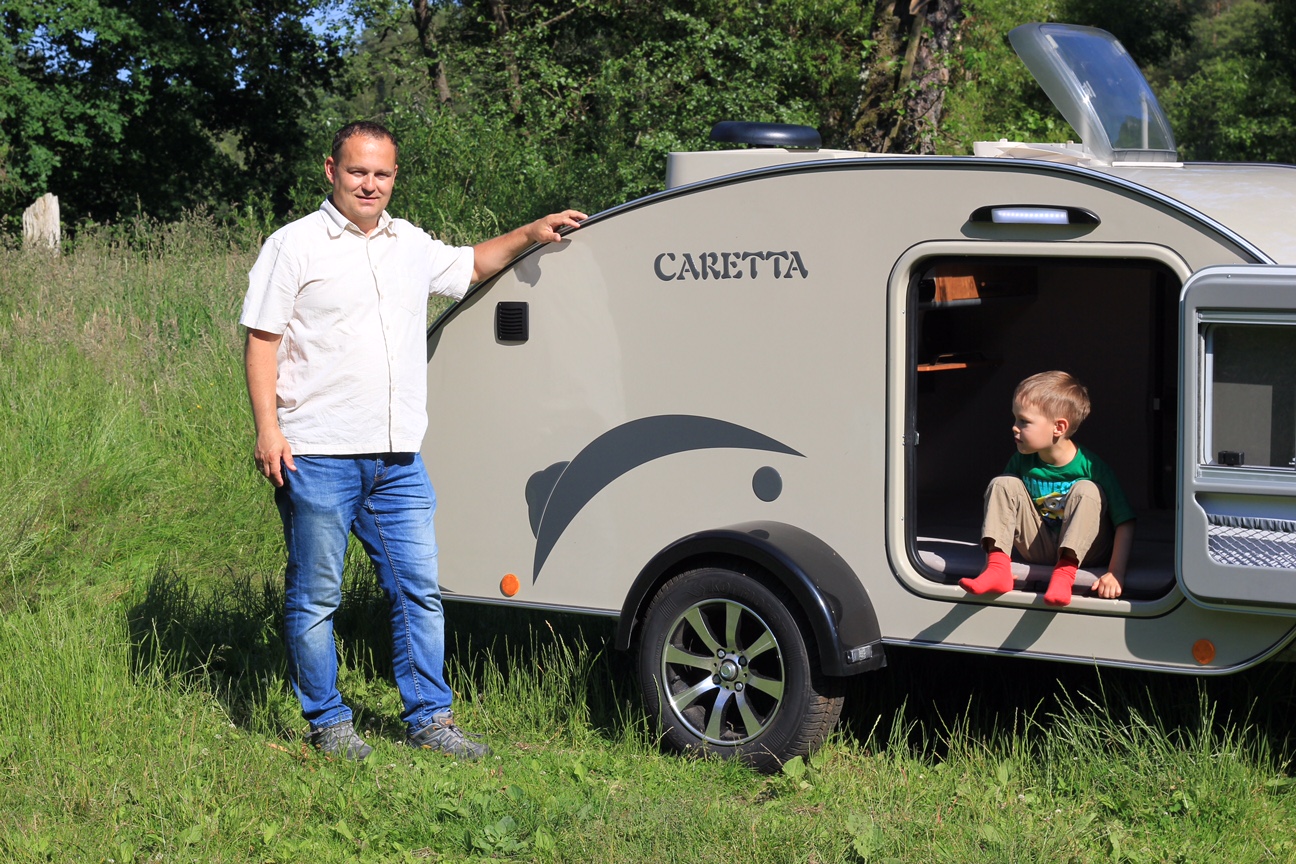 Everywhere they appear, Caretta trailers are of keen interest. During this year's fair in Poznań, even Włodzimierz Zientarski, who had seen a lot in his life, did not pass by indifferently. We are talking about Turkish teardrop trailers with their Polish distributor - Rafał Bieżuński.
You have decided to sell caravans in Poland, which stand out from the typical caravans. Where did this idea come from?
Rafał Bieżuński: Teardrop trailers have fascinated me for a long time. On internet forums I found many people who, like me, were interested in such trailers. However, the offer on the Polish market was very limited, and many teardrop-like caravans were built in home garages.
Some time ago I thought that I could extend the offer of teardrop trailers in Poland. Before I decided to work with a Turkish producer, I watched other trailers in which the idea of a teardrop was preserved. Caretta won, in my opinion this caravan is the most aesthetic and modern and the materials used are of very high quality.
It is true that Caretta stands out from other caravans and arouses the enthusiasm of many campers every time at the campsite. The unusual, very compact structure of the trailer is its great advantage.
Why should Poles be interested in such small caravans?
Driving with such a trailer is almost no different from driving the car itself. Gross Vehicle Weight (GVM) of less than 750 kg allows any driver with a category "B" license to ride with Caretta. In addition, it can be attached to any car, and in most cases the set will not exceed 3500 kg, thanks to which we will save on tolls.
Thanks to the streamlined shape, fuel consumption will be only slightly higher than that of a car without a trailer. In addition, such a caravan is cheap to maintain - civil liability insurance costs about PLN 150, and the inspection is indefinite.
Some "caravanners" may have problems with storing their caravans during the winter season. Caretta, thanks to its compact dimensions, takes up as much space as a small passenger car.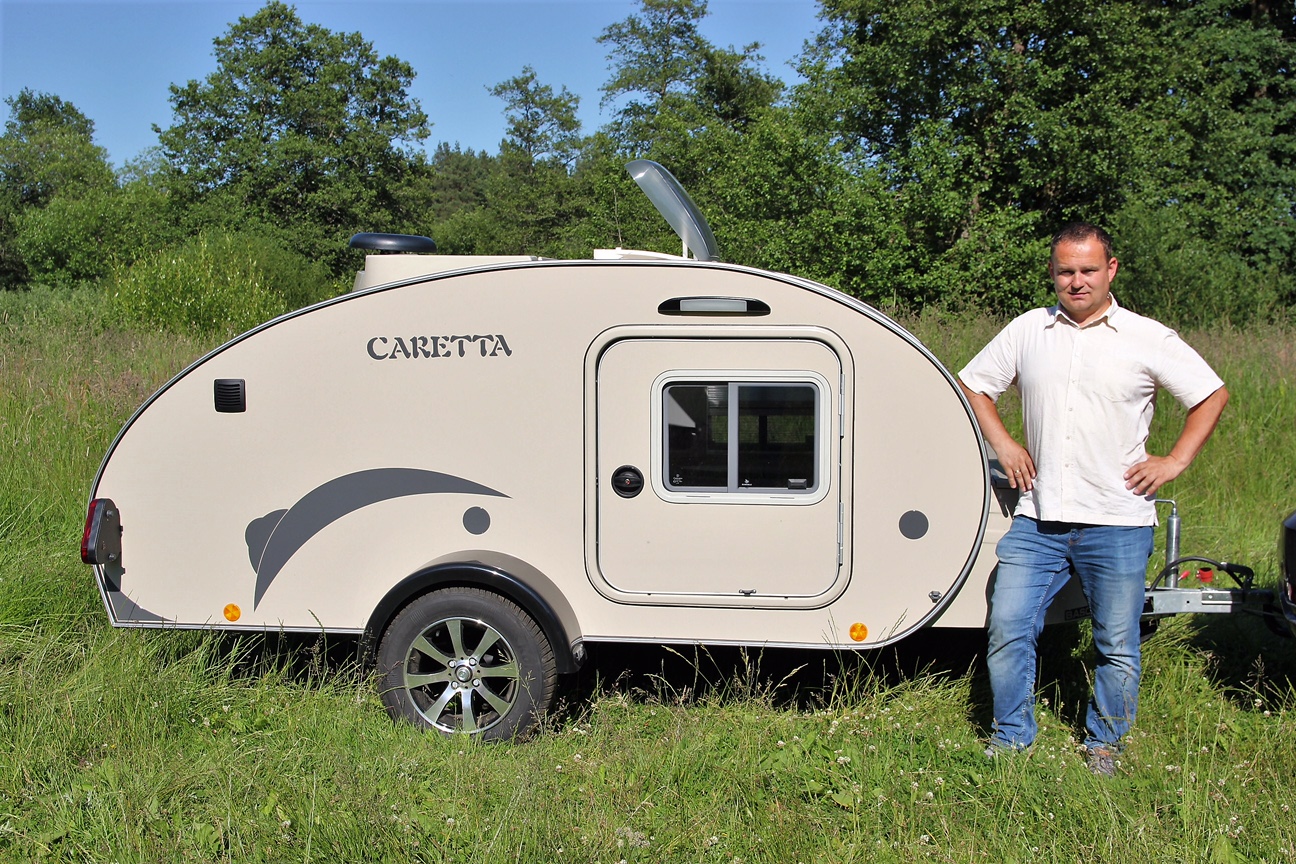 You could visit your stands at the fairs in Ostróda and Poznań. During the Motor Show, Caretta 1500 even received a distinction from an automotive journalist, Włodzimierz Zientarski ...
Mr. Zientarski's award was a great honor for us. Mr. Włodzimierz spent a lot of time at our stand to meet Caretta. He was interested both in solutions used in trailers, but also in the idea and functionality of trailers.
What did visitors most often ask?
People who had the opportunity to read or watch films about Caretta caravans were very positively surprised by the quality of the finish, materials used and thoughtful solutions. On the other hand, those who encountered this type of suspension for the first time were surprised that such small vehicles can be so practical and functional.
Many visitors asked about various options for additional equipment, which car they can tow a trailer with, whether they need additional authorization to move with these trailers, maintenance costs, etc.
Which trailer model have you sold the most so far?
In Poland, we offer four models of trailers: Caretta 1500, Caretta Off Road, Caretta Shop and Caretta Cargo. Caretta 1500 is one of the two camping models from Basoglu and it is this model that our customers like the most. It is a very light trailer, weighing only 440 kg. It meets the requirements of most teardrop seekers.
The second camping model - Caretta Off Road is intended for people spending their free time in more extreme conditions, but also in this case the interest is increasing.
The Caretta Tent set has recently appeared in your offer. What makes it stand out?
Yes, since this year Caretta has been offering a new, very spacious tent dedicated specifically to the Caretta 1500 and Off Road caravans. The tent serves as a living room with a separate bedroom for two people. In the cabin of the trailer there is a bedroom for 2-3 people and a "wardrobe". Children love to spend evenings in the caravan, play, play, watch TV. There is a place for a kitchen in the rear part.
The tent has inflated arches and a pump is its equipment. The disassembly consists in connecting the pump and pumping for about 2 minutes. After this time, the tent is raised and all that remains is to attach it to the trailer, which also takes no more than 2-3 minutes. The least skilled will be able to do this, even without instructions.
After using this option, the caravan becomes even more functional. Even in bad weather, each family member can comfortably spend time there.
How is it with additional equipment? Can I opt for individual pieces of equipment or are there packages?
The standard equipment of Caretta trailers is already extensive. However, there is no gray water tank as standard, so we equip each trailer with such a tank. With this element, the trailer is fully functional and there is no need to purchase additional elements to use it normally.
However, for the more demanding people, a long list of additional equipment awaits. The manufacturer did not provide for packages - each option can be selected separately and independently of the others. The most common additional equipment chosen by our customers is a kitchenette tent, kitchen table, overrun brake (although it is not necessary).
At Carettach Off Road, a roof rack, auxiliary heater, awning are often chosen options. Some people choose a larger 50 x 70 cm skylight, because a 40 x 40 cm window is installed as standard. Both windows, like the doors, are equipped with a mosquito net and a blackout blind.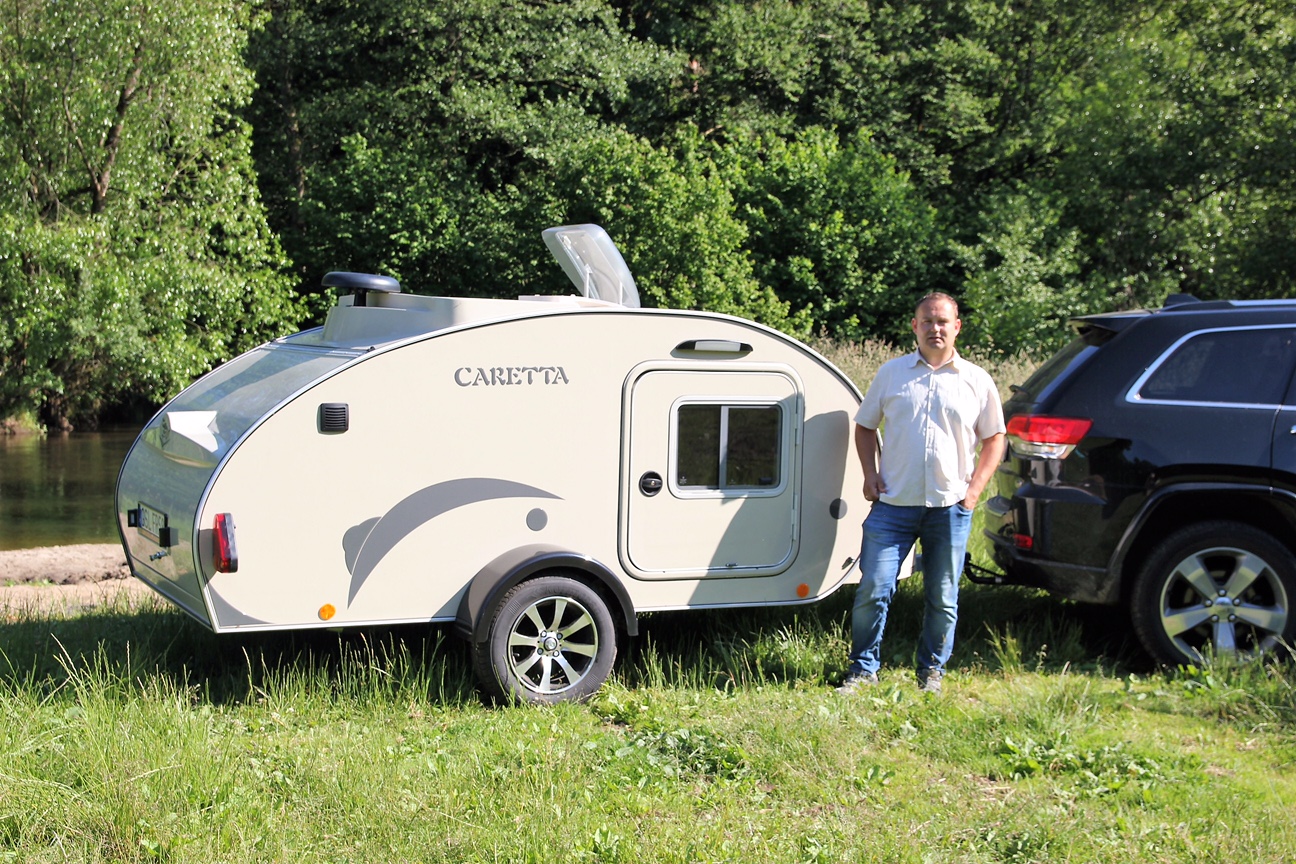 We have already written about Caretta caravans several times. However, we have heard opinions that they are "too expensive". How do you react to similar remarks? What is the result of such a price and not another?
The price reflects the workmanship, materials, technology and equipment used. Very high quality materials were used in the production of Caretta trailers. The chassis (frame, hitch, axle) is produced by the German company Al-Ko, the cabins are made by Basoglu using Dometic accessories. The sleeping area is fully upholstered with good quality fabrics that are easy to keep clean.
It should also be remembered that the market for teardrop trailers is not as large as the market for conventional trailers, and the higher the production, the lower the unit cost. I often come across the price comparison of our trailers with conventional used trailers, which in my opinion is a misunderstanding. Considering only new products, the price of Caretta trailers is one of the lowest on the market and the operating and maintenance costs are significantly lower than conventional trailers.
Thank you for the conversation.
Sometimes it is better to get lost than to ask for directions too much. Aldous Huxley
Enjoyed reading this article? Share it!