Bruder EXP-6 - a trailer in the field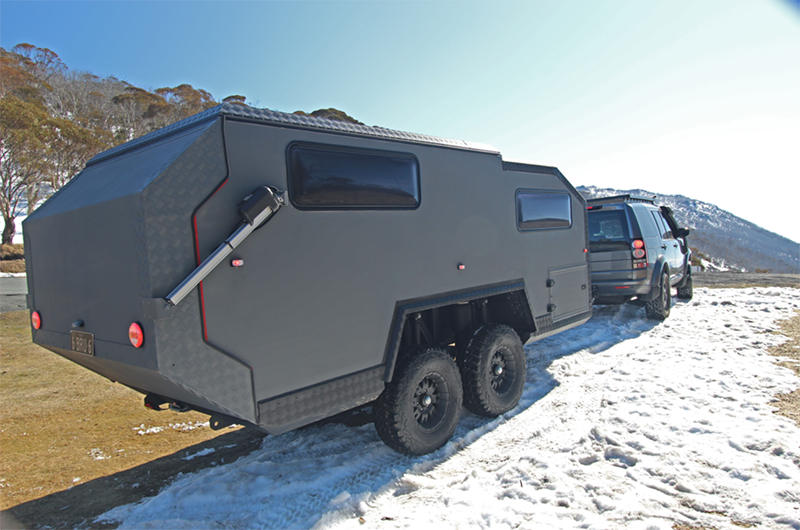 If you dream of an uncompromising caravan - perfect both for a trip to a plot and for a trip across several continents, we have probably found a model that will satisfy you. Bruder EXP-6 has everything you need.
This caravan looks huge, but in fact it's not that monstrous ... Its total length is 670 cm, but the sidewall itself is 450 cm . The width is "only" 192 cm, but the idea was that the vehicle could enter a narrow path and that towing a trailer did not require the use of additional mirrors.
The authors of the EXP-6 model thought out their creation down to the smallest detail. Nothing unusual. They are two brothers who spent their childhood in the Australian "dump", where there are no normal roads, and jeeps are used instead of city cars. In addition, the brothers had a lot of knowledge about military vehicles, so when they started building their dream trailer, at the start they had an advantage over anyone who would like to compete with them.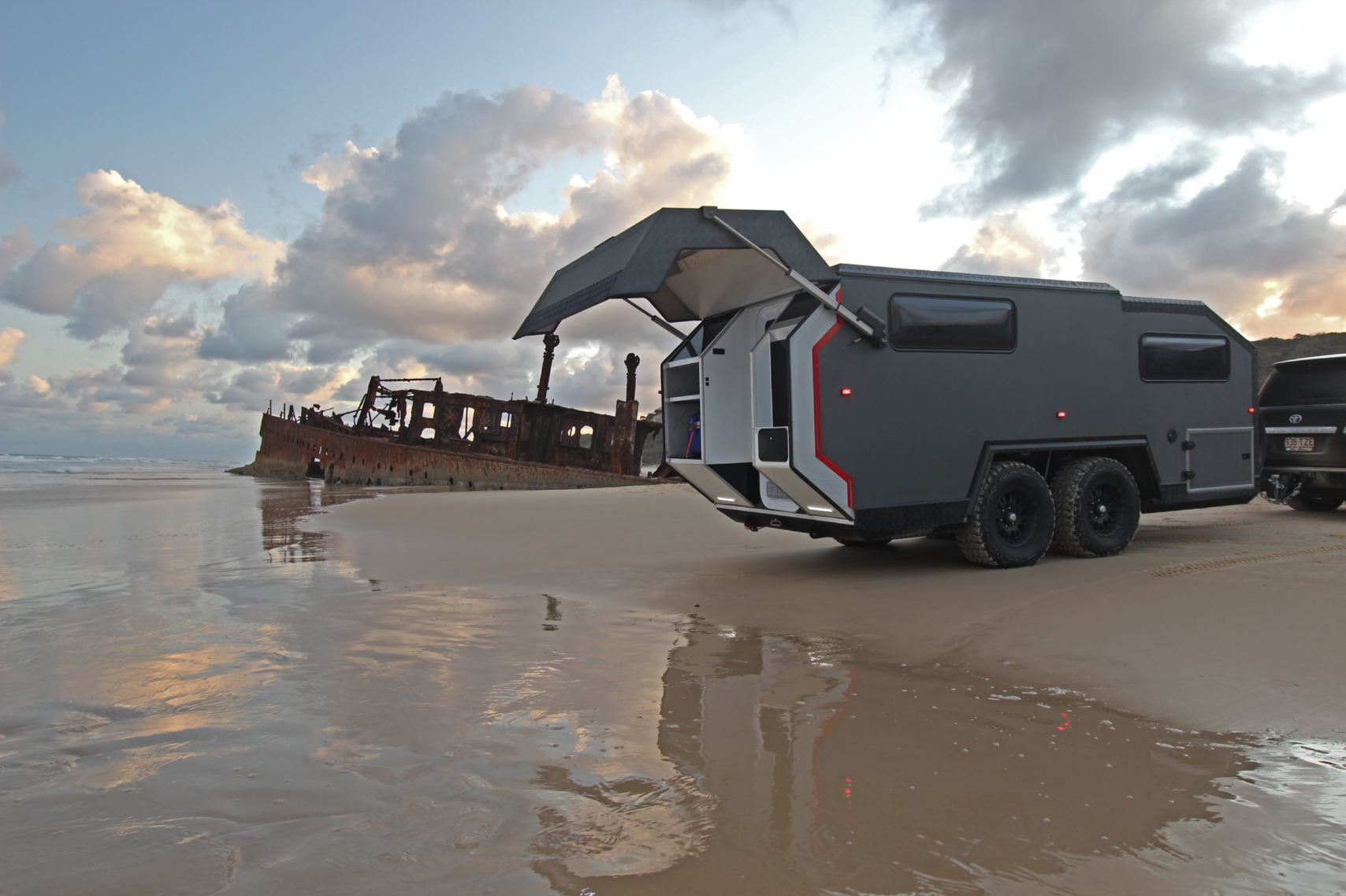 Construction for any terrain
The biggest secret of the EXP-6 is its suspension. The supporting structure of the trailer is based on a frame capable of carrying a weight 11 times greater than its own weight . The leakage issue was also very important. The creators of the trailer decided that if the vehicle is to be truly resistant to terrain and weather conditions, all elements (not only electronic, but also screws) must be tightly covered. Water, sand and any other contaminants should not have access to essential elements of the structure. In addition, the subframe has rubber elements that absorb shocks and additionally protect sensitive places.
The trailer is equipped with progressive air suspension with four independent wishbones . They can be adjusted on an ongoing basis using the remote control - increasing or decreasing the ground clearance by up to 30 cm (the vehicle can also be raised or lowered when stationary, using a smartphone).
The body itself is made of very light, yet durable composites with good insulating properties. As a result, this large caravan weighs "only" 1680 kg.
Surprising in every way
The original shape, powerful wheels, strong chassis and complex suspension are not the only elements that can surprise the EXP-6. When we enter the interior of this vehicle, we will quickly realize that it is completely different from what we know from European caravans. Before we go inside, however, we need to find the door, and these are protected from mud and dust by a tailgate . To open it, press the button on the side of the trailer. Only after this action can we open the narrow door leading inside.
Inside, a maximum of six people can sleep, and guests can use both two single beds, a large double bed, as well as a double bed suspended under a raised ceiling. There may also be a window in the roof through which we can admire the stars.
Inside there is a kitchen, bathroom with shower, fridge, TV, air conditioning, but this is not the most surprising. It is unusual that we can use the kitchen (as well as the shower) both inside and outside the caravan! Yes, yes, by opening the elements of the side wall, we reveal access to all the necessary equipment (with heating plates and a sink), and even to spacious cabinets. That's not all, because from the side compartments we can take a large box, which turns out to be a cavernous refrigerator. Above the kitchen arranged in this way, we can extend an awning, the longer side of which measures 3.5 m .
If you dream of close contact with nature and you don't like excessive compromises, this caravan should be perfect for you. Thanks to the EXP-6, off-road driving or a meal in the open air no longer have to be associated with a lack of comfort. You can sleep in an air-conditioned caravan and in a comfortable bed - regardless of the latitude you are at ...
Sometimes it is better to get lost than to ask for directions too much. Aldous Huxley
Enjoyed reading this article? Share it!