Camp-Let - a tent in a trailer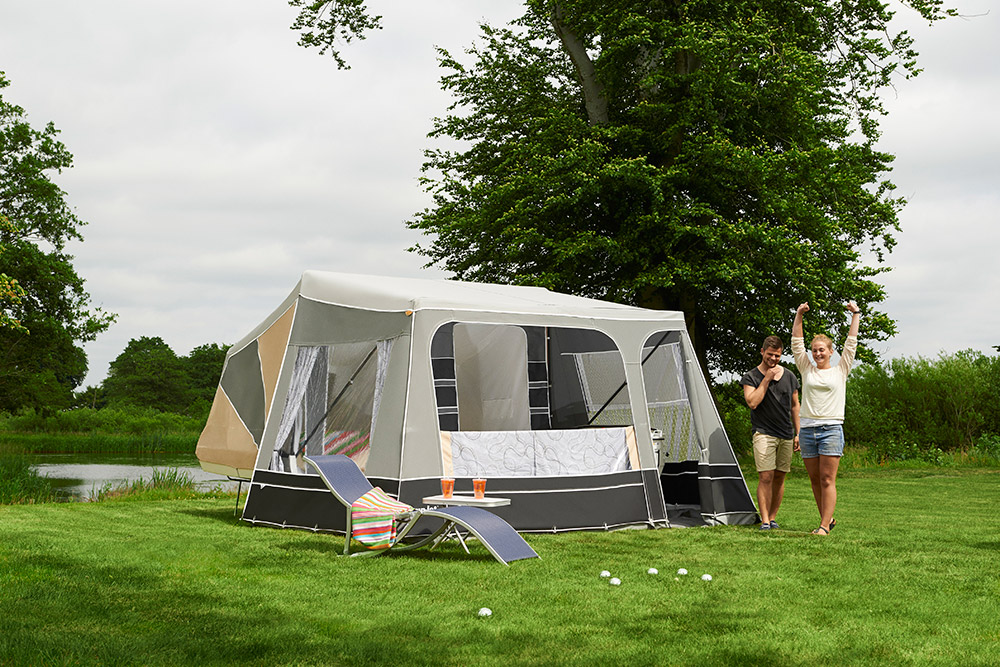 The Danish brand Camp-let has distributors all over Europe, Turkey and South Korea. In Poland, the representative of the manufacturer of very unusual caravans is Mobicamp . Why unusual? Just take a look!
If you think of a caravan, you probably mean a house on wheels. When looking at Camp-let vehicles for the first time, you will think that it is a small cargo trailer. But it's just such, um, "optical illusion". You can really live in a caravan, the roof of which is approximately at the level of the lower window line of a passenger car!
Are you looking at this box on wheels and still not sure how this is possible? It will probably not make things easier if I add that there is, among others, inside. kitchen and bed. But how to get inside? The solution is very simple. The Camp-let caravan is a kind of folding tent!
Light caravan
Such a tent will have at least one, but a very significant advantage over ordinary caravans. Size is this advantage. Such a trailer is much easier to store (in the garage you can even put it on its side!), And because it is quite light, it is also easier to pull. Even a small car can tow a vehicle weighing 250 or 275 kg . Another 250 kg of load capacity can be used to equip the trailer.
The offer currently includes three, or actually four models, because the basic version is available in two variants. In each of the caravans, the cover is lifted with the help of gas struts , which facilitates access to the tent.
According to the manufacturer, it takes 5 minutes to set up the tent . Each trailer is made of glass fibers , so it is not exposed to moisture. An overrun brake can be ordered for an additional fee.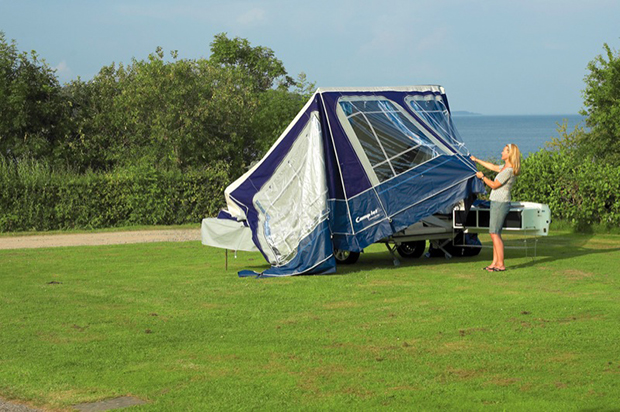 Three models to choose from
The basic set is called Basic and includes a tent that is 17 m2 when unfolded. The tent has space for two double sleeping compartments and a living room. In places where the tent is particularly exposed to damage, a double layer of canvas is used. In addition, the caravan is equipped with foam mattresses .
The Basic model does not have a kitchen, but the Basic + version does. By opening the back of the caravan, we will get to the kitchen with a large worktop and a stainless steel stove with three gas burners. The richer version also includes a 13-liter water tank , sink and electric water pump.
When closed, the caravan is 323 cm long, but unfolded, we get a tent with dimensions of 526 x 400 cm .
The Classic model, although folded, has the same length, after unfolding it is larger. The dimensions of the tent are 569 x 400 cm , which in practice means 18 m2 of seating area. In this model, the kitchen is standard , and the tent is made of a special, breathable acrylic canvas. The tent has been constructed in such a way that it protects against the sun on sunny days, and protects against the wind on windy days. When it gets hot inside, opening windows come in handy.
At the top of the Camp Let offer is the Premium model. The dimensions of the trailer do not differ from the Classic model. In this case, we can also count on acrylic material. The standard also includes ventilation on both sides of the tent, pelmet with pockets , and even a wardrobe. Mattresses in this version are made of latex . This model also differs from the others in terms of a better kitchen.
Regardless of which version we choose, each can be enriched with a lot of accessories, such as a clothes rail, a slatted bed frame, additional storage, an oven or a bicycle rack . You can also attach additional canopies, awnings and extensions to the tent, which will allow you to create even more space for relaxation.
Such an inconspicuous trailer, and it turns out that it can do quite a lot! The Camp-Let caravan can be seen and purchased in Poland from the exclusive distributor in the MobiCamp company with its seat in Warsaw. More information is available directly at MobiCamp
Sometimes it is better to get lost than to ask for directions too much. Aldous Huxley
Enjoyed reading this article? Share it!