Mini-caravans - a handy hotel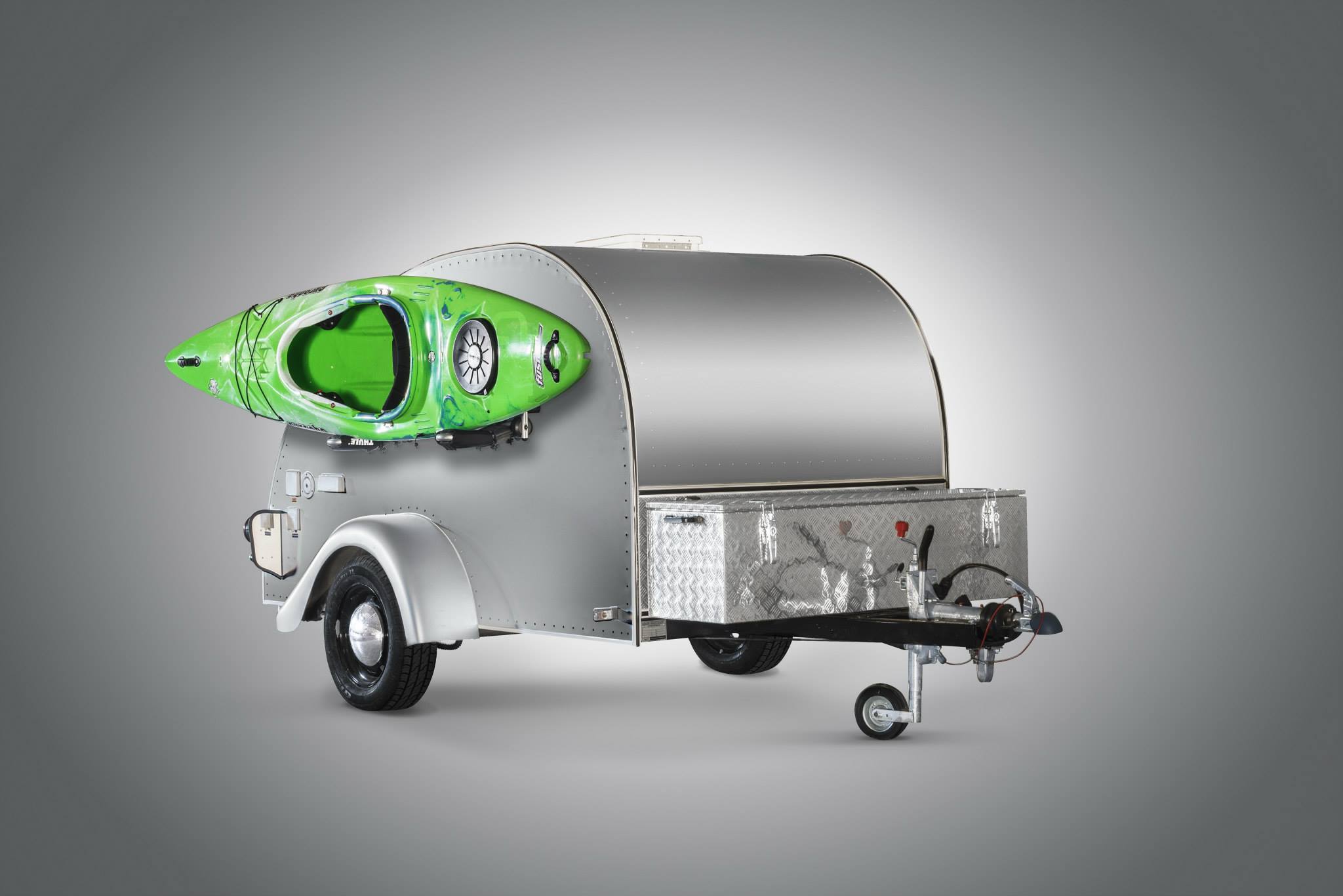 Neat, agile, light - perfect for a holiday with no obligations. These are the Slovak trailers offered under the Mini-caravans brand. They only offer the essentials, but if you don't need to take your entire home with you, it might be a good idea for you.
The Slovak company offers 6 basic models. They do not differ significantly from each other. All of them are small trailers that primarily provide accommodation.
If you want a real house on wheels, this proposal is not for you. However, if you mainly want to have a place to sleep during a holiday trip, you may be pleasantly surprised.
Wave
The Wave model is the most interesting vehicle in the Mini-caravans offer. It is a trailer entirely designed and manufactured in Slovakia. Its total weight is only 190 kg , so it can be attached even to a motorcycle! The Wave has a modern, streamlined shape and irregularly shaped tinted windows.
The maximum permissible total weight of the trailer is 750 kg. The vehicle is 360 cm long , with the living area being 235.5 cm. The total height is 160 cm and the height of the interior is 107 cm. The width is 180 cm.
Alpha
The basis of the offer of the Slovak company is still a classic model, which is a typical teardrops trailer, i.e. with a teardrop shape. Alpha has a large sleeping room that can accommodate up to three people . The trailer has a ventilation system and quite a lot of storage space. It can also be equipped with a modern audio system. There is a fully equipped kitchen in the rear part of the vehicle, which is separated from the sleeping area. We find there a sink, refrigerator, gas stove and a set of cabinets.
The trailer weighs 400 kg and its permissible total weight is 750 kg. Width: 204 cm, total length: 380 cm , living length: 260 cm. Alpha is 167 cm tall, but inside it is only 99 cm high.
Other models
The other models are Alpha Cargo (Alpha, which is intended for transporting goods rather than for accommodation), Escape (apart from the large sleeping area and space, it has a 230/12 V transformer and 12 V batteries), Buddy (the smallest trailer - 321 cm long) and Freerider .
The latter deserves special attention, as it is an off-road version of the teardrop equipped with powerful 235/75 R15 tires . The curb weight of this trailer is 490 kg and the width is 220 cm. Interior height: 107 cm. External height: 120 cm. This caravan measures 395 cm .
Optional accessories
Holders for bicycles, a motorcycle holder, solar batteries - these are quite obvious additional accessories today.
The most interesting, however, is Park Drive - Assistant . It allows you to control the trailer with a remote control! As the manufacturer explains, "it is an auxiliary system driven by additional motors that are powered by a battery and controlled by a remote control. Just sit back, relax, press a button and you're done.
For an additional fee, we can also have gas, petrol or diesel heating and an awning, or rather - a large vestibule. Customers can order the caravan in any color and even choose to apply any graphics on it.
And if someone is still not convinced whether they want to own a mini-caravan, they can rent a caravan for 30 or 35 euros per night . This option is offered by the manufacturer himself. For more information, please visit the manufacturer's website www.mini-caravans.com , where we can find contact details for the Polish dealer. People going to the Caravan Salon in Dusseldorf will have the opportunity to see the trailers of the Slovak manufacturer in person in hall 5.
Sometimes it is better to get lost than to ask for directions too much. Aldous Huxley
Enjoyed reading this article? Share it!